McIntosh apples are great for many different foods and even just for eating raw.
Unfortunately, they may not be available during the entire calendar year or in your area when desired.
Sometimes you may just have a craving for a fresh McIntosh apple or even need one for a recipe.
This apple is old school, which may mean you will find that many of your grandmother's recipes call for it. Today, we have many other varieties that will work, but with the number of options out there, you might be overwhelmed.
Fortunately for you, many of these other varieties of apples can be found throughout different times of the year at grocery stores that will make a suitable substitute.
Jump to:
About McIntosh Apples
The name McIntosh comes from Ontario farmer John McIntosh. He discovered this variety back in the 18th century. McIntosh apples are actually the national apple of Canada.
They are grown in North America, as they are well-suited for colder climates and are available from the fall season to early winter.
These apples have many different attributes that make them stand out from other types of apples. They are a popular apple with a tangy and sweet flavor. They also have a thick skin and a crisp texture that gets softer towards the core. The flesh color is white to light green.
You may identify a McIntosh apple by its fruity and spicy aroma. Color-wise the apple is green, with patches of red on top. Size-wise, they are medium apples.
Some people may spell it like macintosh apples, but that spelling is specific to the tech brand. You know, a Mac Book. But the brand was actually named after the McIntosh apple.
McIntosh Apple Uses
Because of their soft texture and crisp flesh, this variety makes a great apple for just eating raw and on-the-go. The texture also makes them a great baking apple for pies, and crisps. They even cook down to make a great side or topping for pork chops with the best flavor. 
The flavor and moisture content of the McIntosh makes it a good apple for ciders and juices. Pressing them is also a great option when the flesh has gone mealy after they are too ripe.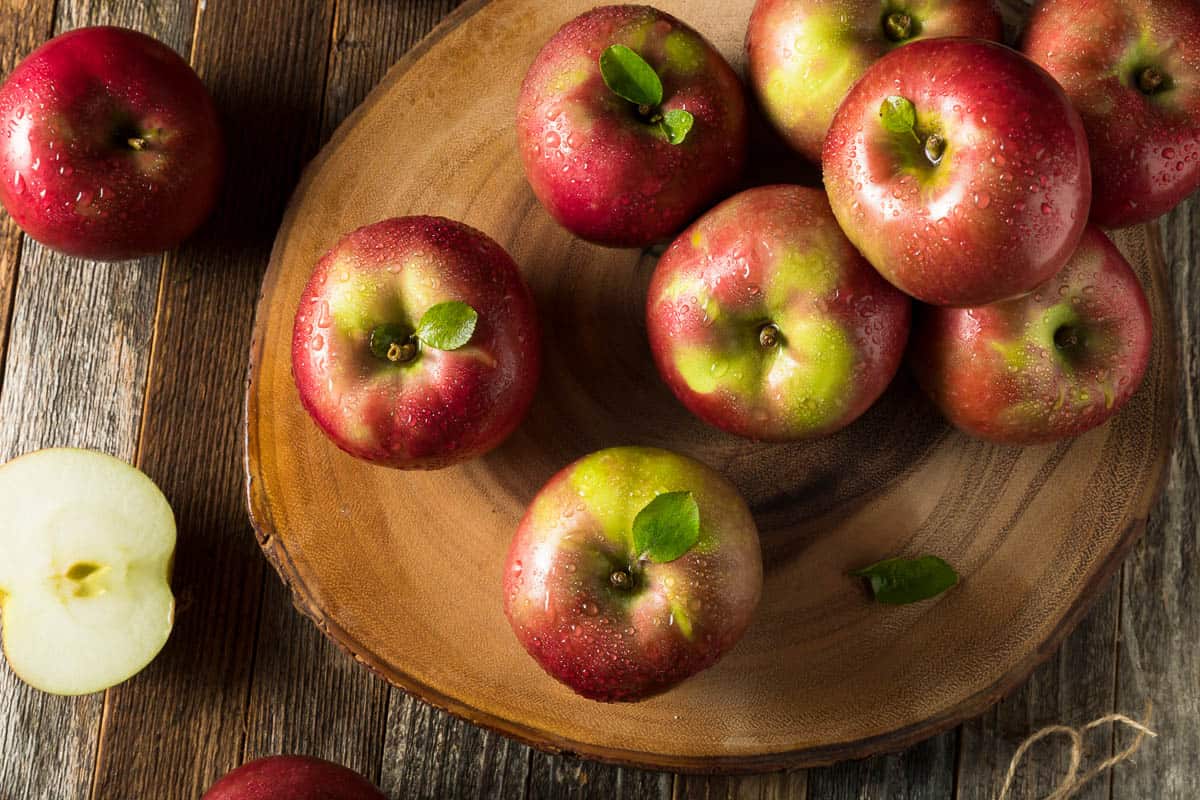 The Best Substitutes for McIntosh Apples
When looking for a substitute you need to find a crisp apple, especially if you are looking for baking apples.
If looking for a substitute for snacking, you need to find one that matches the complex flavor of the McIntosh.
Cortland Apples
Ultimately, Cortland apples are going to be the best apples to use in about anything a McIntosh is used in because of the many similarities.
They are easily the closest substitute for McIntosh; this variety is a direct cross of the McIntosh and Ben David apple.
Color, flavor, and texture are all very close to the McIntosh, making them difficult to even tell apart.
It has some of the same problems as the McIntosh apple, where it loses its flavor and crispness as it sits out, so it would not be a good option out of season.
Braeburn Apples
The Braeburn apple originated in New Zealand, but is now grown in Washington state as well.
This apple has been able to match the flavor of the McIntosh, but it has a longer shelf life allowing it to be a great substitute you may find year-round no matter where you are.
The flavor and texture make the Braeburn a great dessert apple, similar to the McIntosh. This is because it has a tart flavor that mixes well with the sweetness. You can use it as a 1:1 substitute for about any recipe calling for McIntosh apples.
Honeycrisp Apples
The Honeycrisp is a relatively new variety, developed in the 1960s. It became a popular apple upon its large-scale introduction in the 1990s. It is also sometimes known as Honeycrunch due to its crisp white flesh.
One of the firmer apples, Honeycrisp was developed to be able to be grown in different parts of North America including the colder climate located in the Northeastern United States including New York state.
Honeycrisps are sweet like the name says, but not quite as tart as the McIntosh, so you may note a slight flavor difference. Texture-wise, they are very close, as one of the firm-sweet apple varieties.
The Honeycrisp apple itself is a little bigger than the McIntosh, so if you are trying to do a 1:1 substitute for a recipe, you may have to leave a little out.
That definitely isn't the worst thing, as you can have a little snack before you get to cooking.
Jonathan Apples
Jonathan apples have a purple to red exterior, you may even notice some yellow or green undertones. They have a complex flavor and you will notice a semi-sweet-tart flavor with a hint of spice. They also have tender flesh.
Their spicy flavor mixes well with both sweet and savory dishes. This flavor and extra juiciness work great in pies, ciders, and even apple butter.
They aren't the best substitute for pies, so if you would like to use them just pair them with an apple with firm flesh.
They have an okay shelf life but are better if eaten prior to the first of the year, meaning this substitute may not be available year round.
Granny Smith Apples
Ye olde Granny Smith may be the most recognizable apple because of its notable bright green exterior. They date back to the 1800s and originated in Australia, and have been a popular pick for many apple fans ever since.
These dense apples have a tough skin and a long shelf life, which helped to expand their popularity. Today, they are still supermarket favorites.
Granny Smith apples have a somewhat similar texture to McIntosh, but have more of a crisp flesh. Another well-known attribute to Granny Smith is being a tart apple.
The crisp flesh and tartness make this variety the most popular apple for baking. They are a very popular choice for a multi-purpose apple.
They can be used for pies, crisps, and any other dessert requiring fresh apples, as they keep their shape during the cooking process.
A fun fact: green apple flavored candies are based on the Granny Smith variety.
Gala Apples
Gala apples are a favorite of many and for good reason, they are available, fresh, year round. This is due to the fact that they grow in both the southern and northern hemispheres.
Gala apples are a red and yellow bi-colored apple. They may almost look like they have yellow/orange skin with red stripes. The inside of the Gala has a yellow interior color, they really make it stand out when you take a bite.
Gala apples are a cross bred apple and get a lot of their sweet taste from the Golden Delicious.
If you want to cut up and serve fresh apple slices, Gala can be a great substitute for the McIntosh. If you want to do this ahead of time, just drizzle a little lemon juice on the apple slices, and it will keep longer.
Other great substitution ideas you can use gala apples for are: apple sauce, ciders, and salads.
Fuji Apples
Fuji apples seem to be another variety that you can get year round at the grocery store because of its thick skin and long shelf life. They are your go-to when looking for crisp and sweet varieties of apples.
Fuji look very similar to the Gala and originated in Japan. They have just a ting of tartness, their flavor the right balance of sweet and sour.
Because of the crisp flesh and sweet flavor, Fuji are another great all purpose apple. You can use them for fresh eating, pies, tarts, cooked sides, salads, really anything making them one of the best substitutes for the McIntosh.
If you had to name one apple to be the "perfect apple" fuji might be right up there at the top of the list.
Golden Delicious Apples
Just like the name, Golden delicious apples have a golden yellow color. They are very sweet and are a soft apple, yet they still have a little crunch.
Because of their soft exterior, they bruise easily and aren't the best for shipping. They may not be available to you year round.
They are a very popular choice for fresh eating and also a good option for cooking and baking. It can also be used in juices, ciders, apple butter, and apple sauce.
The end flavor will not be identical to the McIntosh, but the Golden Delicious can be a good substitute because it holds its own.
Red Delicious Apples
Red delicious apples are red, obviously. As opposed to McIntosh apples, they are grown in warmer climates. They are an older and very well-known variety.
The flavor is slightly sweet, with texture in between a firm flesh and a soft apple. It isn't the closest substitute for eating raw because of its mild flavor.
For cooking, it doesn't fare nicely. If you choose to use red delicious, you would end up with a mushy apple pie. Fortunately, it can be used for apple juice, applesauce, or cider fairly well.
Do you have any other tried and true substitution recommendations? Please let me know in the comments!