There are many recipes using applesauce for various reasons. But what if you start baking and realize you need a substitute for applesauce because you're all out?
Don't fret, I've got all the replacements you might need right here in this post.
Jump to:
What is Applesauce?
Applesauce is a cooked-down mixture of pureed apples, sometimes with sugar or cinnamon added. It's a popular snack, especially for young children.
It's sweet, has high levels of vitamin C, a good balance of other vitamins, and is a little acidic, giving it an all-around balanced flavor and some significant health benefits.
How is applesauce made?
Applesauce is made by peeling, coring, and chopping apples into small pieces, then boiling them with a little water in a saucepan until they're nice and soft. Then, an immersion blender or other type of blender is used to puree the apples until they're a smooth sauce.
The resulting cooked apple puree is applesauce, though sometimes it's returned to the heat to reduce it further.
This is done either in huge batches in a factory, or in the comfort of your own kitchen. It's a great way to preserve large amounts of apples in a short amount of time.
Where do you find applesauce?
You can find applesauce at just about any grocery store in the US. You can also make your own applesauce, which is a great idea if you have an apple tree in your backyard and want to preserve the apples.
Homemade applesauce is great because you can add what you want to it from the start.
How applesauce is used in baking
Many recipes call for applesauce to add real apple flavor and perfect amount of sweetness. It can also add moisture to baked goods which makes them especially fluffy and moist. It also makes the texture just right.
Some of the more popular baking recipes include quick breads and muffins. It's also often used in carrot cake for similar reasons.
Applesauce is a super versatile ingredient. As such, it is often used to replace various ingredients in different kinds of baking recipes as a healthier alternative without having to adjust the amounts of dry ingredients.
For example, you can substitute one cup of applesauce for a cup of oil, a quarter cup of applesauce for an egg, and it's also a one-to-one replacement for butter. Next time you find you're out of oil, eggs or butter, or want to replace half of the oil in a recipe, consider using applesauce instead! Keep in mind, however, that neither of these three is the best substitute for applesauce.
Keep in mind that too much applesauce in a recipe can make the final product gummy, dry, or too dense.
Unsweetened applesauce is most often what's used in baking, as you don't have to then adjust the sweetener.
If, however, you find yourself making a recipe that calls for applesauce and don't have any, you have lots of options to choose from.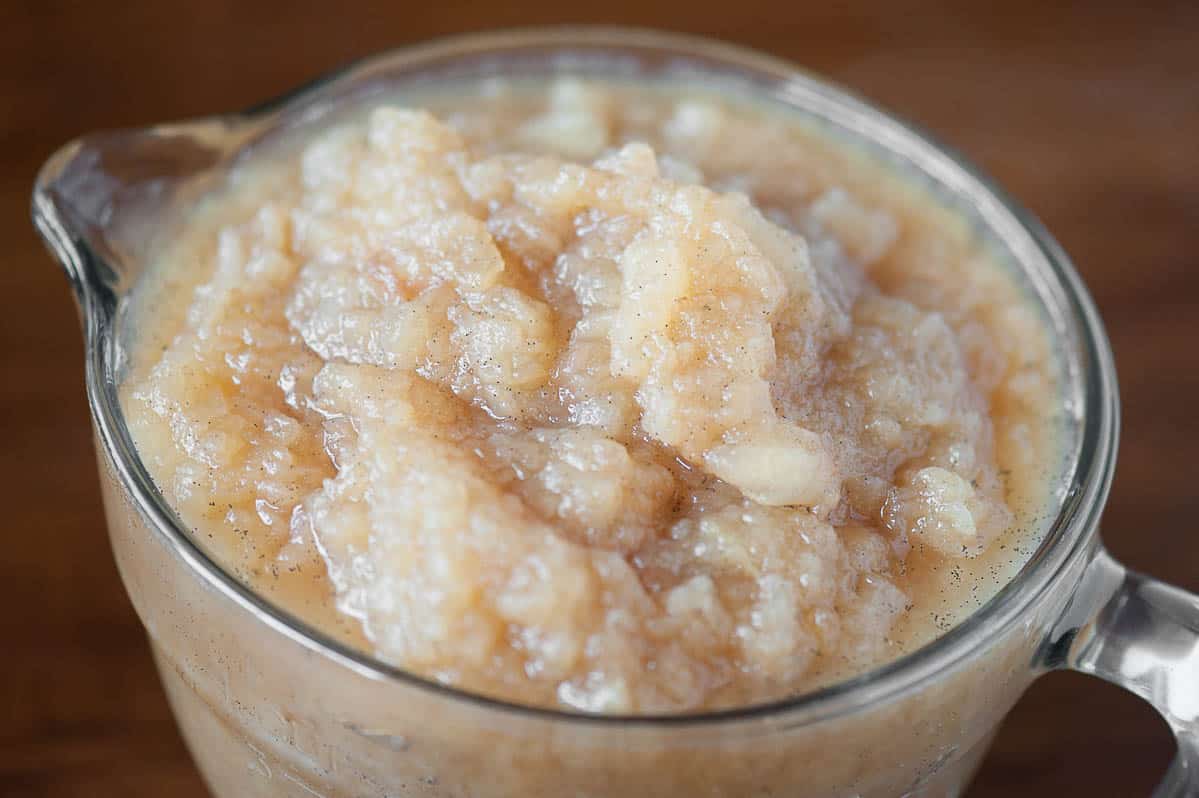 Best Applesauce Substitutes - Ranked
Applesauce has a high water content, which makes it a great replacement for lots of ingredients. This also makes the reverse true, as other liquid ingredients make great applesauce alternatives.
1. Fresh Apples
A great alternative to using canned applesauce is to use fresh apples, especially if applesauce is a main ingredient in your recipe. If they are peeled, diced, and incorporated into any kind of sweet baked recipe or savory dishes, they will completely take the place of applesauce.
Stewed apples are an incredibly effective alternative. If the fresh diced apples aren't mixed directly into a recipe, they can be stewed on the stove first in order to soften them.
Simply add the peeled and diced apples to a pot, add a couple of tablespoons of water to help them steam, cover the pot, and gently heat until the apples soften. The lid can then be removed while they continue cooking if there is excess moisture.
Not only is this one of the easiest substitutes, but fresh apples will not only deliver the exact apple flavor you are looking for, but their moisture content will be comparable as well. Additionally, it's a healthy alternative because it is just pure fruit.
The type of apple you choose can have an impact on flavor and moisture content. Granny Smith apples are extremely tart, Braeburn or McIntosh apples are right in the middle, and Honeycrisp apples are on the sweeter side.
Fresh apples can be a direct replacement for applesauce. Just measure out the exact amount needed.
2. Apple Pie Filling
If you want to maintain the flavor of apple in whatever you are baking, apple pie filling would be a fantastic applesauce replacement. Not only is it of similar consistency, but because of the strong apple flavor, some might consider it the best alternative.
There is a lot of added sugar, however, so you will need to reduce the amount of sugar in your recipe. After decreasing the amount of granulated or brown sugar, the ratio of applesauce to apple pie filling would be 1:1.
3. Pear Sauce
If you're looking for the best results with only slightly different flavors Pear Sauce makes a great substitution. Similar not only in moisture content and consistency but also in sugar content.
If you've never heard of pear sauce, it's probably because it's not something easily found at the grocery store. But, if you live in an area like the Pacific Northwest where pears are grown, chances are you have a neighbor with some homemade pear sauce in their pantry.
Replace the exact amount of applesauce in your recipe with pear sauce, and you will be guaranteed good results.
4. Pumpkin Puree
Pumpkin puree is a fruit puree that is a very popular choice when baking. You've surely had pumpkin bread before, and the difference between that and an applesauce cake is mainly in the fruit puree used.
The benefit is that you might just have canned pumpkin in your pantry. If you're baking in the fall and happen to have fresh pumpkin, it can easily be roasted and turned into pumpkin puree.
Using pumpkin as a replacement for applesauce, however, changes the flavor of your recipe.
You can easily substitute pumpkin puree in almost any baking recipe requiring applesauce using a 1:1 replacement ratio.
5. Sweet Potatoes
Mashed sweet potatoes make a great substitute for applesauce. While they do not have as much liquid, this root vegetable puree is pretty sweet. In fact, it is often a little sweeter than applesauce.
Sweet potatoes, also called yams, don't have a super-strong flavor, so they shouldn't change the taste of your baked goods if you use them as a substitute.
You can use other vegetable purees as well, but they aren't nearly as close to applesauce as this one.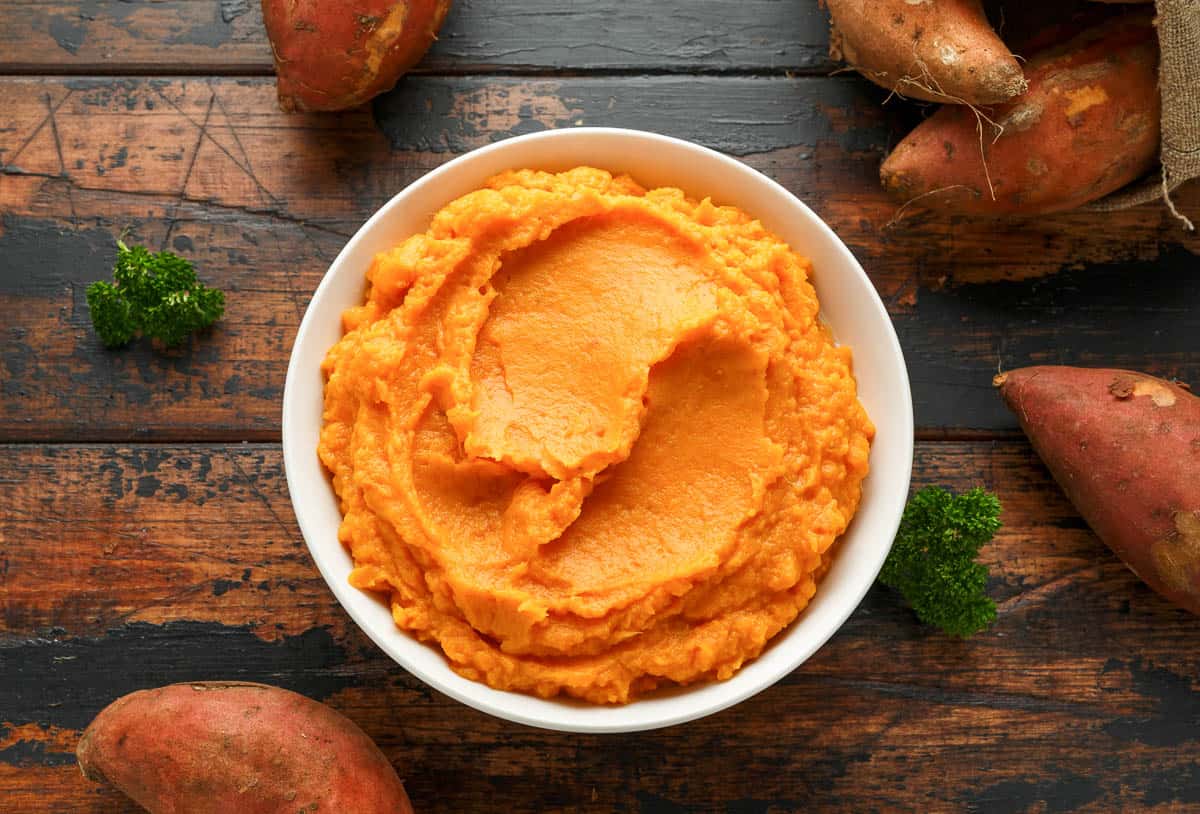 6. Mashed Banana
Another fruit puree, mashed banana, is another great option not only because it works, but because bananas are so readily available.
Banana puree, or simply mashed ripe bananas, are often used in recipes like banana bread. This pureed fruit option is popular because just about everyone has ripe bananas that are getting a little too brown.
Mashed banana is a little sweeter than applesauce and will slightly change the flavor, but otherwise makes a perfect one-to-one replacement.
7. Pumpkin Pie Filling
Like pumpkin puree, pumpkin pie filling could work as a perfect applesauce substitute. It just has a few spices and is usually a little sweeter, but that just improves most recipes. Check what spices and the amount of sugar you're supposed to use in your recipe and adjust accordingly to account for what's in the canned pie filling.
You can pick up a can of pumpkin pie filling at just about any store, it's a one-to-one substitute for applesauce and is a splendid choice.
8. Berry Puree
Pureed berries, like blueberries and raspberries, make an excellent choice for substituting applesauce in a recipe. They have the right amount of sweet and tart flavors, as well as the right consistency. They'll likely change the flavor of the baked good, but much of the time it's an improvement!
Berry purees are usually something you have to make yourself, but aren't unseen at grocery stores, though you may have to go to a large box store to find them.
9. Coconut Milk
Full-fat coconut milk can be used in place of applesauce in some recipes.
It can be considered halfway point between a fat and a fruit puree, which makes it a decent choice. You can get coconut milk at most stores, but the full-fat variety is more commonly available at larger grocery stores.
Substitute one cup of applesauce with one cup of full-fat coconut milk.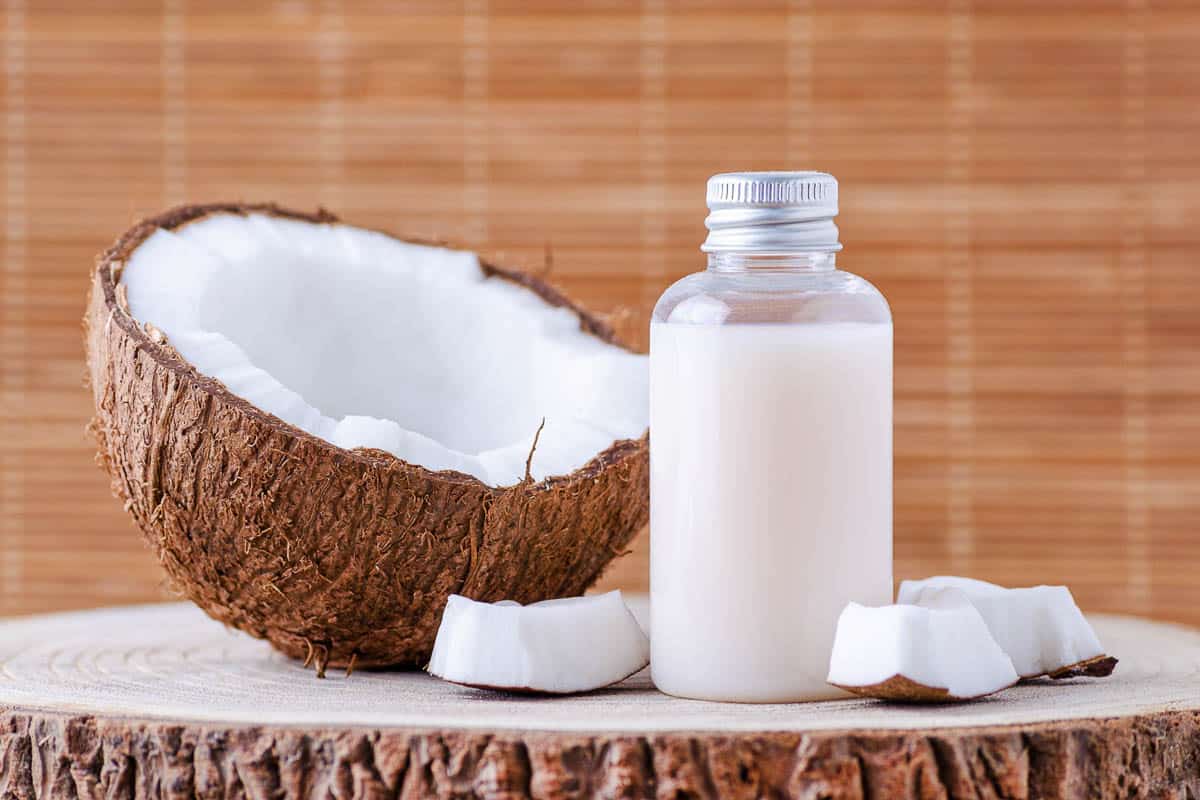 10. Peanut Butter
Peanut butter is a great substitute for applesauce. Unlike applesauce, it has lots of natural fats, which can add great flavor and texture to most baked goods.
Because peanut butter is much thicker than applesauce, you will need to mix it with milk to make it an appropriate alternative.
One cup of applesauce can be replaced with half a cup of peanut butter mixed with half a cup of milk (dairy or vegan).
11. Greek Yogurt
Another substitute for applesauce is Greek yogurt. Just as applesauce can be substituted for plain yogurt in baking recipes, we just reverse the process. You may need to thin the yogurt a bit before measuring it, as Greek yogurt is a little on the thicker side. 
It adds the moisture and fat the recipe likely needs, and has only a slightly sour taste. Depending on whether your yogurt is sweetened, adjust the amount of sugar in your recipe accordingly.
12. Sour Cream
Sour cream, while being tart, makes a good substitute. This dairy product, at least when thinned out to the right consistency, is an excellent choice to replace applesauce.
Increase your sweetener to make up for the sourness of the cream, but otherwise, it'll work perfectly.
13. Silken Tofu
Silken tofu isn't your usual baking ingredient but makes a decent applesauce substitute. To create a consistency similar to applesauce, it must be blended in the food processor or blender.
You can use it as a one-to-one replacement, and it should lend the right properties to your baked goods. Just note, it might make your finished product a little dense, like pumpkin bread or banana bread, so don't use this one if you're going for a light and fluffy dessert.
You can find silken tofu at bigger grocery stores and at specialty Asian markets.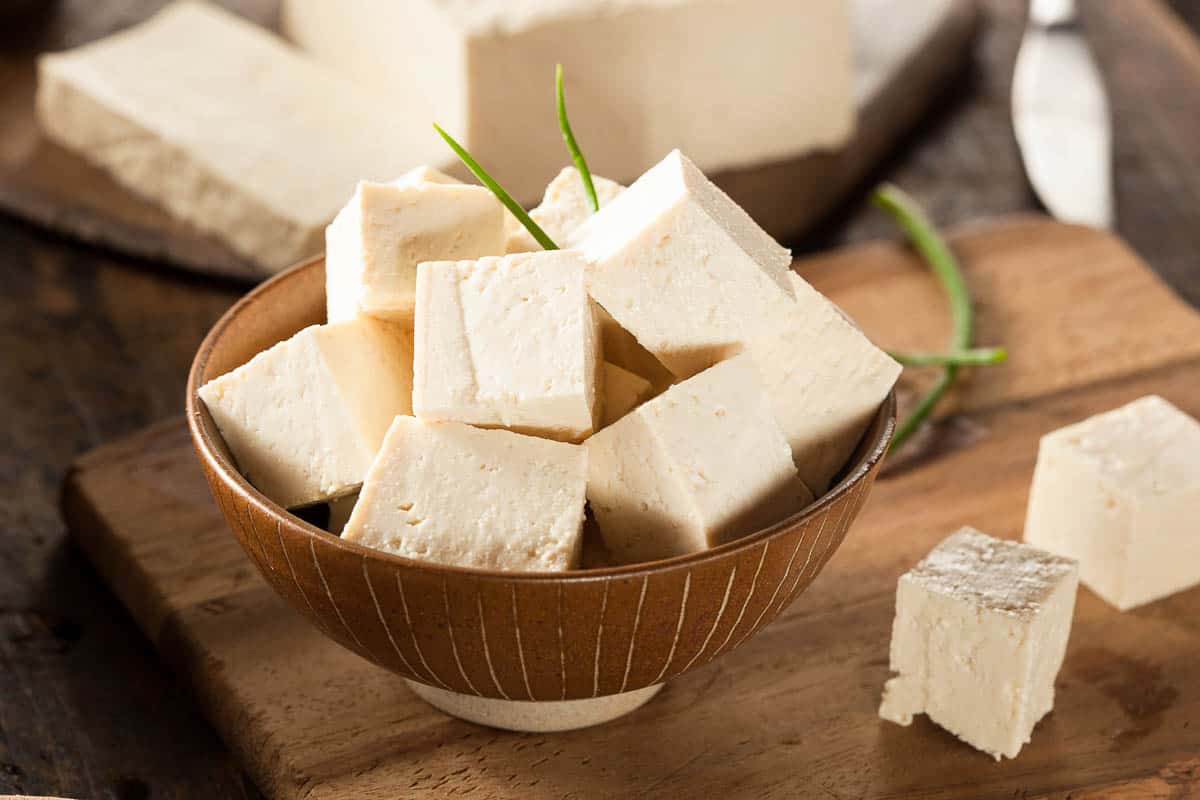 14. Regular Milk
Regular milk is a suitable substitute for applesauce, but you'll need to use about three-quarters of a cup of milk to a cup of applesauce. Otherwise, your recipe may not bake correctly as you're adding a straight liquid instead of a puree.
15. Cottage Cheese
Cottage cheese makes an excellent applesauce alternative, as the consistency is very similar. Like other dairy products, it's can be fatty and slightly acidic.
You can use one cup of cottage cheese instead of one cup of applesauce, and either blend the cottage cheese to make it smooth or leave it as is. A food processor should help with this.
Substitute Guide for Applesauce
All the information you need organized for you below!
Applesauce Substitution Graphic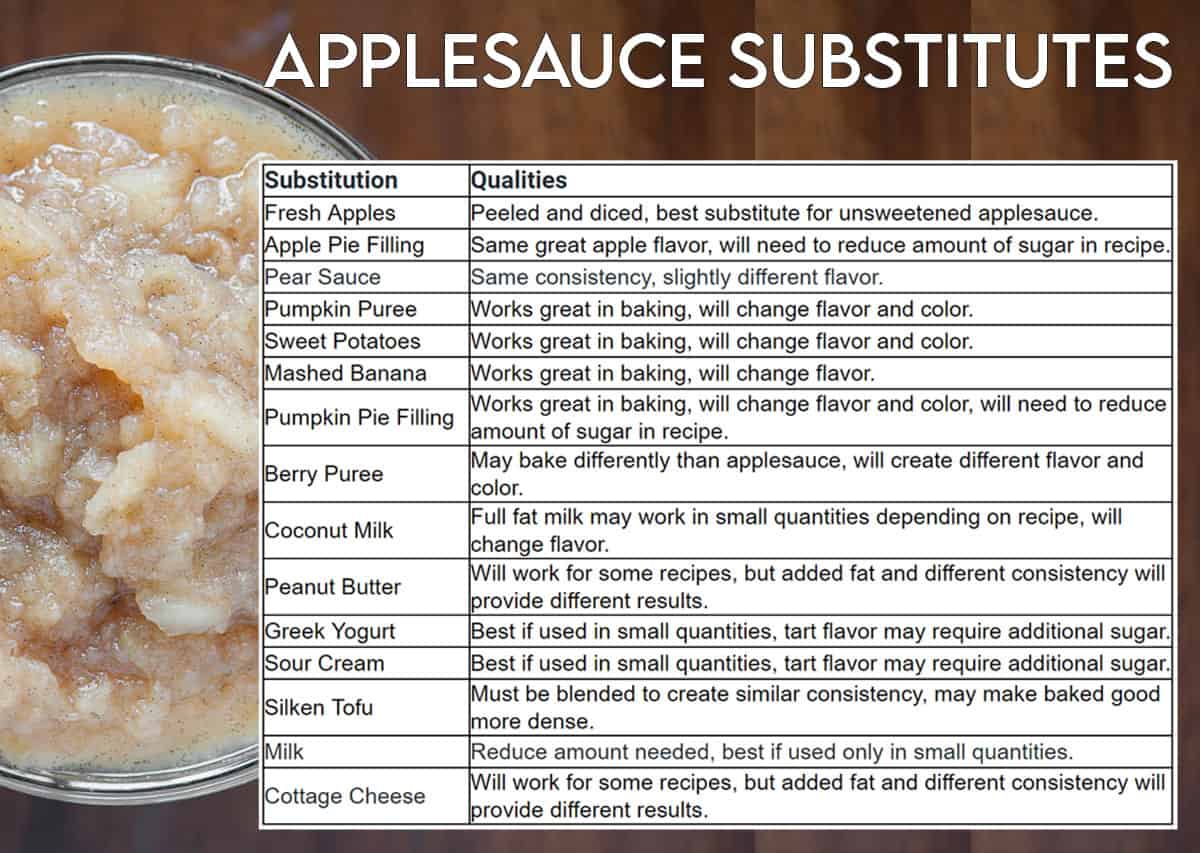 Substitutes for Applesauce Table
| Substitution | Qualities |
| --- | --- |
| Fresh Apples | Peeled and diced, best substitute for unsweetened applesauce. |
| Apple Pie Filling | Same great apple flavor, will need to reduce amount of sugar in recipe. |
| Pear Sauce | Same consistency, slightly different flavor. |
| Pumpkin Puree | Works great in baking, will change flavor and color. |
| Sweet Potatoes | Works great in baking, will change flavor and color. |
| Mashed Banana | Works great in baking, will change flavor. |
| Pumpkin Pie Filling | Works great in baking, will change flavor and color, will need to reduce amount of sugar in recipe. |
| Berry Puree | May bake differently than applesauce, will create different flavor and color. |
| Coconut Milk | Full fat milk may work in small quantities depending on recipe, will change flavor. |
| Peanut Butter | Will work for some recipes, but added fat and different consistency will provide different results. |
| Greek Yogurt | Best if used in small quantities, tart flavor may require additional sugar. |
| Sour Cream | Best if used in small quantities, tart flavor may require additional sugar. |
| Silken Tofu | Must be blended to create similar consistency, may make baked good more dense. |
| Milk | Reduce amount needed, best if used only in small quantities. |
| Cottage Cheese | Will work for some recipes, but added fat and different consistency will provide different results. |
Do you have any other tried and true substitution recommendations? Please let me know in the comments!