Fresh orange juice is often used in many areas of cooking, especially baking. Have a recipe you're following, but don't have any orange juice? No problem, I've got all the substitutes you could need right here.
Everything you need to know about replacing orange juice in a recipe is on this page, but what you choose depends on what you're making. It all depends!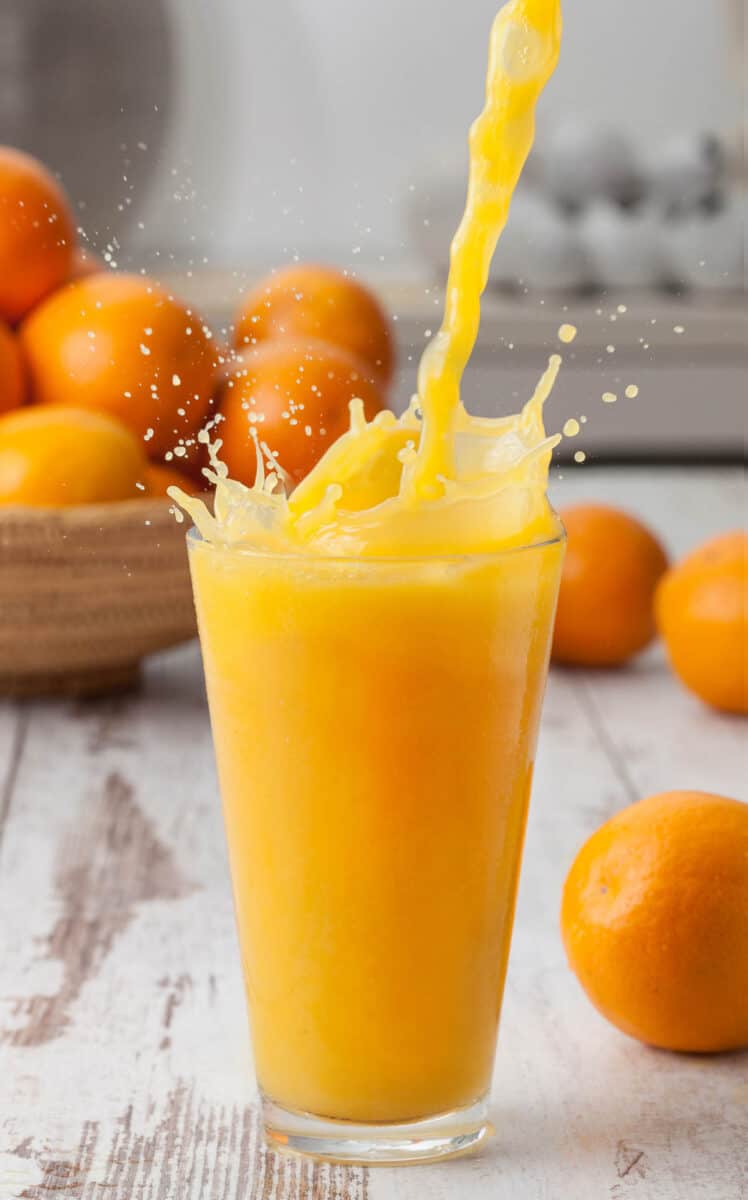 Jump to:
Why is Orange Juice Used in Recipes?
Depending on the recipe, orange juice can be used for several reasons.
The main reason is because of the unique flavor of oranges, but it's also used because it is sweet, tangy, and acidic. Acidic ingredients are very important if you're baking with baking soda, as it needs an acid to activate it.
Orange juice is also great when you're on a diet or trying to reduce refined or processed sugars and need an alternative sweetening agent. Oranges are also very high in Vitamin C, so they even lend a few health benefits to your food.
Orange juice is used in many kinds of dishes, including meat dishes when they are used as an ingredient in marinades or sauces, sweets like frostings and glazes, cakes and pastries, salad dressings, stir-fries, and more.
What's the Difference between Orange Juice, Orange Concentrate, and Orange Extract?
First, a common mistake people make is thinking orange juice and orange concentrate are the same thing, or that orange concentrate and orange extract are.
They're all different, and using the wrong amount may end in food that is inedible.
Orange juice is simply the juice squeezed from fresh oranges, but orange extract is a mixture of orange oil (from orange peels), alcohol, and/or water.
Orange juice concentrate, or just orange concentrate, is orange juice that's been reduced. Most of the water content has been removed and would need to be added back in before being used for orange juice in most recipes, though there are exceptions.
If you're making frosting, keeping the concentrate the way it is will add more kick and a stronger orange flavor. Orange extract and concentrate are the most common substitutes for orange juice.
Where Do You Find Orange Juice?
Orange juice is available for purchase in just about every corner store, market, and grocery store. You also might find some at your local farmers' market if you live in an area where oranges are grown.
You can find freshly squeezed or pasteurized in the refrigerated section at the grocery store. Shelf stable canned or boxed OJ can be found in the center of the store.
Obviously, it doesn't get any better than squeezing fresh juice directly from an orange.
Best Substitutes for Orange Juice
Orange juice is primarily used in baking for its unique flavor, to act as an acid, or to make a better crumb. The fructose naturally found in oranges acts as a tenderizing agent and makes for a better sticky, crumbly texture.
The best substitutes for orange juice are the ones that fit the same flavor profile; sweet, citrusy, acidic and have a tangy flavor.
Which substitute you pick depends on what you have and how much you need for your recipe. Please use common sense and don't replace a cup of orange juice with a cup of orange liquor.
1. Orange Concentrate
Orange concentrate, or orange juice concentrate, is just orange juice with most of the water taken out. You'll find small containers in the freezer section at the grocery store.
If you add the recommended amount of water, usually found on the side of the can, you'll be left with the perfect one-to-one orange juice alternative. This is the best option for any recipe that calls for orange juice because it is, essentially, orange juice.
As I mentioned above, if you're making a frosting or even a sauce, leaving it concentrated may improve the recipe. Just don't use as much as it calls for.
2. Orange Extract
Orange extract is a perfect replacement for orange juice in frostings or glazes, and a decent one in baked goods. Its actually the best substitution for orange zest since the flavor is so concentrated.
It's the same flavor, but much less liquid, so you may need to compensate by adding a bit of milk to your frosting or glaze. If you're using it in baked goods, you'll need to add the liquid lost by the replacement.
It's a one-to-five ratio, so if your recipe calls for a tablespoon of orange juice, you'll need about ⅔ teaspoon of extract. Some are stronger than others, so add it a bit at a time to be safe!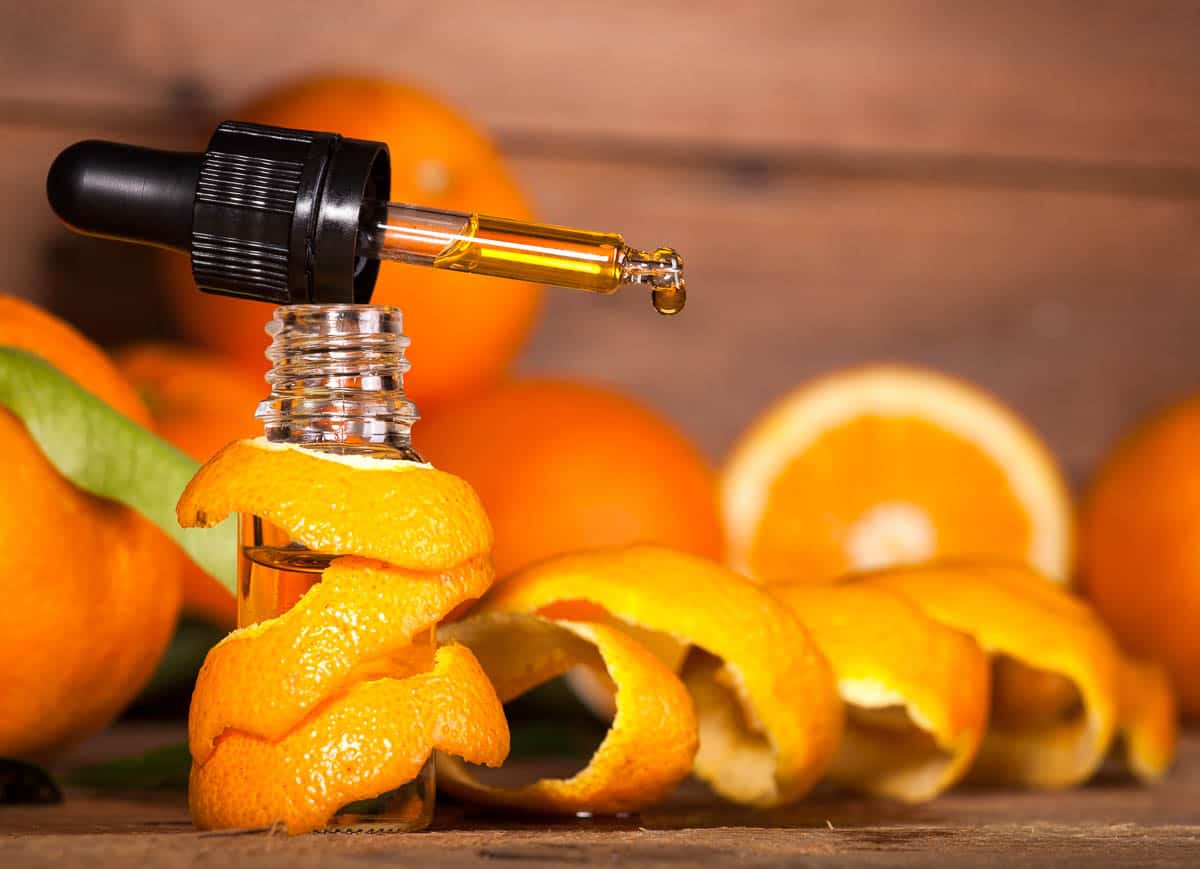 3. Orange Marmalade
Orange marmalade is a little like orange juice concentrate. It's orange juice, sugar, and spices that have been reduced into a jelly-like spread often used for pancakes or toast.
If you have orange marmalade, adding two parts of water to one part of marmalade will give you a great substitute for orange juice in most baking recipes. It's sweeter, but should still work just fine in place of orange juice for most savory recipes too.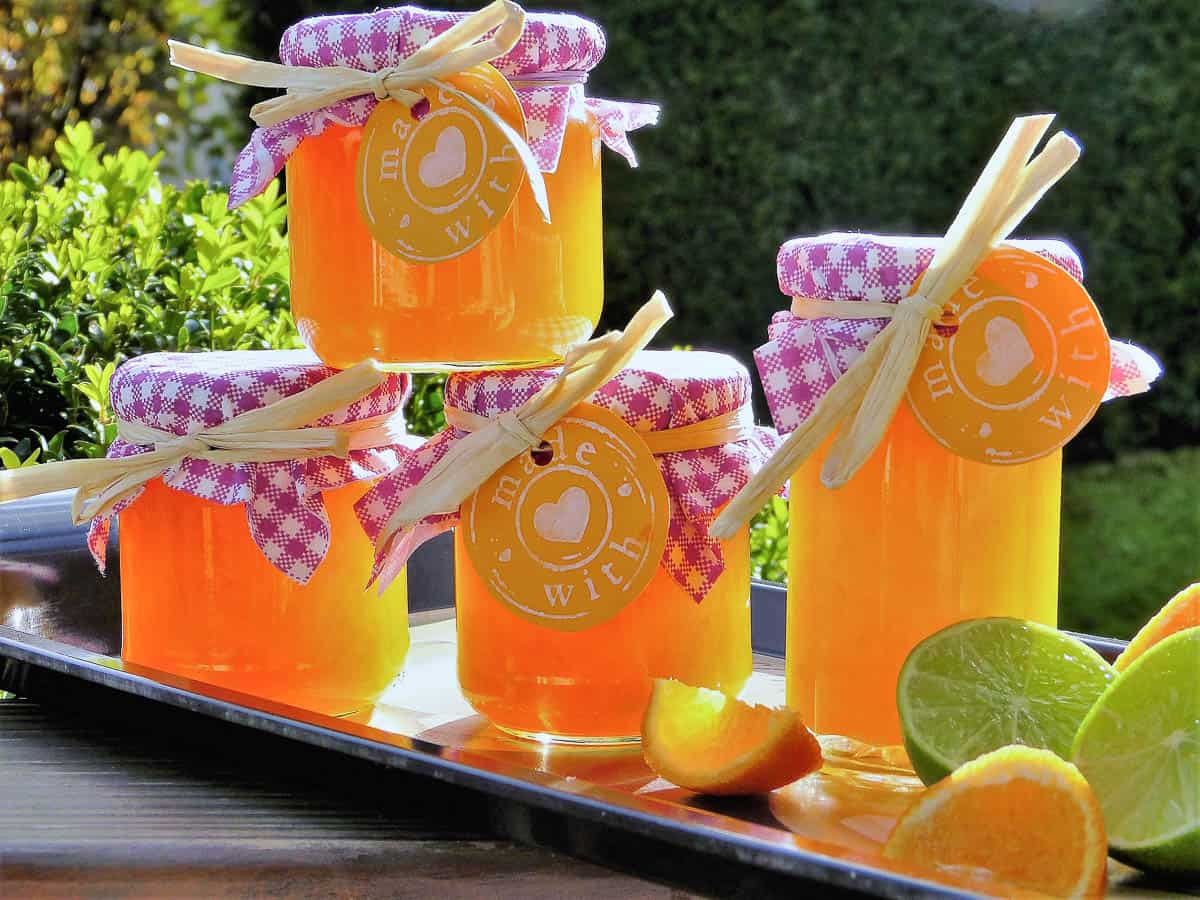 4. Pineapple Juice
Pineapple juice is an excellent orange juice alternative. It's acidic, sweet, and tangy, and you can find it pretty much anywhere. You can use bottled, freshly squeezed, or the juice from a can of pineapple slices.
It is a little sweeter than orange juice, so reducing the sweetener in your recipe would likely be a good idea. Other than that, it's a perfect one-to-one for most recipes.
5. Orange Liqueur
Orange liqueur is better used as an alternative when the orange juice is used for the flavor, as it's not acidic or sweet.
Using a nice orange liqueur like Grand Marnier or Triple Sec works as a great substitute for orange juice in a cake recipe or other baked goods. Plus, since the alcohol will get baked out, you'll still be able to feed the result to your kids!
If this cake is for an adult party, however, you might pour just a little in your glaze or frosting for a bit of a kick.
If you go with an orange liqueur for your substitute, you'll likely need to add a sweetener, as liqueurs are not sweetened and are served with sugar, unlike liquors which only need water added.
And it's a great replacement for orange juice in drinks.
Please be responsible when using ingredients with high alcohol content in the kitchen. They are highly flammable, and should not be given to children unless the item containing the ingredient has been thoroughly cooked.
6. Other Citrus Juices
Other citrus fruits can work great as a substitute for orange juice.
Lemon juice, lime juice, or grapefruit juice work perfectly as a one-to-one replacement in all kinds of recipes. Of course, if you opt for any of these as a substitute, you will probably need to add more sweetener to your creation. Most other citrus fruit juices aren't as sweet as orange juice, though they have a similar flavor.
Meyer lemons and limons are exceptions, as they have a much more sweet flavor than their counterparts, and nearly match oranges.
7. Passion Fruit Juice
Considering passion fruit juice is sweet, slightly tart, and orange in color, it makes a fantastic substitute for orange juice.
The reason it is not higher up on this list is because of availability and cost. If you can find it, use it as a one-to-one substitute.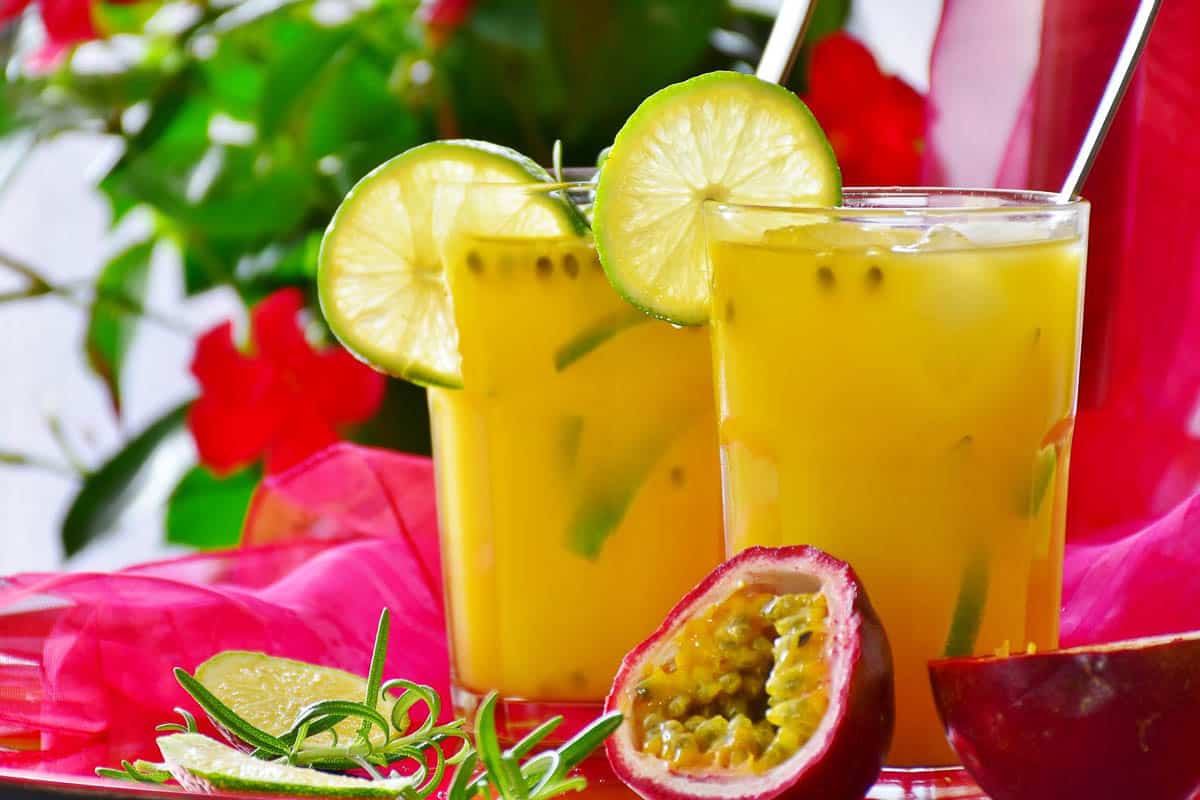 8. Cranberry Juice
Cranberry juice is a great alternative to orange juice. It has the right amount of sweetness and tang, but a unique flavor.
Oranges and cranberries are often paired together in both sweet and savory dishes. Orange Cranberry Sauce is a perfect example.
Cranberry Juice can be used as a one-to-one replacement for orange juice. As long as you don't mind the flavor profile changing a bit.
9. Citrus Zest
Orange zest, along with other citrus zests, is a suitable alternative to orange juice in a glaze or frosting. It's just shredded outer peel and is akin to using an extract. Zest is also even higher in Vitamin C than the juice.
It would also lend good flavor to a meat marinade, but is best for sauces and such. You can either make your zest or buy it dried at the store.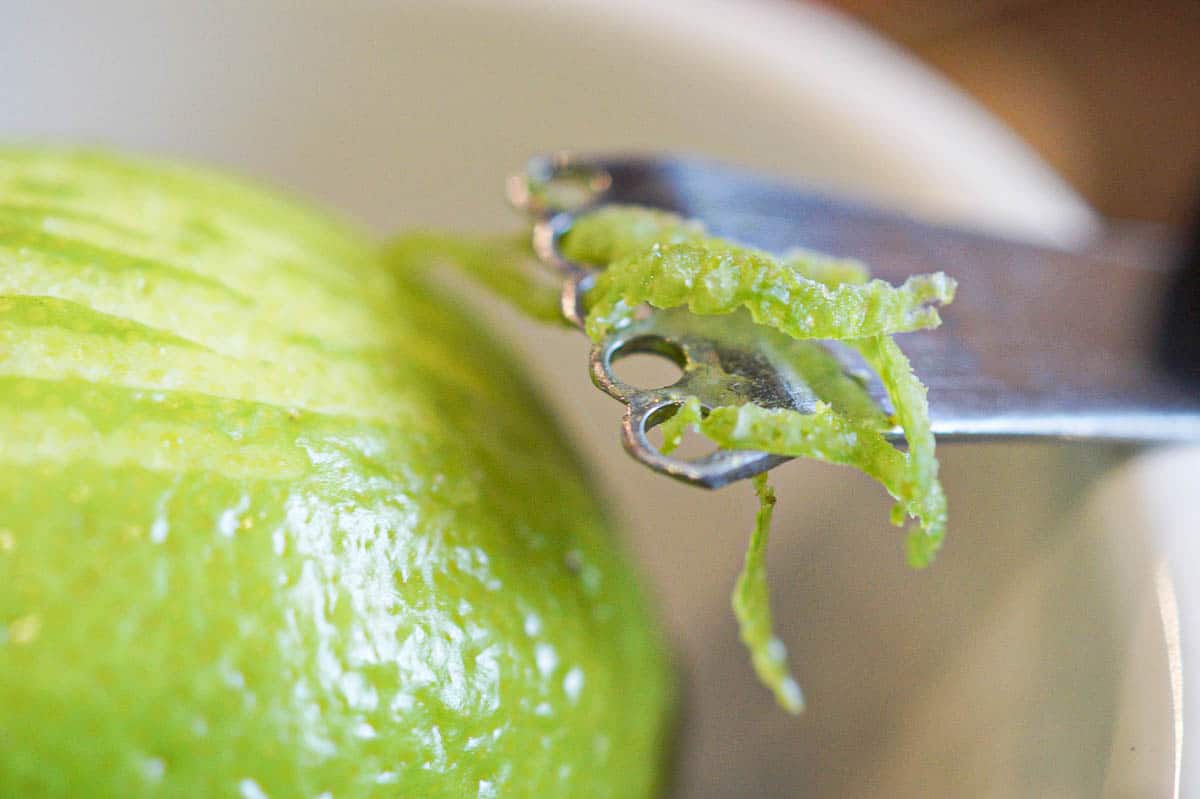 10. Coca Cola:
It may be surprising, but Coke and other colas are a great orange juice alternative in baked goods.
The fizz adds the lift that the acidity of orange juice does when combined with baking soda in baked goods. As an added bonus, it adds a unique sweetness. The only thing you're missing is the tang. Well, and the orange flavor.
Use it as a one-to-one replacement in baked goods, and you'll have quite a unique dessert. Just remember to reduce or even remove the sweetener in your recipe, as cola is very sweet.
It's not a good substitute for orange juice in anything other than baked goods, however.
11. Lemon Lime Soda
For certain recipes, something like Sprite would work for the exact same reasons as Coke. Using a lemon lime flavored soda could potentially work if you were making a quick bread or muffin that called for orange juice.
Use as a one to one replacement.
12. Apple Cider Vinegar
Apple cider vinegar can be a possible orange juice alternative.
It's more acidic and a little less sweet, but is a great option when you're making a savory recipe like a meat marinade or a salad dressing.
It's a one-to-one replacement if only a small quantity is needed. Make sure you like the flavor before using it, as it's a little strong.
13. Citric Acid:
Citric acid isn't something most people have in their kitchen. In the off chance you do, adding some to water could give you a good substitute for orange juice, depending on the recipe.
Citric acid is pure sourness. It's what gives citrus their tangy, sour feeling, and is often used in candies to make them sour.
Adding a mix of water, orange extract, sugar, and citric acid would essentially replicate the flavor, sweetness, acidity, and tang of orange juice. You'll need to play a bit to get the concoction right, but it's a great replacement in nearly anything you use orange juice.
Using citric acid would work if you were making a frosting, but not as well if you're making a marinade recipe.
14. Lemon Curd
If the reason you're using orange juice in your recipe is to add a sweet and tart punch, lemon curd could very well work as a replacement.
This will only work as a flavor enhancer since the consistency isn't quite the same. But, if all else fails, it could work!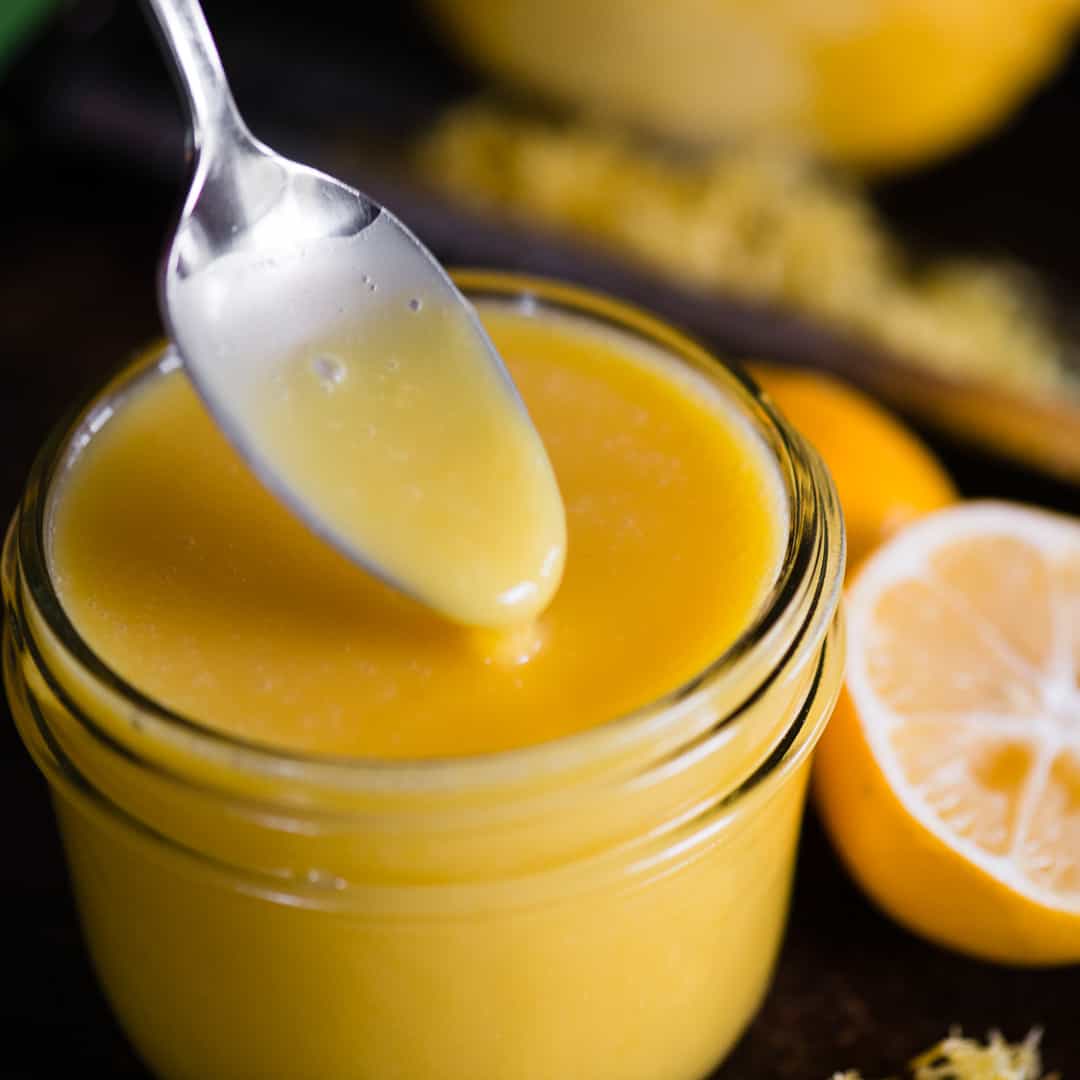 15. Orange Flower Water
Also known as Orange Blossom Water, this aromatic liquid is a by-product of when fresh bitter-orange blossoms are distilled. With cooking, it is most commonly seen in Mediterranean dessert recipes.
Similar to orange liqueur, orange water is more about flavor than sweetness or acidity. It's water distilled with orange blossoms to give the water a strong orange flavor. It can be a substitute for orange juice in certain recipes, but you'll need to add sweetener and maybe a little acid, like apple cider vinegar.
This is not the best substitute because it is not a commonly found ingredient and much needs to be added to make it similar. It will, however, add a lovely orange flavor to any recipe.
Substitute Guide for Orange Juice
Orange Juice Substitution Graphic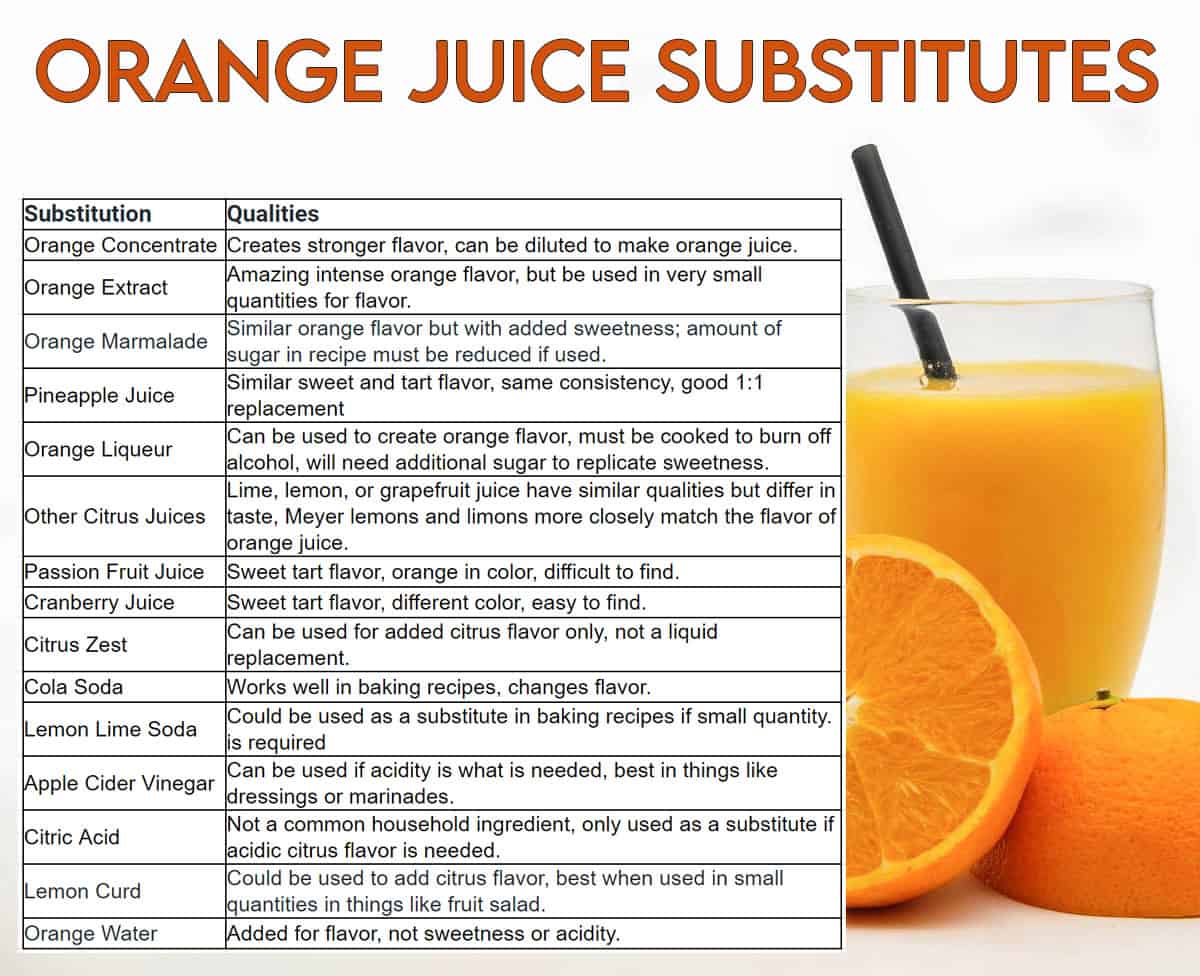 Substitute for Orange Juice Table
| Substitution | Qualities |
| --- | --- |
| Orange Concentrate | Creates stronger flavor, can be diluted to make orange juice. |
| Orange Extract | Amazing intense orange flavor, but be used in very small quantities for flavor. |
| Orange Marmalade | Similar orange flavor but with added sweetness; amount of sugar in recipe must be reduced if used. |
| Pineapple Juice | Similar sweet and tart flavor, same consistency, good 1:1 replacement. |
| Orange Liqueur | Can be used to create orange flavor, must be cooked to burn off alcohol, will need additional sugar to replicate sweetness. |
| Other Citrus Juices | Lime, lemon, or grapefruit juice have similar qualities but differ in taste, Meyer lemons and limons more closely match the flavor of orange juice. |
| Passion Fruit Juice | Sweet tart flavor, orange in color, difficult to find. |
| Cranberry Juice | Sweet tart flavor, different color, easy to find. |
| Citrus Zest | Can be used for added citrus flavor only, not a liquid replacement. |
| Cola Soda | Works well in baking recipes, changes flavor. |
| Lemon Lime Soda | Could be used as a substitute in baking recipes if small quantity. is required. |
| Apple Cider Vinegar | Can be used if acidity is what is needed, best in things like dressings or marinades. |
| Citric Acid | Not a common household ingredient, only used as a substitute if acidic citrus flavor is needed. |
| Lemon Curd | Could be used to add citrus flavor, best when used in small quantities in things like fruit salad. |
| Orange Water | Added for flavor, not sweetness or acidity. |
Do you have any other tried and true substitution recommendations? Please let me know in the comments!