Celery is used in so many different ways. It is a key vegetable in a ton of recipes but it is also used as a great snack.
If you found yourself cooking a recipe that calls for celery and you either don't have any or just aren't fond of it, there are many great alternatives that will work.
Jump to:
Celery Facts
Celery is part of the parsley family similar to carrots and parsnips. It originated near the Mediterranean and was used for medicine in the Medieval times. The French began to use celery for cooking in the early 1600s.
Celery grows best in the cool and needs plenty of moisture. It grows in the ground in stalks. Celery needs refrigeration after being harvested to maintain its high water content.
The flavor of celery is mild making it a great addition to almost anything. It can be eaten raw or cooked. Celery is a popular ingredient in stews, pasta salads, stuffing, and potato salad. It is a very versatile ingredient that provides texture and crunch.
Celery also has many health benefits. It is a great source of fiber and vitamins. It is low in calories and has a low glycemic index. Here is a list of nutritional information for one medium stalk of Celery. 
Nutritional Facts of Celery
Calories: 5.6
Fat: 0.1 g
Sodium: 32mg
Carbohydrates: 1.2g
Fiber: 0.6g
Sugar: 0.5g
Protien: 0.3g
Potassium: 104mg
Sodium: 32mg
Phosphorus: 9.6g
Recognizing the health benefits of celery is important to find the best substitute. Celery is a versatile vegetable and adds a lot of flavor. A celery substitute should provide a crunchy texture and unique flavor. 
Best Substitutes for Celery
Because celery is such a staple in the kitchen, it can accidentally be used for purposes different than intended.
It is not uncommon to buy it as an ingredient for dinner but realize someone chose it for a tasty snack.
There are some other common ingredients including these fresh produce recommendations that you can use as a substitute for celery.
Green Onion
Green onions are a kitchen classic. They are a great substitute because they add a similar color and crunch similar to celery. Green onions are also often referred to as scallions.
Green onions offer a mild taste and can be eaten raw or cooked. The bottom white section of green onion will have an earthy taste that some might consider to be similar to celery.
Green onion is a great choice as you can use it for almost anything. Try green onion as a celery alternative in tuna salad or baked stuffing recipes. You will only need to use half of the amount of green onions to celery in your substitution.
Fennel
Fennel is known for its licorice flavor. But, when it is cooked the flavor transforms wonderfully. Fennel stalks appear very similar to celery. They have a crispy texture and are a great replacement for celery.
Substituting fennel works best for stews and soups. It will provide a nice crunch for your savory dishes. Try it in this Homemade Chicken Noodle Soup for a cold-weather treat.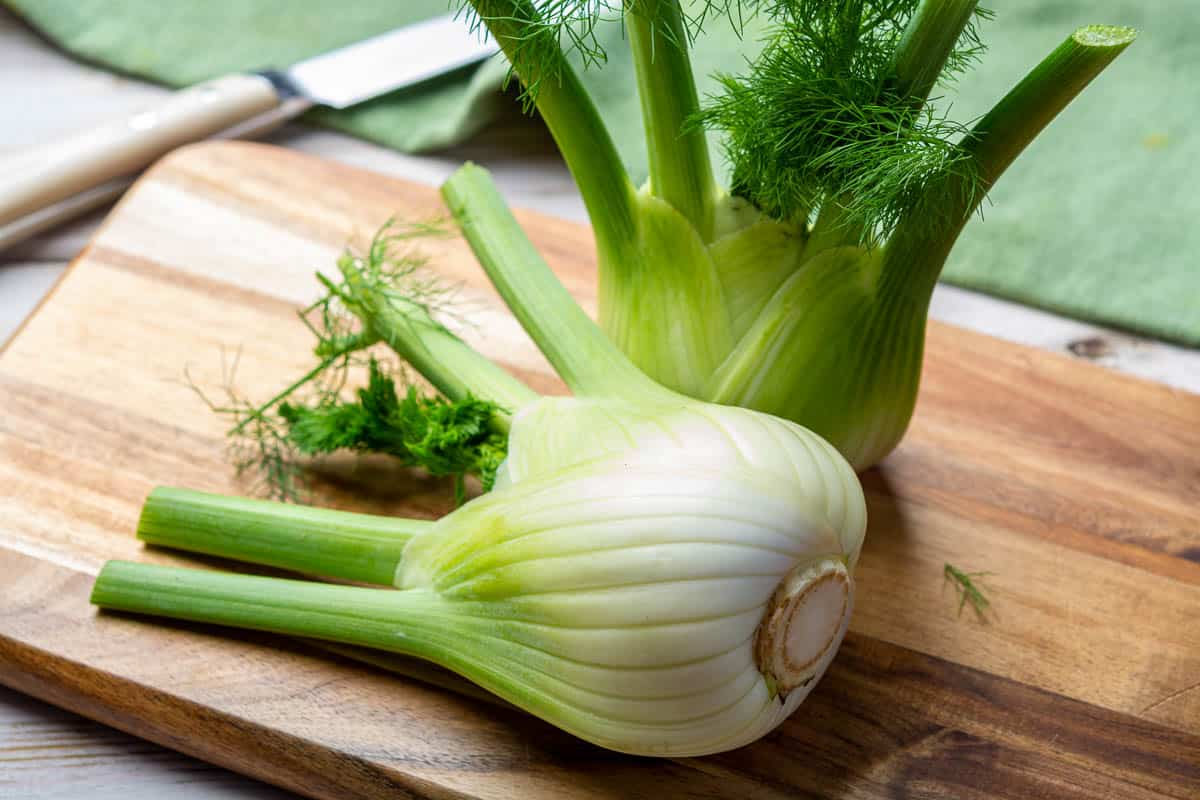 Water Chestnuts
Water chestnuts are actually not a nut. They are white watery vegetables with a nutty flavor. Similar to celery, they can be eaten raw or cooked.
They are generally chopped and added to dishes for their crispness and their sweet, tart, and nutty taste. Water chestnuts will provide a similar crunch as a celery replacement.
Water chestnuts also provide great nutrition. A 3.5-ounce serving has 2 grams of protein and 3 grams of fiber.
Plan to substitute one part of water chestnuts for every two parts of fresh celery. This will give you that great texture and crunch without overpowering the flavor.
Use fresh water chestnuts as the perfect substitute for celery in raw dishes like chicken salad. Its distinct taste will create a sweet flavor perfect for a fresh salad. Looking for a new recipe? Check out the Open-faced Chicken Salad Sandwich.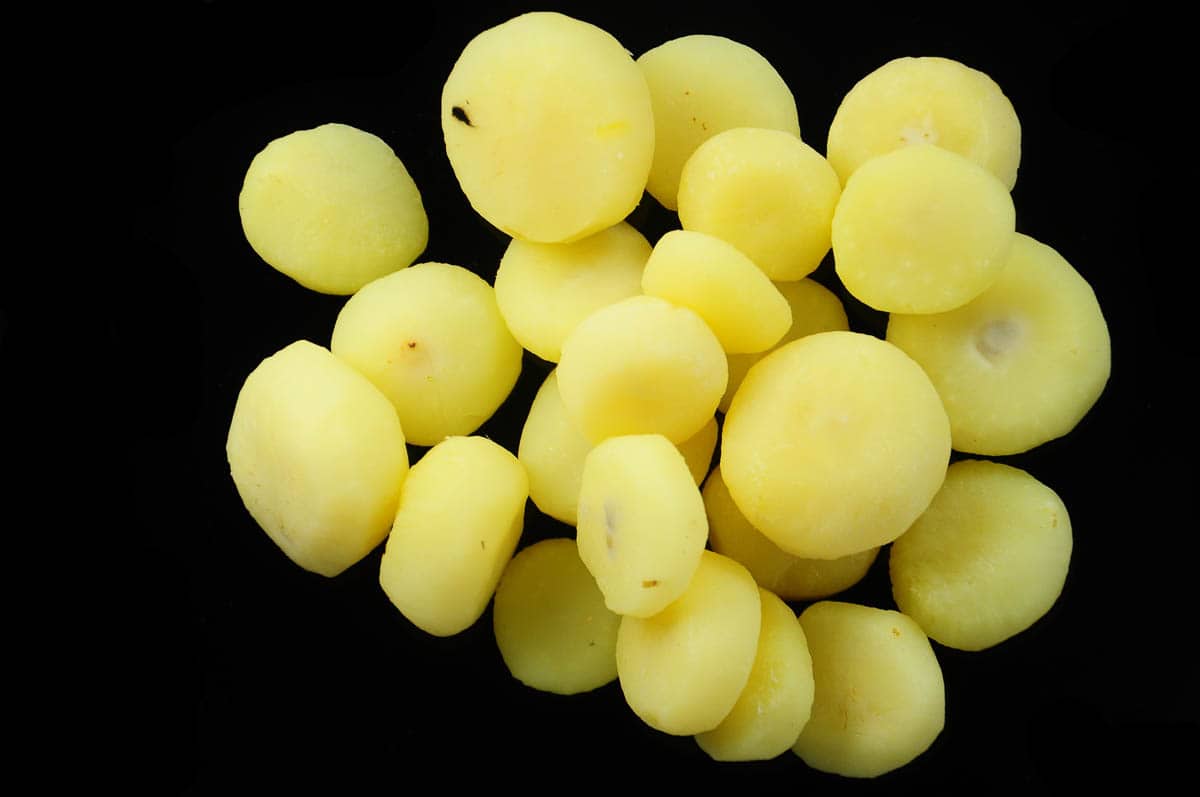 Bok Choy
Originating in China as early as the 5th century, Bok Choy can be used as another good alternative to celery. It is Chinese cabbage that has a similar flavor to celery. It has green leaves that mimic the appearance of celery leaves.
Bok Choy is widely used in Chinese cooking. Both the leaves and stalks can be used in recipes. Many use the raw form for salads but these can leave a mustardy or bitter aftertaste. When Bok Choy is cooked, it has an earthy flavor that is semi-sweet.
Bok Choy is a great choice in place of celery in dishes like Stir Fry. The stronger taste from the raw cabbage will be cooked down to create a great flavor alternative for your stir fry.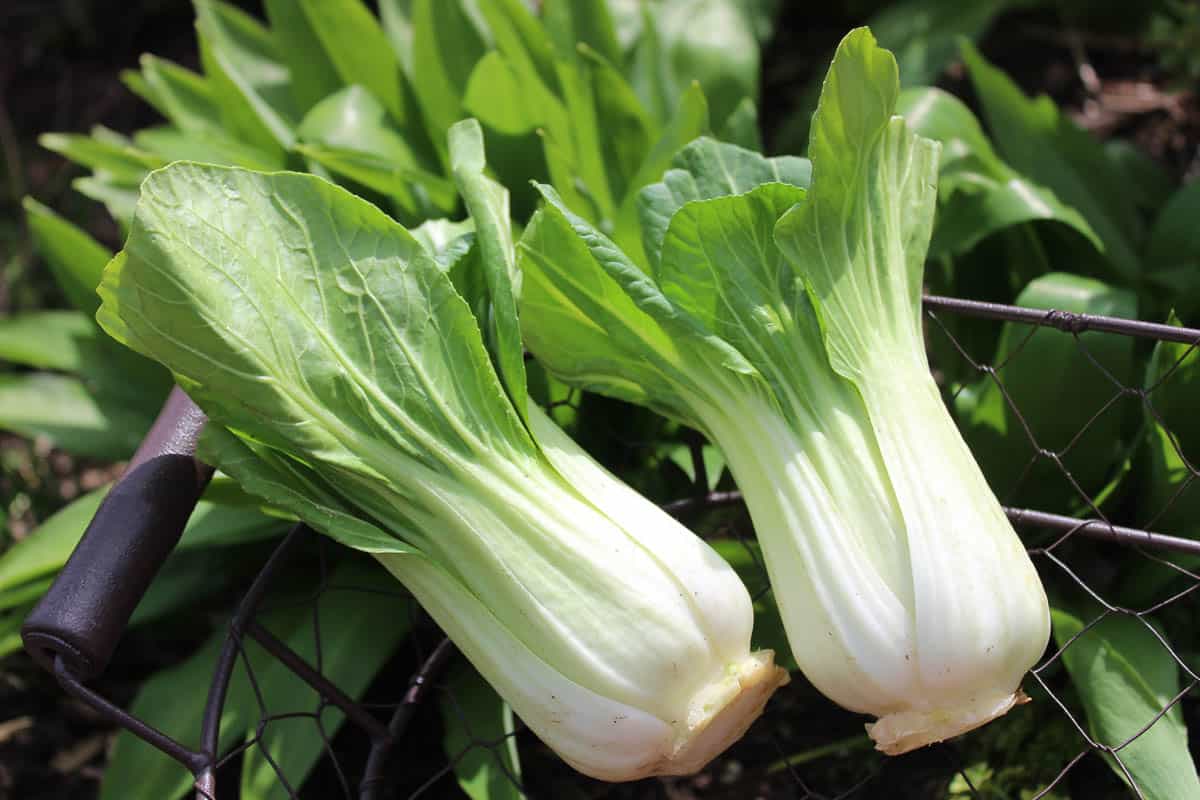 Green Apple
This may seem like a strange suggestion. But, green apples can be one of the best replacements for celery.
Celery juice has become a wide phenomenon among health experts. They utilize the celery stalks by blending them into a liquid. Apples can be used similarly in juices and smoothies.
Apples also make a great snack paired with peanut butter. Use them as a tool for dipping like in this Easy Peanut Butter Dip Recipe. Green apples are rich in Vitamin A and Vitamin C. They are a treat anyone can enjoy.
Green apple has a sweet taste compared to celery. But, its crunch factor is one of the best options for a great celery substitute. They are the perfect swap for celery when you could use something sweet.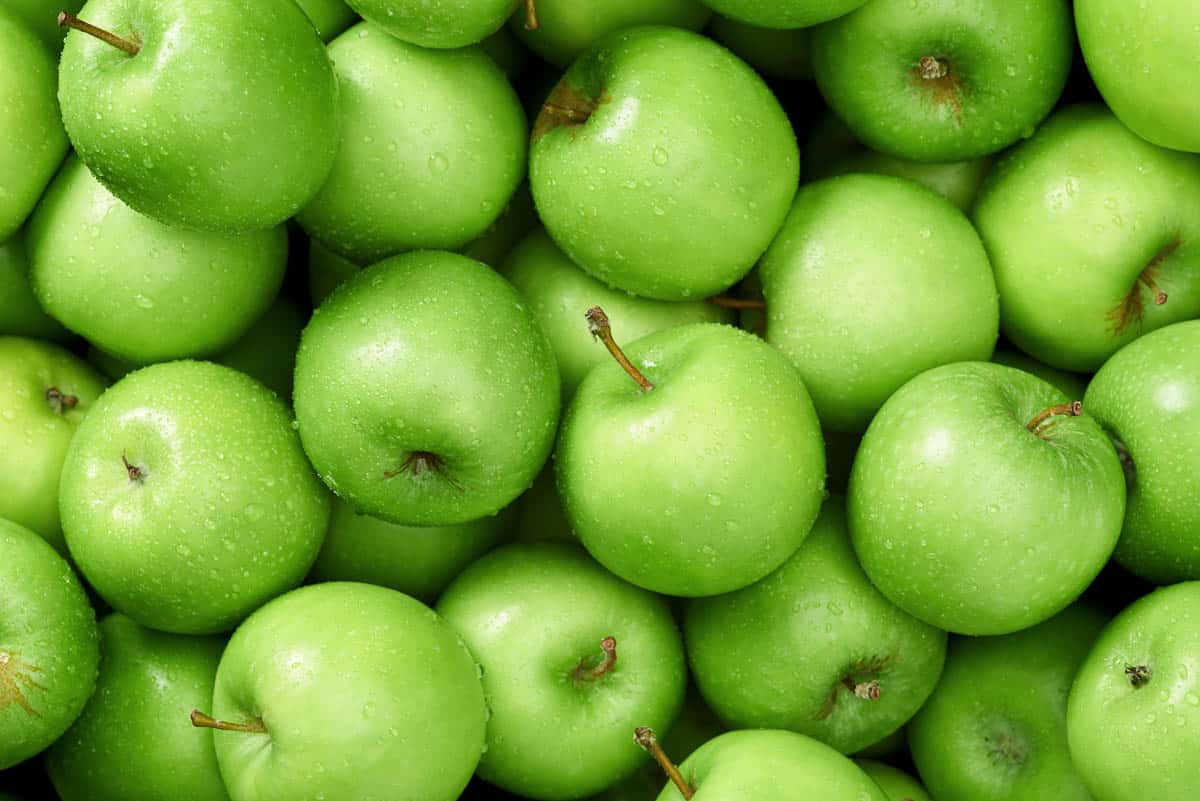 Green Bell Peppers
Bell peppers make one of the best replacements for celery. Not only do they have the same color as celery, but they are also mild in flavor. Fresh celery and fresh bell pepper also have a similar texture. 
Green peppers are widely used in many cultures. Cajun chefs regularly swap bell pepper for celery in what is known as the holy trinity of a Mirepoix. Both celery and bell peppers are green vegetables with amazing versatility.
Try Green Bell pepper alongside meats. They don't have much of a peppery flavor and will provide the fibrous texture needed in place of celery. Green bell pepper is easily one of the best substitutes for celery.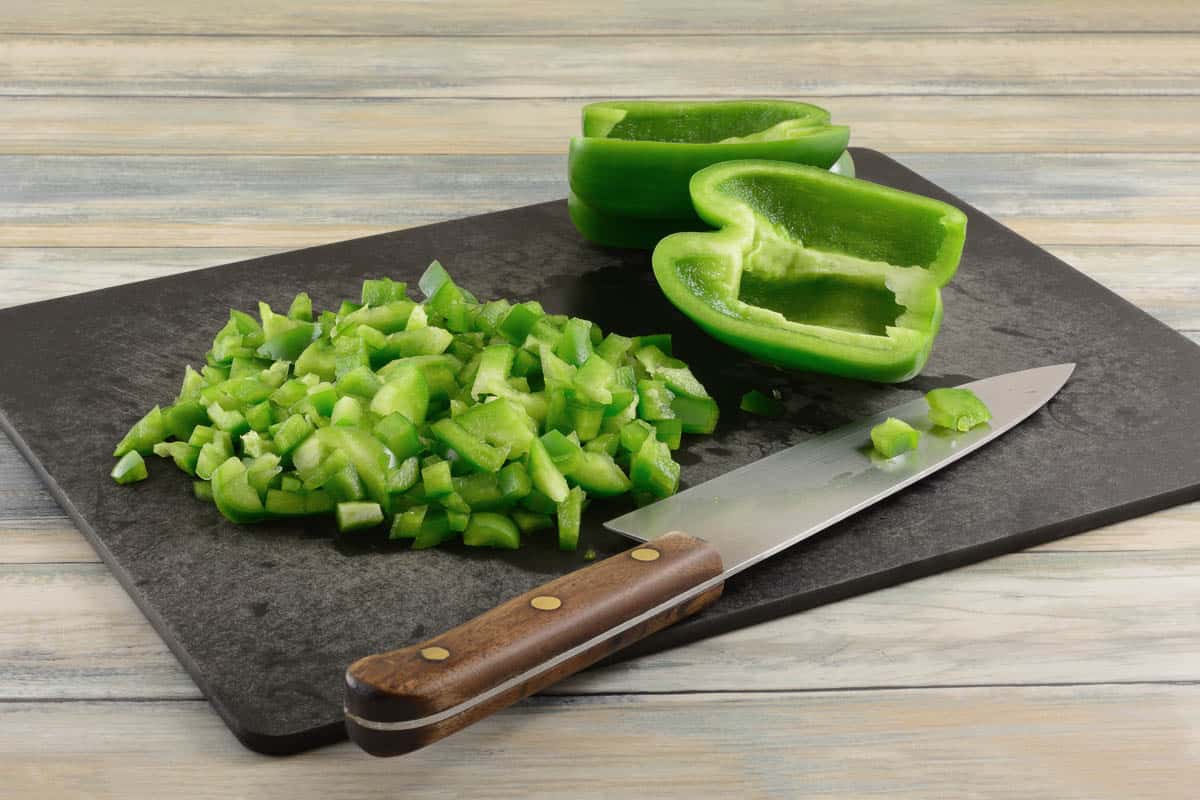 Carrots
Carrots work well as a substitute for celery. They are a root vegetable that have an earthy taste when raw. After cooked, carrots taste quite sweet.
Carrots also offer great nutritional aspects. They are filled with Vitamin C and Vitamin b6. A half-cup of carrots can give you 73% of your daily need for Vitamin A and 9% of your daily Vitamin K.
This substitution option works well for soup broth. It can provide a great flavor but may need an additional amount of salt.
On the other hand, raw carrots can replace celery as a snack. Their crunch factor gives celery a run for its money. Carrots can be a solid choice to replace celery.   
Jicama
Jicama is a unique but great option for replacing celery. When chopped, it appears white almost like an onion or a potato. It grows in Mexico and Central America.
The taste of jicama is slightly sweet and very juicy. It is low in calories and packed with fiber. It can be intimidating to know how to eat jicama.
The best way to cut jicama is to first peel the outer layer. Then, cut the jicama in half and create thin slices.
Like many other vegetables, jicama can be eaten raw or cooked. It makes a great replacement for celery root in salads. It also makes a great replacement for celery in coleslaws. The crunchy texture and delicious sweet taste of jicama is a great addition to many recipes.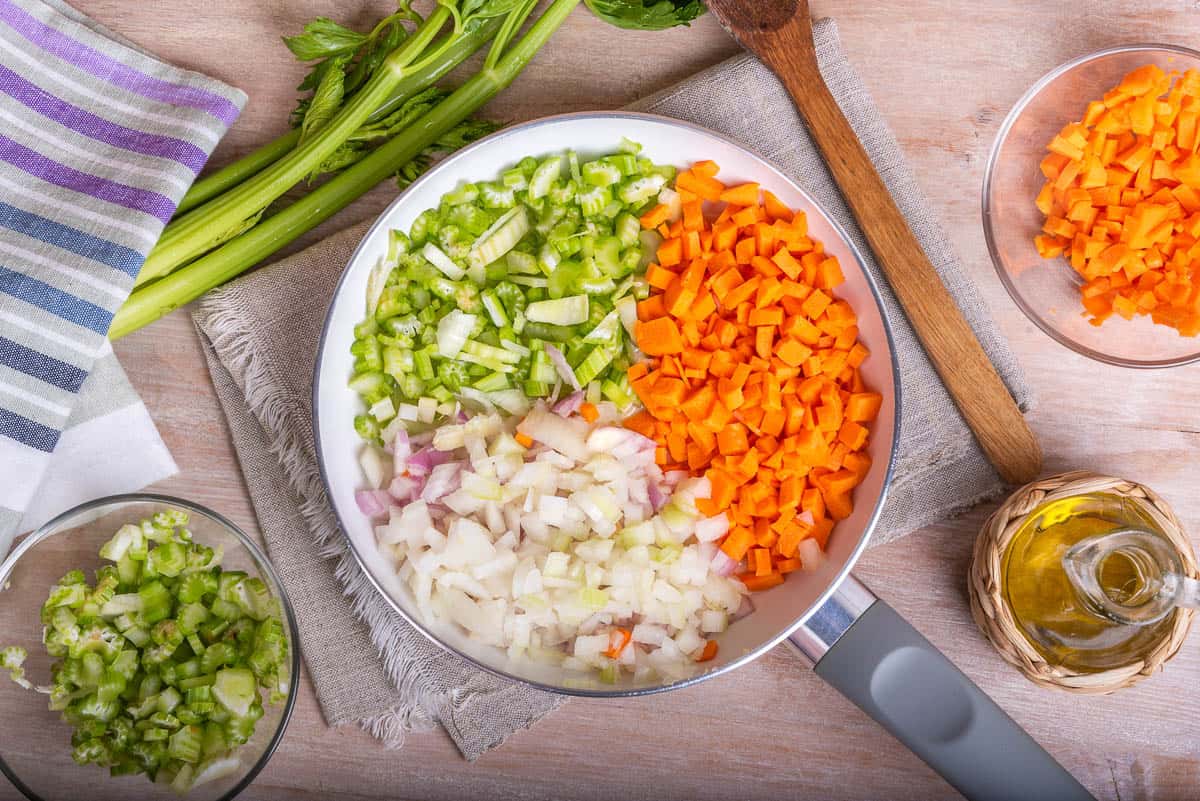 Green Beans
Green beans can provide an excellent celery substitute in a pinch. Their crunch factor provides the same texture of celery. But, they do not have a similar taste or any aspect of celery flavor.
Green Beans can be eaten raw or cooked as well. Use them as an easy snack for hungry kids or in a stir fry. But, I would not use them to enhance flavors in more robust dishes.
Celery Seed Substitutes
It is possible that you use celery seed in place of fresh celery. Celery seed has been used as both a medicine and spice for thousands of years. It is collected from wild celery and has a grassy flavor.
Celery seed is an excellent substitute for a stalk of celery and lasts longer. You would need a much smaller amount of celery seed compared to fresh celery as well. 1 teaspoon of celery seed is the same as using two celery stalks.
Celery comes in many forms such as celery flakes, ground celery seeds, and celery salt. Clearly, people enjoy the celery flavor.
The good news is, there is plenty of celery seed substitutes seed as well.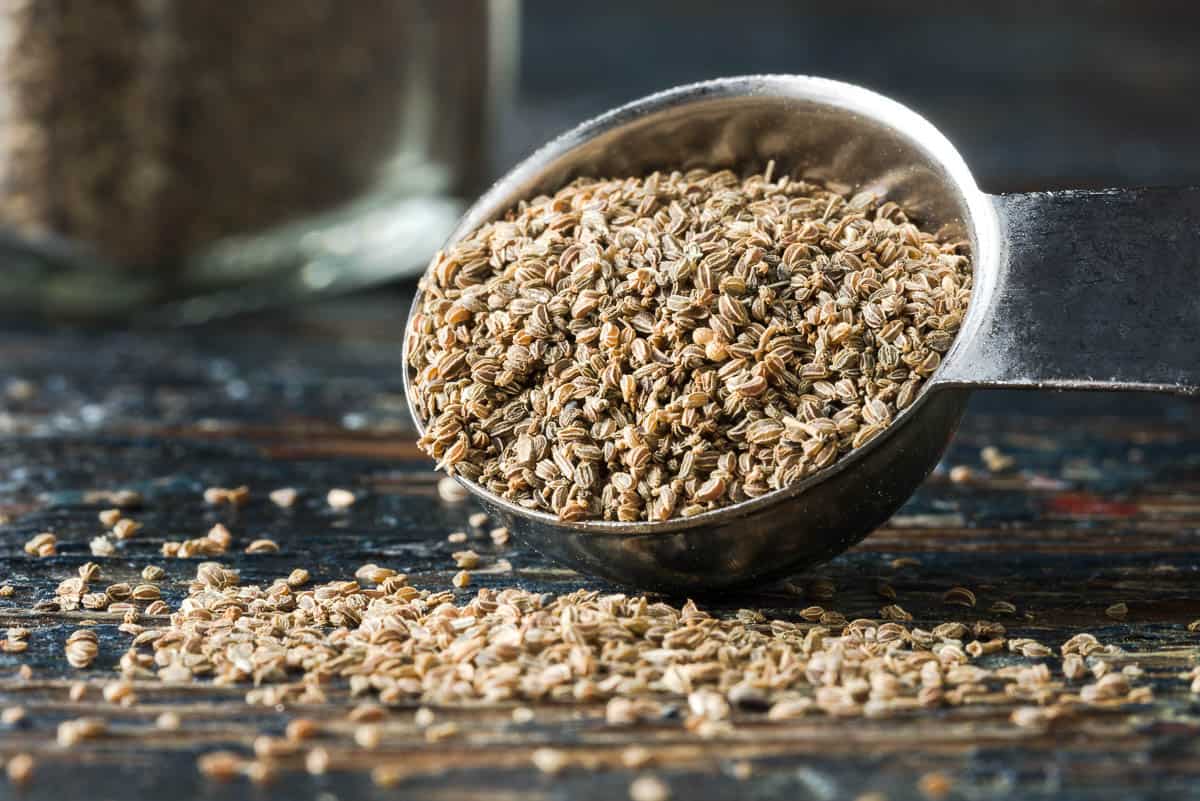 Fennel Seeds
Fennel seeds are common in Italian cooking. They taste the same as fresh Fennel with a licorice flavor. The spice will work will to provide a fresh flavor, even in the form of a seed.
Fennel seed is a good alternative for cooked dishes such as pasta. It can be used the same way you use celery seed.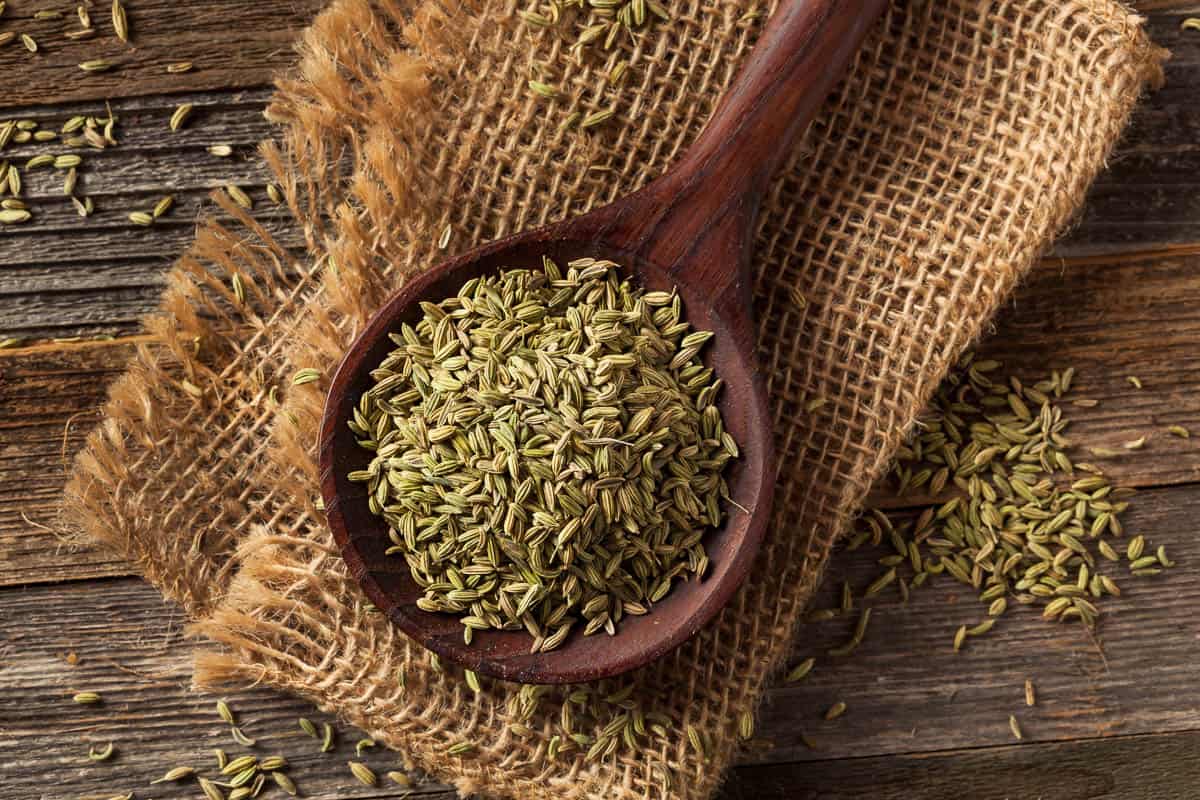 Dill Seeds
Dill seed is used to add light and bright flavors to a variety of dishes. It has a stronger flavor than celery seed but it is still a good substitute.
Try dill seed for a good substitute option in brines and salads. It is also a great option in potato salads, especially if you don't like the flavor of celery. Here is a great recipe for the BEST Classic Potato Salad.   
Caraway Seeds
Caraway seeds provide a wide depth of flavor. They have a slightly peppery taste with hints of citrus.
They are often used in baking and can be a good celery substitute in dishes such as casseroles or to enhance vegetables. 
Star Anise
This spice originated in China and comes from the fruit of a Chinese evergreen tree. It has a similar licorice taste to fennel seed. It is often used in savory dishes.
Star Anise is a good celery seed substitute paired with onion for beef dishes. It does have a very specific taste so use it sparingly for the best effects.  
Celery and Celery Seed Substitute Summary
The items listed as both celery substitutes and celery seed substitutes can be found in most grocery stores. Each option will provide a different flavor but can come together with other ingredients to provide an excellent substitute for celery. If you find yourself in a bind, feel free to try out different options.
Be sure to consider the best celery substitutes for fresh raw meals versus cooked meals. The needed aspects of fresh celery are much different from cooked celery.
Do you have any other tried and true substitution recommendations? Please let me know in the comments!