Nothing tastes like fall quite like biting into a crisp apple. Braeburn apples are especially delicious and some people consider them the best apples in the world. Their cinnamon and nutmeg flavor tastes like eating apple pie right off the tree. Here we're going to talk about Braeburn apples. Then, we will cover which varieties may create similar results that mimic the sweet-tart flavor of the Braeburn apple. The kind of apple you choose may depend on a number of factors.
First, let's talk about Braeburn apples.
Jump to:
What do Braeburn Apples Taste and Look Like?
The complex flavor of a Braeburn apple is quite unique. They are crisp, juicy, sweet, and tart. Overall, they have a citrus taste with a hint of autumn spices.
Braeburns have red skin with a yellow-green background. They have cream colored flesh inside. They are resistant to bruising even though the skin is fairly thin.
How Can Braeburn Apples be Used?
These apples are very versatile and can be used in a variety of ways. They taste best when stored and cooled slightly below room temperature.
Because of their flavor and firm texture, they are great for baking, especially in apple pies. Unlike other varieties of apples which release their juice when baked, Braeburns hold their shape and texture.
Since they have a complex flavor, they can also be dehydrated or enjoyed raw on a charcuterie board. Their spicy flavor makes them perfect for apple juice and applesauce, and their acidity allows them to retain their color when juiced. They can also be grilled or used for dipping.
History of Braeburn Apples
Braeburn apples were discovered by a farmer named O. Moran in New Zealand in 1952. An apple was discovered on a wild seedling tree that grew from a fallen apple. After examination, it was identified as a possible cross between Granny Smith and Lady Hamilton apples.
They grafted the two and started growing Braeburn apple trees. Braeburn apples were not originally bred intentionally and are not genetically modified. They were then grown in Braeburn orchard, where their name comes from.
Braeburns grow best in warm regions. They thrive in New Zealand, Australia, Canada, Chile, the United Kingdom, France, Italy, and the United States. Braeburn apples are available in October-March in North America and the UK, and April-September in New Zealand and Australia. They are one of the top 15 most popular apple varieties in the United States.
Although Braeburn apples are available year-round, you may be unable to find them at grocery stores because it's common for them to be replaced by their offspring varieties. Braeburns are the parent apples of several offspring: Envy, Jazz, Sweetie, and Kanzi apples.
Depending on the way the apples will be used, there are other varieties that are considered good options and can successfully be used in place of Braeburn apples. Here are seven other apple varieties that make a good substitute.
Best Braeburn Apple Substitutes
Pink Lady Apples
When first biting into a Pink Lady apple, it is tart, but changes to a sweet floral taste. It leaves a fizzing effervescent aftertaste because of its acidity. It is one of the most popular apples because of these factors.
Pink Lady apples have a yellow-green skin with patches of pink and red. The flesh retains its white color and is slow to oxidize (turn brown).
Its crisp flavor makes Pink Lady apples appropriate for use on charcuterie or cheese boards and in salads. The slices will stay white for extended periods of time.
They can be thinly sliced and used on flatbreads or chopped for salsa. They make a great choice for adding to muffins, tarts, mince pies, and scones. They can also be pureed into applesauce or made into preserves or syrup. A unique way to use Pink Lady apples is to poach them in wine with warm spices.
Granny Smith Apples
Granny Smith apples are known for their tart acidic tang. They are juicy, crisp, and have firm flesh. Their thick green skin allows them to maintain their texture and prevents easy bruising. They are ripe when they have a pink or yellow blush under their green skin.
These great apples are one of the best varieties for baking. They hold their shape and color and become slightly sweeter when baked.
The sharp flavor of Granny Smith apples makes them a good choice for pairing with caramel dips, cheeses, or other sweet fruits. They can be made into a tart green apple juice that does not brown because of its high acidity.
Apple crisps and apple cobblers made with Granny Smith apples combine the sweetness of the crust with the sour green apple flavor. While some apple varieties make apple cakes or breads soggy, Granny Smith apples don't break down or weigh down cakes. Since the peels are thick and sour, you should peel these apples before baking.
Gala Apples
Gala apples are mild with a sweet flavor, thus they are not considered a very tart apple. Their fruity taste is similar to a pear. The longer they have been off the tree, the more the mild flavors mellow. Their skin is red and golden yellow.
This apple variety does require some special care. Their thin skin causes them to bruise easily, and they oxidize and turn brown quickly when cut. Covering slices with lemon juice helps them maintain their light color. When kept at room temperature, they become softer, similar to a McIntosh apple.
Gala apples make a great multi-purpose apple. They can be used in both sweet and savory recipes.
Gala Apples make a mild apple juice and are a good choice for snacking. When baked, these apples soften but keep their shape. They also make a great addition to salads and provide a good contrast to savory flavors.
Fuji Apples
Fuji apples are one of the sweetest in the world, making them great for snacking. They have a rich complexity of flavor with hints of honey, citrus, and pear. Their sweetness is offset by the slight tartness. Fujis are crisp and juicy with a pink or red skin over a yellow-green background.
One of the best ways to eat Fuji apples is as a freshly cut snack. They can also be pressed into apple juice or cider, boiled into apple butter or blended into applesauce.
Their firmness makes them a great option for baking. They hold their shape and are considered good dessert apples for recipes such as pies or baked apples.
Fuji apples also work well in main dishes such as soups or roasts. They pair well with meat, cheese, and vegetables.
Honeycrisp Apples
Honeycrisp apples (also called Honeycrunch) are known for their exceptionally crisp flesh and light texture. They are very juicy and have a sweet and slightly tart flavor. They taste like honey but have less flavor depth or complexity than other apple varieties.
They have a light green or yellow background covered with a red or pink blush. Honeycrisps are a medium to large size apple, making them bigger than many other apple varieties.
Honeycrisp apples are relatively new and have become very popular in recent years. Because of their increased demand and limited availability, they are often a more expensive variety of apple.
Honeycrisp apples are not popular for baking. With their crisp juicy texture, they were bred to be eaten fresh. They are best when used on a cheese board, in a salad, or dipped in nut butter.
Although they aren't known for being an ingredient in baking, Honeycrisp apples do have one quality that allows them to be used in baked goods. They retain their firmness when cooked. Their flavor changes when they are warm, so they will taste different when baked.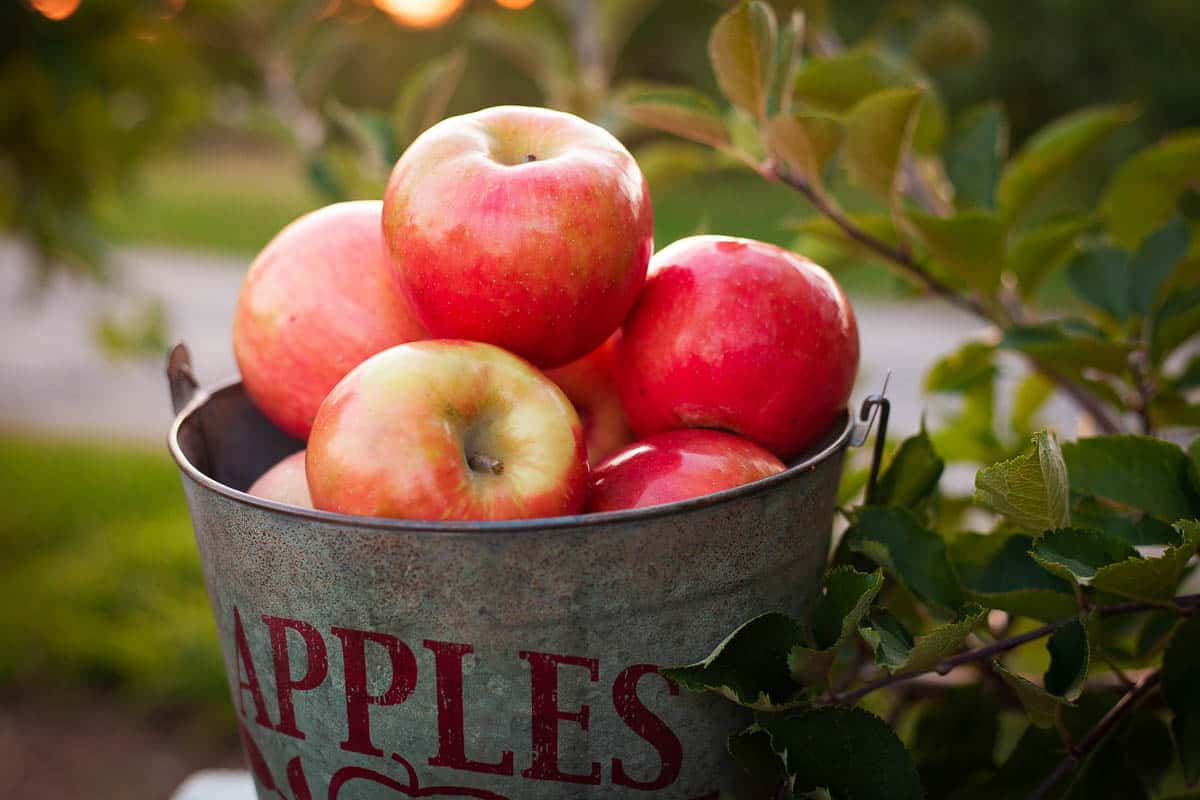 McIntosh Apples
McIntosh apples are one of the most popular apple varieties in North America. They have red and green dappled skin and are known for their soft white flesh. They are one of the softest varieties of apple and can bruise easily.
McIntosh apples are considered a classic choice with an old-fashioned apple taste. It has a fruity and spicy scent, with a tangy sweet-tart flavor. They are less sweet than other apple varieties.
They are smaller than many other varieties. This makes them a good size for a snack.
The flesh of McIntosh apples bakes well. The tart flavor provides a good contrast in a sweet dessert.
The juiciness of McIntosh apples makes them good for juicing or making into cider.
The soft texture of McIntoshes makes them cook quickly. They turn into applesauce easily because their flesh breaks down when heated.
They are best used in recipes that require soft creamy apples. They can also be mixed with firmer apples, such as Granny Smith. The McIntosh apples make a sauce that combines well with the hard chunks of the other apple.
McIntosh apples are best stored in the refrigerator. They become soft and grainy when kept at room temperature. At this point, they can be made into applesauce, apple butter, or pie.
Envy Apples
Envy apples are a cross between Braeburn and Royal Gala apples. They are similar in color to Braeburn apples, with yellow specks on a red background.
Envy apples have a thick, tough skin. Their flesh doesn't oxidize for 10 hours due to their high Vitamin C content, making them a good choice to eat freshly cut.
Envy apples are very sweet with a slight flowery taste. They are low in acidity and have a crisp texture.
They hold their shape and flavor, so are good choices for baking in a variety of dishes. Since the skin is tough, it doesn't break down well when cooked.
The most popular way to eat Envy apples is raw, and leaving the skin on provides additional nutrients. Envy apples are good for drying or dehydrating as well.
Conclusion
There are many great apple varieties to substitute for Braeburn apples. Consider the way the apples will be used when choosing an alternative. Whether you are looking to complete your cheese board with fresh apple slices, add apples to a pie or bread recipe, or top a salad, you are sure to find an option to suit your needs.