There are many reasons why you might need a substitute for butter when making homemade chocolate chip cookies.
You may have a dairy allergy or eat a vegan diet. Alternatively, you may just have run out of butter and want to save a trip to the grocery store. This most often happens when you've already started mixing ingredients and need a quick fix. You may also be looking for something that is lower in fat.
Fortunately for you, there are many suitable options where you won't have to give up the delicious taste and ooey gooey texture of fresh, homemade chocolate chip cookies.
Jump to:
About Chocolate Chip Cookies
Chocolate chip cookies are a yummy treat that children and adults alike love. They are as
American as apple pie, or should I say chocolate chip cookies? They were created in the US back in 1938.
These cookies are traditionally served with cold milk and are arguably best right out of the oven. They are great for snacks, lunch boxes, or after dinner desserts. Honestly, I can't think of a time I have turned one down.
Most would agree, nothing quite beats a chewy cookie that is packed with chocolate chips.
I'll be honest - I always make my chocolate chip cookies with butter. I even take the extra step of browning the butter first to give it an extra rich, nutty flavor.
The substitute you choose may depend on what you have on hand as well as any dietary considerations.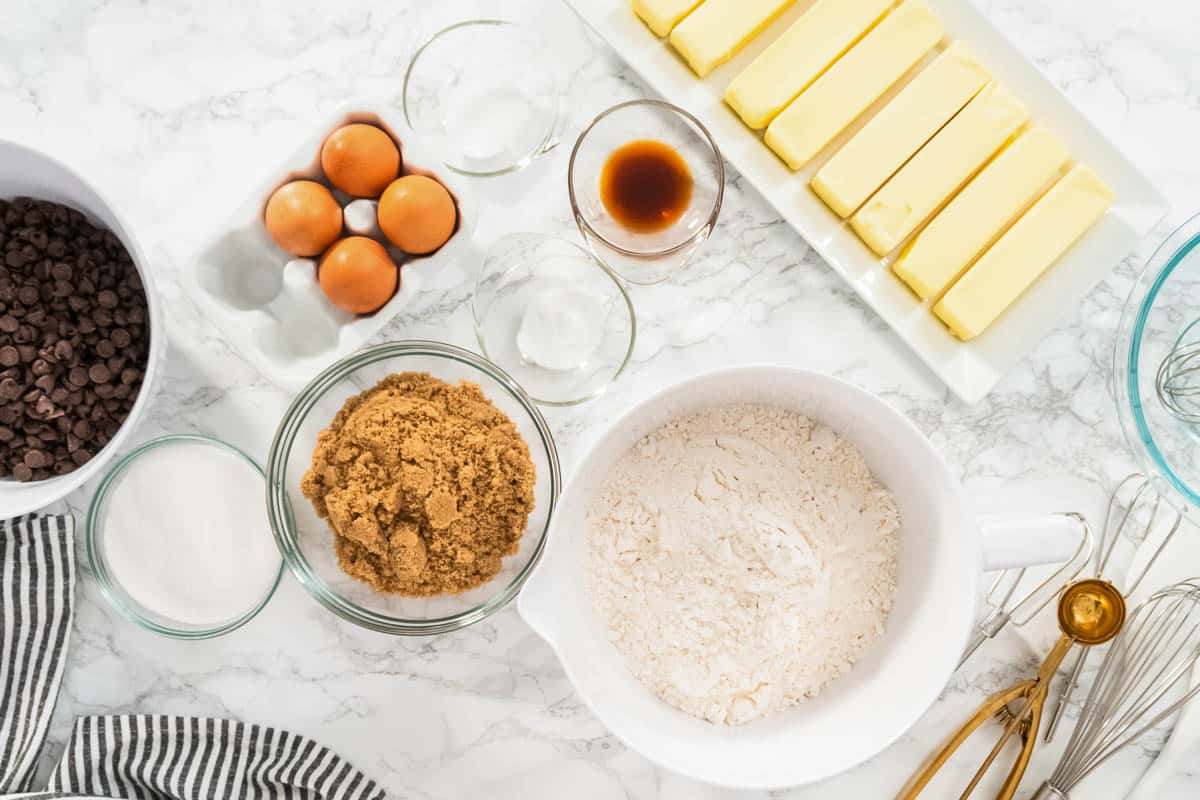 Butter In Chocolate Chip Cookies
In classic chocolate chip cookies, butter has a few different purposes. First, it keeps cookies soft because of the way it reacts with the flour, making the flour mixture stretchy.
The stretchiness is also what allows the cookies to spread. In turn, the more the cookie spreads has a direct impact on creating a crispier cookie.
Butter also gives flavor to regular chocolate chip cookies. To match the well-known flavor these cookies have, you will need to find a substitute that brings its own flavor. Some substitutions work better than others, and some may affect the taste. Therefore, you may also need to use something else to doctor the cookie.
Best Butter Substitutes for Chocolate Chip Cookies
We are looking for two specific results when finding a butter substitute to add to our cookie batter: stretchiness and flavor.
Below are several suitable substitutes that will work if you need a butter alternative due to a dairy allergy, vegan diet, or you just ran out of butter.
I am hopeful you will find something that you can use today and for years to come. Be ready for the smiles that come only with milk and chocolate chip cookies!
Please note: this is not an article detailing how to make butterless chocolate chip cookies. Meaning, almost all of these recommendations still add fat to the recipe. The different recommended ingredients below may be used in place of butter in a regular chocolate chip cookie recipe.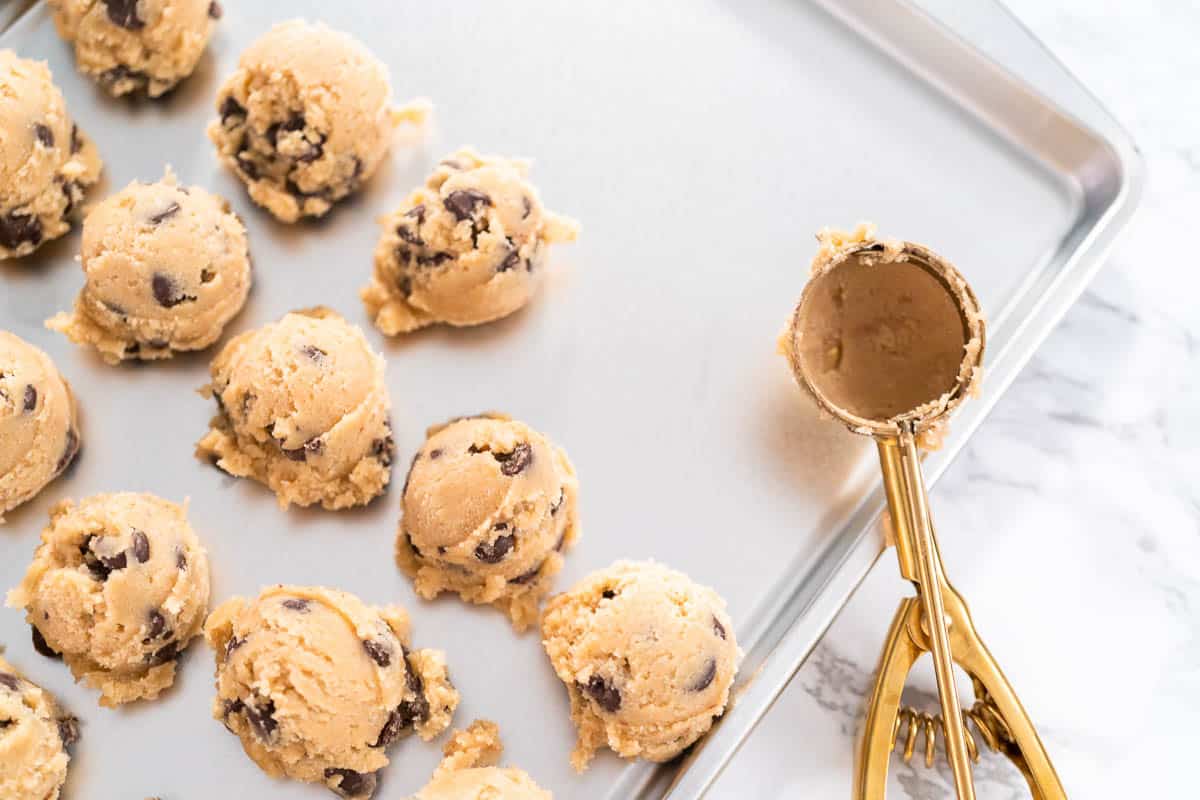 Vegetable Shortening
The most popular replacement for butter in chocolate chip cookies is vegetable shortening. The most commonly known brand is Crisco. Some would argue that Butter Flavored Crisco is, hands down, the best substitute for butter when making this classic American cookie. This is because it not only creates a chewy cookie, but the butter flavor comes through, albeit artificial.
The first time you use shortening, you may be surprised with the texture. It was originally designed to be used in place of lard and can be very sticky. The end result will be an undeniably chewy cookie.
The best thing about shortening is it is a 1:1 substitution for butter. The end result will be gooey cookies that will be hard to turn down when paired with a glass of milk.
Quick tip when using shortening: cover the cookie scoop in all purpose flour or whole wheat flour to have better success when scooping out the cookie dough balls to put on the baking tray.
Also, many people have used shortening in their cookie recipes (with an appropriate egg replacement) in order to create vegan chocolate chip cookies.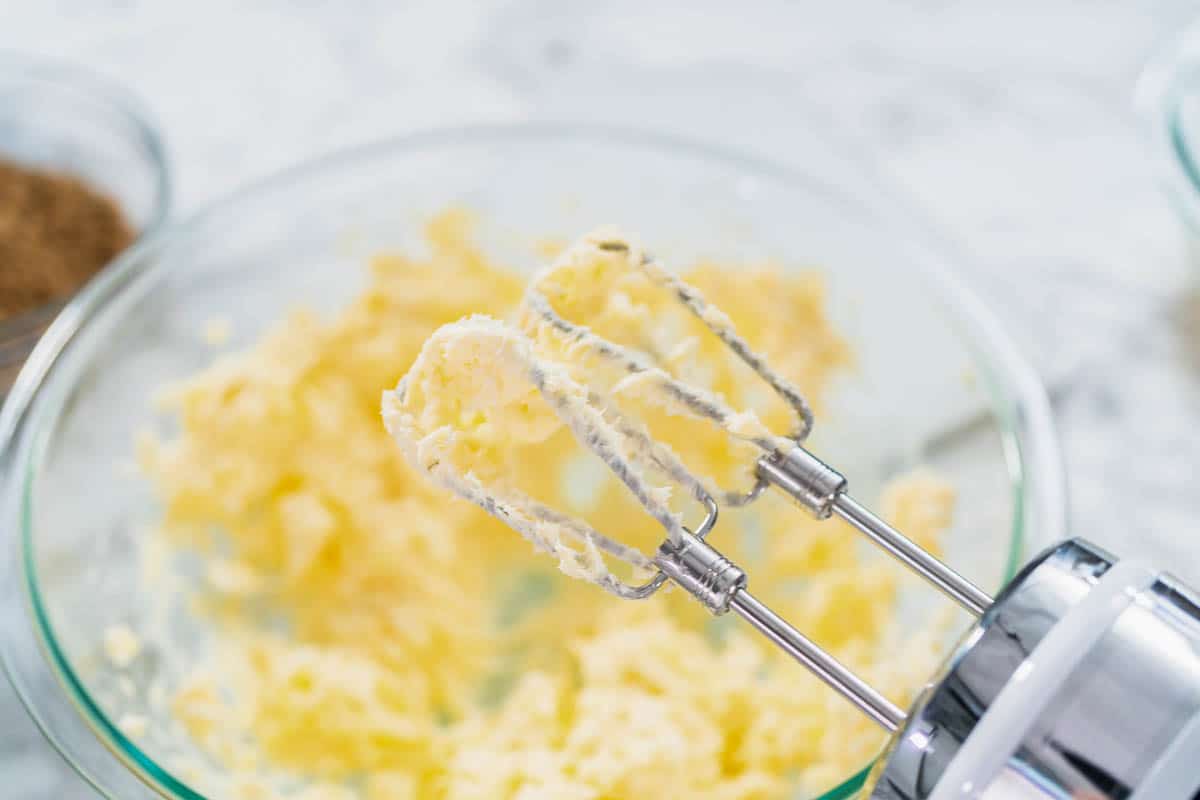 Margarine
Margarine was designed to be a butter substitute, so it is fitting that you could use it instead of butter for chocolate chip cookies. It is found next to the butter at the grocery store, and the packaging is very similar.
It was designed to be an alternative with a lower fat content and can be used to make vegan cookies. Most kinds of margarine contain absolutely no animal products, making them a suitable vegan alternative to butter.
When using this substitute, expect cookies to hold their shape almost as if you had used the real thing. The taste is designed to taste like butter, so you won't need to worry about anything there either.
Margarine is a 1:1 substitute for butter, so you will just use equal amounts for your substitution.
Another plus to using margarine is that you won't have to set it out of the refrigerator ahead of time, as it does not need to be at room temperature like butter does. The next time you use margarine, you can skip a step in your recipe.
You won't have to cream the butter and white sugar in a large bowl with an electric mixer. The margarine is already the right consistency and will mix with the dry ingredients easily.
Although margine will work as a substitute for butter in chocolate chip cookies, many people avoid eating it for health reasons. This is because margarine may include trans fat, which increases the risk of heart disease by raising LDL (bad) cholesterol, lowering HDL (good) cholesterol, and making blood platelets stickier.
Vegetable Oil or Olive Oil
Vegetable oil is one of the more common butter substitutions, as it is a more neutral oil.
It is one I find myself using in my own kitchen frequently because of the similarities in the end product. Olive oil works just as well. Due to the flavor of olive oil, however, lite olive oil has the most neutral flavor, making it a better alternative for butter in cookies than something like an extra virgin olive oil.
These oils are both versatile enough that they can also substitute for large eggs. It is not recommended, however, to replace both the butter and eggs in a cookie recipe with oil - only one or the other. Too much oil can ruin the cookie.
The biggest challenge with using vegetable or olive oil is it is not a 1:1 substitute. You will use ¾ cup vegetable oil per 1 cup butter. An easy way to convert this is multiplying 0.75 by the amount of butter your original recipe calls for.
You also can add it straight to the wet ingredients and skip the hand mixer or stand mixer.
The freshly baked chocolate chip cookies will have a similar flavor to the version made with butter, but it won't be identical. Try adding a little bit of sea salt or almond extract to get some depth in the flavor profile.
You may have a crispy cookie when you take the batch out of the oven. You may even notice you have flat cookies compared to using butter. To avoid the cookie being too crispy, bake at a lower temperature or add a little baking soda.
For best results, line your cookie sheet with parchment paper for easy cookie removal. This will also allow you to get your first to last batch in the oven faster.
To store cookies longer, place them in an airtight container after cooling to enjoy later. I am not promising they will last long enough to store.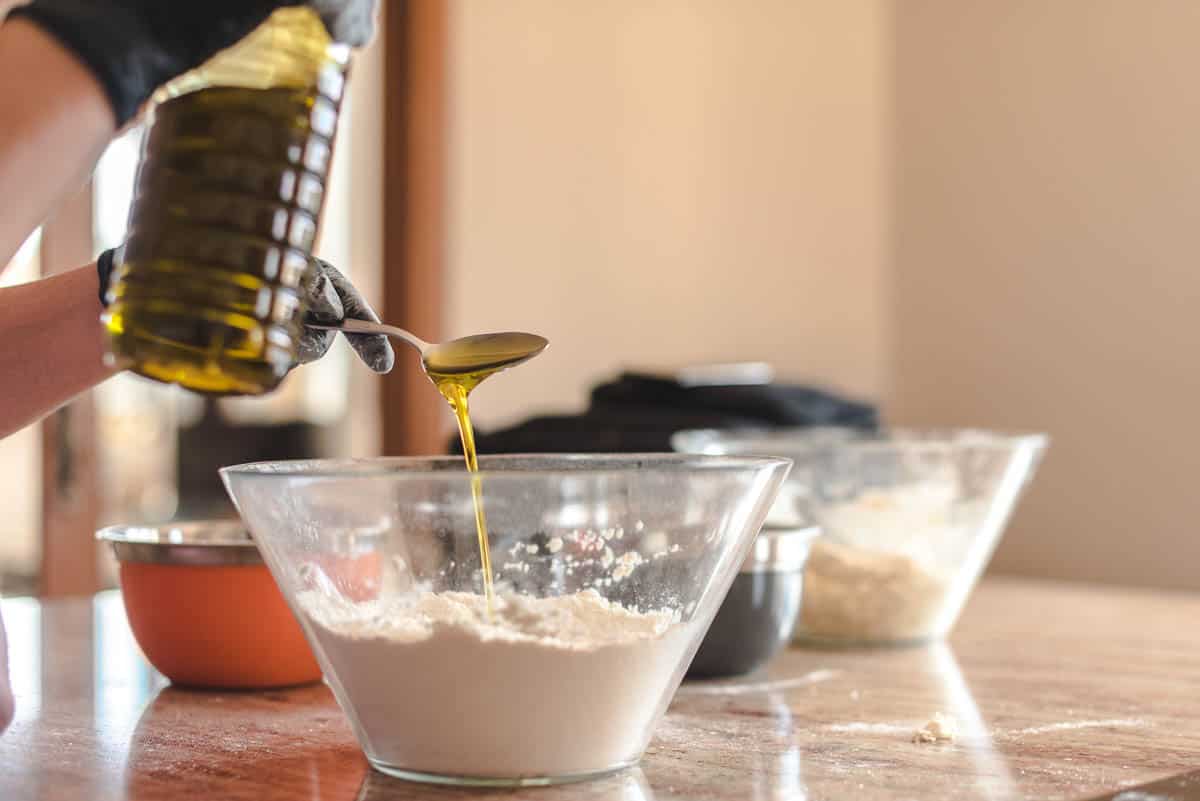 Peanut Butter
Okay, so this one isn't one of the most common butter substitutes, but if you are a peanut butter lover it can be a good substitute for you.
The best part is peanut butter can be used as a 1:1 substitute for butter to make easy chocolate chip cookies. For a cup of butter you would use one cup of peanut butter. It can't get any easier than that!
Peanut butter does not have the same amount of fat as butter. Also, as you well know, the flavor is totally different. But, it will work in your recipe but the taste and texture will not be exactly like a typical chocolate chip cookie.
If you are wanting a different option, you can replace half of the butter with peanut butter and the other half with canola oil. This will make light and chewy cookies.
Peanut butter chocolate chip cookies are the favorite cookie of many of my family members and friends. Try adding chocolate chunks or dark chocolate chips to add something extra to the taste. For a gluten-free option, try using almond flour.
I wish you good luck to stay out of these. You will need it.
Apple Sauce
Some of the best chocolate chip cookies have an easy recipe change that the taste testers aren't always aware of. Applesauce is one of those versatile secret ingredients moms love to add in for an extra serving of fruit to their child's day.
For healthier cookies, you can substitute half the butter for apple sauce. If you want to use it as a 1:1 substitute, you can substitute all the butter for applesauce. This also works well for sugar cookies.
The taste will be different from the original, but that doesn't mean it is a bad thing. Make sure you are using unsweetened apple sauce.
If you are using the sweetened kind you may need to use less granulated sugar, light brown sugar, or dark brown sugar; whichever your recipe calls for.
Applesauce adds moisture (water content) than regular chocolate chip cookies made with butter, so the texture will be more cakey. The cookies will stand up higher on your flat baking sheet once done.
Coconut Oil
Coconut oil in a liquid form can be a good substitute if you like the tropical taste of coconut.
Use equal parts of melted coconut oil per the amount of butter that your traditional chocolate chip cookie recipe calls for.
This substitute will give you the crunchiest cookies out of this list, and the taste will reign supreme to make these the kind of cookie everyone loves.
For a total coconut flavored cookie, try using coconut sugar and don't forget the vanilla extract.
If you want something to make these the perfect chocolate chip cookies, try adding white chocolate chips to the top of the cookies a few minutes into baking. You'll be glad you did.
Cream Cheese
Some of my favorite pastries have cream cheese. It would only make sense that they would taste great in my favorite cookies. Cream cheese can be a great option for replacing butter when making delicious chocolate chip cookies.
Cream cheese has a similar texture to butter, so you will need to ensure it is room temperature before you begin to make a great cookie. Even though cream cheese has roughly half the fat that butter contains, it still works. Use the same amount of cream cheese as you would need butter for a 1:1 substitute.
You will need to start mixing at a low speed and increase the speed to cream the sugar with the cream cheese, just as you would with butter.
The cookies will be very similar to butter cookies right after baking, but may lose moisture faster when storing over time. Make sure to keep the cookies in an airtight container for best results.
Do you have any other tried and true substitution recommendations? Please let me know in the comments!