Can you smell the turkey, gravy, dressing, sweet potatoes, and green beans? It's time for Thanksgiving dinner and you have one last recipe to make – the star of the show, pumpkin pie.
You go to grab the ingredients and you don't have any eggs. The store is closed and your chickens are not laying this time of year.
Or, you want to bake a pumpkin pie but are in need of an egg substitution because someone has an egg allergy or is on a vegan diet.
What to do? Lucky for you, there are a few different egg substitutes that will suffice to save your holiday feast.
Jump to:
Eggs in Baking
Eggs have been used in baking for many years. They are animal products that require little processing post farm and are readily available nearly everywhere in America. They are a very versatile ingredient and a staple of most American kitchens.
Not only do eggs have great nutrition to add to whatever they are used in, but they also add volume (leavening) and smoothness to many dishes.
Specifically, in pumpkin pie, eggs are used to add smoothness creating a creamy texture, similar to a custard pie.
In addition, they will add a rich, yummy flavor. What does this mean to you? You will need a substitute that adds its own flare.
Pumpkin Pie
Pumpkin pie is a seasonal dessert traditionally associated with Thanksgiving. Many families also eat pumpkin pie at Christmastime and throughout the fall.
This popular dessert starts with pure pumpkin puree combined with eggs, milk, sugar and cinnamon or pumpkin spice. Some would argue that the whipped cream topping is the most important part! I always choose heavy cream for this. Yum. A similar dish in the southern United States is sweet potato pie.
The history of pumpkin pie being served during the holiday season actually can be traced all the way back to the first Thanksgiving.
Pumpkin pie has changed over the years, but its commonality at the holiday feast has not. Originally being sweetened with molasses or maple syrup, a traditional recipe is now commonly sweetened with granulated sugar or brown sugar.
Something that has not changed is the use of eggs in pumpkin pie. There are several quick substitutions you can use here.
Best Egg Substitutes for Pumpkin Pie
Below are some quick and simple substitutes for using eggs in a pumpkin pie. The list is not encompassing for all replacements, but should help you get started if in a bind.
1. Store Bought Egg Replacers
Egg replacers can be a great option in pumpkin pie, or really any recipe. They are liked because they are easy to calculate into your recipe and the end product will be similar to the real thing.
Instructions will be on the package letting you know how much to use to replace an egg. This makes using this substitution very simple and free of unwanted headaches.
Ingredients commonly found in egg replacers are potato starch, tapioca flour, and baking soda.
Bob's Red Mill and Just Egg are some popular brands you should be able to find at your grocery store or online.
If you are vegan or have an egg allergy, you most likely have egg replacers on hand. If you just ran out of eggs, however, you most likely will not have egg replacers at home.
Read on to see what else might work.
2. Flax Eggs
Flax eggs are not real eggs, but are a vegan egg replacement that is gaining popularity in the baking world.
To make a flax egg take 1 tablespoon of flaxseed meal and 2 ½ tablespoons of water. Mix and let rest for 5 minutes for the flax egg to thicken.
You can use a flax egg as a 1:1 substitute for a real egg in your favorite pumpkin pie recipe.
For best results, I would suggest finding a recipe that is already tailored for this substitute. This will help ensure desired texture in your vegan recipes.
3. Aquafaba
What is aquafaba, exactly? It is actually the water drained off of a can of chickpeas.
Aquafaba is more common in pantries than the name suggests, and can be used in many different baked goods including pumpkin pie.
Just take ¼ cup of aquafaba to replace each egg in your traditional pumpkin pie recipe.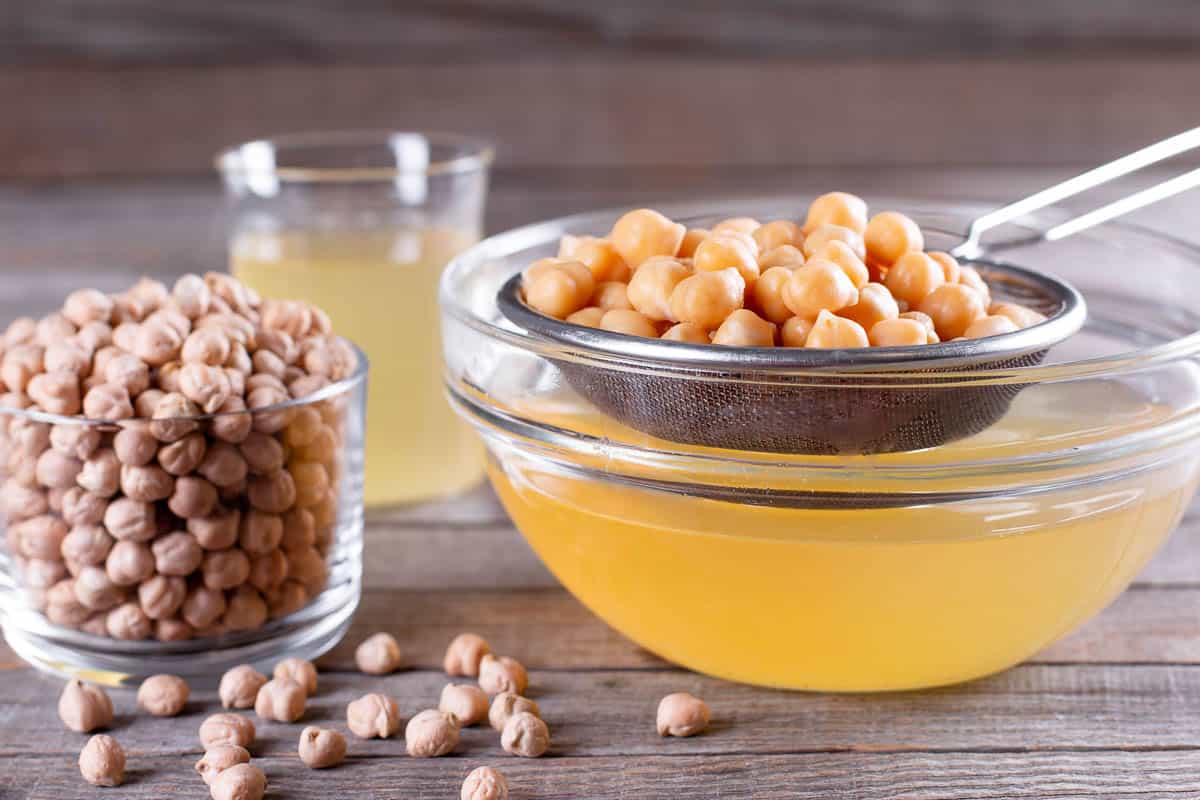 4. Chia Seeds
Chia seeds come from a plant in the mint family. At the store, they are found in the spice aisle or in the bulk foods section. If you cannot find them at your local grocery store, you should be able to find them in a health food store or order them online.
Combine 1 tablespoon chia seed and 3 tablespoons of water for a 1:1 substitution for eggs. When you mix the two ingredients, you will get a slimy texture very similar to a real egg.
A quick disclaimer: since these seeds are whole, you will see them in your end product. You may even feel the grittiness in each bite.
To avoid a black speckled pumpkin pie, purchase the white-colored chia seeds.
Just take ¼ cup of liquid chia seeds to replace 1 egg in your recipe.
5. Sweet Potato Puree
Sweet potatoes have a rich flavor that fans of the vegetable crave. The flavor is more similar to pumpkin than banana, so this may work as a better option for you.
As previously noted, sweet potatoes make a great holiday pie themselves, so it seems to use them as an egg substitute for a pumpkin pie should be a no brainer.
This flavor combination is one of my favorites. I have even tried it in Libby's pumpkin pie recipe and it is just as good, if not better than the original.
To get sweet potato puree, you can peel, boil, and mash the sweet potato. Alternatively, you can pressure cook and then blend in a food processor or blender.
6. Applesauce
Applesauce is a common food many people have on hand, especially moms with littles. Most kids love applesauce.
For best results, use unsweetened apple sauce. If you only have the sweetened kind at home, I would suggest adding less sugar to the pumpkin pie.
For each egg, add ¼ cup applesauce as a substitution. It is that quick and easy!
The apple flavor will come out at the end and can be an awesome fall collaboration with the pumpkin.
7. Bananas
Bananas are a great egg substitute because the pectin in them will help mimic the texture in the pie provided by eggs.
You may use ¼ cup of mashed banana in place of an egg.
The banana flavor will mix with the pumpkin, so if you are not a banana fan this may not be the best option for you.
8. Silken Tofu
If you follow a vegetarian or vegan diet, you most likely have this product on hand. Silken tofu can be a great substitute for many types of meat, but also eggs in this case.
Take ¼ cup of silken tofu and blend it in either a food processor or a blender. Now it is ready to use in place of an egg.
If you know you need three eggs, I would go ahead and blend ¾ cup of the silken tofu at once to save time.
9. Greek Yogurt
I like this substitution because I always have yogurt on hand. This also takes less time than other solutions, which is definitely a plus for me.
Simply take ¼ cup of plain yogurt per egg as a comparable substitution. If you want a dairy-free pie filling, you may opt to use soy yogurt (made from soy milk) instead.
10. Cornstarch
Cornstarch is very versatile and typically used to thicken liquids. Since it's such a common ingredient used in baking, you're likely to already have it on hand in your cupboard or pantry.
Similar ingredients that will provide similar results that you might have on hand include tapioca flour, potato starch, and arrowroot powder.
Keep in mind that cornstarch or similar products are typically used to thicken a recipe, but won't be able to offer that same custard-like texture that eggs provide.
One tablespoon of cornstarch and three tablespoons of water can be used to replace one egg. For a richer texture, try mixing the cornstarch with cow's milk or any non-dairy alternative milk of your choice: soy milk and almond milk would work great. See how cornstarch works as a substitute for egg in pumpkin pie in the recipe below.
Eggless Pumpkin Pie Recipe
If none of these simple substitutions work for you, there can be another trick up your sleeve.
One of the best options if you want to make a pumpkin pie and don't have eggs is just to make an eggless pumpkin pie. Yes, that exists, and it comes in handy in a pinch!
If you or other family members have an egg allergy, this may be a good option for you as well.
Make your own homemade pie crust or grab some pre-made pie dough from the grocery store and place it in your pie pan. Set your oven temperature to 375 degrees.
Whisk together all the ingredients: 1 can sweetened condensed milk, 1 can pumpkin puree, 2 tablespoons cornstarch, 2 teaspoons pumpkin pie spice, and 1 teaspoon vanilla.
After you have mixed the ingredients, pour into the pie shell and back for 50-60 minutes until firm.
Chill pie overnight covered in plastic wrap. Enjoy the much loved pumpkin pie taste of the season. This may end up being an alternate recipe you continue to use next time you need to make an eggless pumpkin pie.
Best Vegan Pumpkin Pie
If you aren't vegan, I'm willing to bet one of your family members at your table during the holiday season is. These will not only give you a replacement for eggs, but will give you dairy free options in which you use an evaporated milk replacement for your vegan pie.
Coconut milk can be found easily canned in your local grocery store. You may use this in any recipe in place of evaporated milk with an egg replacer to make any pie into a vegan version.
Other alternative choices can work as well such as: soy milk, rice milk, almond milk, and even coconut cream.
Substitute Guide for Eggs in Pumpkin Pie
All the information you need organized for you below!
Eggs in Pumpkin Pie Substitution Graphic
Substitutes for Eggs in Pumpkin Pie Table
| Substitution | Amount needed |
| --- | --- |
| Store Bought Egg Replacer | Typically made from potato starch, tapioca flour, and baking soda. ¼ cup replacer per egg. |
| Flax Eggs | 1 tablespoon of flaxseed meal and 2 ½ tablespoons of water |
| Aquafaba | ¼ cup of aquafaba per egg |
| Chia Seeds | 1 tablespoon chia seed and 3 tablespoons of water per egg |
| Sweet Potato Puree | ¼ cup puree pure egg |
| Applesauce | ¼ cup applesauce pure egg |
| Bananas | ¼ cup mashed bananas pure egg |
| Silken Tofu | ¼ cup tofu (must be pureed in food processor or blender) pure egg |
| Greek Yogurt | ¼ cup yogurt (can use soy yogurt for vegan option) pure egg |
| Cornstarch | 1 tablespoon cornstarch and 3 tablespoons of water per egg |
Do you have any other tried and true substitution recommendations? Please let me know in the comments!