lf your grandmother was known for her cooking, chances are that lard may have been one of her secret ingredients. It is a staple ingredient in countless old-fashioned recipes. Lard is an ingredient that has lost popularity over the years, however its popularity is starting to increase once more.
If you find a recipe that calls for lard and you need an alternative, there are several ingredients that you most likely have on hand that will work.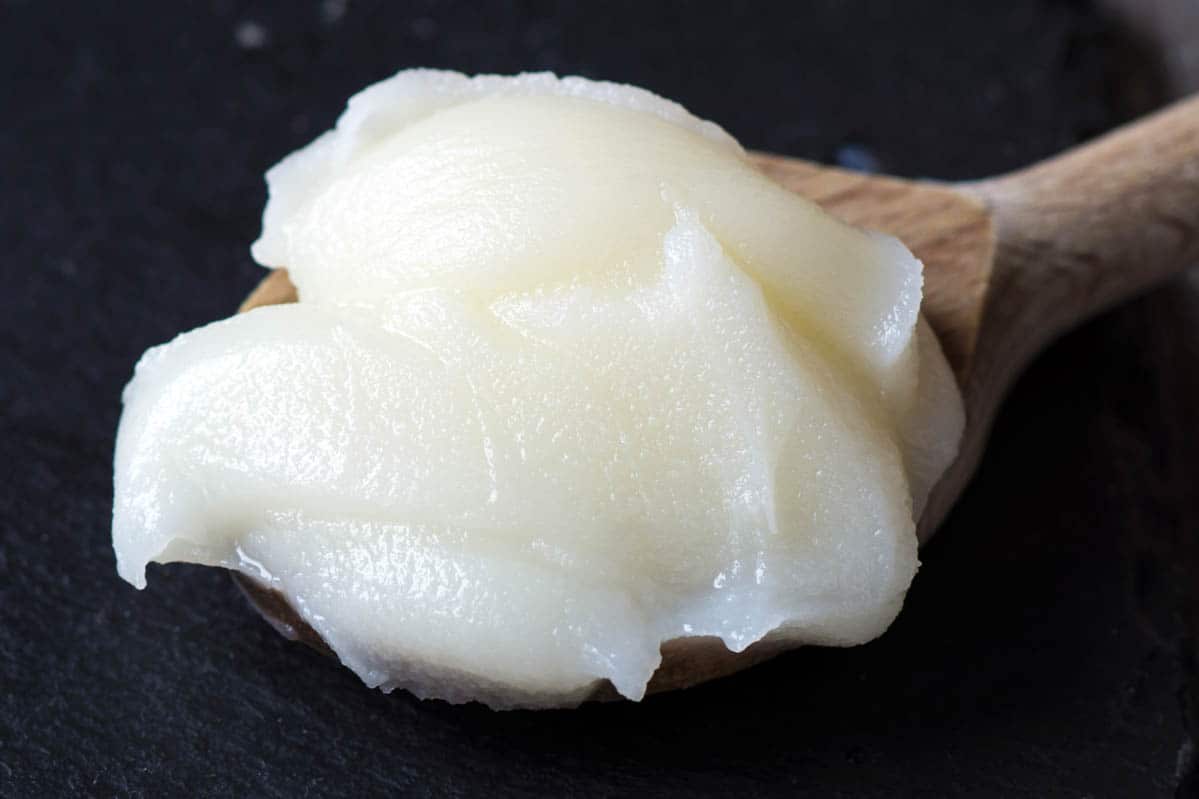 Jump to:
What is lard?
Lard is a type of animal fat that comes from pork. Specifically, it is found in the fattiest portions of the pig like the pork belly and pork shoulder.
It's extracted using a process called rendering, which melts the fat away from the meat. The liquid fat solidifies at room temperature. Lard is a versatile cooking fat that is a staple in many kitchens.
More and more kitchens are turning to lard for cooking fat for several reasons.
First, sometimes it is the best option because of the flavor and the results it produces. Second, lard is believed to be healthier when compared to partially hydrogenated vegetable oils. Third, due to the high amounts of saturated fat, other oils may spoil faster.
How is lard used in recipes?
Lard is universally used for a few reasons. For one, it has a high smoke point. A high smoking point means you can do high-heat cooking with lard, which makes it ideal for frying.
Lard is also a go-to for many bakers, as it allows for flaky pie crusts and fluffy biscuits.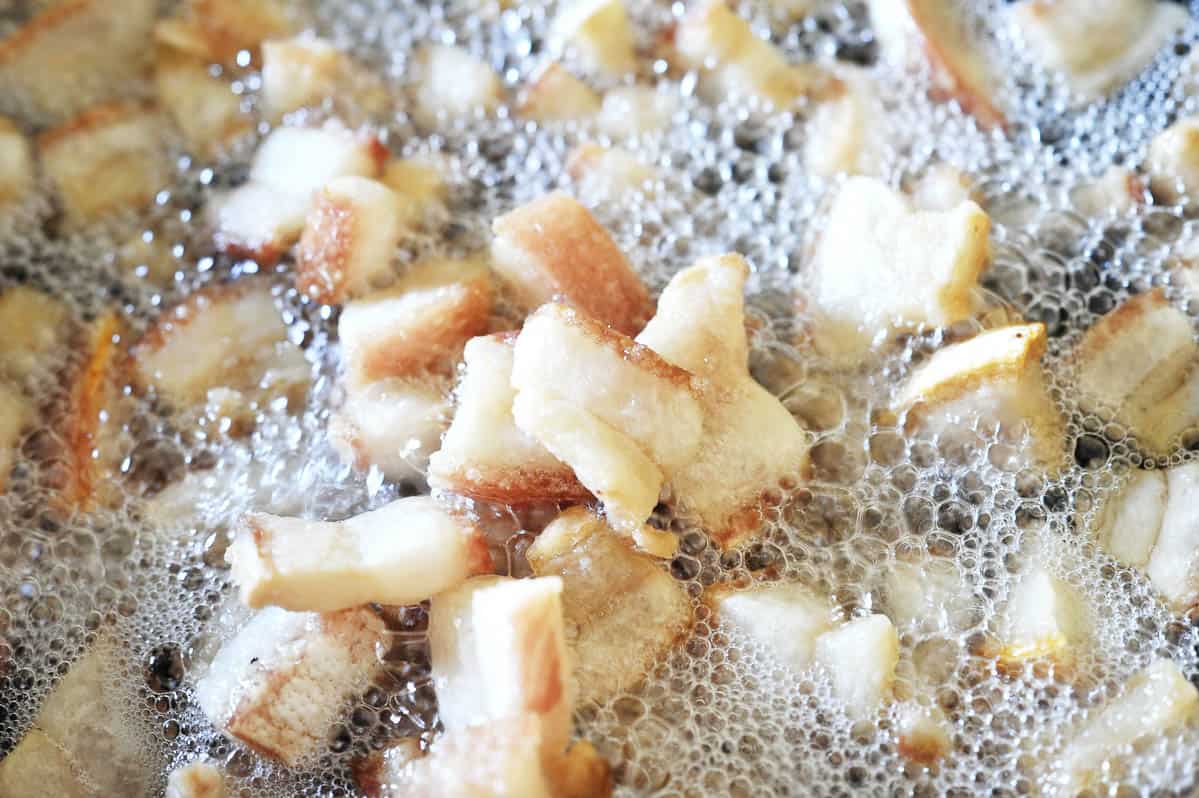 Best Lard Substitutes
1. Butter
Butter is a pretty common substitute for lard. It's a solid fat ingredient that achieves what you're looking for with lard. Butter is versatile and rich in flavor.
Whether you're using it as cooking oil or as an actual ingredient in a baking recipe, butter is pretty dependable.
Lard has more saturated fat and less monounsaturated fat. Some would argue this makes it better for heart health.
If choosing butter as your substitute, unsalted butter is closer to lard than salted butter.
It is a 1:1 replacement. Use one cup of butter in place of one cup of lard.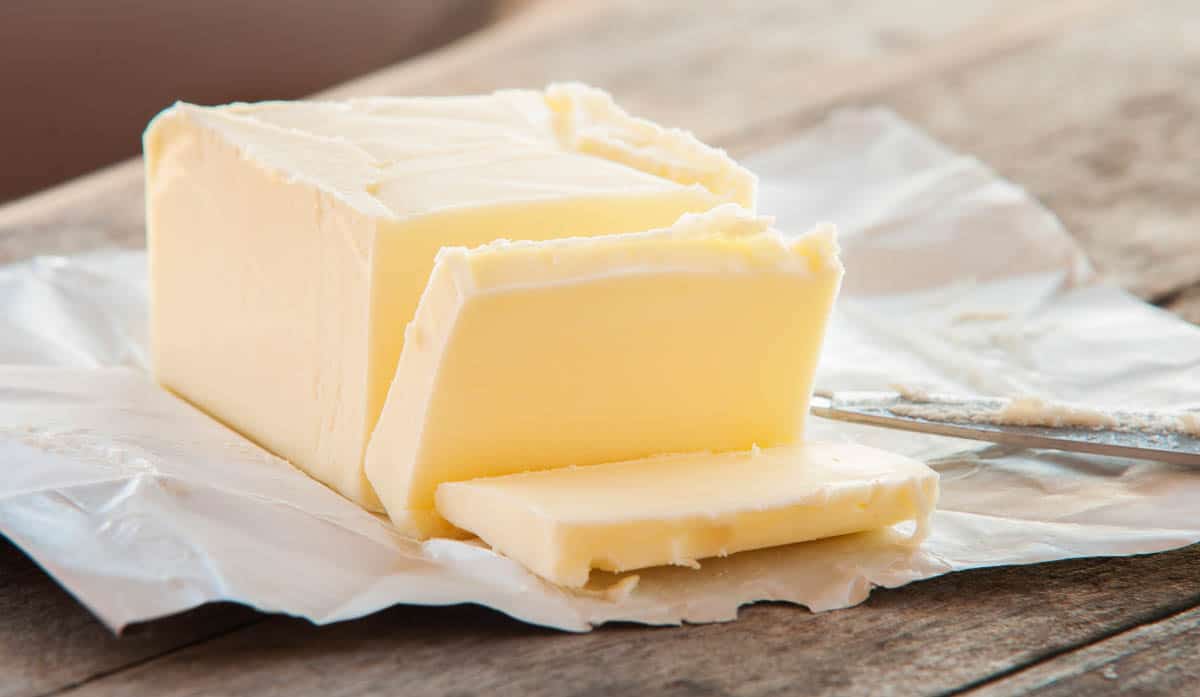 2. Crisco (Vegetable Shortening)
Crisco is the most common brand of vegetable shortening. The two terms are used interchangeably.
This common ingredient is a great replacement for lard, specifically making it one of the best substitutes when making biscuits, cookies, and pie crusts. Crisco is made from hydrogenated vegetables. Crisco, just like vegetable oils, is actually very high in trans fats, which may lead to high cholesterol levels.
Crisco took the place of lard for quite a while in many kitchens, as it was marketed as more digestible and easier on the stomach. The argument for using vegetable shortening was that since it was made from vegetables using a more modern process than lard, it was just essentially better. However, we now know this is not true.
With that said, Crisco can still be a wonderful substitute for lard with respect to the results it can produce. It is also often used for greasing a pan. Similar to lard, Crisco is great for frying and high heat cooking as well.
Vegetable shortening is often the top non-dairy and vegan substitute for lard. Additionally, it is considered Halal and Kosher.
Given all of this, in recent years, more and more modern recipes are now opting for lard again.
One cup of shortening can take the place of one cup of lard. 
3. Beef Tallow
Beef tallow is made from a similar process as lard, but it comes from fatty portions of cows rather than pigs. It's an ingredient that's almost interchangeable with lard for a couple reasons.
First, it has a high smoke point, just like lard. This means beef tallow is ideal for high heat cooking like frying, sautéing, and roasting.
Beef tallow is also pretty easy to make yourself, as long as you've got a fatty cut of meat. Simply cook the meat until the fat melts off into the pan, then empty the grease into another receptacle. You can use it as-is, or add some spices and seasonings to add some flavor.
Not only is beef fat good for frying, but it's also great for baking. You can use this in any place you'd typically use lard, and still achieve that big, fatty, rich flavor in your baked goods. Beef tallow is pretty much a perfect replacement for lard. The quantity of beef tallow used in place of lard is a one-to-one ratio.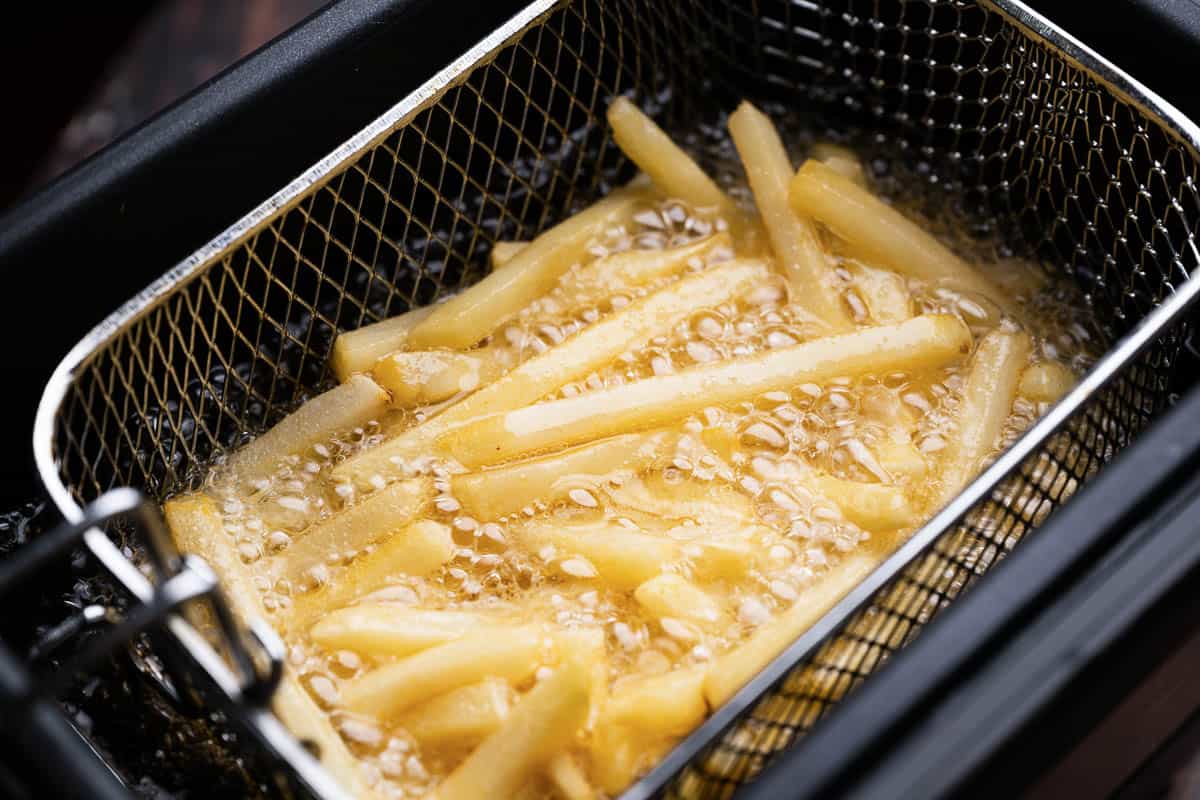 4. Coconut Oil
Just like lard, coconut oil has a high smoke point, which makes it a good alternative when cooking at high temperatures. Coconut oil can also produce similar results when compared to lard when baking. Coconut oil can produce flaky or fluffy baked goods, but it may also give your food a subtle coconut flavor. You may not think it is the best alternative when making something like fried chicken due to the flavor it might impart.
Another similarity to lard is that coconut oil is a solid at room temperature but turns into a liquid when heated.
Another great upside to using coconut oil in place of lard is that it's vegan. Plus, much like lard, coconut oil contains lots of fatty acids that are good for your health. It might even be better for you than actual lard.
Use an equal amount of coconut oil as lard in any recipe you are replacing lard in.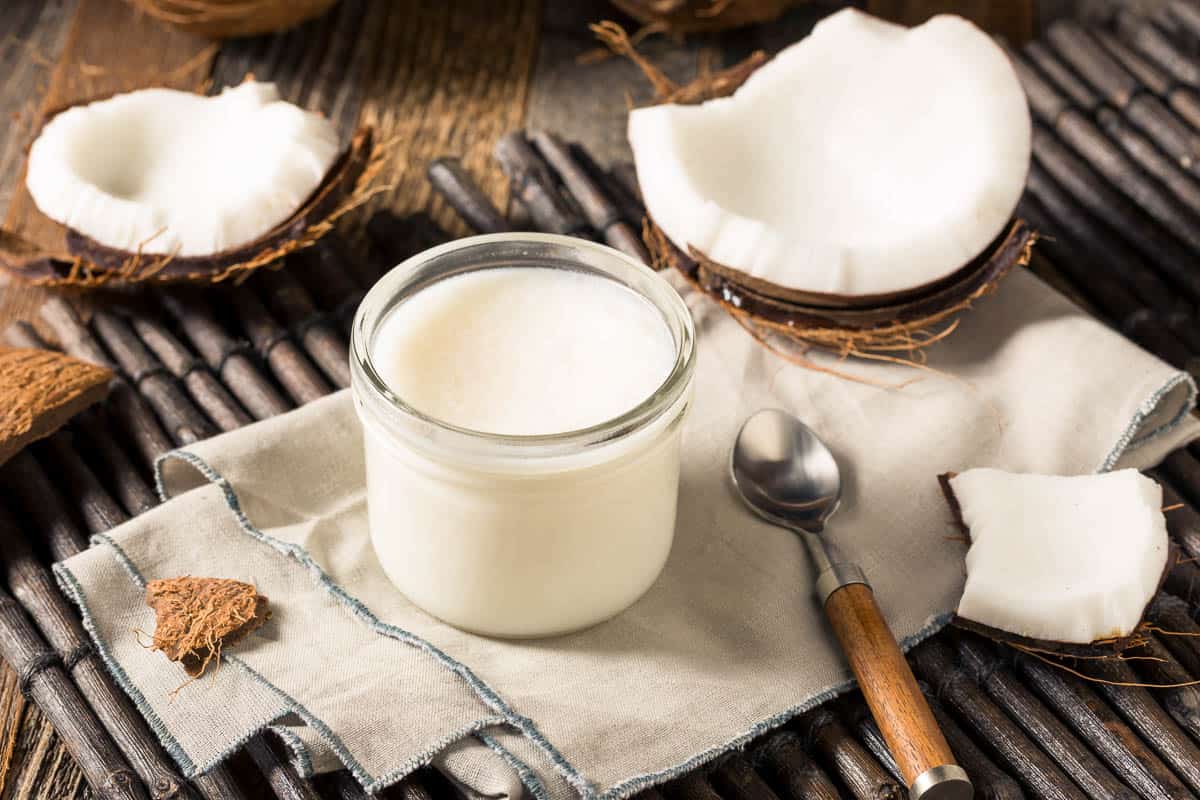 5. Vegetable Oil
While you may elect to use Crisco or coconut oil as a lard replacement for baking, you can use vegetable oil for high-heat cooking like frying and sautéing.
Vegetable oil is a different ingredient than vegetable shortening, although they can often be used interchangeably. Much like vegetable shortening, veggie oil is made primarily from soybeans, palm oil, and other vegetables.
It's also a great Kosher, Halal, and vegan option.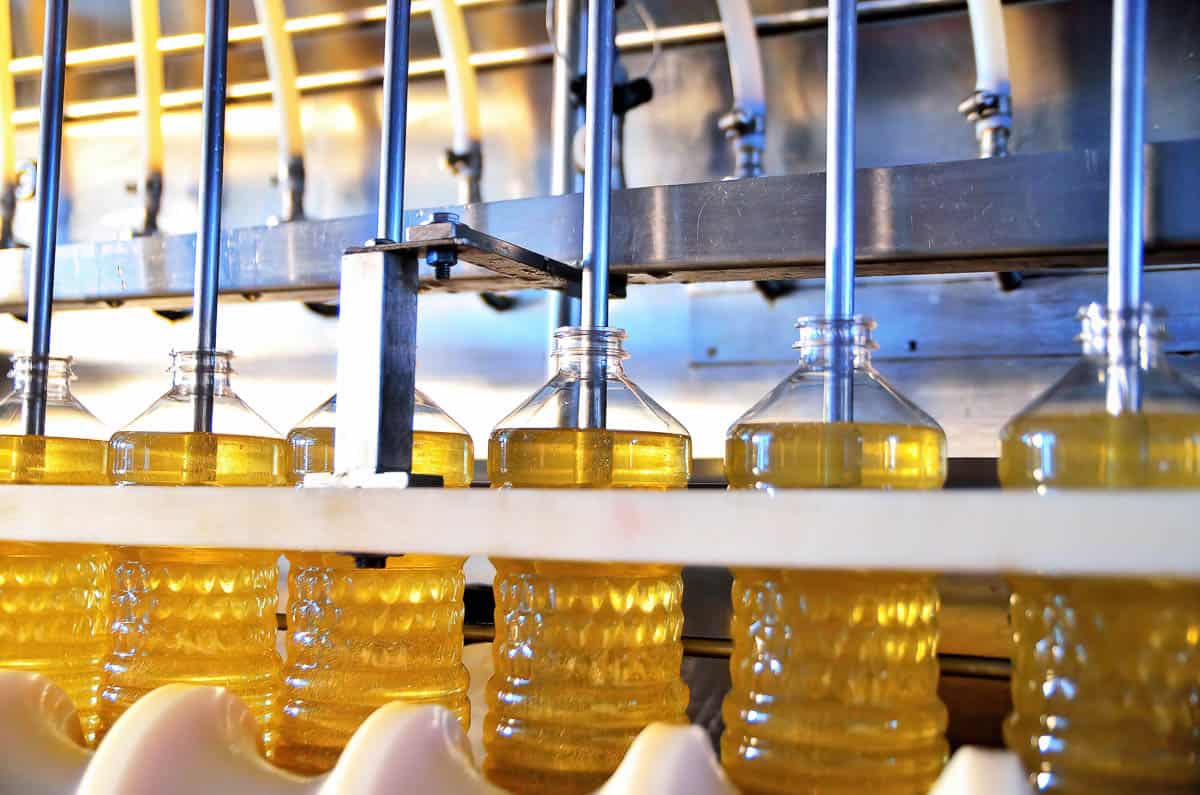 6. Canola Oil
Canola oil is a type of vegetable oil, however it's not exactly the same thing. Much like vegetable oil, it's going to give you a pretty neutral flavor when you cook with it. It's got a pretty good smoke point as well, although you'll still get a slightly higher one in vegetable oil.
Its health benefits are similar to vegetable oil too, but canola oil has less saturated fats.
Frying, sautéing, cooking, roasting, and baking are all great uses for canola oil. In fact, it's a go-to deep frying oil in many restaurants. It's been a common ingredient in western cuisine since the 70's.
7. Olive Oil
This is a great healthy option for a lard replacement. It is actually rich in monounsaturated fats, much like lard itself. Plus, home cooks always have this ingredient in their kitchen.
Olive oil is a wonderful cooking oil, whether you want to sauté, fry, or grill. It's going to add a great olive-like flavor that's just subtle enough not to be overpowering, while still providing somewhat of a neutral taste. When replacing lard with olive oil, try a one-to-one ratio.
Although olive oil is one of your best bets for replacing lard as a cooking oil, you might want to opt for something different when baking. Since the olive oil will impart a slightly savory and earthy flavor on whatever you use it with, your pie crusts or biscuits might not come out as desired. For your baking needs, try Crisco, butter, or coconut oil instead.
8. Ghee
Ghee, while similar to butter, isn't the same thing. Ghee starts as just regular butter, but the milk solids in it are separated from the fats.
Ghee tastes and smells slightly different than butter and it behaves differently in cooking as well. And while it's not vegan, it is in fact a great option for a Halal diet and can usually be consumed by someone with a protein allergy or intolerance.
Due to the lack of milk elements in ghee, it has an even higher smoke point than butter. This means it works really well for frying foods over a high temperature.
Many also rave about ghee's healthy attributes. For one, it's a lot easier on the gut than butter. In fact, it contains a very small amount of lactose. While it's not completely lactose free, it's got significantly less than butter.
Whether you are cooking or baking, ghee can fit into your recipe as a great substitute for lard. It will give you flaky baked goods and a rich flavor in anything you cook with it. Just keep in mind that ghee actually has less fat than lard, so it's a good idea to use a little more ghee than you would lard to make sure you still achieve a rich and fatty flavor.
9. Margarine (not recommended)
This common ingredient isn't as used in recent years, but it will still replace lard in a great way. Margarine's claim to fame is that it's lower in fat than lard or Crisco. While this makes it an excellent low-fat option, you might not get the fluffy result in baked goods that you're looking for with lard.
Margarine is mostly made from vegetable oil, which helps it maintain its reputation as a butter alternative. Much like lard, it has monounsaturated fats and less saturated fats.
While your baked goods might be denser, margarine is still a great alternative to lard. Due to the ingredients and how margarine is made, however, it is not the best choice.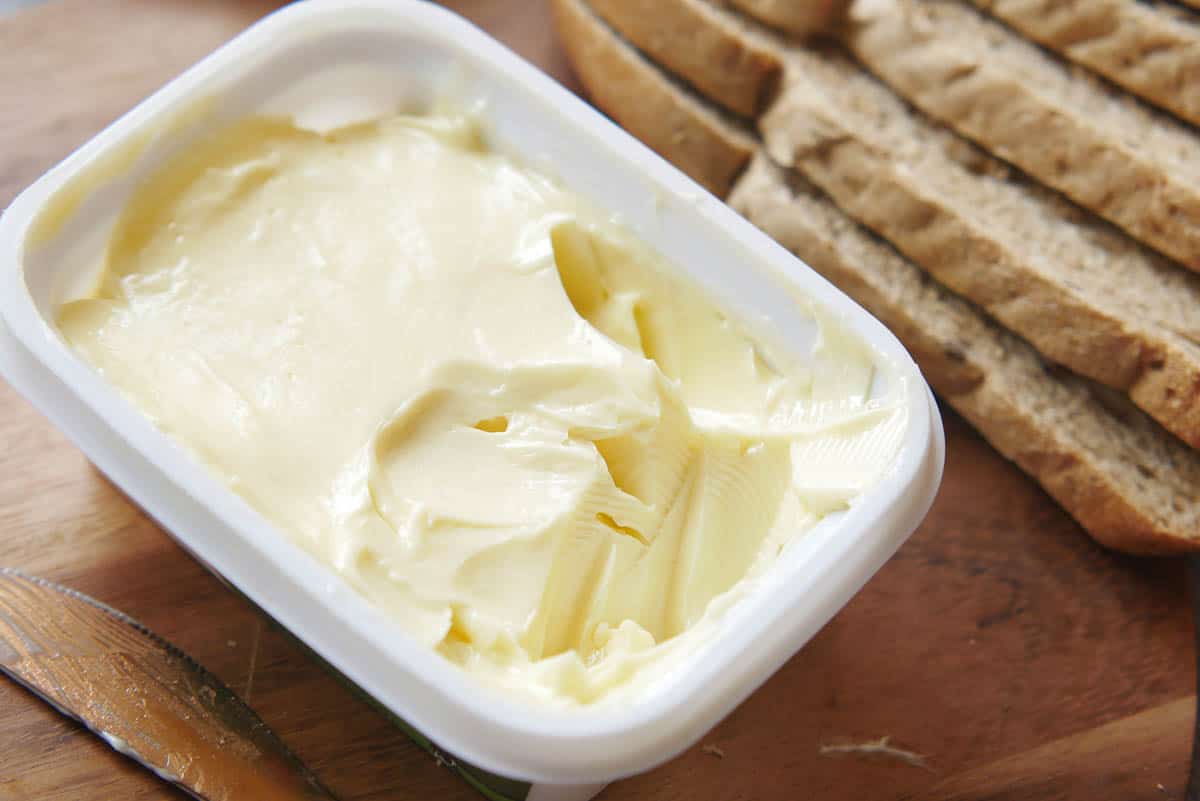 FAQs
Can you buy lard in the grocery store?
Store bought lard is packaged in a tub and sold as a shelf-stable ingredient. If your grocery store carries it, you will most likely find it amongst the other oils and shortenings on the baking aisle.
It might also be found where other Hispanic cooking ingredients are found.
If the store does not carry lard, you still have two options.
The first and easiest choice would be to order it online.
The second and more time-consuming choice would be to make it yourself.
Is bacon grease lard?
By definition, bacon grease is lard. Bacon grease is rendered bacon fat, and lard is rendered pork fat. The difference, however, is that bacon is smoked or cured, whereas the fat used to make lard has not had any prior treatments. Therefore, lard is rather flavorless and bacon grease will taste like bacon.
Both bacon grease and lard can be used in a similar manner, though.
How do you make your own lard?
Most butchers will sell pork fat specifically for the purpose of rendering it to transform it into lard. Cut the pork fat into chunks and heat over medium-low heat until it has been fully liquified or rendered. Any solids can be strained out and the rendered liquid lard can be transferred to glass mason jars. It will turn into a solid once cooled.
Do you have any other tried and true substitution recommendations? Please let me know in the comments!