Corn is one of the most versatile foods. It is in many food products such as cereals, chips, and popcorn. Corn is also used to feed animals or for industrial purposes.
One of the biggest uses of corn is corn flour.
If you happen to find a recipe that calls for corn flour and don't have any, there are plenty of alternatives that just might fit your needs.
Jump to:
What is Corn Flour?
Corn flour is created through milling dried whole corn kernels. It is a starch and is considered whole grain flour. It is widely used for cooking. From baking to frying, corn flour provides an earthy flavor.
It can also be called Masa Harina or Maize flour in Latin or Mexican Markets. Masa Harina is dried corn dough. Adding water to Masa Harina creates the base for fresh corn tortillas.
Corn flour provides fiber, vitamins, and minerals that can help sustain your body. It is also known to aid in preventing cardiovascular disease, high blood pressure, and stroke because it is low-sodium.
Ran out of Corn Flour? No problem.
Running out of main ingredients such as corn flour can be a cause of stress when cooking. However, a stocked pantry and fridge can eliminate your stress. There are so many different options to substitute almost any ingredient.
Depending on your diet, there is a perfect alternative for you. From low-carb eating to a gluten-free diet there is an option for you.
Corn Flour Nutrition Information
When replacing Corn Flour, it is important to note the nutritional information to make sure you are making the best choice for your dietary needs.
Nutrition Facts (100 g serving size)
Calories: 363 
Total Fat: 3.5g 
Sodium: 5mg 
Total Carbohydrate: 77g 
Protien: 8g 
Calcium: 140 mg
Iron: 8.5mg 
Potassium: 260 mg 
Vitamin A: 60 mcg 
Thiamin: 1.5mg 
Riboflavin: 0.8mg 
Niacin: 9.9mg 
Vitamin B6 0.5mg
Best Corn Flour Substitutes
Luckily, there is a wide range of options when it comes to substituting corn flour. There are over 26 different flour types and uses. However, not all of them are the greatest when it comes to the best substitutes for this particular ingredient.
Since corn is such a starchy food, it would make sense that the best substitutes for corn flour are those that are derived from starch. Here are some great corn flour alternatives, with the best options ranked first.
1. Cornmeal
Cornmeal is a non-flour substitute option for corn flour. The main difference between cornmeal and corn flour is that cornmeal has a gritter texture. However, there are finely ground cornmeal options available.
You could also turn cornmeal into a fine powder so that it closely resembles store bought corn flour.
Cornmeal will offer a similar taste and texture as corn flour. It is an excellent substitute for corn flour in corn tortillas. Cornmeal will give you a perfect foundation for your favorite tacos. Want to try something different? Check out The BEST Crispy Shrimp Tacos.
You will need a 1:1 replacement ratio for cornmeal making it an easy choice as a substitute for corn flour.
2. Cornstarch
Although often referred to as Corn flour in the United Kingdom, cornstarch is different from corn flour in the United States. Cornstarch is a white power that is made from the endosperm of corn. It is almost 100% pure starch. It is often used to thicken sauces, soups, and desserts.
When substituting cornstarch for corn flour, use a 1:1 ratio (one tablespoon of cornstarch for one tablespoon of corn flour). But, keep in mind that corn starch doesn't have a flavor. You may want to add in some additional seasoning depending on what you are making.
Cornstarch makes a good substitute when breading or frying. You can also use it to thicken sauces such as gravy. You will also need to mix some water with your cornstarch to avoid any clumping. 
3. Potato Flour
Potato flour or potato starch is one of the best corn flour substitutes. It is made from peeled potatoes that are ground into a fine powder. Potatoes are a starchy vegetable, similar to corn, so there is no gluten in Potato flour.
This option comes from a root vegetable so it does absorb water quickly. It also acts as a great thickening agent so be cautious not to add too much flour when cooking. Just a tablespoon of potato flour will be enough to thicken your favorite soups and sauces quickly.
Potato flour can be used in a 1:1 ratio as a corn flour alternative.
4. Rice Flour
Starches are often an excellent flour replacement choice. This includes the fine powder known as rice flour. Rice flour is made of milled rice and is commonly used in Asian cuisine.
Rice flour is a type of flour that can be diluted with cold or hot water. This creates a smooth cooking process as you don't have to be super cautious about the heat.
You will need two tablespoons of rice flour per tablespoon of corn flour. This amount of rice flour will provide a fine texture to whatever you are making. Rice flour is a great substitute for corn flour in clear soups as it will not discolor the water.
One great option of rice flour is Anthony's brown rice flour. This is a healthy replacement for pancakes, cookies, or noodles.   
5. Tapioca Flour
Tapioca is another starchy flour that can act as a corn flour substitute. It comes from the Cassava root. Tapioca flour is popular in Africa and Asia.
Tapioca flour is very versatile. It doesn't have a taste so it can be added to any recipe. It is a great alternative to corn flour. Moreso, tapioca is a staple in a gluten-free diet. It helps achieve a light and fluffy texture in many different recipes.
Tapioca flour can be an excellent thickener for your favorite soup or dough flour needs. Use tapioca starch at a 1:1 ratio for corn flour. 
6. Arrowroot Powder
Arrowroot powder is also called arrowroot starch or flour. It is a fine white powder that makes a great corn flour substitute.
Arrowroot powder is a good option if you have any type of corn allergy. Try Arrowroot powder as a gluten-free alternative for deep frying meats such as fried chicken.
You will need to use 2 tablespoons of arrowroot powder for every tablespoon of corn flour.
7. All-Purpose Flour
This is a very common ingredient in most kitchens. All-purpose flour is made from wheat and does contain gluten. It is readily available at most grocery stores making it an easy substitute for corn flour.
All-purpose flour is mostly used in baking doughs of all kinds. It will keep a similar texture and flavor to your recipe when used, making it a perfect substitute.
Another reason all-purpose Flour is a great option is when it is used as a substitute in recipes like corn flour biscuits. Its thickening properties will create a fluffy but hearty biscuit. Need more biscuit recipe ideas? Try these Flaky Homemade Buttermilk Biscuits.
You will need to replace All-purpose flour at a 2:1 ratio for corn flour. 
8. Whole Wheat Flour
Wheat flour is made of wheat grains. It is a whole grain and contains gluten. Due to its gluten, this is not a substitute option for those suffering from issues such as Celiac Disease.
Wheat flour is not as thick as corn flour.
To achieve the best results, you will also want to form a paste with your whole wheat flour. Add some cool water to your wheat flour and create a paste. This will help to create a smooth texture. Try wheat flour as a substitute for recipes such as homemade tortillas.
You will need to substitute about twice as much wheat flour for corn flour. For example, if you need one tablespoon of corn flour, use two tablespoons of wheat flour.
9. Almond Flour
Low carb eaters know the baking power of Almond Flour. It is one of the substitute options that is good for you. It is packed with healthy vitamins as the main ingredient is almonds.
Almond flour can be used in a 1:1 ratio to corn flour. It is an excellent choice for scones and muffins. 
10. Ground Flaxseeds
Ground flaxseeds have quickly gained popularity in the health food market. They have a nutty flavor and are a nutritious food filled with dietary fiber.
Ground flaxseed is a good alternative to cornstarch. But, it can have a gritty texture. Add in a little cold water to help eliminate the grit.
In fact, as a good ratio for substituting one tablespoon of corn flour, you will want to mix two tablespoons of water with ½ tablespoon of ground flaxseeds.
Use ground flaxseeds as a gluten-free substitute to thicken your dough for baked goods. Ground flaxseed is the best alternative to corn flour for those looking to improve their health.  
11. Xanthan Gum
Xanthan gum is another corn flour substitute that has gained popularity with low-carb eating. It is a white chalky substance that comes from Bacteria.
The good news is that it is perfectly healthy to use in your food. It has a neutral flavor so it is easy to add to any recipe. Xanthan gum is commonly used to help thicken low-carb mixtures.
A 1:1 ratio should be used when replacing Xanthan gum with corn flour. Xanthan gum can be used for baked goods, soups, or thickening clear liquids.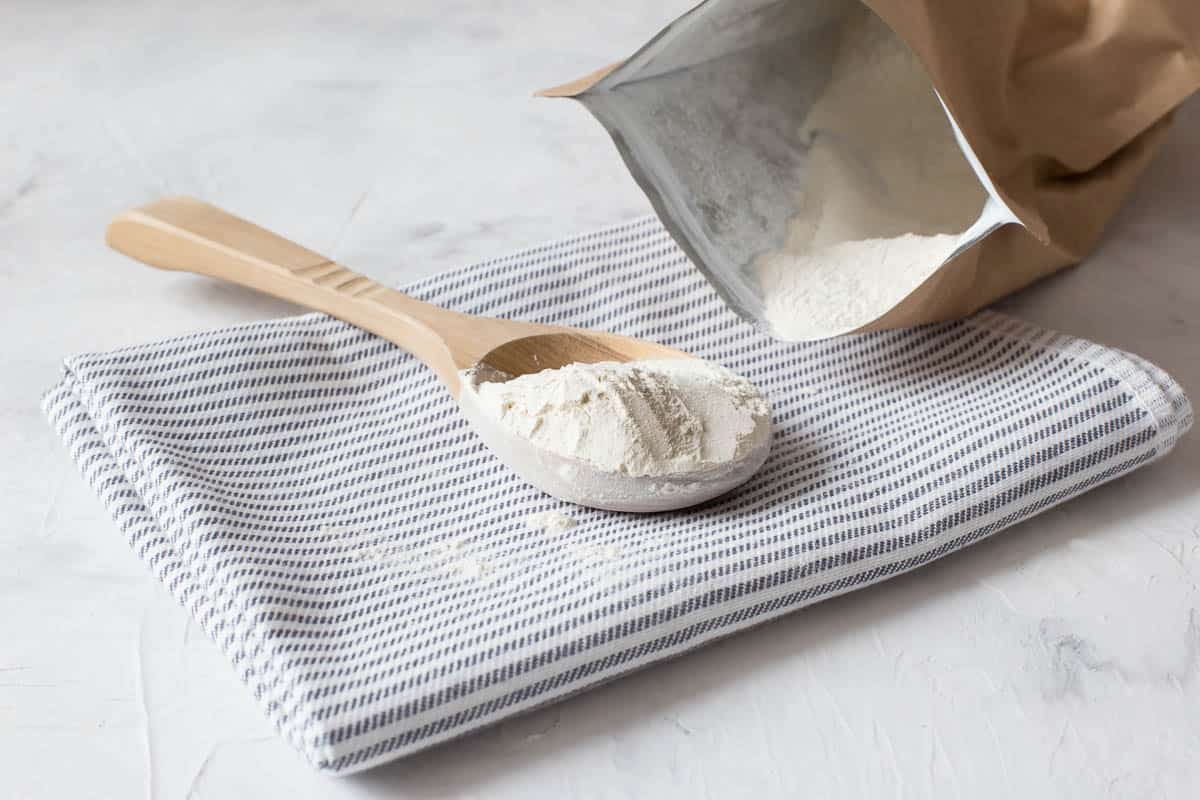 12. Guar Gum
Guar gum is the thickest substitute option. It comes from the guar bean popular in East Asia and is a vegetable gum.
Guar gum is about 8 times thicker than cornstarch. It is a good idea to start with a very small amount and then add a little at a time to reach your desired consistency.
Guar gum does have a slightly bitter taste but it should not impact your overall flavor if you utilize other spices effectively. It is a good alternative as a gluten-free substitute for baking items such as Berry tartlets. 
13. Sorghum flour
Sorghum is stone-ground flour from 100% whole grain sorghum. However, sorghum grains aren't related to wheat. It is a popular choice in places like India. In fact, it is the fifth most important cereal food in the world.
Sorghum flour is commonly used as an alternative to plain flour for those with gluten sensitivity. It has a mild taste and will create a smooth texture due to the fine grinding process.
Sorghum is a good replacement choice for corn flour in your baked goods. However, keep in mind it doesn't offer the same binding properties as other flours. You can add a bit of baking powder or xanthan gum to help mix your ingredients.
Use a 1:1 ratio when substituting Sorghum flour for corn flour. 
Top Tips for Substituting Corn Flour
Start with a small amount of the substitute and add more as needed. Some substitutes may take a long time to come to their final consistency. If you add too much, too quickly you can end up with a mess on your hands.
If you are using a stovetop, be sure to start out at a lower temperature. Simmering your liquids will also help to gradually thicken your substance. A hot mixture of clumpy cornstarch on top of your gravy is something to avoid at all costs.
Additional Ingredients that Might Help
If you are still experiencing a less than satisfactory thickness, there are a few other tricks that may help.
Add butter. Adding butter at the end of your cooking can amplify your mixture to achieve the perfect consistency. As any good Southern Cook knows, when all else fails - add butter.
Add egg yolk. Egg yolk is commonly used to thicken cakes and doughs. But it can also be used for sauces and gravies.
Add sour cream. Sour cream is a great way to both thicken your mixture and add a kick of flavor.
Add heavy cream. Heavy cream will enrich and thicken your recipe. Make sure to add this option at a lower temperature.
Each of the additional dairy options provides some thickening power as well as extra flavor. Adding a small amount of any option will help you to reach your desired results.  
Summing up the Substitutes
All thirteen of the listed substitutes are effective solutions to your corn flour problems. It is likely you have at least one in your pantry already. These substitutes offer many similar properties to corn flourbut each has its own benefits as well.
When replacing corn flour, it is important to consider these top tips.
Do you have any other tried and true substitution recommendations? Please let me know in the comments!