When it comes to cooking, potato starch is a versatile ingredient. It can be used as a thickener for soups and sauces or as a binding agent in recipes that call for all-purpose flour.
Potato starch is also a common ingredient in gluten-free baking recipes since it helps to create a lighter, airier texture.
If you're out of potato starch and need a potato starch alternative for baking, several options are available including starch grains.
Jump to:
How Is Potato Starch Made?
The starch is removed from the potatoes with a high-speed food processor before being dried. The powder is white and fine, much like cornstarch, and it looks a lot like potato flour.
Potato starch can also be found in processed potato products such as tater tots.
The Difference Between Potato Starch and Potato Flour
Potato starch is often used as a thickening agent in sauces and gravies. It can be used to replace cornstarch or flour and make the end product more viscous.
Potato flour is also often used as a primary ingredient for baking because of its density, resulting in slightly gummier bread.
Additionally, potato starch can help to extend the shelf life of baked goods by absorbing moisture.
Therefore, potato starch is a versatile ingredient that can be used in various ways to improve the chewy texture and shelf life of food.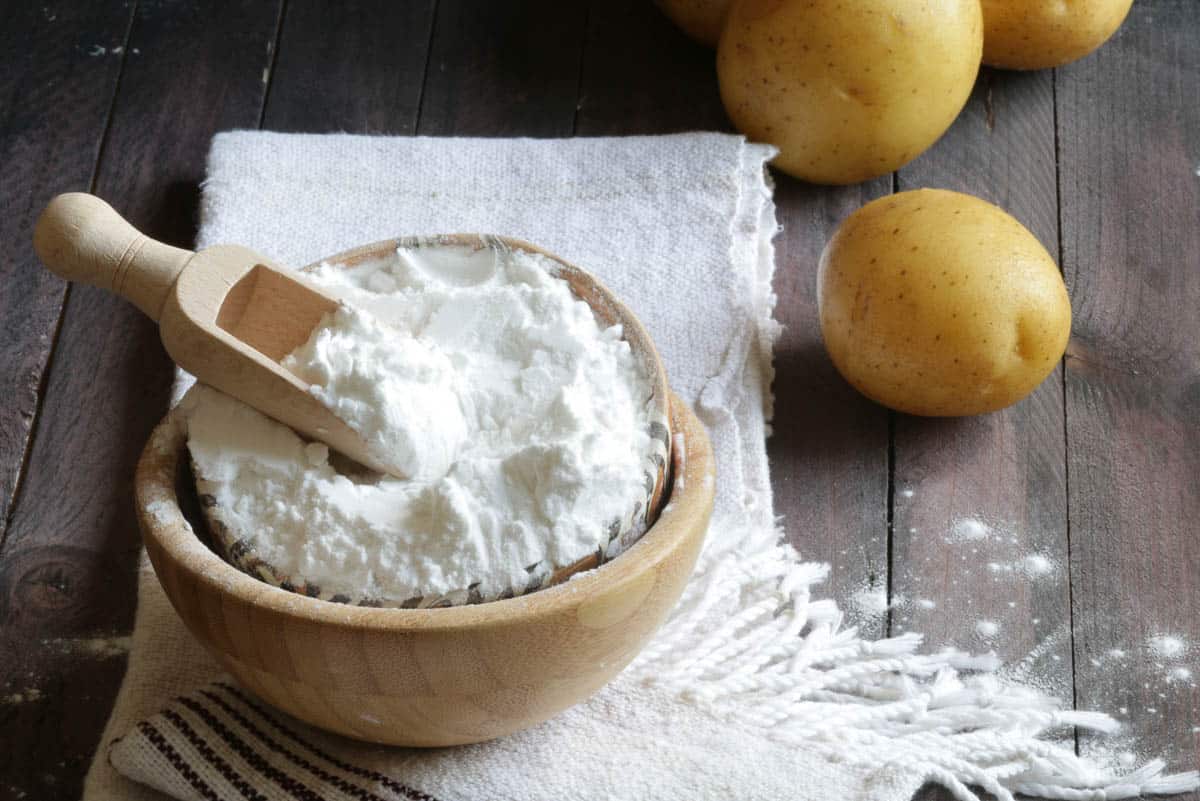 What Is Potato Starch Used For?
Potato starch is like cornstarch in that it is used to thicken up soups, sauces, stews, and fillings for fruit pies. As a result, it's an excellent substitute for cornstarch.
Try using it to replace cornstarch in deep-frying since it has a higher heat tolerance and gives a crisper result.
Sprinkle it over dinner rolls to keep them fresh longer, or use it to sprinkle on the counter while rolling some dough.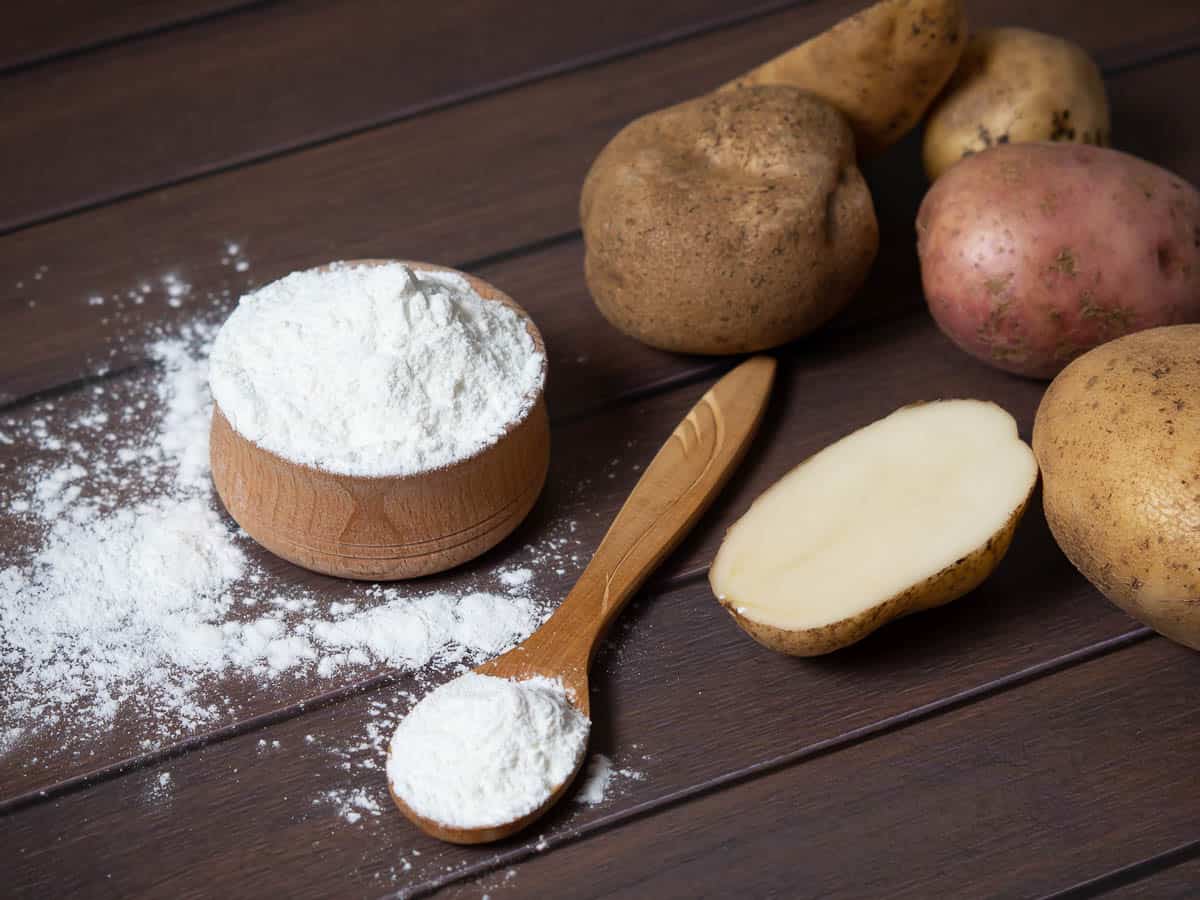 The 3 Best Potato Starch Substitutes
Starches are a lot easier to compensate for than flour. So wondering what to replace potato starch within a recipe when frying, baking, or cooking? Here are some of my favorites!
Here are some typical replacements and ratios:
1. Cornstarch
This is my favorite alternative for potato starch as it gives the best results. It works wonderfully in baking and frying since it's a carbohydrate-rich starch with a similar texture. And because it has a neutral flavor, it won't ruin your recipes.
Cornstarch, a fine powder, is the best substitute for potato starch, but many people don't know what cornstarch is, let alone that it can be used as a substitute for potato starch. Cornstarch is the corn kernels' endosperm or the meaty portion beneath the skin of each kernel that is high in starch.
When substituting cornstarch for potato starch, it is generally recommended to replace the potato starch with the same amount of cornstarch.
If you're looking for a substitute for potato starch, this is probably your best bet. It's easy to use - simply create a slurry with water and whisk it into any dish that needs thickening.
So next time you're in a pinch, reach for the cornstarch.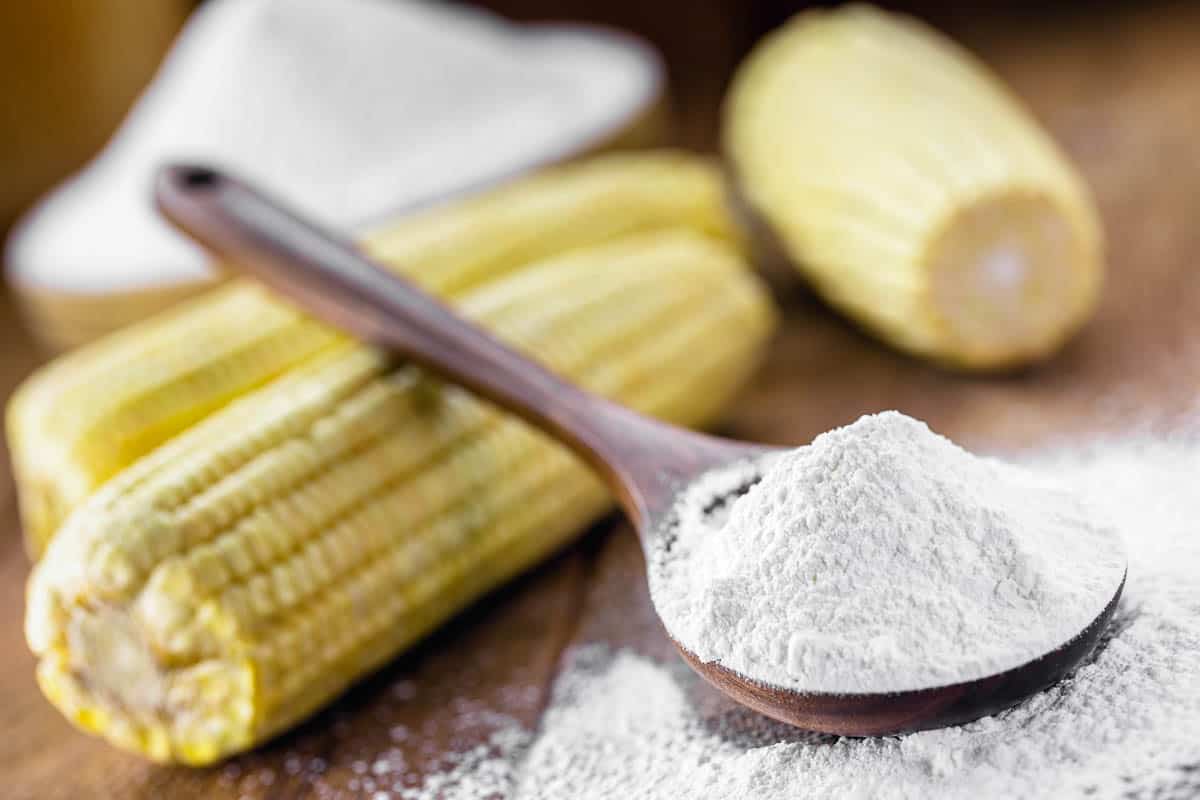 2. Tapioca Starch
You might not think that a root vegetable could be turned into a versatile cooking ingredient, but that's precisely what tapioca starch is. Tapioca starch (also called tapioca flour) is made from the cassava root and is an excellent substitute for potato starch.
It can be used for thickening, baking, and frying and has a neutral taste with a slight sweetness. That makes it ideal for baked goods like fruit pie fillings.
So next time you're in the mood for something different, give tapioca starch a try - you might be surprised at how versatile it is.
Start with one teaspoon and increase the amount as needed. You'll soon get a feel for how much you need to add to create the desired consistency. Then, with a little trial and error, you'll be able to use tapioca starch as a potato starch substitute without any issues.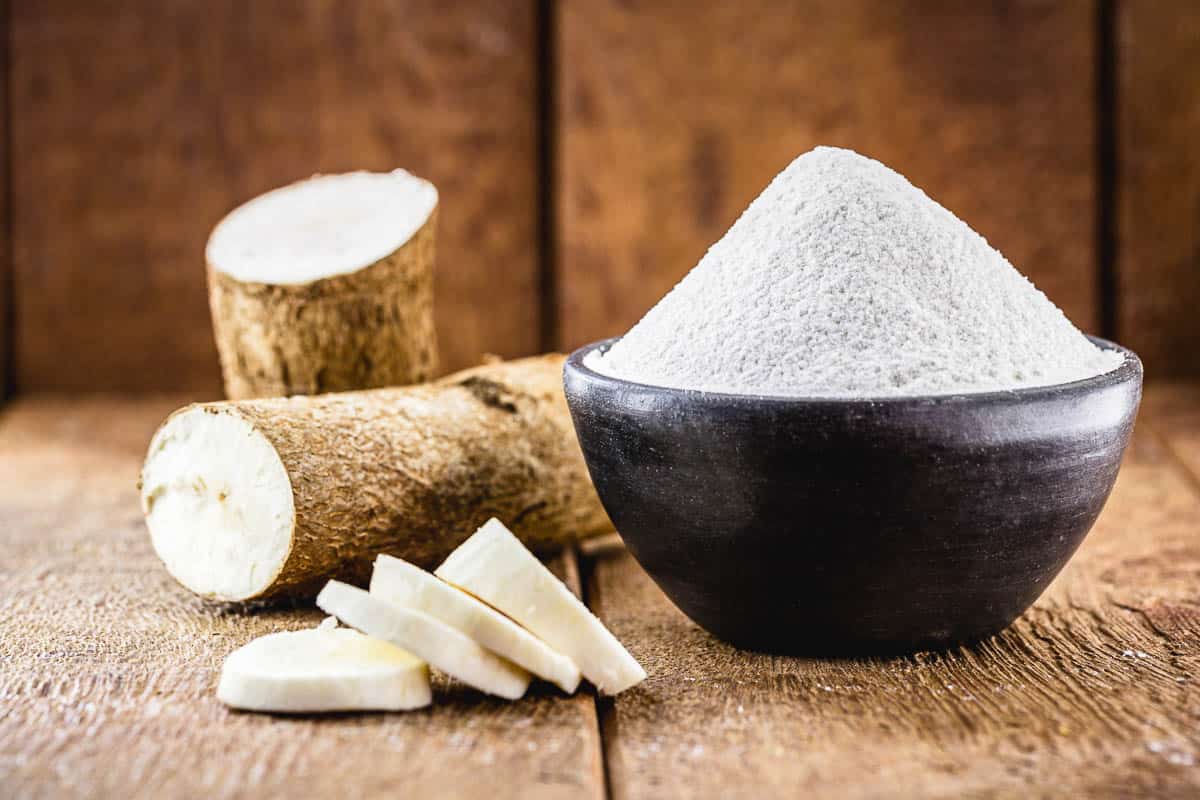 3. Arrowroot Powder
Arrowroot starch is also a good choice, like tapioca, made from a starchy root vegetable. When used in frying or baking, it's a fantastic replacement for potato starch. However, when thickening is required, you'll usually want to use about half as much as potato or cornstarch.
Arrowroot flour thickens wonderfully, but if you use too much, your mixture might become gelatinous and unappetizing. However, when used in the right amount, arrowroot can give your dish a light, fluffy texture that is sure to please.
So, if you're looking for a gluten and grain-free thickener for your next recipe, give arrowroot starch a try. You just might be surprised at how well it works.
Use one tablespoon of arrowroot powder for every one tablespoon of potato starch.
Additional Alternative Substitutes for Potato Starch
Potato starch is a common ingredient in many recipes, but it can be difficult to find in stores. Luckily, several substitutes can be used in its place. They can be found in most grocery stores, health food stores, or online.
If you use one of these substitutes, you will not notice the difference when completing your recipe.
4. Rice Flour
Rice flour is a great substitute for potato starch. It behaves very similarly to potato starch and creates a light and crispy exterior when fried. Additionally, it can be used as a gluten-free flour substitute in baked goods. Rice flour is also suitable for thickening liquids.
When substituting rice flour for potato starch, use the same amount of rice flour as you would potato starch.
Note that glutinous rice flour is not a great substitute for potato starch. Glutinous rice flour behaves differently from the rest and is not a great potato starch substitute. Mochi flour is a sweet rice flour but is not a good potato starch substitute.
White and brown rice flour can be used for similar applications, but it's the white option that will act the most like potato starch.
5. Kuzu Starch
Kudzu starch is flour made from the roots of the kudzu vine. The plant is native to China and Japan, but it has become an invasive species in North America. If you live in the South, you've probably seen it infest both ground and tree cover on Highway corridors.
It's also a fantastic alternative for potato starch, as it has a lot of uses. Kuzu starch is beneficial as a thickener. It gives them a glossy sheen and a smooth texture when added to liquid recipes.
If you're looking for a starch substitute that will lend your dishes a little extra visual appeal, kuzu starch is definitely worth trying.
Have you ever noticed how some sauces and gravies can look a bit cloudy? That's usually because they've been thickened with potato starch. If you're looking for a substitute that will maintain a clear liquid, kuzu is a good option.
It's also more likely to stay together after being cooked for lengthy periods. However, it's important to note that dry kuzu starch tends to be lumpier than other options.
So if you're planning on baking or frying, you might want to use something else. But overall, kuzu makes an excellent substitute for potato starch.
6. All-Purpose Flour
If you're not concerned about consuming gluten, good old wheat flour is an excellent substitute for potato starch. All-purpose flour, like potato starch, has similar applications and functionality. However, it works very differently in most recipes.
For example, flour must be cooked with fat to prevent lumps and a raw flour taste when thickening sauces. It's fantastic for frying, but it has a harder, denser crunch. It also has a high gluten content, which adds another level of difficulty to baking with it.
7. Matzo Meal
Matzo meal is a wheat-based flatbread that is made from ground-up matzo crackers. This should be used only as a last resort because it's not ideal for every situation.
Matzo meal is a type of fine bread crumb rather than flour or starch. It may be used to thicken soups and, in fact, provides an excellent coating for fried foods.
However, if you want to make smooth baked products or sauces, stop cooking and ask a neighbor for a substitute. A substitute for potato starch is likely what you're looking for in this case.
Still, in a bind, matzo meal can do the trick - just don't expect gourmet results.
8. Wheat Flour
Wheat flour is a good option to consider when needing a substitute. Just be aware that it will behave differently than potato starch in most applications.
While potato starch is a common product, wheat flour can be used as a replacement in many cases. Wheat flour is made by grinding the wheat into powder and is most often used in baking. However, it can also be used when frying or as a thickener.
When using wheat flour to replace potato starch, it is crucial to double the amount required for the potato starch. Additionally, remember that wheat flour isn't gluten-free, and cooking it too quickly can cause it to clump.
Ultimately, wheat flour is a versatile product that can be used in many ways, including as a replacement for potato starch.
9. Coconut Flour
Coconut flour is a versatile ingredient that can be used in various recipes. It is great for vegans and has a sweet, mild taste, making it slightly different from potato starch.
Coconut flour is also high in fiber and low in carbohydrates, making it a healthy alternative.
When using coconut flour in place of potato starch, it is essential to reduce the amount by around 15% as the flour has a different texture that can affect the final product's texture.
However, with a bit of experimentation, you can use coconut flour to create delicious and healthy meals that everyone will enjoy.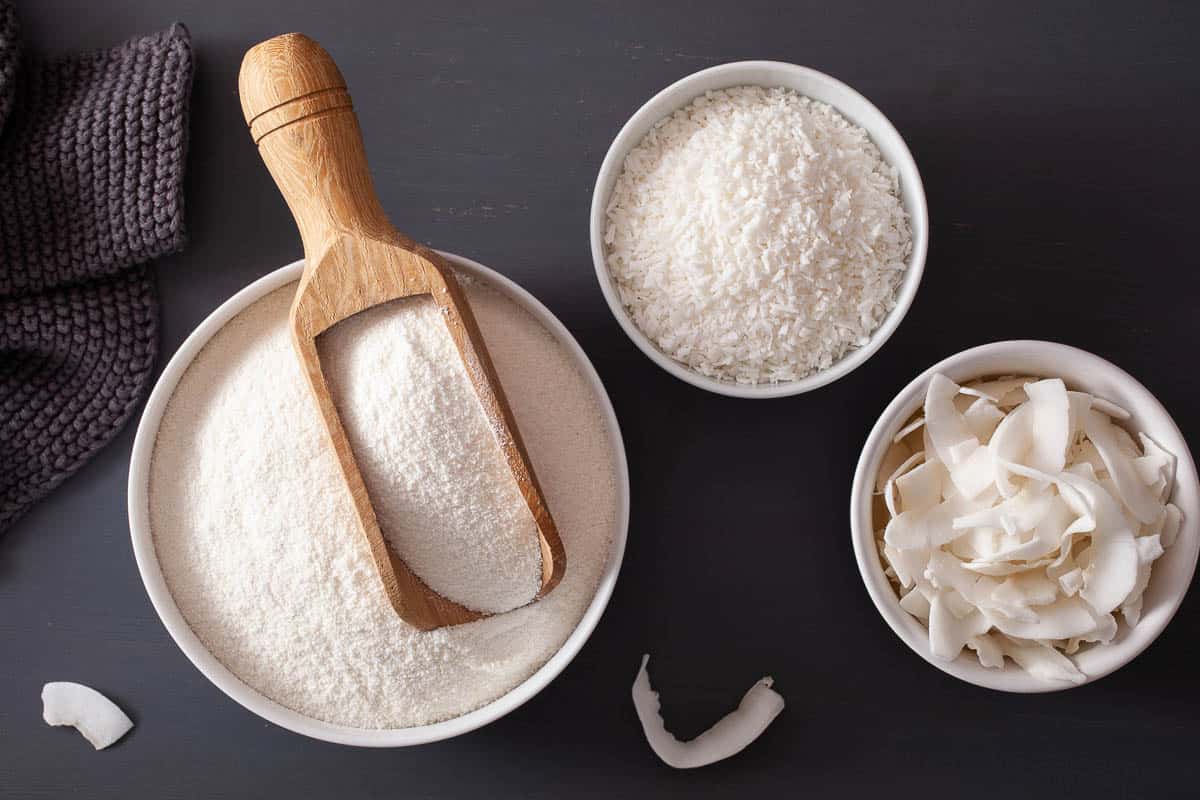 10. Water Chestnut Flour
Water chestnut flour is another option for replacing potato starch. This flour is produced from water chestnuts that have been boiled in water, peeled, and processed into a powder.
Smokey, earthy, and sweet are some of the tastes associated with chestnut flour.
Any meal that requires potato starch may include it.
The flour is gluten-free. To prepare, combine the flour with water and then add whatever amount you want until it thickens.
Water chestnut flour can thicken soup just like regular wheat flour or cornstarch, but it will also add a bit of sweetness and flavor to the dish. If you're looking to add more nutrition, water chestnut flour is a good option as it's high in fiber and B vitamins.
11. Almond Flour
Almond flour is a healthy substitute for potato starch because it has several vitamins and minerals beneficial to your health.
For example, almonds are a good source of Vitamin E, an antioxidant that helps protect your cells from damage. They also contain magnesium, which is important for bone health, and potassium, which helps to regulate blood pressure.
In addition, almond flour is gluten-free, making it a good choice for people with Celiac disease or who are following a gluten-free diet.
When substituting almond flour for potato starch in a recipe, you may need to use less flour because it is denser than potato starch. However, almond flour's sweet flavor and nutty aroma will highlight the best in your dish.
12. Quinoa Flour
Quinoa flour is made from ground quinoa seeds, and it's another option for potato starch created by grinding its seeds into flour. It can be readily integrated into your recipes and produces yummy meals.
This flour is gluten-free and contains many proteins.
It's commonly used for bread recipes, pastries, and other sweets. this is a decent replacement for potato scratch but has a distinctively bitter taste. Also, you might have to add more liquid since quinoa flour tends to absorb it more than wheat flour.
Finally, don't forget to experiment with the ratio until you find the perfect one that gives the desired texture to your dish.
Substitute Guide for Potato Starch
All the information you need on the top 3 potato starch substitutions organized for you below!
Potato Starch Substitution Graphic
Substitutes for Potato Starch Table
| Substitution | Qualities | Dietary considerations |
| --- | --- | --- |
| Cornstarch | Works great for baking, thickening, and frying; most likely to already have on hand; substitute 1:1 | gluten-free, may increase glycemic index |
| Tapioca starch | Can be used for baking, thickening, and frying; ideal for fruit pie fillings; start with a smaller amount and increase until desired results achieved | gluten-free and grain-free |
| Arrowroot Powder | Best for frying or baking; when used for thickening, use half the amount | gluten-free and grain-free |
Conclusion
If you are looking for a potato starch substitute in your baking, there are plenty of options to choose from. You can experiment with different types of starches to find the one that works best for your recipe.
Each of these substitutes has its own unique set of benefits and drawbacks, so choosing the best option for your recipe is essential. However, with just a little bit of experimentation, you will be able to create delicious baked goods that everyone will love.
Do you have any other tried and true substitution recommendations? Please let me know in the comments!