Cornmeal is a common ingredient in the food of many cultures. It is a staple pantry item that often goes by different names. This key ingredient can be replaced if you have dietary restrictions, a corn allergy, or happen to forget it during your last trip to the store. Here is everything you need to know about cornmeal and the best substitutes for cornmeal.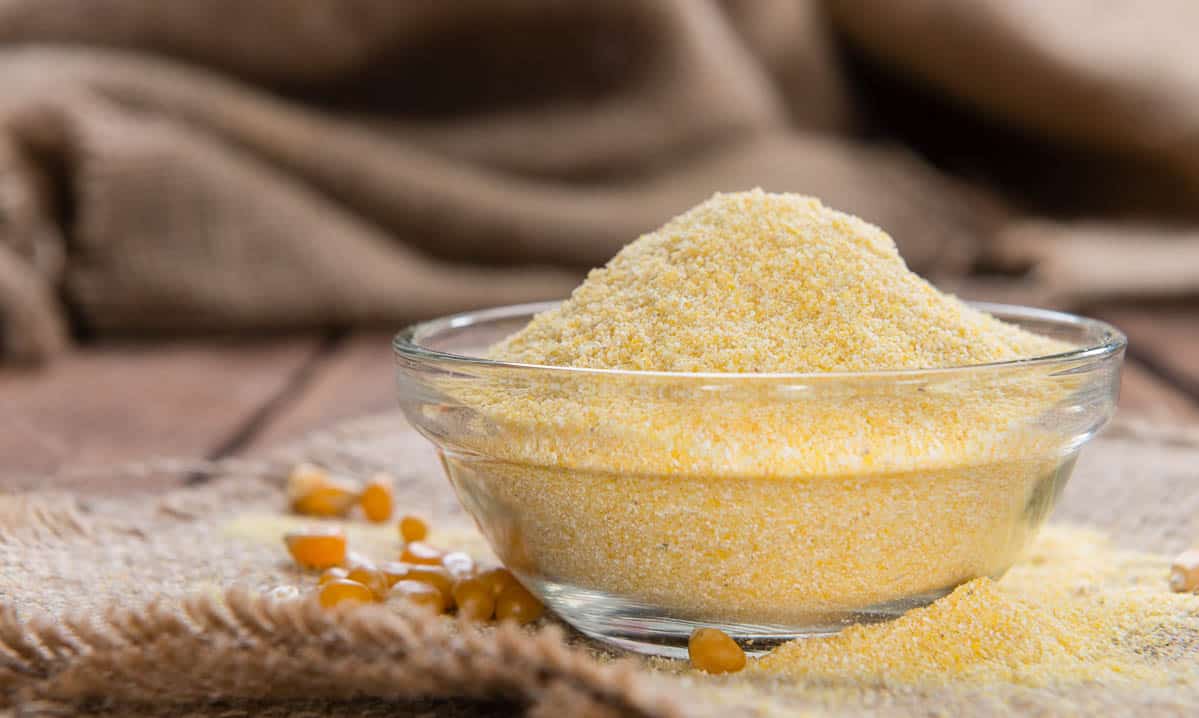 Jump to:
History of Cornmeal
Cornmeal originated in Mexico and is made from ground dried corn. It was also commonly used by the Native Americans. There are many different names for cornmeal as well as variations.
For example, finely ground cornmeal in Mexico is called cornflour. It is also called masa harina when blended with substances to make tortillas. In Northern Italy, cornmeal is boiled and called polenta. Cornmeal is also a main ingredient used in Asia, Europe, South America, and the Caribbean.
Cornmeal variations include coarse, medium, and fine textures. Each variation is used for different types of cooking. Cornmeal can be used to make cornbread, muffins, and other pastries. It is also very common to use cornmeal for frying meats or vegetables.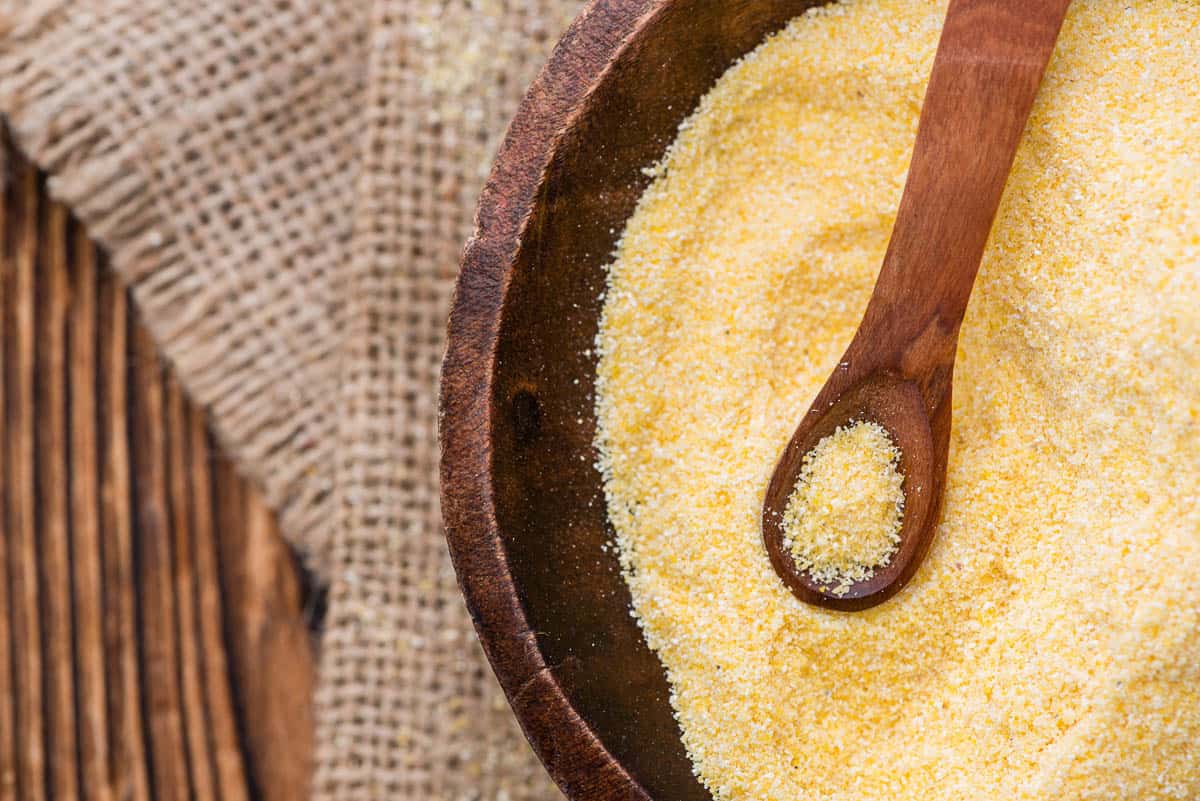 Types of Cornmeal
Cornmeal has many different forms and names, mainly depending on the type of corn used. There are four main types of cornmeal.
White Cornmeal
White cornmeal is made of white corn. It is commonly used in the southern states for making cornbread or pastries. This is what is used to make grits.
Yellow Cornmeal
This type of cornmeal is made of yellow dent sweet corn. Yellow corn has a high starch convent and ranges from fine to coarse ground. It is a very popular choice in the United States and is widely available at most grocery stores. Most use yellow cornmeal as a staple food assistant to make crispy chicken or fish.
Blue Cornmeal
Blue Cornmeal is popular in the United States and Mexico. It is made of blue corn which has a nutty flavor. Blue cornmeal can be used to make tortilla chips and corn tortillas. 
Stone-ground Cornmeal
This cornmeal option is literally ground by stone. It has a larger grain size and includes some of the outer hull, kernel, and germ. The leftovers of these parts often create a deeper corn flavor. Some stone-ground cornmeal is considered a whole grain. 
Best Cornmeal Substitutes
Cornmeal has some excellent corn-based and non-corn-based substitutes. Each of these options is a suitable replacement for your ground cornmeal needs.
Substitutes that Contain Corn
Corn Flour
Corn flour is very similar to corn meal. However, it is more of a fine powder compared to the coarser texture of cornmeal. This type of flour can also be called polenta flour so be sure to look for both options in the grocery store.
Corn flour can be used at a 1:1 ratio when used as a cornmeal replacement. Corn flour is a good alternative for frying items such as a corn dogs. While it will create a different texture, you will achieve a similar taste.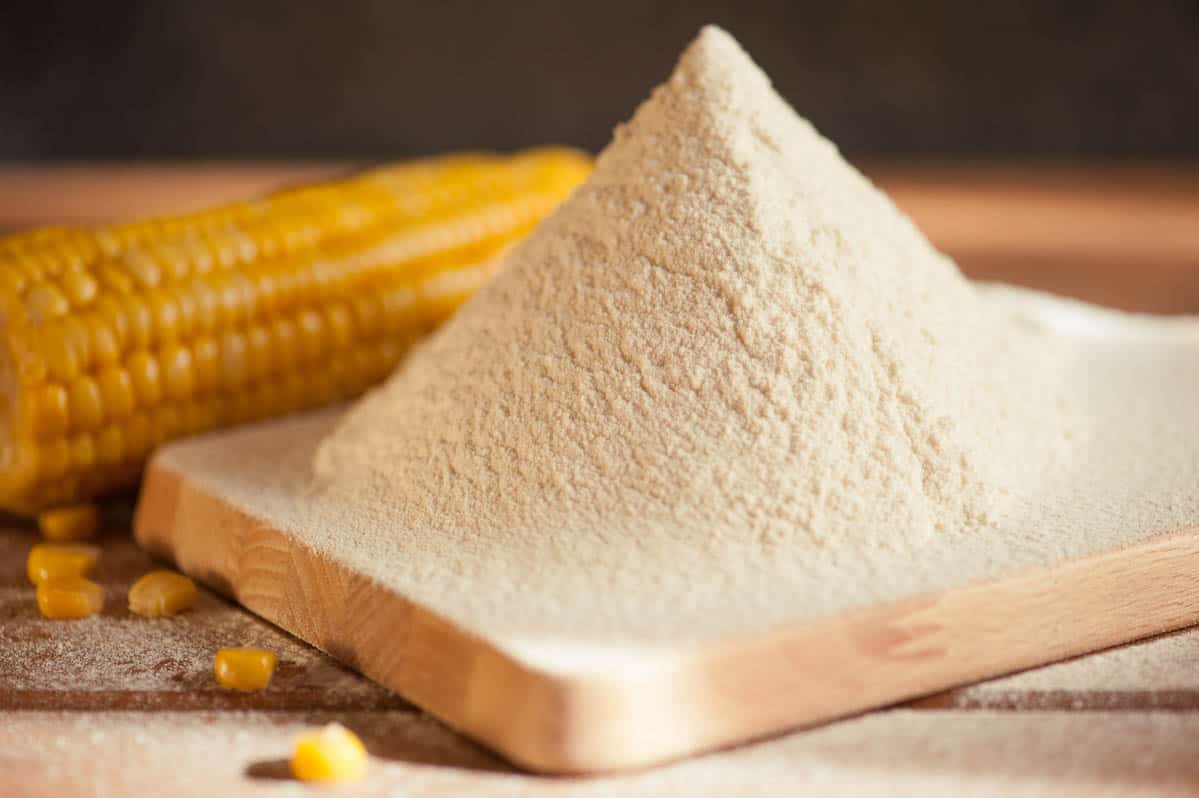 Corn Grits
Grits are similar to yellow cornmeal in that they are also made from dent corn. Grits have the consistency of cornmeal in the stoneground version. This is a great choice as a replacement especially if you are looking for a gluten-free option.
When using corn grits in place of cornmeal, use about ¾ of the amount of cornmeal needed. Corn grits are the best cornmeal substitute for bread and other items such as cornbread, muffins, and pancakes. Looking for a new cornbread recipe? Try the Self Proclaimed Foodies Jalapeno Cornbread Recipe. This Jalapeno Cornbread has a little kick that is sure to be a crowd-pleaser on your next chili night.  
Corn Flakes
It may seem surprising, but corn flakes make a solid replacement for cornmeal. They have a distinct corn flavor. They can easily be crushed or ground into a fine cornmeal substitute powder.
The next time you are out of cornmeal, check your pantry. Corn flakes are a great choice for frying. Use a 1:1 ratio in your replacement. 
Tortilla Chips
A tortilla chip substitute will work very similarly to a cornflake substitute. Tortilla chips can be ground to make a simple substitution for cornmeal.
Many corn chips are made of similar yellow corn as cornmeal. This will give a great corn flavor. Just be cautious of the amount of salt on the chips and how that will affect your recipe. Use a 1:1 replacement ratio when using tortilla chips. 
Masa Harina
As mentioned, masa harina is similar to cornmeal. However, masa flour has been soaked in an alkaline agent so it will have a bit of a different flavor.
You will want to use Masa Harina in the same amount of cornmeal in your recipe. Try this substitution in cornbread or soups.
Non-Corn Substitute Options
Semolina
Semolina also makes a good cornmeal substitute. It is made from durum wheat and has coarse grounds. The coarseness will give a crunchy texture that is a similar consistency to cornmeal.
Semolina is one of the best options for substitutes because it is rich in protein, iron, and is plant-based. It is also low on the glycemic index for those with diabetes or other health sensitivities.
Semolina flour is a great substitute for many recipes such as homemade pizza dough. It is also a solid cornmeal substitute for frying and bread. It is suggested to use a little bit more semolina flour than you would cornmeal recipes. Semolina has a finer texture than cornmeal so adding more is a good idea for creating the right thickness. 
Rice Flour
Rice flour is another option to substitute for cornmeal. It is made of finely milled rice and has a very different taste than cornmeal as it is very neutral.
Rice flour is the best choice for a fine powder that is gluten-free. Rice flour makes a perfect substitute option for sauces and soups. But, it also makes a great cornmeal substitute for corn dogs. The flour will coat the meat nicely. The only difference will be the taste of the dough flour. For best results, use a 2:1 ratio when substituting rice flour (2 cups of rice flour for every 1 cup of cornmeal). 
Ground Flaxseed
The healthiest cornmeal substitute is ground flaxseed. It is packed with fiber and protein. Flaxseed has many health benefits. For example, it is said to help with digestion and may lower cholesterol. Although Ground Flaxseed has a different flavor than cornmeal, its texture makes it a great alternative to cornmeal.
Ground flaxseed can be substituted for cornmeal at a 1:1 ratio. It is a good substitute for bread recipes as the unique flavor will not be overpowering.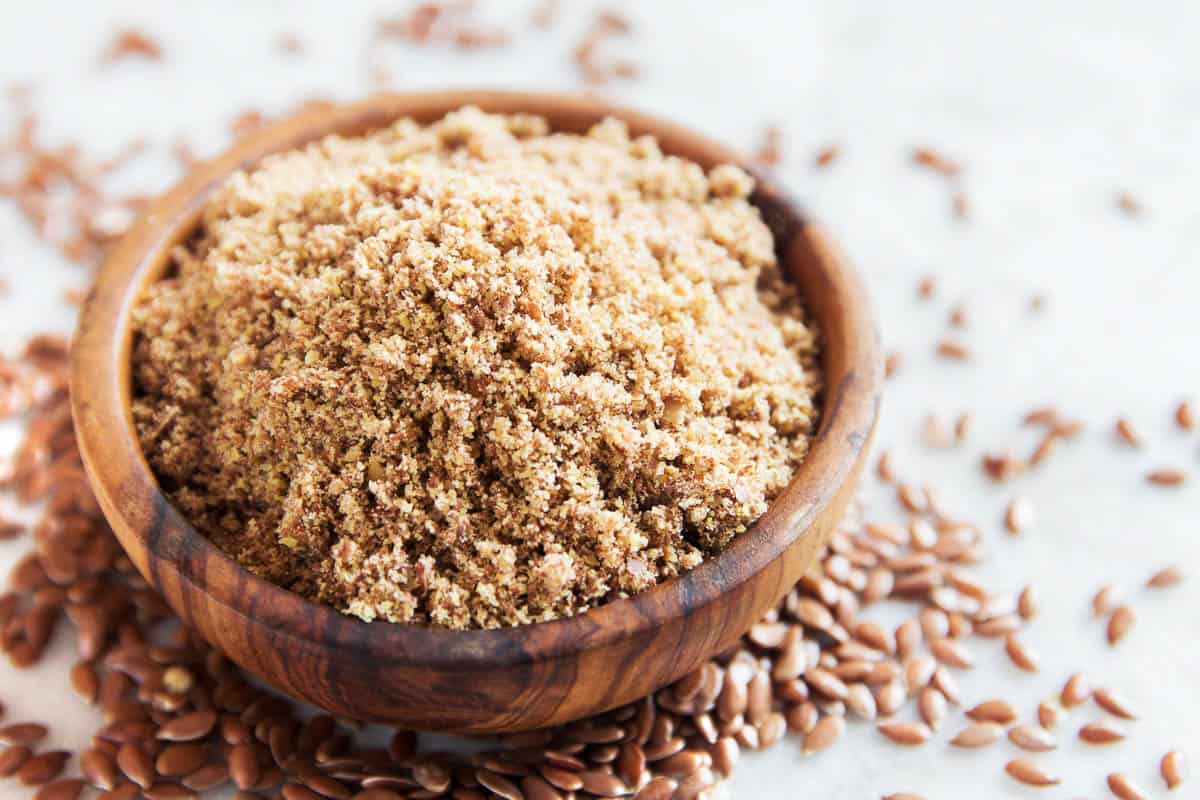 Wheat Flour
This all-purpose flour is a great alternative to corn substitutes to replace cornmeal. It has a similar texture to cornmeal but will not have a similar flavor. However, the flavor is still mild so you are unlikely to miss the corn taste in your recipe.
To use wheat flour as a substitute, it is recommended to measure by weight rather than volume. Wheat flour makes a solid cornmeal replacement in recipes such as fried fish. 
Ground Oats
Ground oats can also be used as a substitute for cornmeal in a pinch. They offer a similar texture. Oats can be easily placed in a food processor to create a coarse flour that will work in almost any recipe. The amount of processing will need to depend on the type of cornmeal you are replacing.
Many are allergic to corn products and need substitute options such as ground oats. Use a 1:1 ratio when substituting ground oats for cornmeal. Ground oats are one of the best cornmeal substitutes for cornbread and frying. 
Homemade Cornmeal
You have many different options when it comes to corn substitutes. But a lot of people prefer to make their own. Homemade cornmeal can have whatever specific ingredients you choose. You can also choose the texture of cornmeal that works best for what you are making.
You can create the best cornmeal substitute using fresh field corn, frozen field kernels, or a mixture of the two. If you choose to use some or all fresh corn, make sure there are no bugs.
You will want to ensure your corn is clean and completely dry using a dehydrator or other method.
You then will need to grind your cornmeal using a food processor. After you have reached your desired texture you can seal it or dry it out further in the oven.
Making your own cornmeal will obviously be more labor-intensive, but it can make a great alternative especially if you have fresh or frozen corn around. 
Summary Substitute
Cornmeal is one of the most widely used and popular ingredients in the world. You will likely find yourself looking at a recipe including cornmeal in almost any type of cuisine. Luckily, substitutes for cornmeal can easily be found in your pantry or at the grocery store. No matter what your dietary restrictions or allergies are, there is a great cornmeal substitute for you.
Do you have any other tried and true substitution recommendations? Please let me know in the comments!