Pancakes are a breakfast favorite. Served on their own or alongside eggs and bacon, they are loved by the whole family.
But Saturday mornings only come around once a week, and weekday mornings are busy. When trying to get breakfast ready, it can be helpful to have pancake mix on hand to make getting breakfast on the table a snap.
Pancake mix also makes it easy to adjust the size of a batch of pancakes, whether serving a crowd or cooking for one.
What can you do if you run out or forget to pick up pancake mix on your shopping trip? Or perhaps you don't have all of the ingredients that you need to add to the mix?
No need to scratch the pancakes. We have a few ideas to get you started.
You can easily make your own pancake mix by combining the necessary dry ingredients. If you don't have all of these components on hand or are avoiding certain ingredients, try one of these pancake mix alternatives.
In order to know what we need, let's take a closer look at pancake mix.
Jump to:
What is Pancake Mix?
Pancake mix provides a fast and simple way to make delicious pancakes.
Most pancake mixes consist of flour, salt, sugar, and some sort of leavening agent. You can easily replicate a boxed mix by creating your own version by following an easy recipe. If making your own pancake mix, combine the dry ingredients and store them in an airtight container.
Since mixes include all the necessary dry ingredients for pancakes, most pancake mixes only require the addition of a few wet ingredients, such as water, eggs, milk, melted butter, and vanilla extract. Of course, the easiest form of pancake mix will have you just add water!
The versatility of pancakes is what makes them such a favorite. You can add cinnamon, blueberries, bananas, chocolate chips, or any of your favorite mix-ins to pancake batter.
And the topping options are endless! Butter, maple syrup, whipped cream, fruit, nut butter and jam, or anything your heart desires.
While pancake mix can of course be used to make pancakes, the possibilities of the other foods it can create are endless. With some creativity and adaptations, pancake mix can be made into cakes, cookies, scones, breads, brownies, and funnel cake.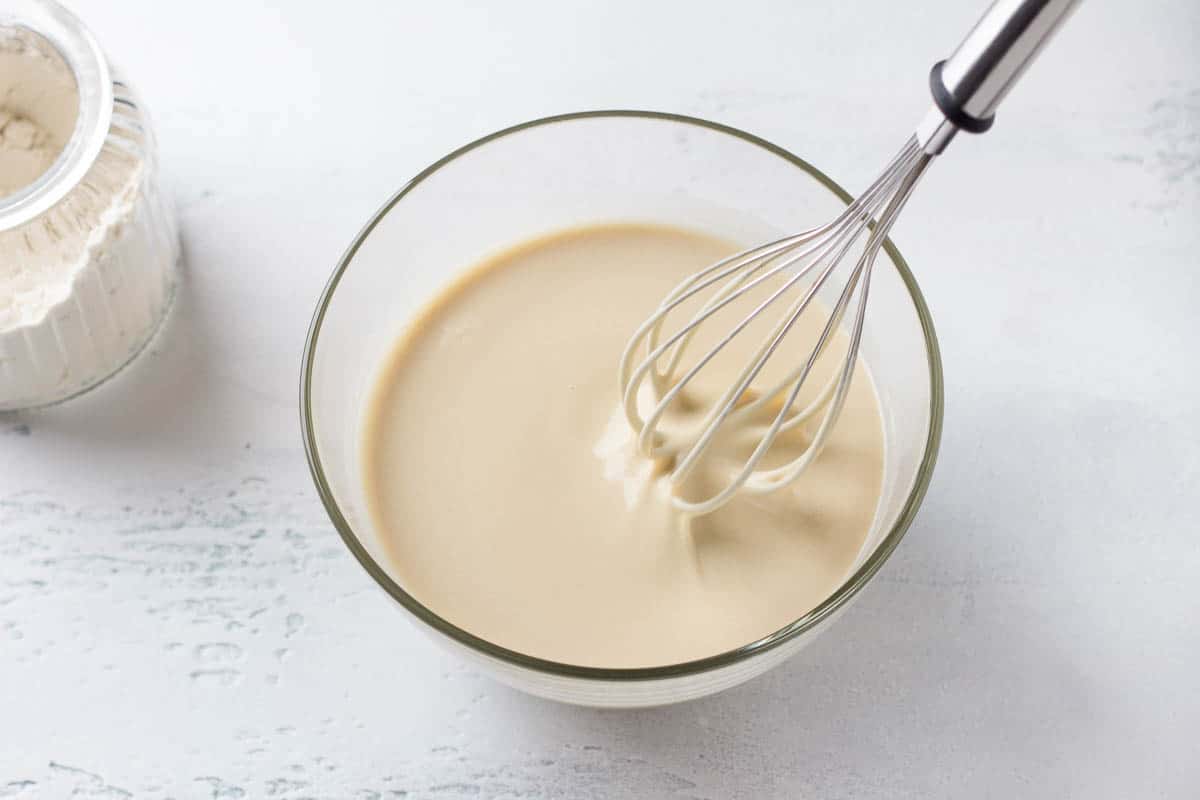 How to Make Homemade Pancake Mix
The perfect substitute for pancake mix is to make your own recipe. To do this, combine the following dry ingredients and store them in an airtight container.
Pancake Mix Ingredients
3 cups all-purpose flour
3 tablespoons sugar
1.5 tablespoons baking powder
1 teaspoon baking soda
1 teaspoon kosher salt
Ingredients Needed to Make the Pancakes
1 cup dry pancake mix
1 cup buttermilk (or ¾ cup milk + ½ teaspoon lemon juice)
1 large egg
1 teaspoon vanilla extract
1 tablespoon oil or melted butter
Pancake Mix Ingredient Substitutions
If you need to make your own homemade pancake mix because you don't have a store bought version, and need some flexibility with some of the ingredients, the information below will help!
Flour Alternatives
All purpose or whole wheat flour and pancake mix are not the same thing, and they cannot be used interchangeably. Flour is just one component of pancake mix. Although you can't substitute flour alone for pancake mix, the good news is that you can swap out this key ingredient for a flour substitute.
If you are trying to avoid regular flour because you are gluten free or follow a low carb or keto diet, try one of the following substitutes.
Coconut Flour
If you have made gluten-free pancakes before, you will have noticed that some recipes call for coconut flour.
Since coconut flour is a very absorbent flour, you will need to increase the amount of eggs you use. To retain the structure and moisture of pancakes, every ¼ cup of coconut flour requires an extra egg.
Substitute ⅓ to ¼ cup coconut flour for every cup of all-purpose flour.
Almond Flour
Using almond flour in place of all-purpose flour increases the protein content of pancakes.
As with coconut flour, it helps to use an additional egg when using almond flour so that it doesn't become too thick or dry.
Since almond flour does not absorb moisture well, your pancake batter can become too runny. You may need to add a little bit of coconut flour to avoid this happening. Start with 1 tablespoon of coconut flour, and increase the amount as needed.
You can also try adding a nut butter such as almond butter to help hold the batter together and add a full rich flavor to the pancakes.
You can substitute almond flour for regular flour in a 1 to 1 ratio.
Oat Flour
Another healthy swap that is also gluten free is oat flour. As with many flour alternatives, oat flour contains more protein and fiber than regular flour.
Pancakes made with oat flour will look and taste heartier and denser than traditional pancakes. The whole grains make oat flour pancakes more filling as well.
If you don't have any oat flour, you can easily make your own. Blend old-fashioned rolled oats in a food processor or blender until it reaches a fine flour-like texture. Blending 2 cups of rolled oats will give you about 1 cup of oat flour.
Replace every cup of all-purpose flour with 1 ⅓ cups of oat flour.
Gluten Free Flour Blend
You can either purchase a gluten free flour blend or create your own. Gluten free blends usually include rice flour, potato starch, and tapioca starch, in various ratios. There are also paleo blends that are grain free as well as gluten free.
Keep in mind that gluten-free pancakes take longer to cook than those made with all-purpose flour. To keep them from being undercooked in the middle, cook them longer at a lower temperature.
Since gluten-free pancakes are denser than pancakes made with regular flour, you can use your blender to add some air to the batter. Blend all ingredients for the batter on high for about 1 minute for perfectly fluffy pancakes.
With gluten-free blends of the proper ratio, you can use them as a replacement for all-purpose flour in a 1 to 1 ratio.
Baking Powder Alternatives
Pancake mixes include some sort of leavening agent, the most common being baking powder. This base ingredient helps pancakes rise and gives them a fluffy texture. If you happen to run out of baking powder, try one of these swaps.
Baking Soda & Vinegar
If you have baking soda, also called sodium bicarbonate, on hand, you can create your own leavening agent for pancakes. You will just need to add an acid to activate the baking soda in your recipe.
White vinegar, lemon juice, or cream of tartar can be used as the acid, depending on what you have in your kitchen or pantry. The small amount added to the batter will not alter the taste or smell of the pancakes since it will disperse during the cooking process.
Use 2 teaspoons of the acid for each teaspoon of baking soda. For every teaspoon of baking powder called for in your pancake recipe, substitute ¼ teaspoon of baking soda.
Whipped Egg Whites
Swapping whipped egg whites for baking powder leads to extra light and airy pancakes.
Beat the egg whites until soft peaks form using an electric mixer before adding them to the rest of the batter. Don't overmix the batter or allow it to sit for too long, or the egg whites will collapse and flatten.
Replace each teaspoon of baking powder with 1 egg white.
Egg Alternatives
Most pancake mixes require the addition of eggs. Eggs are important because they help the pancakes rise, and add structure and flavor.
But just because you are vegan or have a sensitivity or allergy to eggs, that doesn't mean you have to miss out.
Here are some vegan egg replacements to try when making pancakes.
Flax Egg
Flax seeds are a healthy addition, and ground flaxseeds can be used to create a flax egg that has a similar consistency to regular eggs.
This alternative will make your pancakes more dense and less fluffy. It adds a nutty flavor to the batter.
To make a flax egg, mix 1 tablespoon of ground flaxseed with 3 tablespoons of water. This can replace 1 egg.
Chia Egg
Similar to flaxseeds, ground chia seeds can be used to make an egg substitute. They also add a denser texture to your pancake batter.
Chia seeds offer health benefits by adding fiber and omega-3 fatty acids to your pancake batter.
To replace a regular egg, combine 1 tablespoon of ground chia seeds with 3 tablespoons of water.
Mashed Banana
Bananas work well to bind the ingredients in pancake batter. They create moist pancakes and add a slight sweetness.
They also give a nutritional boost to your pancakes by adding fiber and potassium.
When using this replacement, use ¼ cup of banana puree for every egg. This comes out to about half of a banana.
Milk Alternatives
When making pancakes, milk is a key ingredient. If you are out of milk or need a dairy-free option, there are several other replacements that will work.
Non-Dairy Milk
There are quite a few dairy-free milk options available now. Soy milk, oat milk, almond milk, cashew milk, or coconut milk are all great alternatives. In order to avoid affecting the sweetness in the overall recipe, choose an unsweetened variety.
Any non-dairy milk can be substituted for regular milk in a 1 to 1 ratio.
Yogurt
Using yogurt instead of milk adds protein and fluffiness to your pancakes.
When using yogurt as a replacement for milk, use a plain yogurt unless you want to experiment with a flavored pancake. 
Regular yogurt can replace milk in a 1 to 1 ratio. If using Greek yogurt, you will need to dilute it first. Since Greek yogurt is a similar consistency to sour cream, following the instructions below.
Sour Cream
Sour cream makes a great replacement for milk. When using sour cream, dilute it with water in order to make it a thinner liquid similar to milk. Use a ratio of 3 parts sour cream to 1 part water.
Once diluted, substitute the thinned sour cream for milk in a 1 to 1 ratio.
Buttermilk
You can't have buttermilk pancakes without using buttermilk. If you are looking for a fluffier pancake, be sure to reach for the buttermilk, even if the recipe or pancake mix calls for milk.
Butter Alternatives
Pancake mixes require the addition of a fat, such as melted butter. Most neutral tasting vegetable oils such as olive oil can be used instead.
Coconut Oil
Coconut oil can be used in place of oil or butter in many recipes, and pancakes are no exception.
Pancakes made with this oil will have a faint coconut scent and flavor. The batter will be as fluffy as batter made with butter, but the pancakes will brown slightly better.
Since coconut oil is solid at room temperature, make sure to melt it before incorporating it into the batter.
Substitute coconut oil for butter in a 1 to 1 ratio.
Shortening
One of the best replacements for melted butter is shortening. When using shortening, you will retain that original pancake taste and texture. Regular and butter-flavored shortening are available, and either option will work.
Opposite of coconut oil, pancakes made with shortening will brown slightly slower when cooked.
Swap butter for shortening in a 1 to 1 ratio.
Conclusion
Whether whipping up a weekend brunch for a house full of guests, or making a quick weekday breakfast for your family, pancakes are always a good idea.
Use this list the next time you run out of your favorite pancake mix. When you break down pancake mix into its separate components, you can mix and match ingredients to create one-of-a-kind pancakes without having to run to the grocery store.
So heat up your griddle and get out your favorite toppings. It's time to make some pancakes!
Do you have any other tried and true substitution recommendations? Please let me know in the comments!