An important aspect to cooking is the balance of flavor. Many people focus on sugar and salt but one of the biggest drivers of flavor is acid. Acidity awakens the palette. It also adds layers and depth to your cooking because it counters the properties of salt and sugar.
If you are making a recipe that calls for sherry vinegar and don't have any, no need to fret! There are plenty of options that can work as an alternative.
Jump to:
What is Sherry Vinegar?
A very popular and useful "acid" in cooking is Sherry Vinegar. This vinegar is made through fermentation, changing alcohol to acetic acid and water. Real Sherry Vinegar, otherwise known as Sherry Triangle, is made in the Cadiz region of Southern Spain. It is aged in wooden or oak barrels which brings it a nutty undertone.
The vinegar is made from Sherry wine and has a designated seal when authentic from the region. Most Sherry Vinegars come from wines made from the Palomino Grape. Sweeter versions are made from the al Pedro Ximenez grape.
The most sought-after Sherry Vinegar is the vinegar with the Gran Reserva designation. Found at specialty stores, this type of Sherry Vinegar is a true showcase of the flavor.T he Gran Reserva designation ensures an aging minimum of 10 years. It develops a mahogany color with a silky texture and a palette of dried fruit. This is the shining example of an amazing Sherry Vinegar.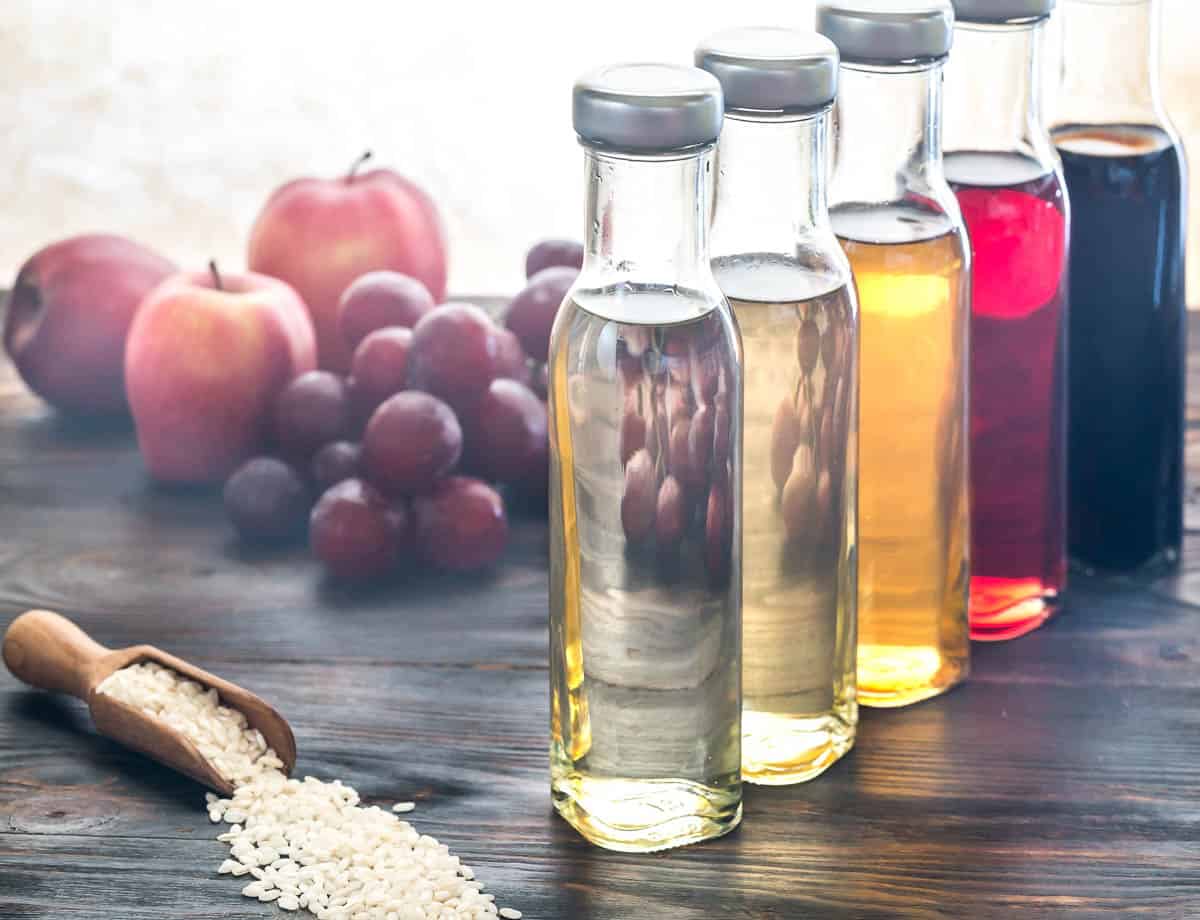 Taste and Uses
This vinegar has a sweet taste but also has a mild taste compared to white vinegar. It is used in salad dressings, soups, and sauces. The taste of sherry vinegar offers a nutty taste that makes it so unique and sought after. The depth of flavor this vinegar offers is the reason many cooks and chefs alike utilize it within their menus.
Due to its popularity, Sherry Vinegar is called on in a lot of recipes. Used in vinaigrettes and wine-based sauces, it is a go-to for many chefs.
Health Benefits
Before we get more into suitable replacements, it is worth mentioning the health benefits of Sherry Vinegar. The aged vinegar is known to help with digestion issues as well as increase good cholesterol. The polyphenols in the vinegar help with oxidative stress and are even known to help those with high blood sugar.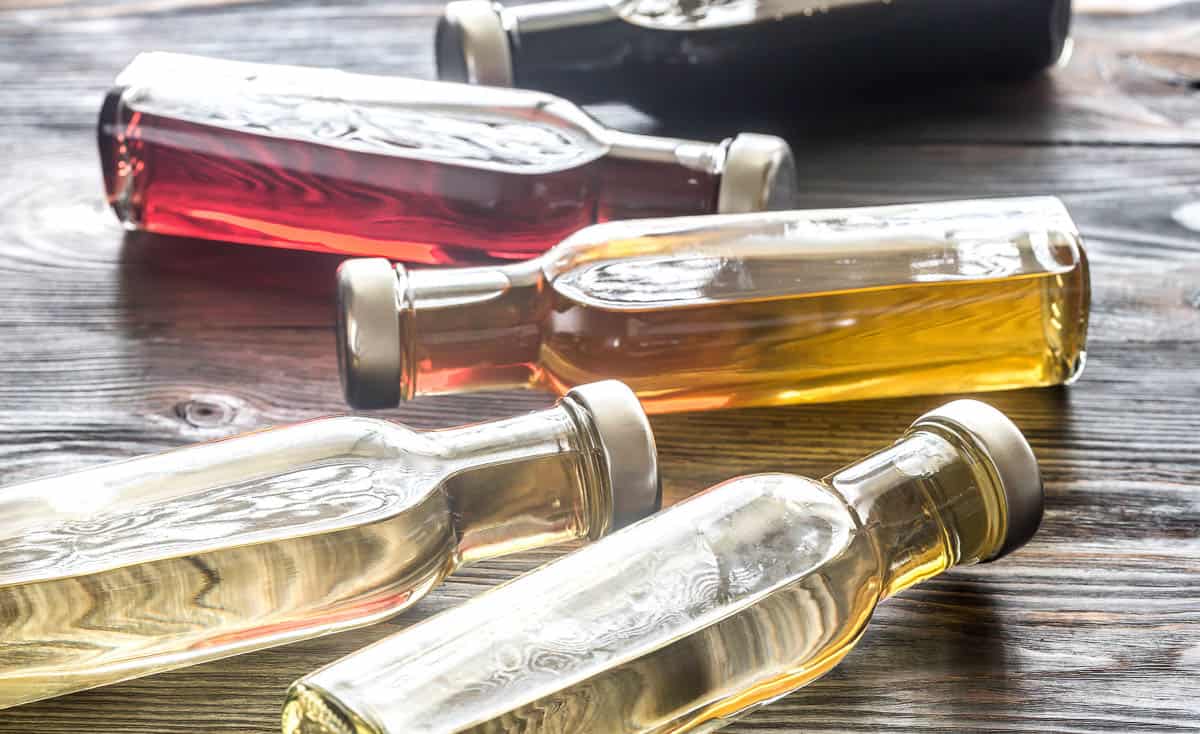 Best Sherry Vinegar Substitutes
But you may find that you have run out of Sherry Vinegar and need a substitute. Lucky for you there are different kinds of vinegars that may work for your recipe.
Apple Cider Vinegar
A great substitute for Sherry Vinegar is Apple Cider Vinegar. Fruity notes are profiles on both kinds of vinegar, so Apple Cider makes the most sense when making this substitution. The color for the two is similar, with Apple Cider Vinegar being a little bit on the lighter side compared to Sherry.
Very easy to find at the grocery store, Apple Cider Vinegar is popular due to the apple and tart notes. This vinegar is made by cutting up apples and leaving them to ferment in water to draw out the natural sugars. As a substitute for sherry vinegar, it will be similarly acidic and also leave a fruity note on the palette.
The best substitute application for Sherry Vinegar would be in a dressing. Apple Cider Vinegar is already called for in many dressings and vinaigrettes. Additionally, in a soup, this will add nice apple notes that make up for the nutty notes Sherry would bring.
Malt Vinegar
This dark vinegar has a mild flavor and low acid levels. Because of its toasty and nutty flavor, it actually makes an excellent substitute for sherry vinegar. It can be used as a 1:1 substitute or blended with other kinds of vinegar in place of sherry vinegar.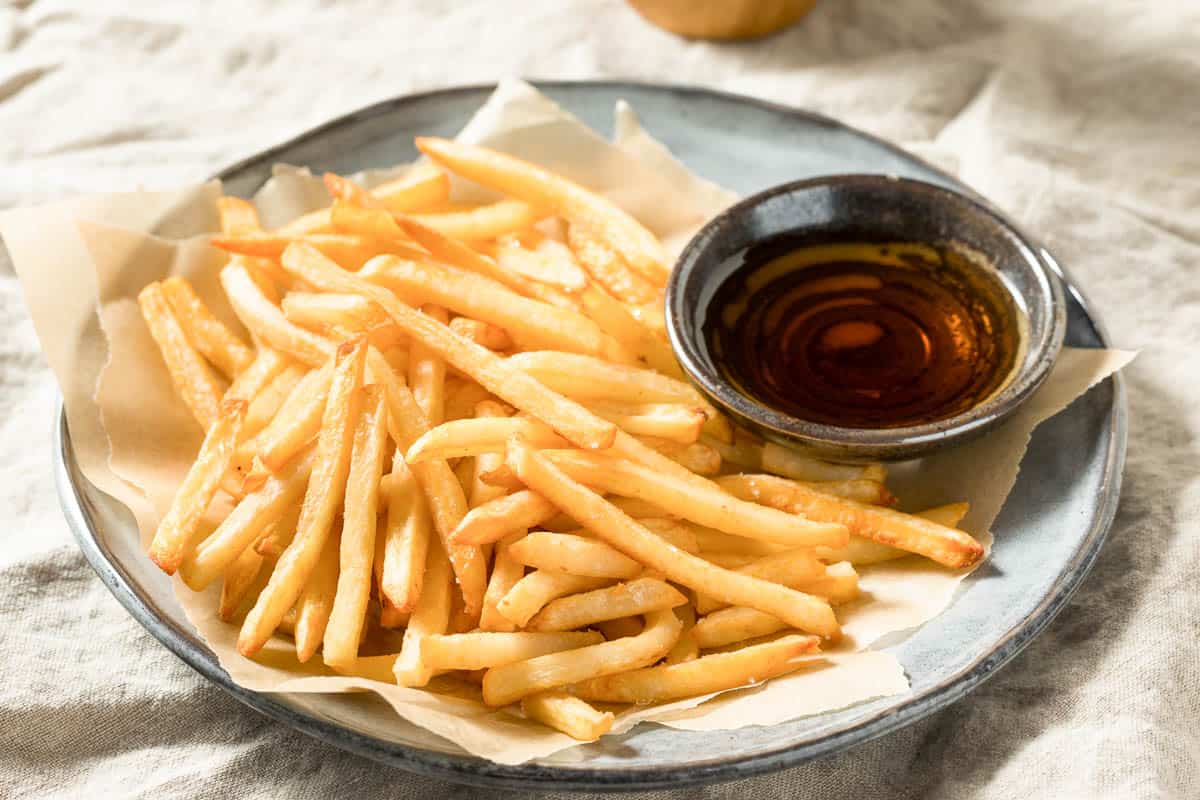 Champagne Vinegar
Another good substitute for Sherry Vinegar is Champagne Vinegar. This follows the same basic formula of fermenting wine into vinegar, but Champagne will offer a sharper acidic flavor. Small amounts of Champagne Vinegar go a long way, therefore it is recommended that you use half of the amount of this vinegar when substituting for Sherry.
The flavor of Champagne Vinegar also offers fruity and floral notes with an underlayer of vanilla. It does not, however, offer the nuttiness that Sherry flavor is prized for. It is brighter in a way, so would definitely be great for that dressing substitute.
If you were to use it in a wine-based sauce, it would be great as well. It offers a similar wine/vinegar profile.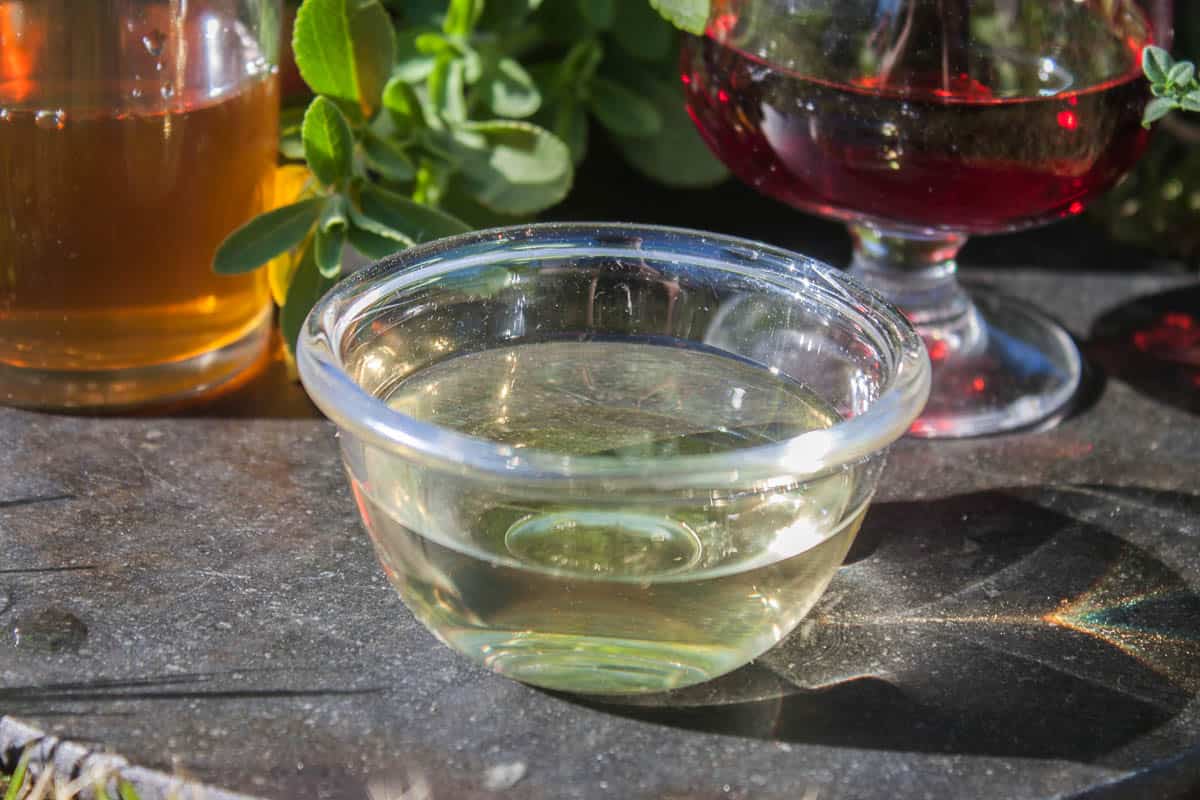 Rice Vinegar
Used heavily in Asian Cuisine, specifically sushi rice, Rice Wine Vinegar is made by fermenting rice in water to produce alcohol. This alcohol is again fermented, much like Sherry Wine, to create the acetic acid-based vinegar known as Rice Vinegar. Rice vinegar is sweeter than Sherry Vinegar, so when making this substitute be aware that you may have a sweeter finished product.
I would recommend this in dressing substitutions or even in any sauce that includes a sweeter component. It will offer the bright acidity you are looking for and will be a touch sweeter. You could also pull back on the sweeter ingredients, for example, decreasing honey in a dressing where you are using rice vinegar.
This vinegar can be found in grocery stores, most commonly in the Asia section. Its relatively cheap price point and widespread availability make it a touch more accessible than Sherry Vinegar and also a reliable substitute when needed.
Red Wine Vinegar
A Vinegar with a bolder flavor, Red Wine Vinegar has a much more acidic taste when compared to Sherry Vinegar. This vinegar follows suit in fermenting wine, but the process of Red Wine Vinegar is using a vinegar starter which is added to the Red wine in order to cause fermentation. 
The harsher Red Wine Vinegar should be used much less than Sherry when it is needed as a substitute. Where Sherry Vinegar is warm and nutty, Red Wine Vinegar is bold and robust in flavor. I would use ¼ of the amount of Red Wine Vinegar when substituting Sherry.
It is also important to note the contrast in color. While Sherry Vinegar has a rich, mahogany color Red Wine Vinegar has a deep red or even purple color. While it may be an afterthought to some, color change can and will happen when using this product. Lastly, the aroma from Red Wine Vinegar is bold, punching fruit notes while Sherry is more mild and nutty with dried fruit aromas.
White Vinegar
The vinegar most everyone has on hand, white vinegar is very harsh and acidic and should only be used when a touch of acid is needed. I would follow the ¼ rule as you are with the Red Wine Vinegar and also pay attention to other flavors in the recipe.
When you substitute this vinegar you should act as it is only adding feeling rather than taste. It will awaken the palate with an acidic pop but beyond that, it will not do much. Use sparingly and only as an option for acidity, not flavor.
Fruit Vinegar
As we discussed, Sherry Vinegar does have fruity notes but is balanced out with nuttiness and some vanilla. There are many options in the fruit vinegar world to choose from to give a tart and fruity note to your dish.
Raspberry Vinegar, for example, has a rich red color and is very fruity. Using this with a touch of honey in a dressing would balance out the flavor and make it give it a somewhat similar taste to Sherry Vinegar.
You can find vinegar made from citrus juices, grape juices, and even peach juice. They all have their own profiles and complexities but at the end of the day will offer the refreshing, fruit-forward acidity that could stand in for the more dried fruit flavor of the Sherry variety.
Citrus Fruit Juices
Although not similar in taste, if your recipe is using sherry vinegar as an acid, things like grapefruit, lemon, or lime juice would work as a substitute. Because sherry vinegar has a low acidity when compared to citrus juices, this substitution would work best in small quantities and in recipes for things like salad dressings or meat marinades.
Final Thoughts
It is no secret that Sherry Vinegar is a special ingredient in cooking. This tasty vinegar is used in many applications. It is known to be great in marines or even as a finishing basted on product over grilled or sautéed proteins. Its non-astringent eating profile paired with its rich and fruit-forward flavor make it very useful in developing complex flavors.
But if you do run out of this vinegar there are many options in store when vinegar is needed. The balancing act of substituting this vinegar out comes down to a few different flavor details: mild on the acid, fruity and nutty flavor, and mahogany-like color.
Getting as close as possible to these will yield a final recipe rival to the original that had Sherry Vinegar. Use the flavor notes shared in this blog and the substitutes to get around not having this in your pantry and enjoy the recipes you can still make knowing your options of substitution.
Do you have any other tried and true substitution recommendations? Please let me know in the comments!