Powdered sugar is a vital ingredient for bakers. If you enjoy creating delectable desserts, you more than likely keep powdered sugar in your pantry or cupboards. It is just the thing for glazing sweet breads, sprinkling on cutout cookies, or making fudge.
Let's say that you are working on a special dessert, and need powdered sugar to finish it off. Unfortunately, when you go check your cabinets, you realize you are completely out of powdered sugar. Although most grocery stores carry powdered sugar, you may want to save yourself a trip to the store and use what is already in your pantry.
Don't panic. There is no need to throw in the towel or drop everything and hurry off to the grocery store.
In this article, you will see that you have plenty of other options at your fingertips. You can even make your own homemade alternative version of powdered sugar with just a couple of ingredients. 
Jump to:
What Is Powdered Sugar?
Powdered sugar, also called confectioner's sugar or icing sugar, is granulated white sugar that has been ground into a fine powder. It has a much finer particle size than regular sugar and is the fluffiest and softest variety of sugar.
Most commercial powdered sugar that you can find at your local grocery store includes a small amount of cornstarch. This is an anti-caking agent that prevents large clumps from forming in the sugar.
Powdered Sugar vs Granulated Sugar
Confectioners' sugar and regular white sugar perform different functions and react differently in recipes. Unlike granulated sugar, which creates a light and airy texture when creamed with butter, using powdered sugar results in a denser texture.
So when should you use confectioner's sugar over granulated sugar? Use powdered sugar when you are looking for a melt-in-your-mouth crumbly texture in your baked goods, and use granulated sugar for a crunchy texture. This texture is what makes powdered sugar perfect for no-bake treats such as fudge.
Confectioners' Sugar Uses
You have probably seen powdered sugar used as a coating for doughnuts or muddy buddies, or as a topping for lemon bars, brownies, or French toast. It is also used to sweeten homemade whipped cream.
Powdered sugar easily dissolves at room temperature, which is useful when making frostings, mousses, glazes, and icings. It also yields a smooth consistency and glossy finish. The shine and viscosity of icing come from the cornstarch in powdered sugar.
As you can see, powdered sugar has a wide variety of uses, making it a kitchen staple. But you can easily make your own DIY version at home with other ingredients you likely have on hand.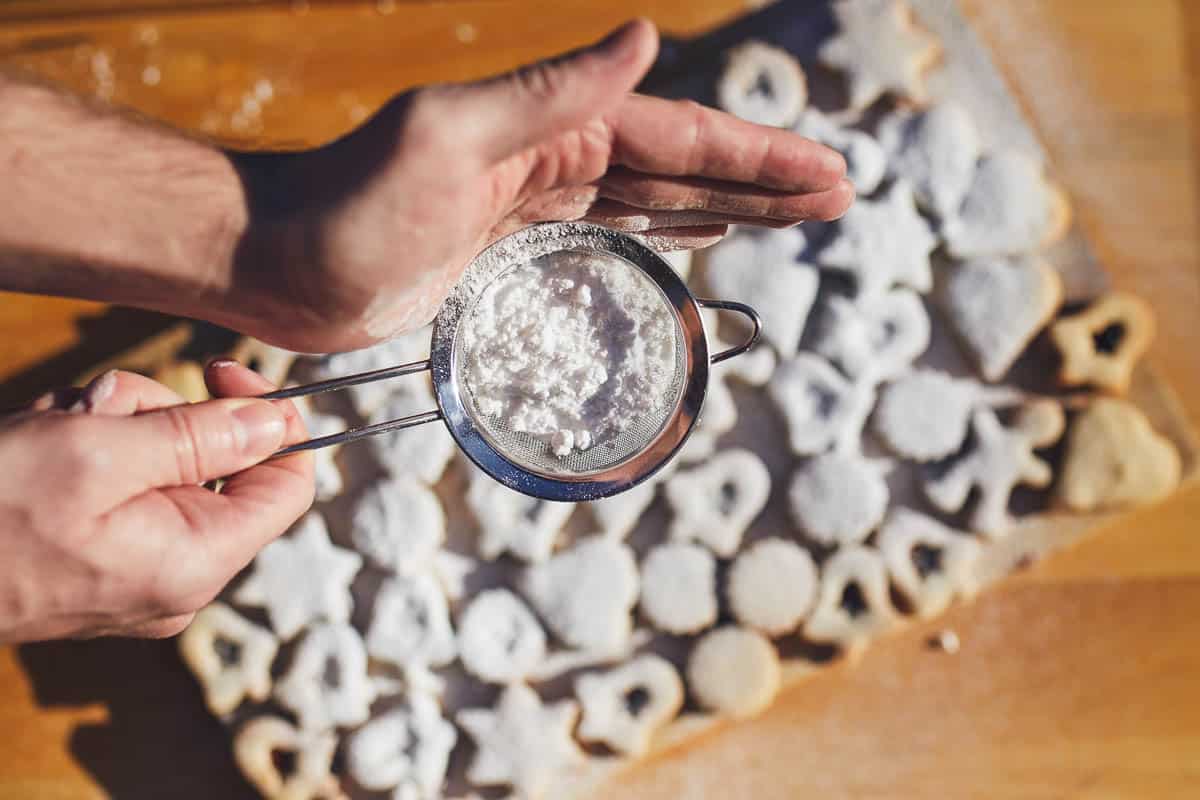 Best Substitutes for Powdered Sugar
If you don't want to make your own powdered sugar or are looking for other alternatives, keep reading. We have even included options for those looking for a more natural or low carb replacement. There are also less sweet options for those trying to reduce their sugar intake.
Perhaps you have a health condition such as fructose malabsorption, which makes it necessary to find an alternative. If you have fructose malabsorption, your body may be unable to absorb fructose.
Whatever the reason for your search, we have you covered with a list of great powdered sugar substitutes.
Homemade Powdered Sugar (Granulated Sugar + Cornstarch)
Making your own powdered sugar is a simple process, as long as you don't mind a little bit of a mess.
You will need the following supplies and ingredients: granulated sugar, cornstarch, and a food processor, high-speed blender, or spice grinder.
The granulated sugar will be ground into a fine powder and then the cornstarch will be sifted in.
Use a ratio of one tablespoon of cornstarch for one cup of sugar. To keep things tidy, it is best to make small batches at a time. 
Caster Sugar
Caster sugar or baker's sugar is a blended form of granulated sugar that is ground into a powdered form. Also called superfine sugar, its texture is between that of granulated and powdered sugar.
Although it has a larger crystal size than powdered sugar, caster sugar dissolves more easily since it does not contain cornstarch.
This is a great alternative to use in meringue and in some drink recipes. It is also commonly used in cookies, cakes, and shortbread.
Use caster sugar as a powdered sugar replacement in a 1 to 1 ratio.
Coconut Sugar + Cornstarch, Arrowroot Powder, or Tapioca Starch
Natural coconut sugar can be used in the same way as granulated sugar to create a powdered sugar substitute. 
This variety of sugar offers several health benefits. It is less sweet and has a lower glycemic index than powdered sugar. Coconut sugar also contains more vitamins and minerals than refined white sugar or powdered sugar. 
While coconut sugar does not taste like coconuts, it does have a unique earthy flavor that is different from powdered sugar. It adds a rich caramel-like flavor to your favorite recipes.
Use the same ratio as when making homemade traditional powdered sugar. Blend 1 cup of coconut sugar with 1 tablespoon of cornstarch. Substitute this replacement for powdered sugar in a 1 to 1 ratio.
Hot Cocoa Mix
Surprisingly, your favorite hot cocoa mix can also be used as a replacement for powdered sugar. The main ingredients in hot cocoa mix are cocoa powder or melted chocolate, sugar or a sugar substitute, and dried milk.
Obviously, this option will only work in chocolate desserts, or recipes that will still taste good with a chocolate flavor. If chocolate or cocoa powder is also an ingredient, you may need to reduce the amount of it in the overall recipe. Try hot cocoa mix in your chocolate buttercream or fudge recipe.
To ensure a fine power-like consistency, blend the hot cocoa mix using a blender or food processor if it is not yet already a fine powder.
Replace powdered sugar for hot cocoa mix using a 1 to 1 ratio. 
Snow Sugar
Also known as snow powder, snow sugar is another good option when looking for a powdered sugar substitute. This is mostly true when you are looking to dust the top of a dessert with a sweetener that won't dissolve.
Snow sugar is not as sweet as powdered sugar and does not melt in the same way as powdered sugar does. This makes it the perfect choice for sprinkling over a cake or a batch of cookies that are still warm from the oven.
Snow sugar can be purchased online or at baking supply stores.
You can use snow sugar as a 1 to 1 substitute for powdered sugar, but since it is typically used as a dessert topping, only a little bit will be needed.
Dry Milk Powder
Surprisingly, a good substitute for those looking to reduce their sugar intake is nonfat dry milk powder. This option will also yield a similar texture but not a similar taste, so this substitution can be used in small amounts.
Dry milk powder works well in icings and glazes to top desserts.
You may need to add a little more liquid to your recipe since milk powder absorbs more liquid than powdered sugar. Add more liquid a teaspoon at a time while you keep an eye on the consistency of your dish.
To create a powdered sugar substitute, blend 1 cup of dry milk powder with 1 tablespoon cornstarch. Since dry milk powder is less sweet, you can also add up to ½ a cup of sweetener if desired.
Replace powdered sugar for the dry milk powder mixture in a 1 to 1 ratio. 
Xylitol Powder
Derived from fruits, vegetables, or grains, this sugar alcohol has a consistency similar to sugar. Although it is derived from products that naturally occur in nature, it is part of the artificial sweeteners group. You can find xylitol powder in different crystal sizes, including a fine powder.
This is a sugar-free and calorie-free option that is just as sweet as powdered sugar.
Keep in mind that xylitol does not caramelize in the same way that sugar does. This means that baked goods made with xylitol will dry out much faster. Adding extra liquid to the recipe may help.
If you are unable to find the powdered version, you can blend the larger crystals of xylitol powder in a grinder, blender, or food processor.
Feel free to add a bit of cornstarch in order to more closely match powdered sugar.
Use xylitol powder in place of powdered sugar in a 1 to 1 ratio. 
Other Low Carb Alternatives
There are several choices for those who follow a keto diet or who want a lower carb alternative. Monk fruit sweetener, erythritol, allulose sweetener, and Splenda make excellent substitutes for powdered sugar.
Keep in mind that these low or no calorie replacements may be slightly more or less sweet than powdered sugar.
Add a small amount of cornstarch to these low carb substitutes in order to more closely recreate the texture of powdered sugar.
Use a 1 to 1 ratio when using one of these low carb options in place of powdered sugar.
Conclusion
The next time you reach for powdered sugar to finish off your recipe and find that you don't have enough, you no longer have to make a quick dash to the grocery store.
This list offers a wide variety of sweeteners that you can use in place of powdered sugar, some of which may be new to you. Keep in mind the ratios and changes that may need to be made when adding one of these alternatives to your favorite recipe.
Choose one of these powdered sugar substitutes, and you will be baking in no time!
Do you have any other tried and true substitution recommendations? Please let me know in the comments!