Besides being a popular breakfast option, yogurt is often called for in baked goods and savory dishes.
What if you don't have any yogurt on hand?
Thankfully there are several excellent substitutes that can take the place of yogurt in a variety of recipes, with little to no changes needed.
And for those of you who are vegan or lactose intolerant, there are plenty of dairy-free options for you as well.
In order to determine the best replacement for your recipes, we need to have a good understanding of yogurt.
Jump to:
What is Yogurt?
A fermented dairy product, yogurt is made when live bacteria is added to milk.
Yogurt has been around for thousands of years, originating out of necessity when nomadic people carried milk in pouches while they traveled. The milk enzymes fermented, causing it to last longer.
This discovery of fermented dairy products was a great way to preserve milk for those living in unpredictable conditions. From there, it made its way around the world.
How Yogurt Is Made
Yogurt is made when fermentation culture is added to pasteurized and homogenized milk. These cultures consist of varieties of lactic acid bacteria. Lactic acid is produced when lactose, the natural sugar in milk, is fermented.
These ferments cause milk proteins to curdle, which contributes to the yogurt's flavor and consistency.
Once the fermented milk is cool, other ingredients such as fruit and sugar may be added.
After this, the yogurt is cooled even more and kept at refrigeration temperatures near 40 degrees Fahrenheit.
There are currently multiple varieties of yogurt, including Greek yogurt, low-fat yogurt, fat-free yogurt, French or set-style yogurt, stirred-style yogurt, and drinking yogurt.
Plain yogurt is thick and white and has a tangy taste. Many commercial brands add sugar, fruit, and artificial flavors to make them sweeter.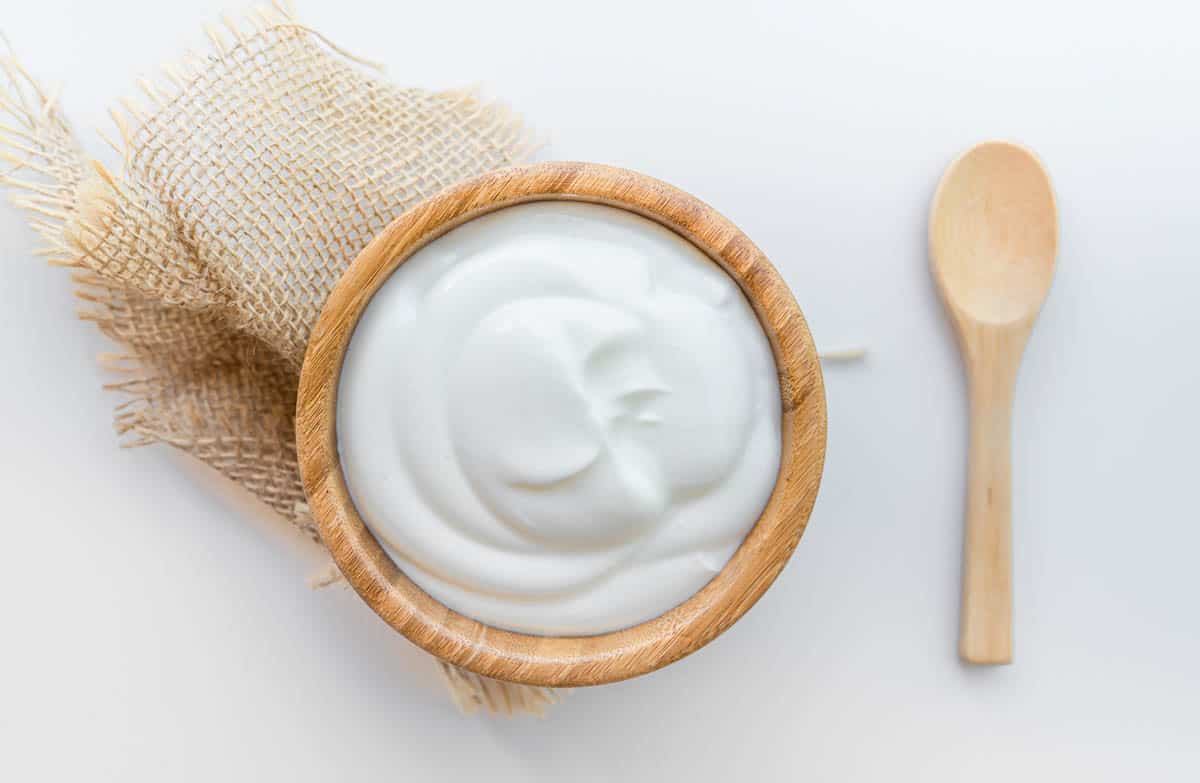 Health Benefits of Yogurt
Yogurt offers many health benefits and holds several essential nutrients.
It is an excellent source of protein and is rich in amino acids. Regular yogurt contains a wide range of vitamins, micronutrients, and fatty acids. Calcium, B vitamins, phosphorus, magnesium, and potassium are all present in yogurt.
Because yogurt contains live bacteria, it can improve gut health. The probiotics present in yogurt may alleviate digestive distress.
Those who are lactose intolerant can often digest yogurt more easily than milk or other dairy products because yogurt contains less lactose.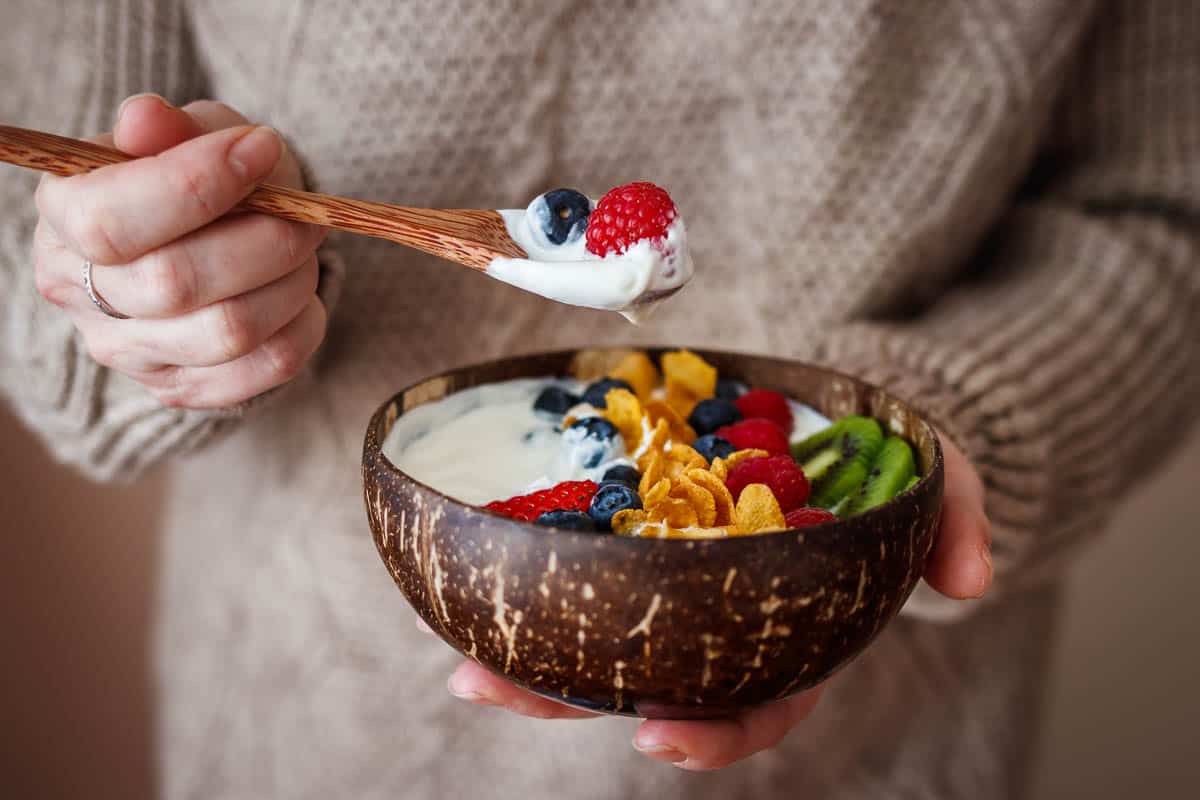 Uses for Yogurt
Besides being eaten plain or with granola and fruit for breakfast or a snack, yogurt can be used in a variety of recipes.
Yogurt can be blended into sauces, smoothies, and dips.
It is also used in baking as a binding agent. The yogurt holds the ingredients together so that your baked goods don't fall apart when they are removed from the oven.
Yogurt adds moisture to cakes and breads. It helps scones and biscuits rise, and adds a slight hint of acidity.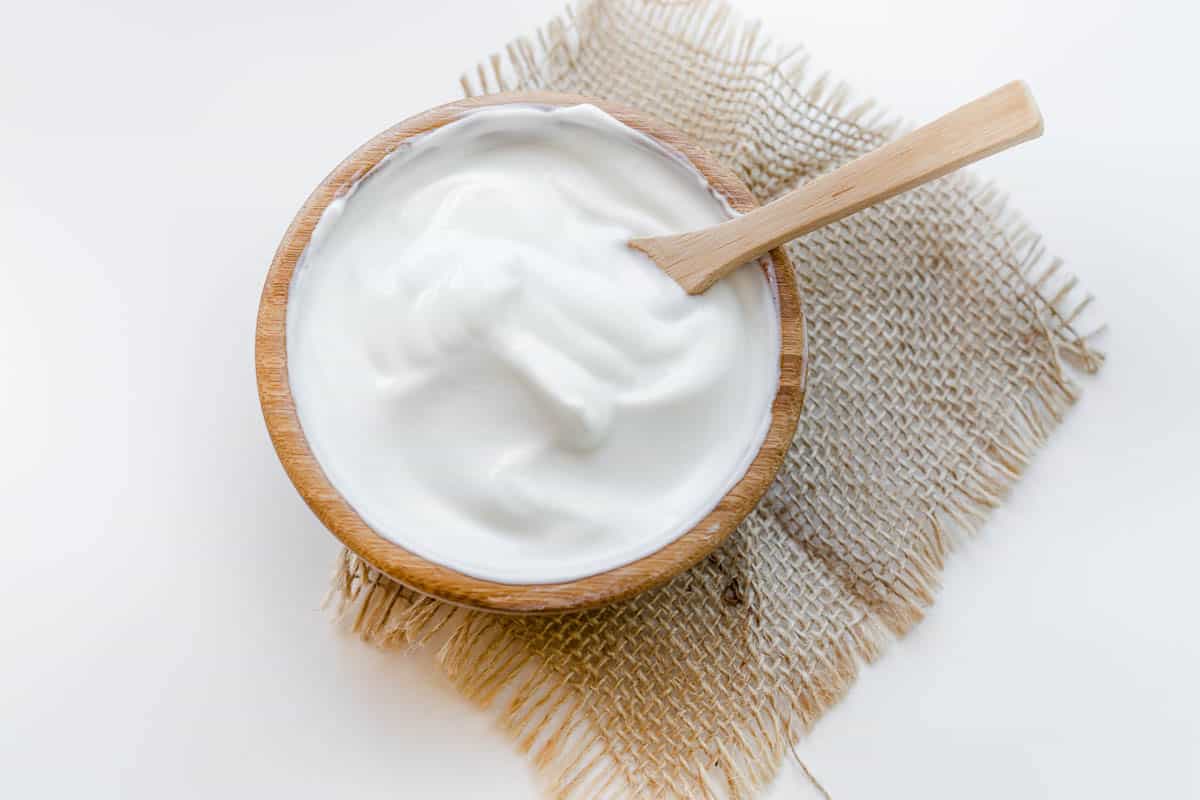 Best Substitutes for Yogurt
When looking for a yogurt substitute, consider whether the taste of the alternative will complement your recipe or not. This will help you to narrow down your options.
All of the following choices are replacements for plain yogurt that is unflavored and unsweetened.
Sour Cream
Since it is widely available and a kitchen staple for many, sour cream is one of the easiest and most common substitutes for yogurt.
Sour cream is made when bacteria that produce lactic acid are added to dairy cream. These cultures create the thick tart cream.
The acidity and tangy flavor of sour cream closely match that of plain yogurt, and complement the flavors in your foods.
The main difference between sour cream and yogurt is that sour cream is higher in calories and fat. This will change the fat content of your final product.
Sour cream can be substituted for yogurt in curries, dips, and salad dressings. It can even be used to create a smooth frosting.
Cooking sour cream at high heat causes it to curdle, but it does well in pancakes, muffins, cookies, and other baked goods.
Because of its thick consistency, sour cream makes the best Greek yogurt substitute.
Replace plain yogurt with sour cream in a 1 to 1 ratio.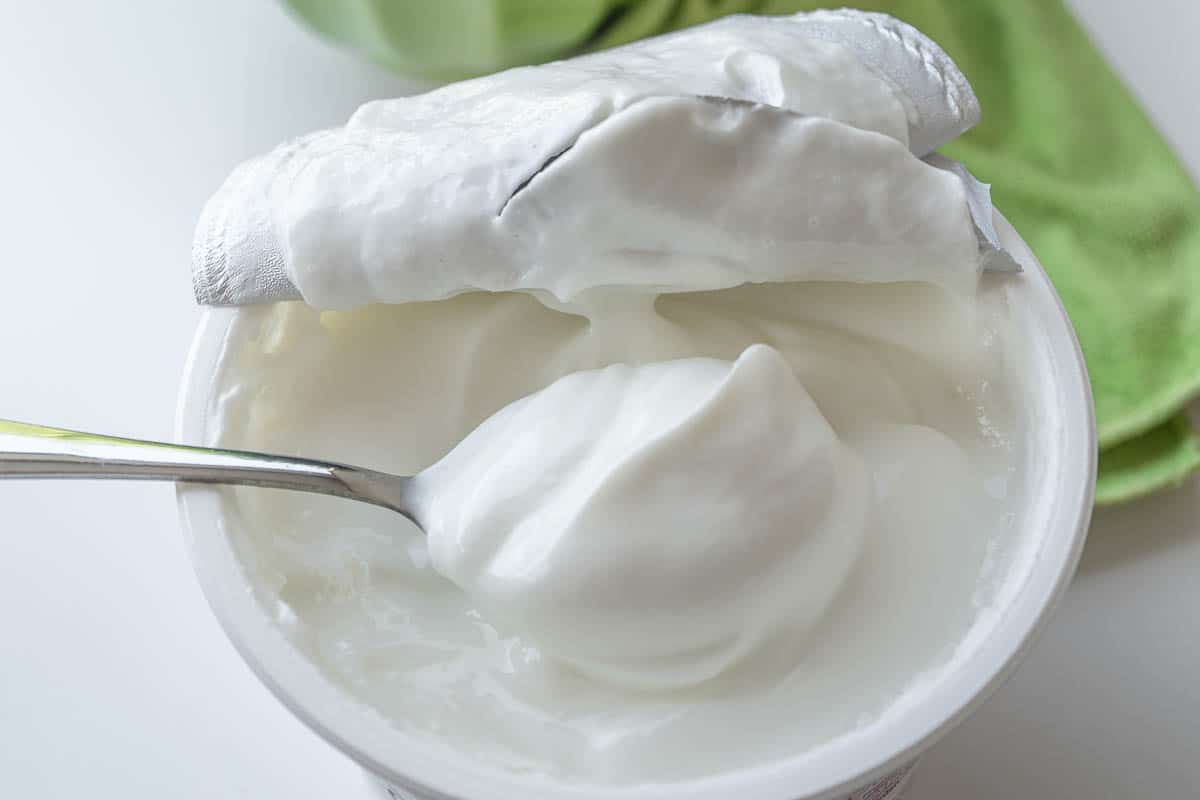 Cottage Cheese
Cottage cheese makes a good substitute for yogurt. It has a creamy texture that improves the moisture and texture of baked goods.
Similar to plain yogurt, cottage cheese is high in protein and calcium and low in sugar.
Blending the cottage cheese in a food processor first will make it smooth with a similar consistency to yogurt.
Mix cottage cheese with fresh fruits and vegetables or add it into baked goods.
Since cottage cheese does not have the acidity that yogurt contains, you can add 1 tablespoon of baking soda to the cottage cheese before adding it to your recipe.
Use cottage cheese as a replacement for yogurt in a 1 to 1 ratio.
Buttermilk
The water that is left after butter is churned is called buttermilk. Because of its combination of tangy and creamy, it can be used in both savory and sweet recipes.
Buttermilk is an excellent substitute for yogurt in baked goods. It has the acidity, creaminess, and tanginess that yogurt contains.
Use buttermilk in biscuits, scones, pancakes, brownies, and other baked goods to help them rise. It is also the secret ingredient to making the perfect batter for crispy fried chicken.
Don't have any buttermilk? Simply make your own.
To make your own buttermilk, combine 1 cup of milk (or sour milk) with 1 tablespoon of lemon juice or white vinegar. Wait a few minutes for the mixture to curdle before mixing.
Buttermilk has a higher moisture content than yogurt. If using buttermilk in baked goods, use ¼ less buttermilk than the amount of yogurt called for.
Heavy Cream
Although heavy whipping cream lacks the tart flavor of yogurt and has a much higher fat content, its thick creamy consistency can work well as a yogurt substitute. To add some acidic tart flavor, a bit of vinegar or lemon juice mixed in will do the trick.
Heavy cream can make a great substitute for yogurt when baking or if mixed into creamy soups or stews.
Mayonnaise
This may be a surprising one, but mayonnaise is the perfect substitute for plain yogurt in baked goods.
It is acidic, like yogurt, and adds a moist and fluffy texture.
Some cake and bread recipes call for this secret ingredient to give them richness. It also pairs well with savory dishes such as salad dressing and tuna or pasta salad.
Use a 1 to 1 ratio when substituting mayonnaise for plain yogurt.
Blended Silken Tofu
A great dairy-free substitute for plain yogurt is blended silken tofu. Once blended, tofu has a texture similar to yogurt.
Silken tofu is high in protein, calcium, vitamin B1, and omega 3 fatty acids.
Since it does not taste like yogurt, blended tofu works best in baked goods such as muffins, cakes, and pancakes.
Add 1 tablespoon of lemon juice or vinegar to the blended tofu before adding it to your baking mixture to replicate the acidity of plain yogurt.
Replace yogurt for blended silken tofu in a 1 to 1 ratio.
Cream Cheese
Another suitable replacement for plain yogurt is cream cheese. It has a fresh neutral flavor and it makes baked goods smooth and fluffy.
Cream cheese is best used in cookies and pastries. It can also be used to make a delicious cream cheese frosting for carrot or red velvet cake.
Besides dessert, cream cheese also makes a great addition to savory recipes. Use it to add structure to pie crust dough and stuffed mushrooms or to create creamy dips and sauces.
Be sure to soften your cream cheese before mixing it into your recipe.
Keep in mind that foods made with cream cheese instead of yogurt will firm up faster.
Use cream cheese as a substitute for yogurt in a 1 to 1 ratio.
Almond Milk
This plant-based milk is a perfect vegan substitute for plain yogurt. Because of its high liquid content, it increases the moisture of baked goods.
Almond milk does have a nutty flavor that may change the intended flavor of your baked goods.
This alternative is less creamy than yogurt. It is also a more expensive choice.
Almond milk is often used in healthy dessert recipes, and can be added to soups, stews, and curries.
As with other substitutes, mix almond milk with a bit of lemon juice before incorporating it into the other ingredients.
Substitute almond milk for plain yogurt in a 1 to 1 ratio.
Coconut Milk
Coconut milk is another great non-dairy alternative for plain yogurt.
Keep in mind that coconut milk does have a distinct coconut taste that may change the flavor of your favorite recipes.
Coconut milk works well in most recipes, but best complements fruit-based recipes because of its coconut flavor. Use it in tropical smoothies and coconut cakes.
Coconut milk is also a staple in curries and can be used in soups and other savory dishes.
If wanting to maintain that tangy flavor found in yogurt, mix the coconut milk with vinegar or lemon juice before adding it to your recipe.
If you need a thicker consistency, consider using coconut cream in a similar manner.
Use coconut milk in place of yogurt in a 1 to 1 ratio.
Avocado
Avocado is another perfect substitute for those following a vegan diet.
It has a unique taste, but the buttery consistency and texture closely imitate yogurt.
You will need to smash or blend the avocado to reach the consistency of yogurt.
Add avocado to dressings, sauces, and baked goods. Keep in mind that the color and flavor may impact your final product.
Replace yogurt with mashed avocado in a 1 to 1 ratio.
Conclusion
Thanks to these many alternatives, running out of yogurt does not mean that you have to forgo your favorite recipes. It gives you the opportunity to try new ingredients and widen your culinary experience.
Even if you have dietary restrictions, you have options. Next time, refer to this list to find the perfect substitute in any recipe calling for yogurt.
Do you have any other tried and true substitution recommendations? Please let me know in the comments!