Italian cuisine is one of the most popular types of food in the world. Even non-Italians often have special family recipes for meals such as spaghetti, ravioli, and pizza. One of the most popular uses of Italian herb ingredients is Italian seasoning. This popular seasoning blend has been used as a spice staple for hundreds of years. It is actually said to have originated in the Mediterranean.
Italian seasoning is a blend of herbs. It usually includes thyme, rosemary, marjoram, basil, and oregano. Many chefs will add other herbs and spices. There are many variations of Italian seasoning blends and the ingredients can vary even amongst the same brand. However, the above-listed ingredients are the most popular.
If you are making a recipe that calls for Italian seasoning and don't have any, you most likely have something on the spice rack that will work for your dish!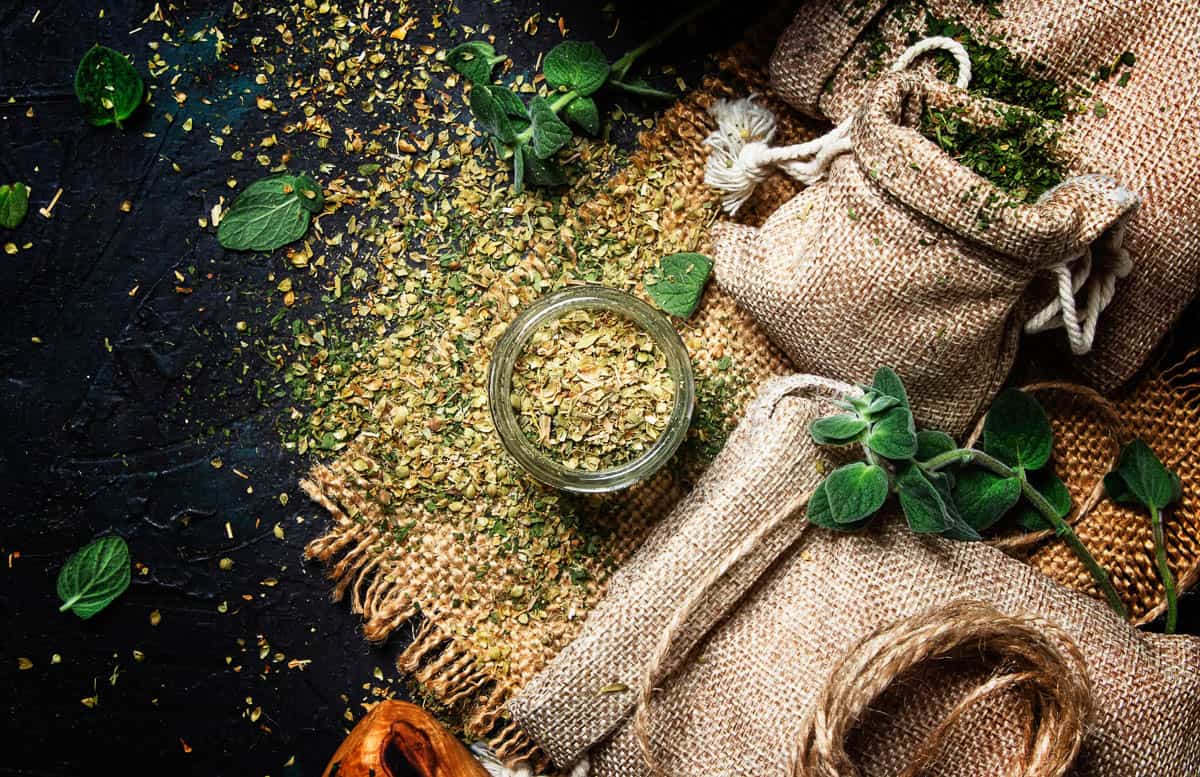 Jump to:
Italian Seasoning Ingredients
When you get in a pinch and need a substitute for Italian Seasoning, it is important to remember the flavors present. Understanding the mixture in traditional Italian Seasoning will help you to replicate the flavor and texture.
Here we will discuss the five main ingredients and what flavor profiles they bring to the blend.
Anytime a recipe calls for Italian Seasoning, it is specifically for a blend of dried herbs.
Basil
Basil is one of the most popular herbs used worldwide. It has been used for over 5,000 years in a wide variety of cuisine. It is also a member of the mint family.
It provides a peppery taste with light notes of mint.
It is available as both fresh and dried basil, and its fresh flavor still comes through in its dried version.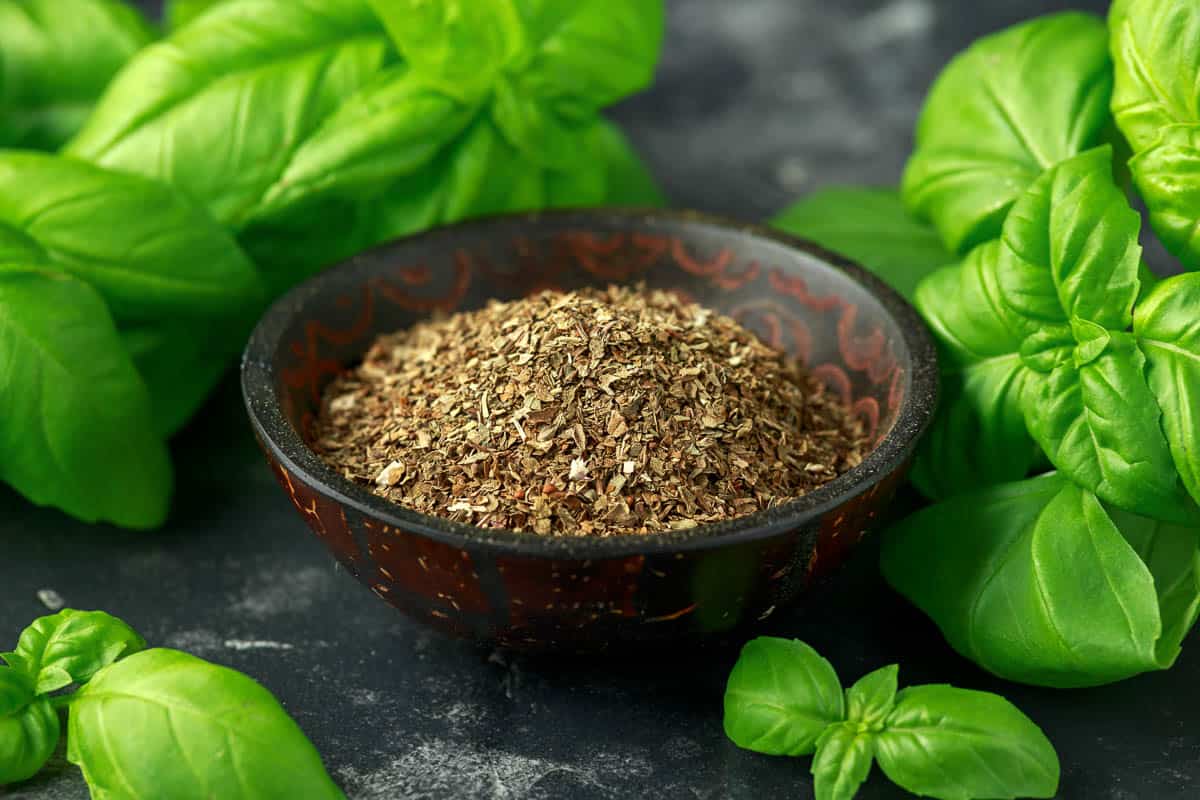 Oregano
Oregano takes on a powerful and earthy flavor in an Italian Seasoning blend.
Its original name meant "Joy of the Mountain" in Greek. It belongs to the mint family and provides a bold scent.
Oregano is used most frequently in its dried form. It makes a great addition to an Italian Seasoning blend.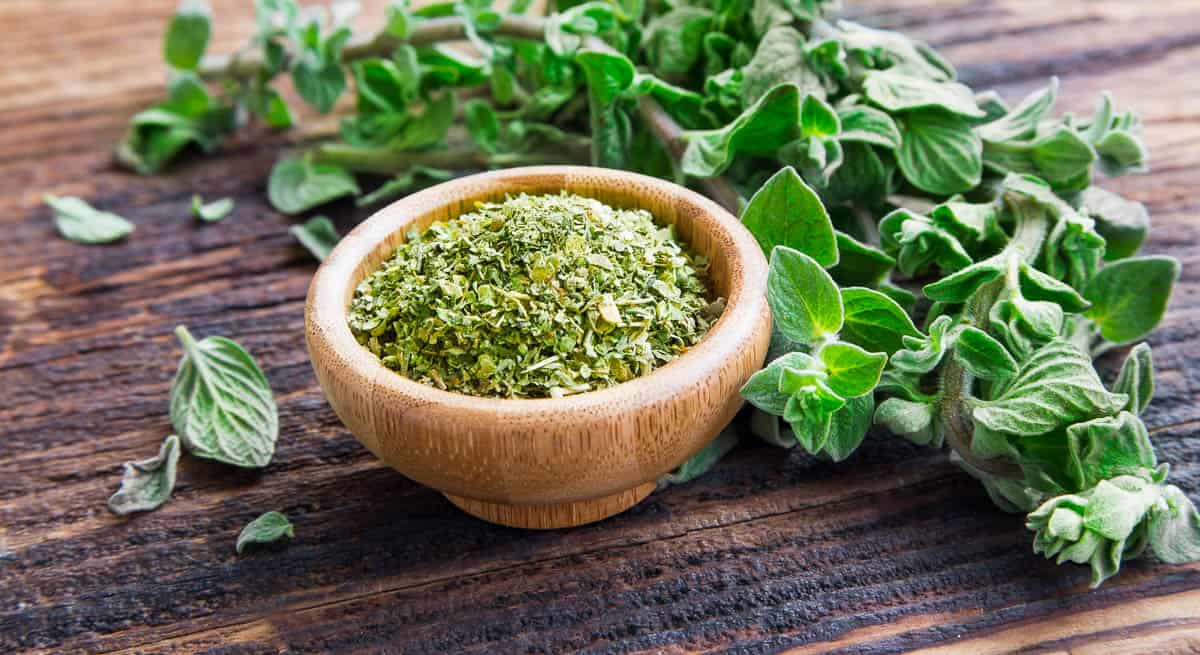 Thyme
Thyme is a very flavorful herb. It originated in the Mediterranean and is used both fresh and dried. Its sharp flavors are woody, floral, and grass-like.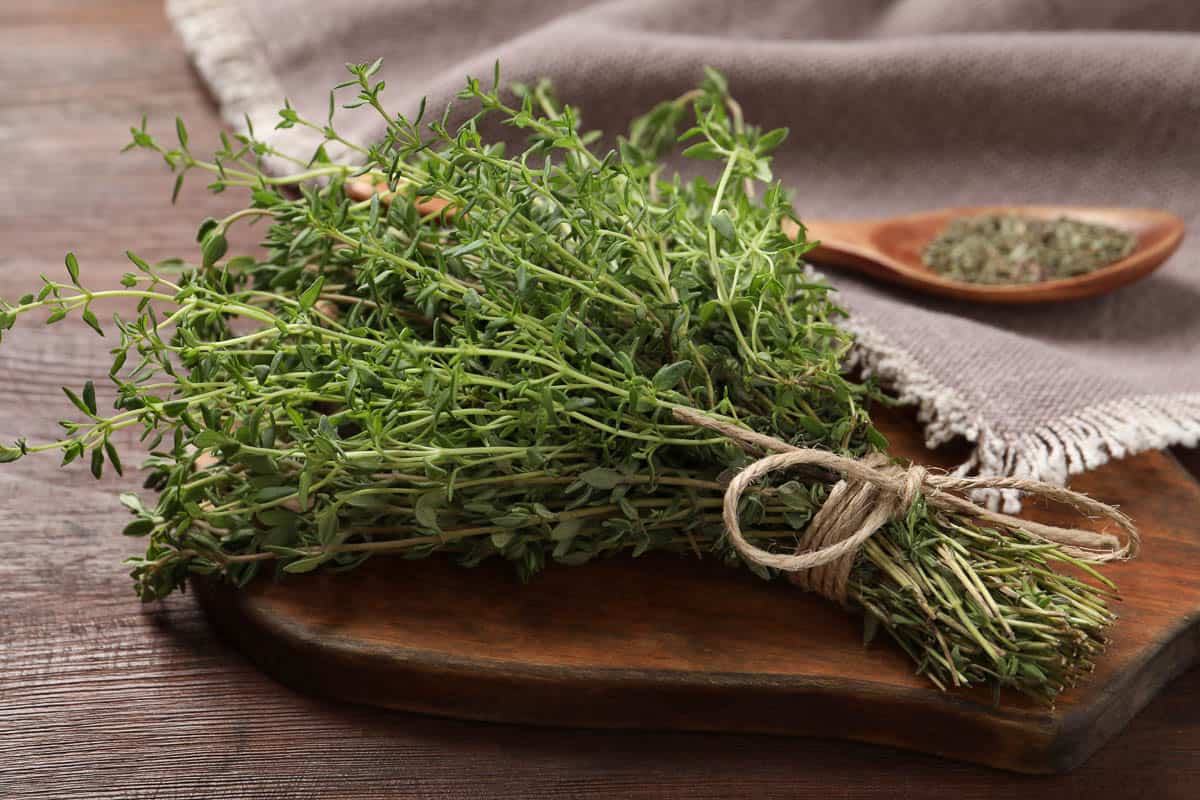 Rosemary
Rosemary grows on perennial bushes. It has been used both in the medicinal and culinary worlds. It looks similar to pine and smells similar too.
Rosemary is very aromatic and is a great addition to any blend. It also has a woodsy taste with notes of sage, lavender, pepper, citrus, and pine.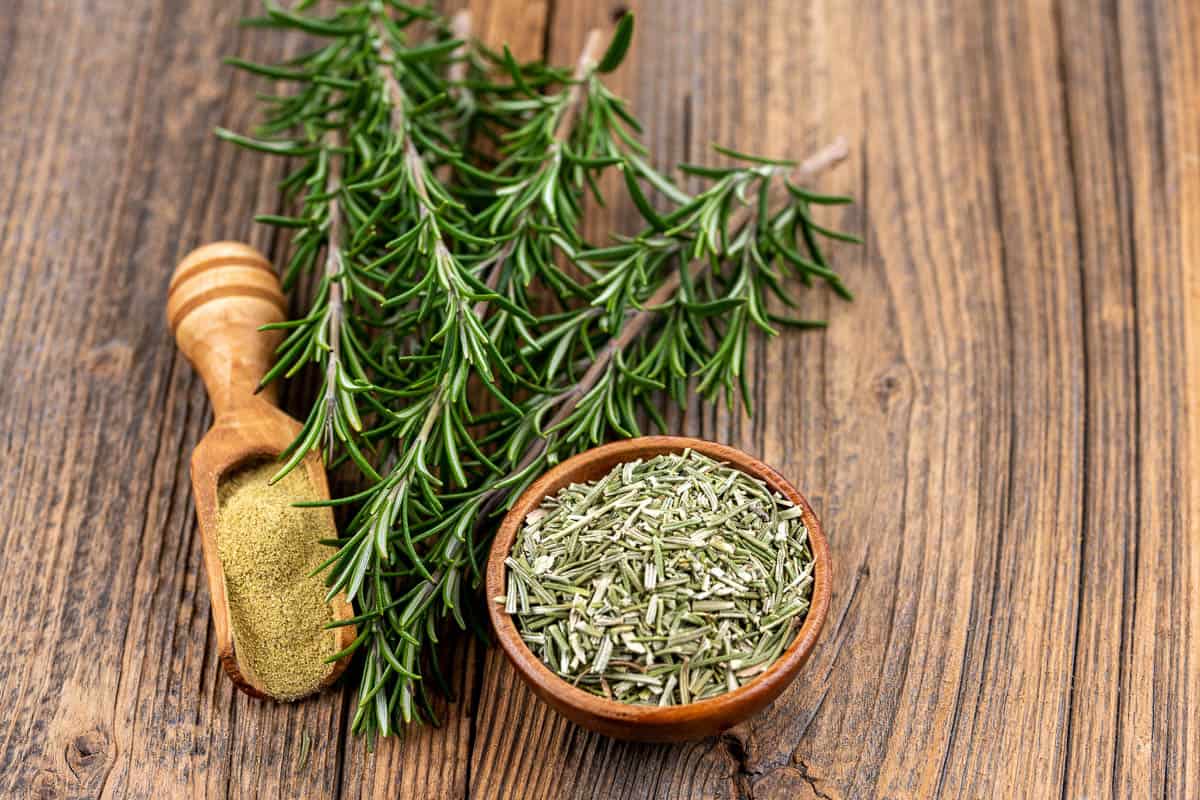 Marjoram
Marjoram was used to represent love and happiness to the early Greeks & Romans. Today, it brings a wonderful aroma and flavor to many different dishes.
It has a citrus and pine flavor. Marjoram is often compared to Oregano but it is a bit sweeter.
Each of these ingredients is excellent on its own. But, when used together they make a powerful addition to your meal.
Herbs and spices really help to transform your meal from good to great. It is important to know how to substitute your herbs when needed.
The Best Substitutes for Italian Seasoning
While it can be hard to compete with the flavors of Italian Seasoning, you likely have some good substitute options in your pantry.
Here are the top substitutes for Italian Seasoning.
Fresh Herbs
Fresh herbs are a great way to substitute Italian Seasoning. You can use the fresh version of the same dried herbs in your favorite Italian seasoning blend.
For example, fresh oregano will bring an earthy flavor while fresh basil will bring a slightly peppery flavor with a bit of mint. You can mix any of the options in the herb blend in their fresh state.
The dried herbs in Italian seasoning blends will offer a more concentrated flavor than their fresh counterpart.
To achieve a strong flavor from fresh herbs you will need to use more. Fresh herbs may be the best substitute for Italian seasoning as it allows you to choose the exact ingredients for your Italian cuisine.
The fresh herbs also provide an amazing aroma. Many people grow fresh herbs in their garden but they are also available at any grocery store.
Fresh herbs are a great way to substitute Italian seasoning on top of meats with other Italian spices. You can also put fresh herbs in a food processor to add to soups and sauces.
As a general rule, plan to use a 3:1 ratio of fresh herbs for Italian seasoning (3 tablespoons of fresh herbs for every 1 tablespoon of dried Italian seasoning).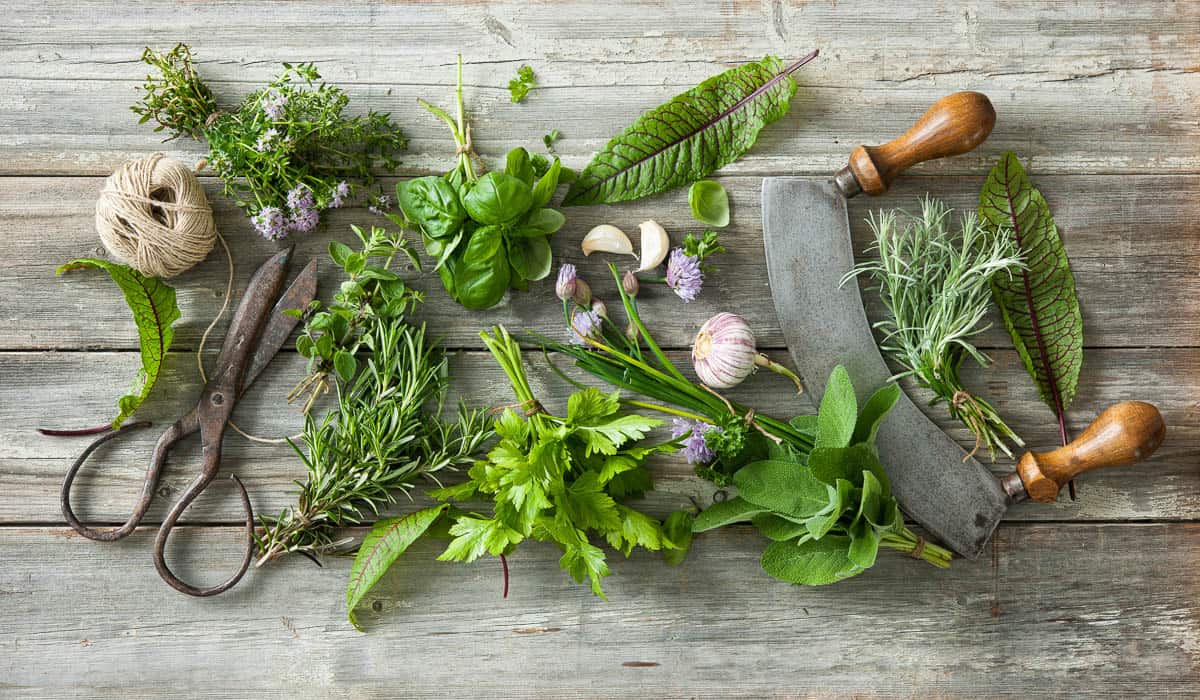 Herbes de Provence
This seasoning is best known in traditional French Cuisine. It has been used for hundreds of years. However, it gained popularity when Julia Child used it in her cookbook in the 1960s.
It includes oregano, marjoram, bay leaf, thyme, basil, rosemary, and tarragon. Some add lavender flowers to the spice blend. 
Herbs de Provence uses many aromatic herbs. The flavor profile can range from a floral flavor to a savory flavor depending on the ingredients used.
This herb mix works great when blended with a little bit of olive oil. The Herbs de Provence and olive oil combo functions great as a dressing for a fresh salad or as a seasoning on top of roast chicken.
Use Herbs de Provence at a 1:1 ratio when substituting Italian seasoning.
Dried Herbs
As many dried herbs come packaged alone, there is a good chance you already have some in your pantry.
A combination of oregano, basil, and thyme can be an excellent substitute for Italian seasoning.
Be cautious of the amount of basil you use as it can give off a sharp minty flavor. If you use equal parts of each of your dried herbs, you may not get your desired results.
Instead, try using an equal combination of thyme and oregano with only half of the amount of basil. This will help you to avoid any bitter taste.
Dried herbs make an excellent substitute for Italian seasoning when added to pasta sauce. Have you tried Stuffed Shells? It is loaded with delicious cheeses. Try this Stuffed Shells recipe to take your easy Italian cooking to the next level.
Greek Seasoning
Greek seasoning also gets its roots in the Mediterranean like Italian seasoning.
Generally, a Greek seasoning blend will include garlic, onion, oregano, parsley, marjoram, and thyme. But, a few variations can include a lemon peel, nutmeg, salt, pepper, basil, or even cinnamon.
The flavors of Greek seasoning will be similar to that of Italian seasoning. However, it does have a bit of a more minty and peppery tone than Italian Seasoning.
This seasoning blend is great in place of Italian seasoning in meat dishes such as lamb or pork.
Use Greek Seasoning at a 1:1 ratio to Italian Seasoning.
Salad Dressings
Some salad dressings can be used as a replacement for Italian seasoning.
For example, Italian dressing has an Italian flavor that uses a similar blend of herbs as Italian seasoning. The basic herbs in Italian dressing or even Greek dressing can give a robust flavor to your meal.
Check the ingredient list on your favorite salad dressings to determine what may be your best option. Keep in mind that different brands will use different ingredients.
Salad dressing such as Italian dressing can be a great addition to your pasta salad. You can also use it as a substitute to marinate meats.
Obviously, salad dressing has a liquid consistency compared to Italian seasoning. Take this into account when using it as a substitute.
Use salad dressings at a 2:1 ratio for Italian Seasoning. (2 teaspoons of dressing for every teaspoon of Italian seasoning).
Pizza Seasoning
Typical pizza seasoning blends have the same main ingredients as Italian seasoning but have a few additions. The additions can include onion powder, garlic powder, fennel seeds, red pepper flakes, bay leaves, and more.
As pizza seasoning can have a wide variety of basic herbs, it is important to check the ingredient list. The flavor profile of some of the main herbs may better match the way Italian seasoning tastes.
Use pizza seasoning as an easy substitute in your favorite recipes such as marinara sauce. Use a 1:1 ratio when substituting pizza seasoning for Italian seasoning.
Creole Seasoning
Creole seasoning is an excellent spicy blend straight out of New Orleans.
Ingredients in Creole seasoning typically include paprika, thyme, black pepper, white pepper, garlic, and oregano. But, many chefs have their own special blend that can include cayenne pepper.
Creole seasoning is a solid replacement for Italian seasoning if you are looking for something with a bit of a kick. The peppery taste can be the best way to enhance your recipe.
Use this option in soups and stews. It can also be a good substitute for Italian dishes such as Bucatini all Amatriciana.
Use only half of the amount of Creole seasoning to Italian seasoning and adjust as needed.
Make Your Own Italian Seasoning
You can also come up with a special blend of Italian herbs to make your own Italian seasoning.
Making a homemade Italian seasoning recipe is a great way to incorporate your favorites. This is also a great option if you have allergies to commonly used ingredients.
Choosing your own ingredients in your Italian seasoning recipe can also create additional health benefits depending on the ingredients you choose.
Your own Italian blend can be the best option to experiment with and combine different ingredients until you have reached herb perfection. You never know the magic your spice cabinet holds until you give it a try.
Here is a great traditional recipe to try to make your own Italian Seasoning. You may be surprised at how many of these options are already in your spice rack.
Feel free to try out different measurements to create the best substitute for a store-bought version.
Ingredients
2 tablespoons dried oregano
2 tablespoons dried basil
1 tablespoon dried rosemary
½ tablespoon marjoram
½ tablespoon thyme
Mix all of the ingredients together and store them in an airtight container.
If you want to try out some additional options, consider adding ½ to 1 tablespoon of parsley, garlic powder, bay leaf powder, and/or black pepper. These ingredients can be a welcome addition to your mix and become the best substitute for your regular Italian seasoning.
Seasoning Substitute Summary
Being creative and experimenting with different ingredients is half of the fun of cooking, especially in Italian cooking. Italian recipes vary greatly from family to family.
For some, eggs are common ingredients in spaghetti sauce while others scoff at the thought. Seemingly random ingredients can turn out to be the best substitutes.
Don't be afraid to try something new and add something different to your recipe card. The best Italian seasoning substitute truly depends on your final flavor goal.
Fresh herbs can provide similar ingredients to your favorite Italian seasoning, but won't equal similar flavor when used in equal amounts.
Options like Herbs de Provence are considered one of the best Italian seasonings substitutes. But, the possibility of a floral taste can be off-putting to some.
Identifying the flavors you want to replicate will be the best way to choose the perfect Italian seasoning substitute. No matter what you choose, you can find a great substitute for Italian seasoning.
Do you have any other tried and true substitution recommendations? Please let me know in the comments!