Found a recipe that calls for chili peppers and need a substitution? Not to worry!
Here you will find all of the information you need to find the best substitutes for your recipe. The perfect replacement will depend on whether you are looking to replace fresh peppers, dried peppers, or ground chili powder. The desired flavor profile, smokiness, and heat level are also factors of consideration.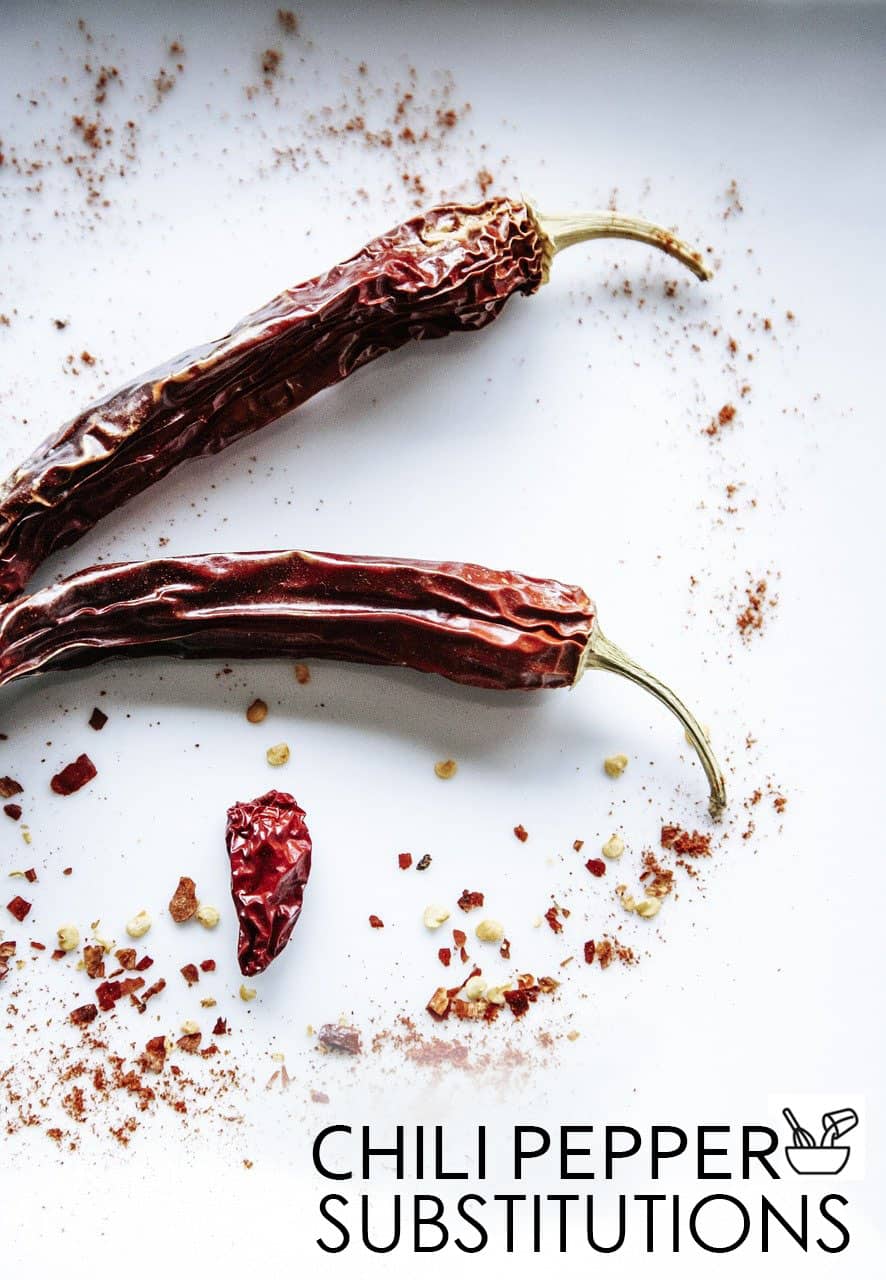 Jump to:
Chili Peppers Explained
Chili peppers are also commonly referred to as chile, chile peppers, chilli peppers, or chilli.
Interestingly enough, they are classified as a berry-fruit variety. The definition of a fruit is a flowering plant that forms a seed-bearing structure. Peppers are part of the nightshade family, which also includes tomatoes, potatoes, and eggplant, along with a large variety of other plants.
Chilis are a common ingredient in cuisine all over the world. If you desire spicy food, you have to add some kind of pepper!
Chili peppers can be featured as the main ingredients in dishes like stuffed peppers or chile rellenos. These dishes typically use a more mild pepper that provides little heat and milder flavor.
Spicy meals are often created with just a small amount of hot chilies. A little bit can go a long way when cooking with
The level of heat in a pepper is measured by Scoville Heat Units (SHU). The spicier the pepper, the higher the rating on the Scoville Scale.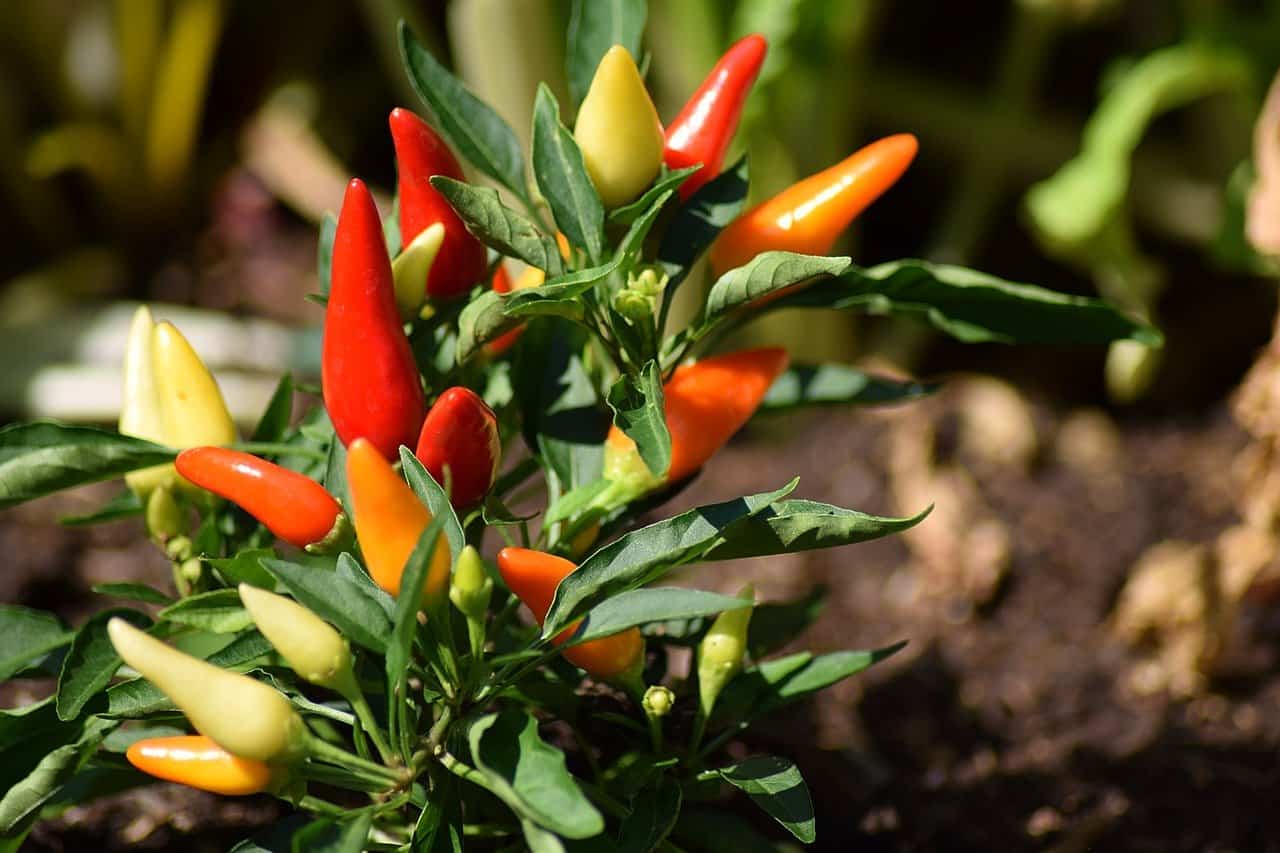 Fresh Chili Pepper Substitutes
There are a variety of hot peppers that can be a good substitute for one another and used interchangeably. The type of pepper you choose will depend on your needs. Here is a summary of commonly used peppers that are easily found at most grocery stores.
Bell Peppers
Possibly the most used pepper in the US are bell peppers. Even though they are peppers, they do not even qualify as having a spice level with a 0 SHU score. Because of this, they are typically used more as a vegetable than as hot chili peppers.
Red, yellow, and green peppers can be found at any local grocery store and are often enjoyed raw. You will often find bell peppers used in Mexican cuisine for popular recipes like fajitas. They are so commonly used as a vegetable in American cooking that the average consumption per person is about 11 pounds.
Good replacements for bell peppers based on their lack of heat are other quick-cooking and less dense vegetables. Examples might include asparagus, cabbage (bok choy, broccoli, broccolini, brussels sprouts, cauliflower, kale), celery, corn, eggplant, fennel, mushrooms, onions, summer squash, or zucchini.
Another good alternative based on a similar flavor might be jalapenos. However, because jalapenos can be spicy, a smaller amount would need to be used otherwise your recipe will have a lot of heat.
Banana Peppers
Banana peppers do not taste like bananas. Their title comes from their bright yellow color and long, banana-like appearance. Yellow wax peppers as well as banana chilis are other names for them.
They are five times milder than a conventional jalapeno and have a sweet, mellow flavor. It's a stretch to describe these peppers "spicy," as their flavor is more of a slight tang. Their Scoville Heat Units are usually around 500 SHU.
Banana peppers are often mistaken for pepperoncini, although they're classified differently. Because of their similarities, however, they make a great substitute for one another.
Green Chili Peppers
This one is a bit confusing. Green chilis should actually be referred to as green chiles. If someone refers to "green chili", it often means Chili Verde or Green Chile Stew.
If you see a recipe that calls for green chile, it is referring to New Mexico chile. This is a specific cultivar group of the chili pepper first grown by Pueblo and Hispanic communities throughout the Santa Fe region. They are often referred to as Hatch green chiles because they are grown in the Hatch Valley of New Mexico.
If you've never smelled fresh Hatch green chiles being roasted over an open flame at the end of summer, you're missing out! The smoky taste of a freshly roasted Hatch green chile on a breakfast burrito is something everyone must experience!
A good fresh pepper substitute for a green chile would be a Poblano pepper. Although milder in spice and heat, they exhibit a similar smoky flavor.
Fortunately, green chile is widely available in many different forms. You can buy it roasted and diced in glass jars or cans. You can also buy them fresh or roasted and frozen from specialty grocery stores or order online direct from the suppliers in New Mexico. Because of it's wide availability and ability to store unopened jars or cans in the pantry, you shouldn't ever need to substitute with different peppers!
Jalapeno Peppers
The Jalapeño pepper is a common variety of spicy green pepper. With Scoville heat units of 4,000 to 8,500 SHU, they can range from mild to what most people consider quite spicy. They are commonly harvested and consumed when still green, but they are also allowed to fully mature and turn red, orange, or yellow on rare occasions.
Jalapenos are very similar in taste, appearance, and size to Serrano peppers, however, they are much milder.
Serrano Peppers
Serrano chili peppers are a Mexican variety of pepper. Their Scoville Heat Units can range from 10,000 - 23,000 SHU.
These peppers are usually best when roasted but are also great for salsas, sauces, relish, as a garnish, and for making homemade hot sauce.
The whole pepper looks and tastes much like a jalapeno pepper, therefore they make an ideal substitute for one another.
Habanero Peppers
The habanero is a hot variety of chili pepper with a 100,000–350,000 SHU level. To put this into perspective, this is up to 100 times hotter than a jalapeno. When ripe, they most commonly have an orange or bright red color.
Because of the intense heat, the best substitute for a habanero would be a hot sauce derived from habaneros. Most other fresh hot peppers won't be able to deliver the same amount of heat.
Dried Whole Chili Pepper Substitutes
Dry chilies are commonly found in Asian and Hispanic cuisine. Their coarse texture and range of flavors are a good choice for certain recipes. Because some varieties are more commonly available and others are only found at specialty stores, substitutions might be needed. Fortunately, small dried red chili peppers often have enough similarities that they can be a great replacement for one another.
Chile de Arbol
These peppers begin as green and grow into a vibrant red color. Fresh, dried, or powdered chile de árbol peppers are used in a variety of recipes. They do not lose their red color after dehydration, so they make gorgeous additions to recipes as well as decorations like wreaths. Their Scoville heat index ranges from 15,000 to 30,000.
Dried chile de árbol can be rehydrated and used to make Salsa Roja.
Similar Mexican forms of peppers such as dried New Mexican Red Chile Pods or Dried Ancho chile pods can be used as substitutions, depending on the recipe.
Chinese Red Peppers
Tien Tsin peppers are more commonly known as Chinese Red Peppers. These small hot chili peppers are grown in Northern China and named after the city of Tianjin. These peppers are extremely popular in the Sichuan and Hunan provinces and are used in stir fry recipes like kung pao chicken.
These peppers can usually be used interchangeably with Thai peppers.
Thai Peppers
There are actually dozens of varieties of Thai chilis that have a wide range of flavor and spice levels. Thai peppers typically range from 50,000 to 100,000 Scoville Heat Units and are used in a variety of Thai dishes.
They are used to add heat to curry sauces and are also used to make chili pastes and sauces. They are also used in stir fry recipes, so can usually be swapped with Chinese Red Peppers.
Chili Powder Substitute
One of the most common ingredients you'll find in your spice rack is chili powder. It is commonly used to make chili (the kind with beans and meat), along with soups, stews, rubs, tacos, and more.
Pure chili powder is simply dried ground chilis. But you will often find a chili powder mix or chili powder blend of powdered spices that also contains cumin, onion powder, garlic powder, and/or cayenne pepper powder for a bit of extra heat.
But what if you run out? Here are a few ideas for easy substitutions.
Red Pepper Flakes
Red chili flakes are made from a mix of peppers including jalapeño, bell, Anaheim, and cayenne peppers. Both the chile pods and seeds are usually included. The flavor, heat, smokiness, and intensity will depend on the brand.
Because these are often mostly comprised of cayenne peppers, ground cayenne can usually make a decent substitution.
Taco Seasoning
Store-bought or homemade taco seasoning is made primarily of chili powder along with a variety of other spices and seasonings. Because of this, taco seasoning can be an excellent substitute for chili powder.
Ground Cayenne Pepper
If you're looking for a cayenne pepper substitute, you will need to find something that packs a fair amount of heat. Since red pepper flakes are comprised mostly of cayenne peppers, it makes a great alternative.
Black Pepper
Ground pepper, as in the kind you will find next to the salt shaker, can be substituted for chili powder if you're looking for a small amount of heat. The flavor from black peppercorns, however, is not very similar to the flavor of chili powder.
Chipotle Powder
Chipotle powder is a pleasantly spicy chili powder prepared from smoked and dried jalapeno peppers. These are known as chipotle peppers. Chipotle powder is most often used in Mexican, Southwestern, and Tex Mex cuisine.
In essence, chipotle powder is chili powder. However, it is different from common store bought chili powder you find in the spice aisle at the store.
It is more similar in taste to smoked paprika due to the smoky earthy flavor and lack of spice. But, chipotle powder can be used as a substitute for chili powder with additional spice added for a slight kick.
Ancho Powder
Ancho powder is also chili powder, but it is made up purely of dried and ground ancho chiles. This differs from chili powder mix that is a combination of ground chiles with other spices.
Because of the moderate heat level and almost fruity undertones, ancho powder has a very distinct flavor. It is often used in spice rubs and mole sauce.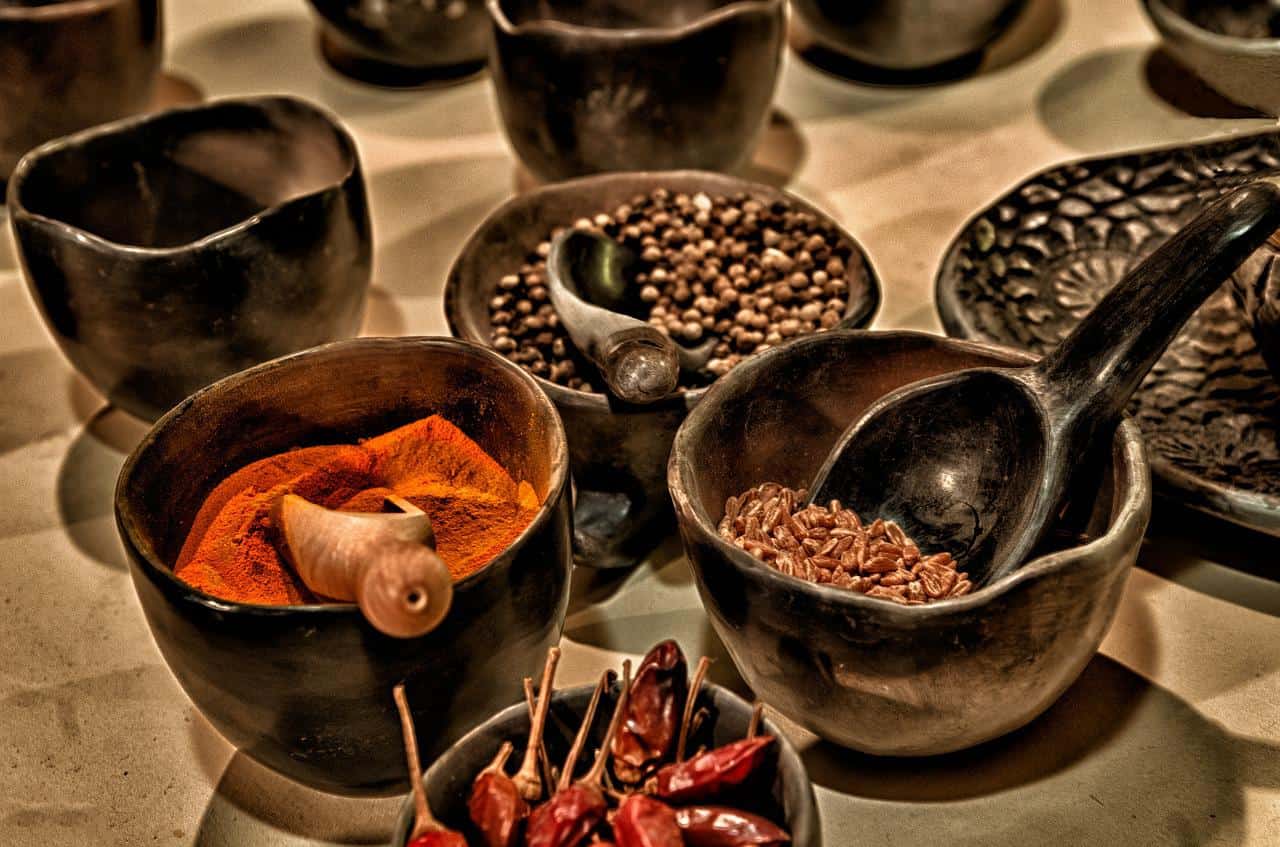 Substitute for Chili Sauces
You can find many varieties of chili sauce on the condiment aisle at the grocery store. You can also make your own homemade version.
Puréed or chopped chili peppers, vinegar, sugar, and salt are common ingredients, all of which are heated to thicken the mixture.
If a recipe calls for chili sauce, you have several substitution options, based on your needs.
Hot Sauce
There are endless varieties of hot sauce that can be used interchangeably and others that are more unique.
Some varieties include:
Mexican hot sauce often made with red jalapeño peppers, vinegar, onion, dried peppers, and other vegetables
Louisana hot sauce made with aged red cayenne peppers, distilled vinegar, and salt (Tabasco is one of the most popular versions)
Sriracha Sauce which has a distinct garlicky taste and medium level heat from pepper purée and powder
The best substitution for hot sauce is either a different variety of hot sauce or cayenne pepper mixed with vinegar.
Chili Paste
Chili paste and sauce are condiments made from chili peppers. Most common store-bought chili pastes are made with Thai chilies.
Chili sauce can be spicy, sweet, or a mixture of the two, and it differs from hot sauce in that it comes in a variety of sweet and mild flavors, which are often lacking in hot sauces.
Because of its unique flavor and texture, chili paste substitutions could include ketchup mixed with some cayenne pepper, tomato paste mixed with some red pepper flakes, or sriracha.
Adobo Sauce
When a recipe calls for adobo sauce, it is most often referring to the sauce that canned chipotle peppers are packed in.
If you don't have any on hand and need an adobo sauce substitute, your best option is to make your own. Common recipes include chili powder, tomatoes, vinegar, garlic, sugar, and various spices and herbs.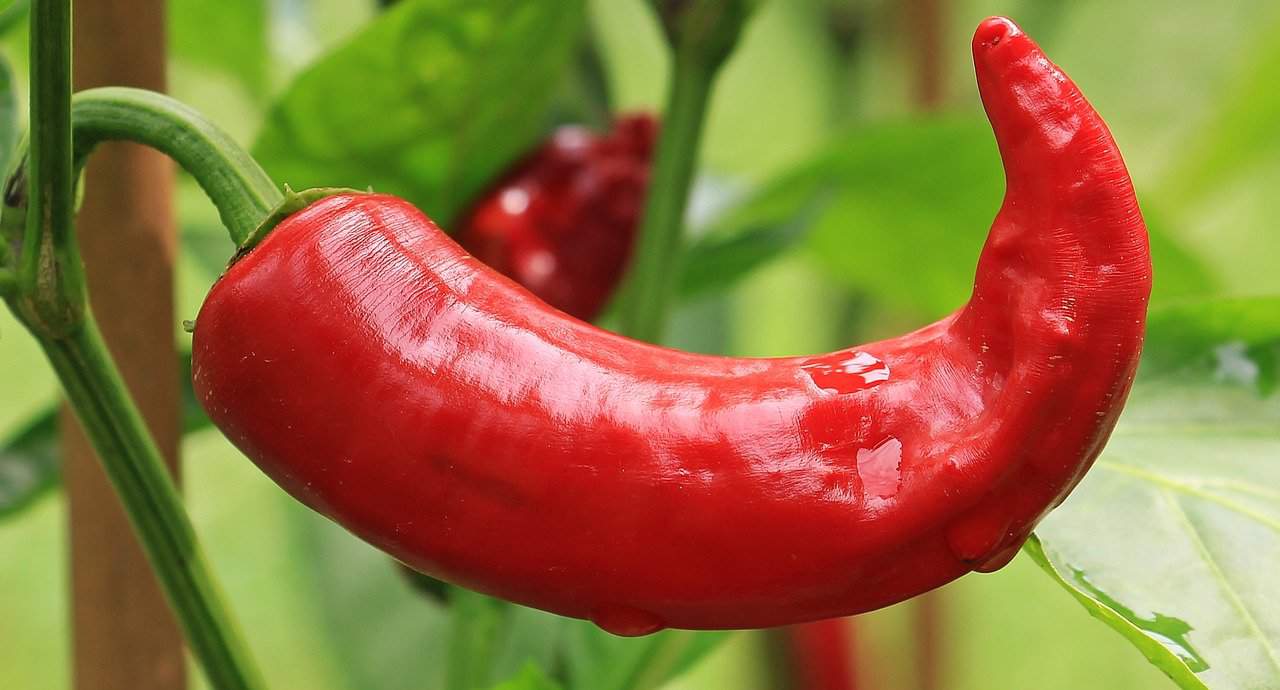 Substitute Guide for Chili Peppers
Chili Pepper Substitution Graphic
Chili Pepper Substitution Table
| Ingredient | Substitution |
| --- | --- |
| Bell Peppers (fresh) | Use alternative vegetables. Jalapeno is similar in texture but adds spice. |
| Banana Peppers (fresh) | Pepperoncini |
| Green Chile | Poblano Peppers |
| Jalapeno Peppers (fresh) | Serrano Peppers |
| Serrano Peppers (fresh) | Jalapeno Peppers |
| Habanero Peppers (fresh) | Habanero Hot Sauce |
| Chile de Arbol (dried) | New Mexican Red Chile Pods or Dried Ancho Chile Pods |
| Chinese Red Peppers (dried) | Thai peppers |
| Thai peppers | Chinese Red Peppers |
| Red Pepper Flakes | Ground Cayenne |
| Taco Seasoning | Find recipes that includes Chili powder |
| Chili Powder | Taco Seasoning or Fajita Seasoning |
| Ground Cayenne Pepper | Red Pepper Flakes |
| Chipotle Powder | Smoked Paprika |
| Ancho Powder | Mole Sauce |
| Hot Sauce | Cayenne Pepper mixed with vinegar or different variety of hot sauce |
| Chili Paste | Ketchup mixed with cayenne pepper, tomato paste mixed with red pepper flakes, or sriracha. |
| Adobo Sauce | Find recipes that may include chili powder, tomatoes, vinegar, garlic, sugar, and various spices and herbs. |
Do you have any other tried and true substitution recommendations? Please let me know in the comments!