Because of its unique combination of flavors, tarragon can elevate many of your dishes.
Since it is a less common herb, tarragon may not be a typical kitchen staple.
What if tarragon is called for in your recipe, but you don't have any? Not to fret.
There are several other herbs that can take the place of tarragon in your recipe.
Before we look at some of the best substitutes for tarragon, we need to have a good understanding of what tarragon tastes like and some recipes it is commonly used in.
Jump to:
What is Tarragon?
Tarragon, also known as Estragon, is a green leafy herb that is common in French cuisine. It is also used in other Mediterranean and European dishes.
In France, tarragon is referred to as "the king of herbs" due to its ability to improve the flavor of dishes it is used in.
With tough woody stems and thin glossy leaves, tarragon is a perennial herb that belongs in the sunflower family. It has tiny green or yellow-white flowers.
Tarragon has a unique taste. It has both a bitterness and a sweetness that is reminiscent of licorice, vanilla, and mint.
It has a slight resemblance to fennel and anise, but is more intense. The warmness and coolness somehow balance each other out.
This distinct combination makes tarragon a great choice for improving the flavor of your dishes.
Tarragon Varieties
There are several varieties of tarragon, including French tarragon, Spanish or Mexican tarragon, and Russian tarragon. Each has a slightly different flavor.
Mexican tarragon is slightly richer than French tarragon but is very similar. Russian tarragon is commonly used to flavor drinks because of its intensely bitter taste. French tarragon is the most well known and widely used variety.
Tarragon can be found in the spice section of most grocery stores and online retailers. Fresh tarragon may be carried in the produce section but is not as easily found. During the spring and early summer, you might find fresh tarragon at local farmers' markets.
You can also keep a fresh supply of tarragon always on hand by growing your own.
Fresh Tarragon vs Dried Tarragon
When possible, using fresh tarragon is preferable because it has the strongest flavor.
If using fresh tarragon, rinse and pat the leaves dry and remove them from the stems. The leaves bruise easily, so take care when chopping them. The leaves can also be used whole.
Add fresh tarragon near the end of the cooking process or use them raw. Cooking tarragon too long causes it to become bitter.
Dried tarragon can be added earlier in recipes but it has a weaker overall flavor.
When using dried tarragon, use ½ to 1 teaspoon for each tablespoon of fresh tarragon.
You can dry fresh tarragon at home in a dehydrator or slowly in a low warm oven. Be sure to store dried tarragon promptly in airtight containers because the leaves lose their flavor if left to dry too long.
Uses for Tarragon
Along with parsley, chervil, and chives, tarragon is one of the herbs included in the French mixture of herbs called fines herbes.
Tarragon can be used in sauces and salad dressings, and added to potato salads. It is best known for its use in béarnaise sauce.
It is used to boost the flavor of mild proteins such as fish, chicken, eggs, and cheese.
This intense herb is also tasty in soups and stews made with broth, stock, or cream.
Sometimes used as a garnish, it is also a great choice for making flavored tarragon vinegar.
Best Substitutes for Tarragon
Whether you are not a fan of tarragon's distinct flavor profile, or you don't have any in your kitchen, there are several other herbs that make a suitable replacement for tarragon. Any fresh herbs listed below can be used to replace fresh tarragon with a 1:1 ratio.
Chervil
Chervil is an herb that looks like flat-leaf parsley and is a good choice for a fresh tarragon substitute.
It tastes like parsley, tarragon, and chives. It also has a slight anise flavor.
Chervil makes one of the best tarragon substitutes because the flavor profiles of the two herbs are almost the same. It is the best fresh option to mimic the taste of tarragon.
Besides tarragon, chervil is the other herb most known for bearnaise sauce. It can also be used in salads and soups.
When replacing fresh tarragon, substitute 1 ½ teaspoons of chervil for every 1 tablespoon of fresh tarragon.
Fennel Fronds
Fennel fronds are found on the stalks of the fennel bulb. The feathery fronds have a light texture.
Although fennel looks like celery, it has a strong licorice or anise flavor like tarragon.
Fennel fronds work best to replicate tarragon as a garnish on soups, salads, and stews.
Use a 1 to 1 ratio when substituting fresh fennel for fresh tarragon.
Basil Leaves
A popular and versatile herb, basil is widely available and used in a variety of recipes.
Basil makes a great substitute for those who do not enjoy the licorice flavor of tarragon. Basil tastes very similar to tarragon, but does not have the licorice taste. It stands out without overpowering your dish.
If using basil as a tarragon replacement, it is recommended to use fresh basil because it has a stronger taste and aroma. Be sure to thinly slice the basil to be most like the thin tarragon leaves.
Because of basil's versatility, it can be used in any recipe that calls for tarragon.
Use 2 teaspoons of fresh basil for every 1 tablespoon of fresh tarragon. When using dried basil, substitute for tarragon in a 2 to 1 ratio.
Angelica
Also known as wild celery or garden celery, angelica tastes like celery with a hint of licorice.
A member of the parsley family, angelica has a taste similar to that of fennel and dill. It has a sweet and earthy flavor.
Angelica has traditionally been used in cake decorating and for flavoring candy and liqueur.
You can replace angelica for tarragon in soups and stews, salads, and seafood.
A disadvantage of angelica is that it is not as widely available and it may not be available in your local grocery store.
You can substitute angelica for fresh tarragon in a 1 to 1 ratio.
Anise Seeds
Sharing that distinct licorice flavor, anise seed can be used interchangeably to replace tarragon and can be an excellent substitute in certain recipes.
Substitute anise seed for tarragon in a 1 to 1 ratio. Use less if you prefer a milder flavor.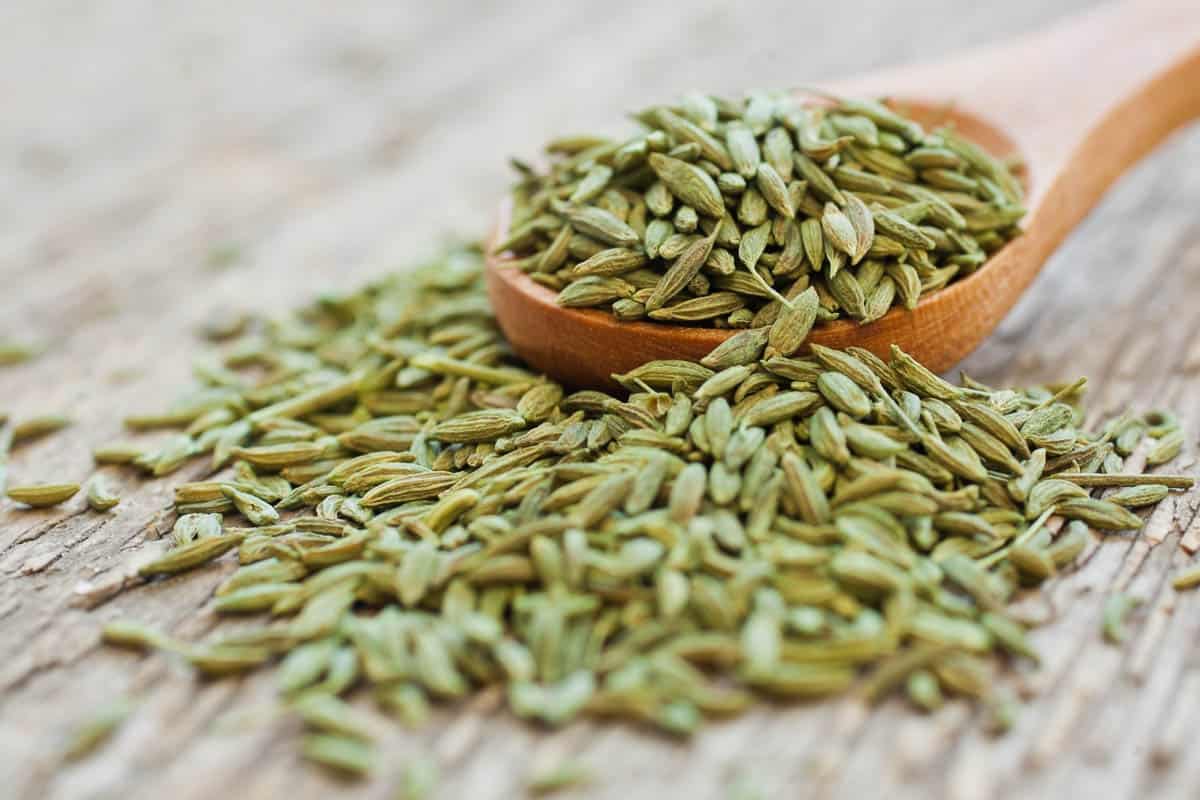 Fennel Seeds
Fennel seeds should be used in a different ratio than fennel fronds because the seeds have a much stronger licorice flavor than the fronds.
Fennel and anise seeds are so similar they are often confused, but anise seed is slightly smaller than fennel seed.
Use a 1 to 3 ratio when substituting fennel seed for tarragon.
Marjoram
Marjoram is a sweet and spicy Mediterranean herb.
Earthy and aromatic, it has notes of peppermint, ginger, cardamom, citronella, and lavender.
The main difference between marjoram and tarragon is the lack of licorice taste or smell in marjoram.
It has been compared to oregano, but marjoram has a slight sweetness similar to cinnamon or nutmeg. Because of this, it is not the best substitute for tarragon in savory sauces.
Marjoram works well in meat dishes containing chicken, beef, or sausage. It can also be used in curry dishes.
Use a 1 to 1 ratio when substituting marjoram for tarragon.
Oregano
The delicate herb essence that oregano adds to dishes works in the same way as tarragon.
Oregano adds a hint of pepper and heat that tarragon lacks.
The main difference between the two is that oregano has a bitter flavor that can be intense in its dried form. Use fresh oregano in order to avoid this.
The aromatic flavor of oregano makes it a good substitute for tarragon when sprinkled over salads, soups, and meats.
Oregano can be used in the place of tarragon in a 1 to 1 ratio.
Rosemary
Related to tarragon, rosemary also belongs to the sunflower family. It is known for the taste and scent that it adds to recipes.
Known to boost the aroma of dishes, rosemary has a peppery and balsamic flavor with an earthy and woody aftertaste.
Rosemary can be used in soups and stews that call for tarragon. It pairs well with chicken, lamb, and vegetable dishes.
Rosemary can be used as a tarragon alternative in a 1 to 1 ratio.
Dill
Dill makes a good alternative for tarragon without the licorice flavor or smell.
It has a bittersweet taste and different flavor profile than tarragon, but can be used if you have it on hand.
Dill makes a good choice for meat and seafood dishes.
In order to substitute dill for dried tarragon, use a 1 to 1 ratio.
Conclusion
Tarragon's unique flavor profile makes it a great addition to a wide variety of dishes. Because of its combination of tastes, it can be easily replaced with another herb.
Whether your recipe calls for fresh tarragon or dried tarragon, use this list to find an alternative that will best fit your recipe.
Do you have any other tried and true substitution recommendations? Please let me know in the comments!