Butter is a delicious, fatty spread that is used in many recipes. However, not everyone wants to consume all of the fat that comes with it. If you are looking for a way to cut down on the fat without losing any flavor, then you need to check out these substitutes!
In this blog post, we will discuss some of the best ways to make your food taste great without using any traditional dairy butter. Specifically, the information you will find below will help anyone looking for a fat free butter substitute.
Jump to:
Why You Should Replace Butter
Traditional butter is made from the cream of cow's milk. It is a solid fat that is white or yellow in color and has a smooth, creamy texture. Butter is a popular food ingredient and is used in many different dishes, from baked goods to savory sauces.
If butter is so popular and has so many uses, why are so many people deciding to replace it?
Heart Disease
One of the reasons butter tastes so amazing is also the reason why it is not considered good for your health. Butter is high in saturated fat and also contains monounsaturated and polyunsaturated fats. It also has high levels of cholesterol, which can affect your heart health, and eventually has the ability to cause heart disease. For this reason alone, it can be important to choose a healthier alternative to traditional butter.
There are options available that are lower in saturated fat and calories and they can help to improve your overall health.
Allergies
Another reason to choose a butter substitute is if you have a milk allergy. Keep in mind that while there are many non-dairy options available, some of them may still contain traces of milk and other allergens.
If you have a severe allergy, it is important to check the labels carefully before consuming any product. Lactose intolerance is the most common milk allergy.
Vegan Lifestyle
If you follow a vegan diet, you only consume products that are not derived from animals. Of course, real butter is not vegan, so you will need to choose an alternative.
When to Use a Fat-Free Butter Substitute
If you're wanting to make something sweet, but want to reduce the amount of fat in your recipe, there are a few options you can use as butter replacements.
Alternatively, if you typically use butter as a spread or topping, you may want to use one of the suggestions below.
Best Fat-Free Butter Substitutes
1. Applesauce
We all know and love applesauce. Made from apples that have been peeled and cooked down into a soft, mushy consistency, it is a well known and well loved food.
It is a good replacement for butter because it contains only natural sugar (if using unsweetened applesauce) and zero fat. In addition, applesauce provides vitamins and minerals that are not found in butter. For example, applesauce is a good source of fiber, while butter does not contain any fiber. Applesauce also has a lower calorie content than butter, making it a healthier option for those watching their weight.
Equal amounts, by volume, can be used in recipes like cakes, cookies, quickbreads, and muffins. Replacing butter with applesauce may result in a texture that is less dense.
2. Mashed Bananas
Mashed bananas are a great replacement for butter in baking recipes. Bananas add moisture and sweetness to baked goods, while also providing a subtle flavor that complements other ingredients.
When mashed, bananas create a smooth, thick consistency that can be easily mixed into batter or dough. Best of all, mashed bananas are a healthy alternative to butter, and can be used in recipes with little or no adjustments. So next time you're looking for a healthier way to bake, think of mashed bananas instead of butter.
3. Nonfat Greek Yogurt
Greek yogurt is a type of yogurt that is made from cow's milk that has been strained to remove the whey. This results in a yogurt that is thicker and creamier than regular yogurt. Greek yogurt also has a higher protein content than regular yogurt. 
Nonfat Greek yogurt can be used as a replacement for butter in many recipes. When using Greek yogurt in place of butter, a 1:1 replacement should work.
Not only can nonfat Greek yogurt be a popular butter substitute when baking, but it can be a great way to enjoy a baked potato if you are trying to lower your daily value of fat intake.
4. Pumpkin Purée
Pumpkin purée is a thick, creamy, and highly versatile ingredient that can be used in sweet or savory recipes. It is made by cooking pumpkins down until they are very soft, and then pureeing them with a food processor or blender. Even easier, canned pumpkin is available year round.
Pumpkin purée is naturally high in fiber and contains zero fat, making it a healthy alternative to butter or other high-fat ingredients. In addition, pumpkin purée lends a rich, creamy texture to recipes without adding any dairy.
As a result, it is a popular choice for vegan and dairy-free baking. Whether you are looking for a healthier alternative to butter or simply want to add some fall flavor to your baking, pumpkin purée is a great ingredient to have on hand.
5. Mashed Beans
Surprising, right? Mashed beans can actually be a great alternative to butter in certain recipes. Cannellini beans have the mildest flavor and thinnest skin, however black beans or chickpeas could also work.
Beans contain little to no fat, so for the sake of this post, we're calling them a fat free option.
Because of their strong flavor, it is recommended to use this ingredient swap only in recipes that call for a small amount of butter. If butter is the star of the recipe, say in a shortbread cookie, you're not going to get away with using this substitution!
Other Great Butter Alternatives
While the following options still have fat, they are either vegan or considered healthier options when compared to butter.
Vegan Butter Brands
Vegan butter is a type of spread made from vegetable oils, rather than from dairy products. It has a similar consistency to traditional butter and can be used in the same way, making it a great replacement for those who are vegan or lactose-intolerant.
Vegan butter is also a cholesterol-free food, which makes it a healthier option than regular butter. In addition, vegan butter is often enriched with vitamins and minerals, such as vitamin D and calcium, which are important for maintaining strong bones and teeth.
Overall, store-bought vegan butter like Earth Balance or Smart Balance is a delicious and healthy alternative to traditional butter that can be used in all sorts of recipes. It can be found in most grocery stores.
Coconut Oil
Coconut oil is a type of vegetable oil that is derived from the flesh of coconuts. Unlike other oils, coconut oil is solid at room temperature. It has a number of benefits that make it a good choice for cooking and baking.
For example, coconut oil is rich in healthy fats that can help to improve cholesterol levels. It also has a high smoke point, which means that it can be used for frying without producing harmful compounds.
In addition, coconut oil can be a good replacement for butter in recipes. When used in baking, it helps to create moist and fluffy cakes and cookies. It also provides a mildly sweet flavor and a creamy texture.
Overall, coconut oil is a healthy and versatile ingredient that can be used in many different ways.
Ghee
Ghee is a type of clarified butter that originated in India. It has simple ingredients and is made by slowly cooking butter to remove the water and milk solids, leaving behind a golden-yellow liquid that is rich in flavor and nutrients.
Ghee has a high smoke point, making it ideal for cooking at high temperatures. And unlike butter, ghee does not contain lactose or casein, making it a good choice for those who are lactose-intolerant or have dairy allergies.
Ghee is also a good source of vitamins A, D, and E, as well as fatty acids that can boost immunity and promote healthy skin and hair. For all these reasons, ghee is an excellent replacement for butter in both cooking and baking.
So next time you reach for the butter, try using ghee instead.
Olive Oil
Olive oil, similar to canola oil, is a type of vegetable oil that is extracted from olives, the fruit of the olive tree. It has been used for centuries in cooking and as a medicinal application. Olive oil is a healthy alternative to butter because it contains monounsaturated fats, which can help to lower cholesterol levels and reduce the risk of heart disease.
Additionally, olive oil is rich in antioxidants, which can help to protect cells from damage and improve overall health. When shopping for olive oil, it is important to look for brands that are cold-pressed and made from 100% pure olives. These oils will have the most flavor and nutrients.
Avocados
Avocados are a fruit that is often used in place of butter. They are a good replacement for butter because they are high in healthy fats and contain no cholesterol.
Avocados are also high in fiber and potassium and offer healthy polyunsaturated fats and monounsaturated fat. Potassium is an important nutrient that helps to regulate blood pressure. Fiber is an important nutrient that helps to regulate digestion. Avocados are also a good source of vitamins C, E, and K.
Nut Butters
Nut butters (including traditional peanut butter) are a type of spread made from ground nuts and are frequently seen in lists of butter alternatives.
They can be made from a single type of nut or a combination of different nuts, and they are available in a variety of flavors. In recent years, nut butters have become increasingly popular as an alternative to traditional butter.
While most nut butters have more grams of fat than butter or about the same, they are also a good source of protein and other nutrients. If fewer calories are a priority for you, nut butter may not be a fit. In addition, nut butters are generally lower in sugar and calories than butter, making them a healthier option for those looking to watch their weight.
Whether you spread them on toast or add them to recipes, nut butters can be a delicious and nutritious way to add flavor to your diet. Our favorite is almond butter.
Margarine - Not recommended
For years, margarine was touted as a "healthy substitute" or "great substitute" to butter. It was lower in saturated fat and cholesterol, and it could be used in many of the same ways as butter. However, margarine is now known to have its own health risks.
Margarine is usually made from vegetable oils that have been chemically processed to solidify them. This process, known as hydrogenation, creates trans fats, which are known to increase the risk of heart disease.
In addition, margarine often contains artificial additives and preservatives. These substances can be harmful to your health, and they can also give margarine a strange taste and texture. For these reasons, margarine is no longer considered a healthy alternative to butter.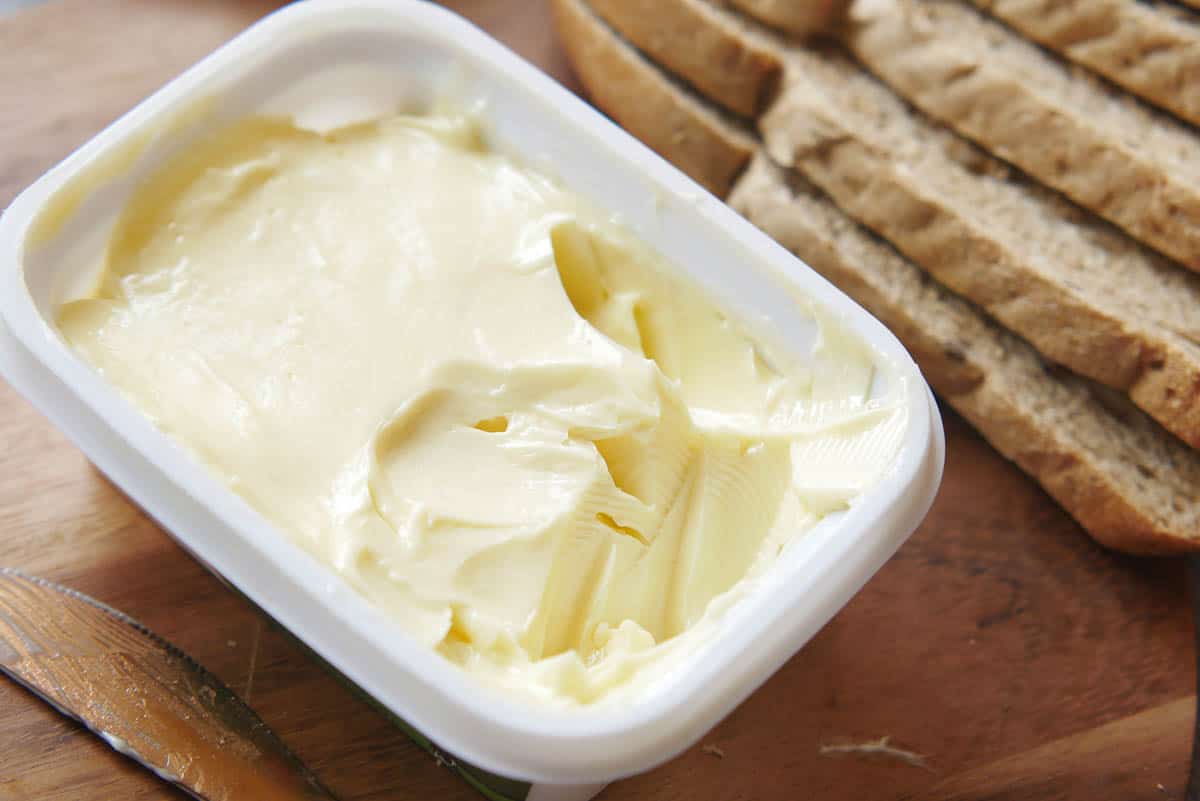 FAQ
What is a fat-free butter substitute?
A fat-free butter substitute is an ingredient that can be used in place of butter to reduce the fat content of a recipe. There are many different types of fat-free butter substitutes available, including the options we outlined in this post.
Is there a "no fat" butter?
No, there is no such thing as "no fat butter." However, there are many types of fat-free butter substitutes that can be used to reduce the fat content of a recipe.
What is the healthiest alternative to butter?
There is no one "healthiest" alternative to butter. The best fat-free butter substitute for you will depend on your individual dietary needs and preferences.
Conclusion
There are a variety of fat-free butter substitutes available, each with its own unique taste and texture. Our favorite would have to be mashed bananas or applesauce.
By choosing a healthier option, you can enjoy the flavor of butter without all the unhealthy saturated fat and cholesterol.
So next time you're looking to cut the fat, try one of these delicious alternatives. Your heart will thank you.
Do you have any other tried and true substitution recommendations? Please let me know in the comments!