Coconut sugar has been steadily rising in popularity over the years. You may have stumbled across a recipe you want to bake that calls for using it. What happens if you have all the ingredients except for the coconut sugar?
Thankfully, there are many substitutes that you can use for coconut sugar when it comes to baking.
Coconut sugar, sometimes known as coconut palm sugar, coconut palm sap, or coconut crystals, is a popular alternative to refined sugar. It has a low glycemic index when compared to sucrose and adds a wonderful depth of flavor to baked foods.
Coconut sugar, however, may be rather pricey. There are many different alternatives available, depending on your reason for needing a substitute!
Jump to:
What is Coconut Sugar?
Coconut sugar is a kind of unrefined sugar that comes from the blossom of the coconut palm tree. It's not derived from the fruit, as conventional refined sugar is, but rather from the flower bud.
The sugar is harvested by tapping the bud and extracting the nectar. The nectar is then heated to evaporate all of the liquid, leaving behind tiny granules. The end result is used in many meals across the world.
Coconut sugar has a lower glycemic index than regular sugar, so it doesn't cause spikes in blood sugar levels. It also contains trace amounts of vitamins and minerals, making it a healthier sweetener option. However, it should be consumed in moderation because it's still sugar.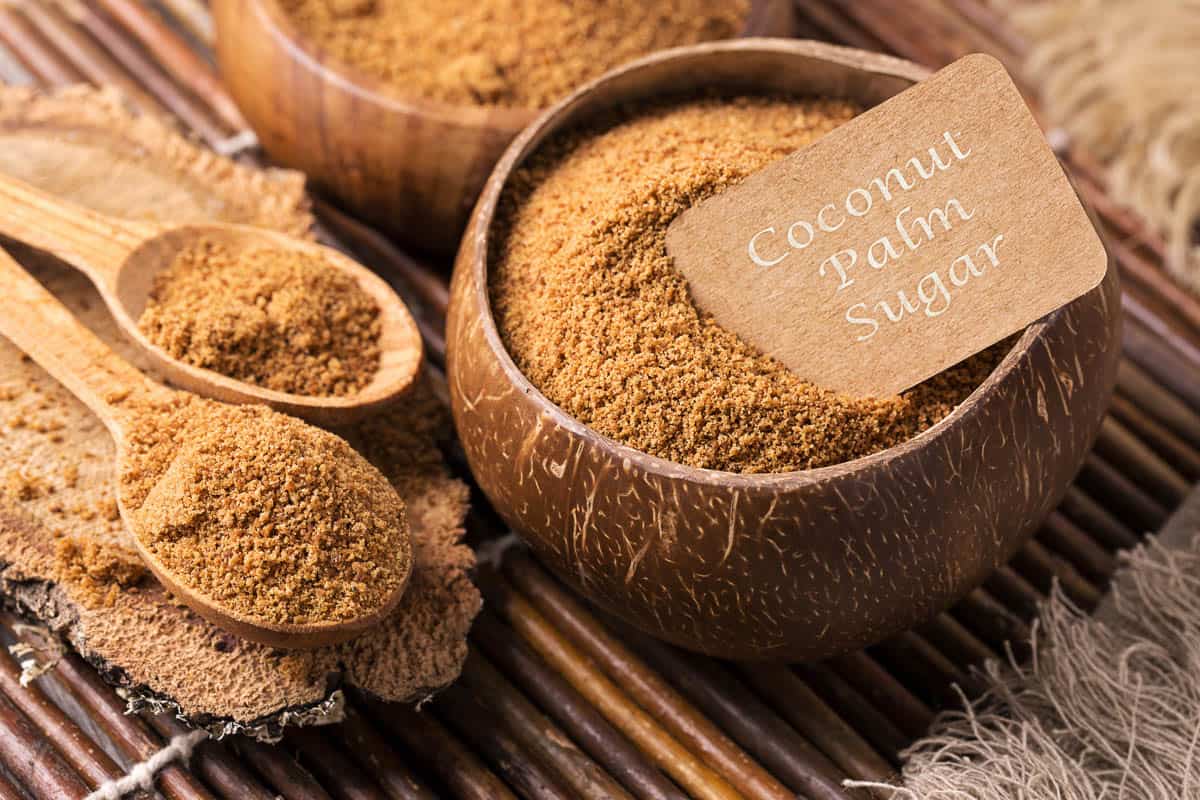 What Does Coconut Sugar Taste Like?
This sugar is different from ordinary white sugar because it contains coconut nectar, which gives it a delicate sweetness and tastes comparable to light brown sugar with a light touch of caramel. Although coconut sugar has no additional procedures, the color, sweetness, and flavor vary depending on the selected coconut species, where they are grown, harvest time, and even how the sap is collected.
The sap is what we consider the "raw" form of coconut sugar, and it's nature's way of telling us that it is a healthier alternative to processed white sugar. It has a lower glycemic index, which helps regulate blood sugar levels and provides our bodies with vitamins, minerals, and fiber essential for good health.
Best Substitutes for Coconut Sugar
Light Brown Sugar
While coconut sugar and light brown, also called golden brown, sugar are not identical, they are very similar in taste and sweetness. Brown sugar comes in two varieties: refined and unrefined. Most commercial types are made by combining molasses with granulated sugar. his gives it a characteristic brown color and slightly richer flavor than granulated sugar.
When substituting light brown sugar for coconut sugar, you can use them 1:1 in any recipe. Keep in mind that the brown sugar will add a slight caramel flavor to your dishes, so you may want to adjust other ingredients accordingly. Overall, light brown sugar is an excellent substitute for coconut sugar in baking and cooking.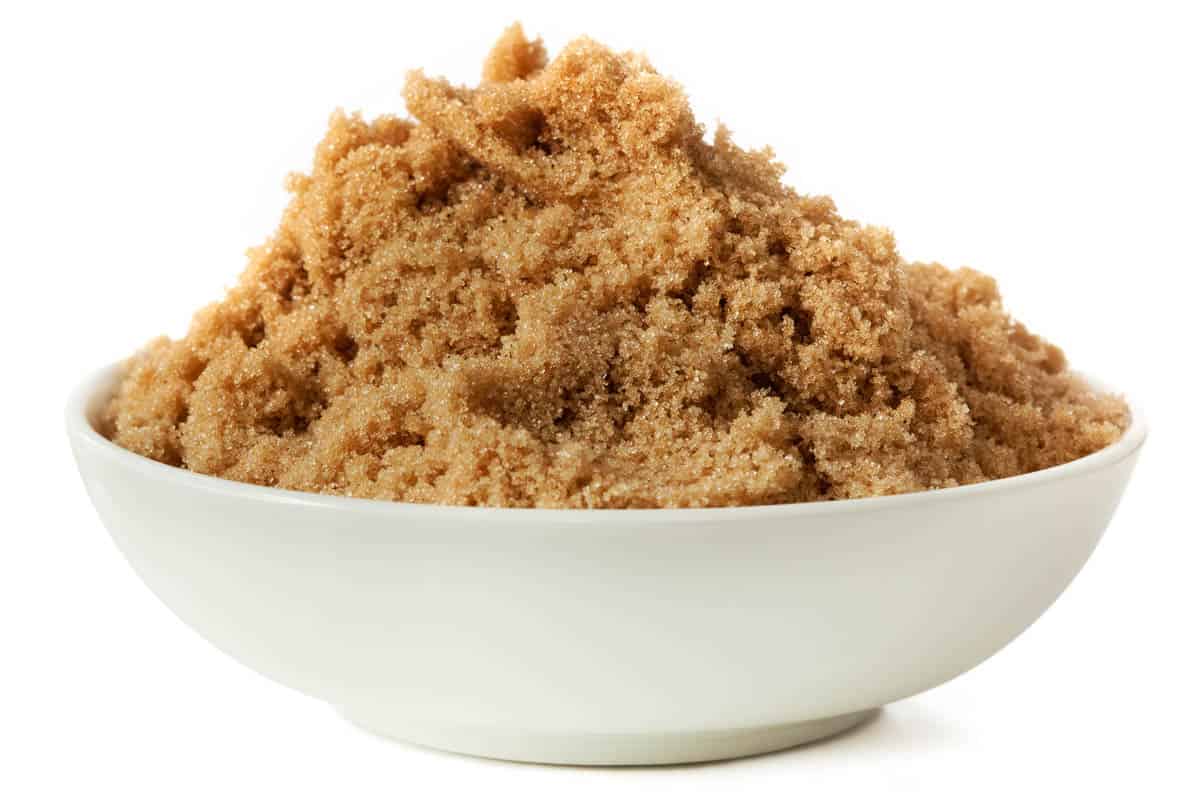 Turbinado Sugar
This variety of sugar, aka sugar in the raw, is a kind of natural brown sugar. Turbinado sugar differs from the commercial variety, which is composed of molasses and white sugar, in that it includes some of the sugar cane juice giving it a darker appearance. It has fairly large granules and a golden color.
Turbinado sugar, which is made from evaporated cane juice, has a somewhat less robust caramel flavor than brown sugar and is frequently used in baking. Demerara sugar is another type of raw sugar with similar properties to turbinado sugar.
Both types of sugar are less processed than white sugar and contain more natural molasses. As a result, they have a sweeter taste than white sugar. Turbinado sugar can be used as a 1:1 replacement for coconut sugar in recipes.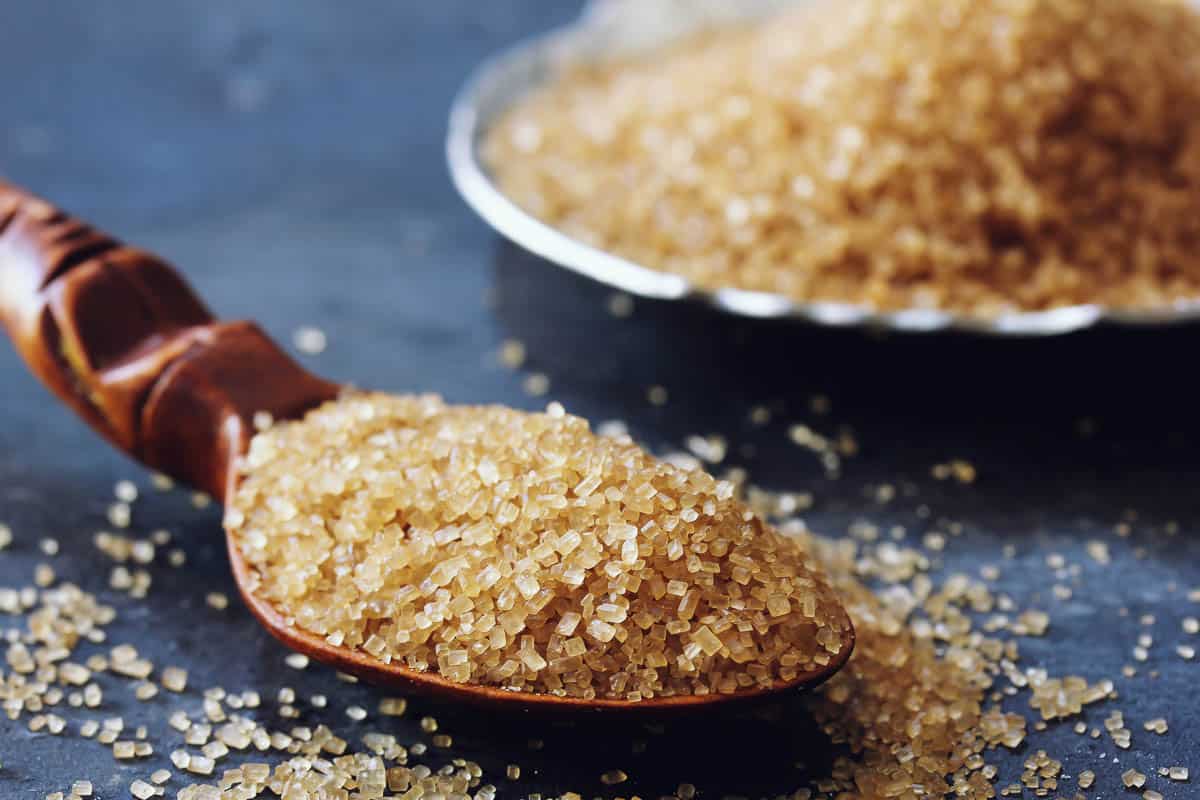 Dark Brown Sugar
Dark brown sugar is granulated sugar combined with molasses, and it's an excellent replacement for light brown sugar. The only difference between the two is the ratio between molasses and sugar.
There is approximately 6.5% molasses for dark brown sugar unlike the 3.5% in light brown sugar. This creates a more robust, sweeter molasses taste, perfect for baked goods that require a little more sweetness. It's also a good substitute for coconut sugar if you desire a more robust molasses flavor.
It is also important to remember that using dark brown sugar will result in baked products with a darker color. In recipes like cookies, it will spread more and produce a texture that is chewier.
Best Natural Substitutes
If you're looking to cut down on your sugar intake, you may be wondering if there are any excellent substitutes for coconut sugar. While coconut sugar is considered a healthier option than refined sugar, some other great options can help you cut down your sugar intake even further. Here are three great options for coconut sugar substitutes:
Date Sugar
Date sugar is a product that may be utilized as a substitute for coconut sugar in your recipes. It's produced from finely chopped dry dates.
You might not have realized it, but dates are quite a nutritional powerhouse. It offers similar sweetness, but it also provides a host of additional nutritional benefits. All of this makes date sugar a great substitute for coconut sugar.
Date sugar has a pleasant, subtle flavor that may be used in equal amounts to coconut palm sugar. It can be found in supermarkets but is more commonly available at natural health food stores.
If you're looking for a health-conscious sugar alternative, give date sugar a try. Your body will thank you for it.
Maple Sugar
Maple sugar is produced from the same trees that produce maple syrup! The syrup is made by boiling the nectar of sugar, black, or red maple until only solid sugar remains.
Maple tree sap is used to make maple sugar. The primary difference between syrup and sugar is that the syrup is generally processed into granules.
Because it resembles coconut palm sugar, it may be used as a substitute. The sweetener has traces of butter and caramel with a vanilla fragrance. It's wonderful in a 1:1 ratio as a coconut palm sugar replacement.
Sucanat
Sucanat is a raw cane sugar with minimal processing stages. As a result, the larger crystals and light golden color are very similar to those of coconut sugar! Sucanat's natural molasses content also contributes to the flavor having subtle caramel undertones.
Sucanat has a gritty texture, so it does not dissolve as rapidly as more refined sugars. To achieve table sugar or caster sugar consistency (superfine sugar), simply add coarse granules to the top of baked items or process the sugar in a food processor.
In addition to coconut sugar, Sucanat may be used in any recipe that uses coconut sugar.
Monk Fruit Sweetener
Monk fruit sweeteners are the latest trend in the sugar market. These sweeteners have been used for centuries in China and Southeast Asia and are becoming more popular in the Western world.
Using a monk fruit sweetener can be a great alternative to sugar because it has no carbs, calories, or sugar levels. They also come in various forms, making them a versatile option for baking and cooking. Plus, their sweetness is much greater than that of sugar, so you only need a small amount to make your food taste incredible.
However, monk fruit sweeteners can be expensive and hard to find. But if you're looking for a natural sugar substitute that tastes great, monk fruit is definitely worth seeking out!
Best Coconut Sugar Substitutes in Liquid Form
Raw Honey
Honey has been used in baking and cooking for hundreds of years. The sweet liquid is packed with nutrients that have health benefits, such as healing cuts and aiding digestion issues. In addition, honey's antioxidant chemicals may help prevent heart disease, eliminate harmful bacteria, etc.
The sweet golden honey-colored liquid is derived from bees without having been filtered or processed in any way—hence it doesn't include any hidden chemicals. As a result, Manuka honey from quality brands is the finest raw honey you can use to replace coconut sugar.
Agave Syrup
Agave syrup, sometimes known as maguey syrup or agave nectar, is a sweetener produced from the blue agave plant. The organic plant's circulating fluid (sap) is collected, then filtered, and heated until the maguey syrup is created.
The traditional Miel de agave or Mexican syrup has been transformed into a highly refined product with little nutritional value. In addition, the glycemic index (GI) is lower because the fructans in the sap convert into fructose during heating and enzyme processes.
Agave syrup is roughly 1.5 times as sweet as sugar! To make 1 cup of coconut sugar, use ¼ cup agave syrup and ¾ cup water.
Maple Syrup
The extract obtained from the maple tree is maple syrup. The maple sap that comes from maple trees is heated until it reaches the desired consistency, after which it's bottled and sold to us!
Maple syrup is another excellent sweetener choice, just like honey! Maple syrup is a fast and easy alternative to coconut sugar! Obviously, the flavor is more maple-like! However, it adds its own distinct sweetness that blends nicely with any recipe.
Make sure you are using pure maple syrup as your coconut sugar substitute. Please stay away from commercial varieties since they tend to include a lot of other stuff!
For every one cup of coconut sugar, use ¼ cup of maple syrup. Maple syrup is an excellent substitute for coconut palm sugar in flavor.
Low-Calorie Substitutes
Swerve Brown Sugar
Swerve is a low-carb, non-glycemic alternative to coconut sugar popular among people on the Keto diet. It is composed of erythritol, a sugar alcohol that is supposed to have no strange aftertaste.
Brown and granulated sugar are just a few of Swerve's many items. In particular, the brown sugar variety would be an excellent choice for anybody searching for a low-glycemic or non-glycemic or a coconut sugar alternative.
Because it's similar to coconut sugar, it may be used in both cooking and baking recipes. For example, you can substitute one cup of Swerve for one cup of coconut sugar.
Stevia
The stevia plant leaves are used to make this natural, plant-based sugar substitute. You can use it as a 1:1 replacement for sugars such as table granulated or raw cane juice crystals. However, I find myself using much less since its flavor is quite strong and distinctive on its own!
Stevia is the best option if you are interested in weight loss and healthier than artificial sweeteners. In addition, Stevia is a type of sugar alcohol that contains zero calories. As a result, Stevia can help you cut back on calories without sacrificing taste.
If you're comfortable with Stevia, you may already know your personal preference for adjustments. If you're new to using Stevia, start by tasting and adjusting as needed. Experiment until you discover your ideal taste.
Xylitol
Xylitol is a liquid natural sweetener but also comes in a granulated powder form. It has a sweet flavor comparable to regular white sugar and is regarded as natural. That's because xylitol, which is present in small amounts in certain veggies and fruits (such as strawberries and mushrooms), has a natural flavor.
It has fewer calories than table sugar but does have a minor effect on blood glucose levels when consumed in large amounts. Researchers also believe it might provide some health advantages, including improved calcium absorption and dental health, compared to sugar.
In a 1:1 ratio, xylitol may be used in place of sugar, and for each cup of coconut sugar, use ⅔ cup xylitol.
Conclusion
If you're looking for a healthier alternative to table sugar, coconut sugar is a good option. Made from the sap of coconuts, it has a similar taste and sweetness to regular sugar but with a few key differences. It contains more nutrients and fiber than regular sugar, and it has a lower glycemic index, meaning it won't cause spikes in blood sugar levels.
Coconut sugar has a more complex flavor than regular sugar, with hints of caramel and molasses. If you're looking for the best substitutes for coconut sugar, consider using honey, maple syrup, or date sugar.
These options can all be a great replacement that offers similar taste and sweetness. Just be sure to use them in moderation, as they can still contain high sugar levels.
Do you have any other tried and true substitution recommendations? Please let me know in the comments!