Nothing goes better with Sunday afternoon than fried chicken, am I right? Fried chicken has been a southern staple for many years, but is also popular in other areas of the United States.
Fried chicken is food with such a deep history that only has a few ingredients. One of those few are eggs.
If you do not have any eggs or you have an egg allergy, there are some modern substitutes you can use that are included below. Happy frying!
Jump to:
Eggs in Fried Chicken
Eggs are specifically used in fried chicken because of their ability to hold things together. While eggs are a leavening agent, that isn't really what they are used for in this sense.
The eggs are put on before the breading, creating somewhat of a glue between the chicken and the flour or breadcrumbs, or really whatever type of crust you choose to use.
As the fried chicken cooks, the eggs solidify. This keeps the flour attached to the chicken.
When looking for a substitute you must find something that has the same ability to adhere the breading to the chicken. The good news is there are several suitable alternatives.
Fried Chicken
Fried chicken is pretty simple to make, although you will dirty up a few dishes.
You can fry up any part of the chicken, and it seems everyone has their own favorite piece.
We won't start the dark v. light meat debate today, just know you can use any piece desired. Chicken breasts will give you the most chicken meat, but kids seem to love legs and wings.
Essentially, you take the chicken and soak it in an egg wash usually consisting of eggs and buttermilk. The buttermilk works to break down fibers in the chicken and make it more tender.
You can get similar results by adding lemon juice to a cup of milk.
After you've soaked the chicken pieces, traditionally, you will roll the chicken in spiced flour and then fry in a hot skillet with a fair amount of lard, peanut oil, or vegetable oil. For the best fried chicken, cook until you achieve a deep golden color on your coating.
Fried chicken is usually served with mashed potatoes and gravy made with the chicken drippings. Typically corn or green beans and a biscuit will be served as well.
Others even choose to serve their fried chicken over waffles with maple syrup. Don't knock it until you try it!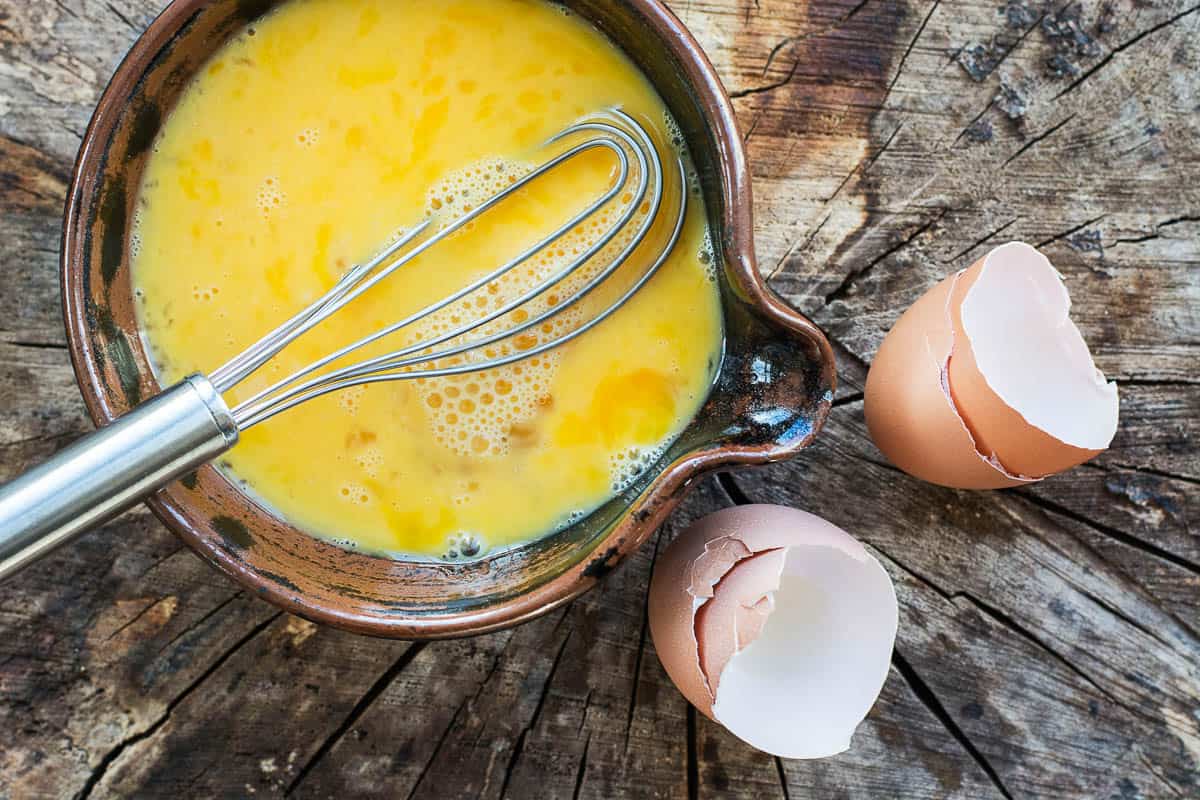 The Best Egg Substitutes for Fried Chicken
As previously stated, eggs are needed to help adhere the outer coating to the chicken. Because of this, egg substitutes used for baking may not work as well when frying chicken.
The substitutes listed below are all specifically for fried chicken and not recommended for baking unless otherwise stated.
I am hopeful you can find something that works for you if you have run out of eggs or have an egg allergy.
Tomato Paste
Tomato paste is one of those ingredients that seems to show up in several recipes I use throughout the year.
Because of its thickness, it can be sticky which makes it a good substitute for frying chicken.
Simply brush the tomato paste onto the chicken before coating it in breading. Cook as normal, but you may need to watch heat and cook time to prevent the tomato paste from burning.
For a lighter recipe try frying in olive oil instead of lard. The olive oil mixed with the tomato taste will give you quite the flavor profile.
I like using tomato paste because it is a healthy choice of egg wash substitute that helps me get in more veggie servings.
Heavy Cream
Heavy cream can be a suitable substitute if you don't have to follow a dairy-free diet.
In a traditional fried chicken recipe, you make the egg wash with eggs and buttermilk or even cow's milk. Heavy cream is very similar to the consistency of the combined mixture of eggs and milk.
Soak the chicken in heavy cream instead of the egg wash and continue cooking your chicken normally.
You may prefer this alternative because it does not change the flavor very much from the real thing, but it is not a low fat option.
Chia Seeds
Chia seeds are one of those ingredients you can use in place of eggs in multiple different foods, including fried chicken.
They come from a plant in the mint family and can now be found in many grocery stores. If you can't find them nearby, you can order them online.
A "chia egg" has a consistency very similar to a real egg, making it a great egg replacer. Using chia eggs can be an acceptable substitute for those who have an egg allergy. Chia eggs work well in baking as well.
In a small bowl, mix one tablespoon chia seeds and 3 tablespoons water to make a 1:1 substitute per egg. After combining the two ingredients let sit for 5 minutes for the best results.
Use each chia egg in the egg wash as you would with a normal egg and continue on.
I would note that because these are whole, you will see the seeds in the final product. They will most likely just look like large pepper flakes, however, so it shouldn't be a big deal in chicken recipes.
If this is an issue for you, you can purchase white chia seeds that may look more like salt or even garlic powder on your plate.
Melted Butter
Butter is a pretty common fridge staple around the world. I am guessing if you have any of these egg substitutes on hand butter would be one.
Melted butter can be a great egg substitute because the flavor is impeccable for something so simple.
Melt butter over low heat and do not burn. Remove from heat as soon as it melts. You may now use this in place of your egg wash.
The butter definitely has an added bonus of lending flavors that will have your household coming back for more.
Thick Yogurts
Just like tomato paste, yogurt can be one of those Jack-of-all-trades ingredients in your kitchen.
Using yogurt in fried chicken is no exception. In my opinion, Greek yogurt works the best for this eggless batter.
Coat the chicken cutlets with yogurt before rolling in the flour dredge. If the yogurt makes too thick of a paste on the chicken, you may need to dilute it with water or a splash of milk.
A positive effect of using thick yogurt is that it will help keep the moisture in the chicken, giving you a nice juicy end product.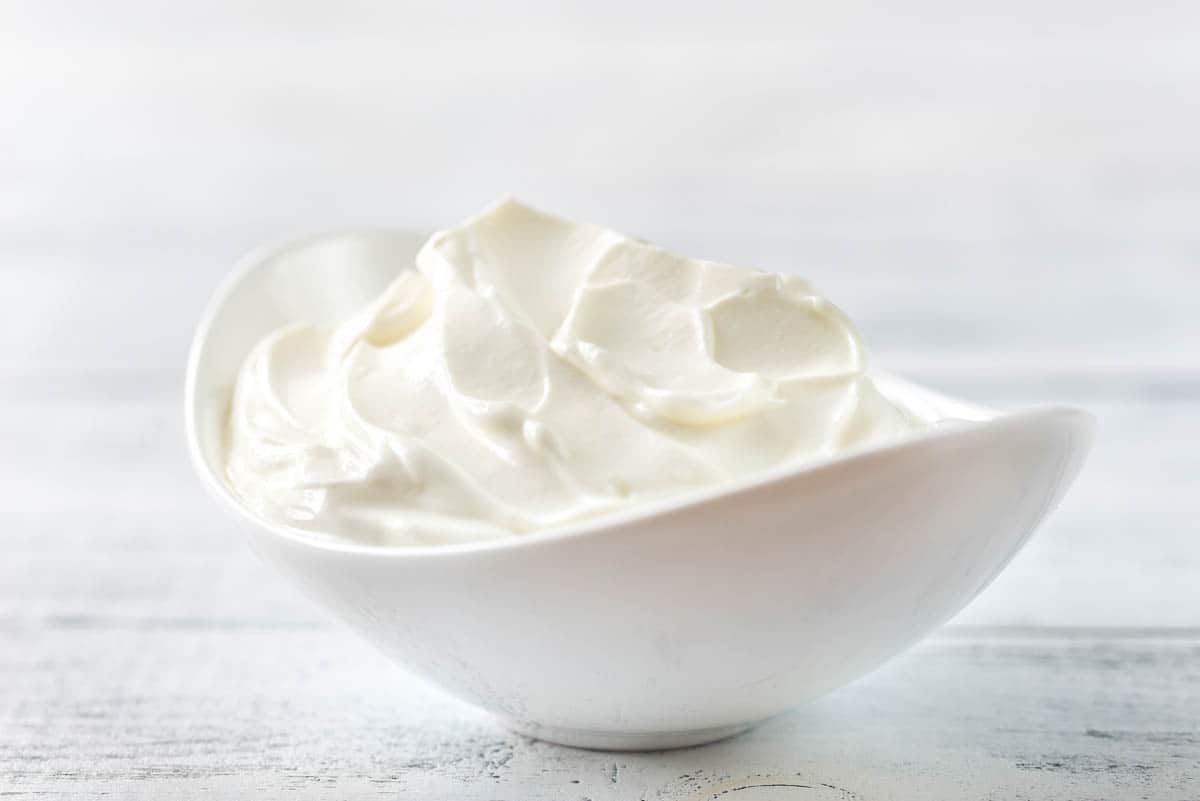 Rice Flour
For egg-free fried chicken, rice flour may be a great alternative. Rice flour is becoming more popular in grocery stores. You should be able to find it next to the regular flour or in the gluten-free section.
Make a water slurry with it to replace your egg wash. What is a water slurry?
It is actually quite simple. It is simply water mixed with flour to make a thick liquid.
All you need to do is take equal parts flour and water to get the consistency you need. If it seems too thick, you may always add more water.
You may also try arrowroot powder, potato starch, and chickpea powder with this method.
Mayonnaise
You can use mayonnaise for about anything, and using it as an egg replacer is no different. Remember, mayo contains eggs, so this is not a suitable alternative if you have an egg allergy.
Because of the thickness, mayonnaise can actually be a better moisture seal for the dipping liquid prior to adding the flour coating. The end flavor is very similar to fried chicken made with an egg wash. You will not notice the flavor of the mayo.
For best results, I would still soak the chicken in buttermilk beforehand. Then, cover the entire surface of chicken with mayonnaise. Then, it can be covered in the flour or breading mixture.
This option works great with chicken strips as well because they are easy to hold and lather the mayo on.
Aquafaba
Aquafaba sounds pretty exotic, but really it is very simple. It is just the water drained off of a can of chickpeas. The drained liquid from canned beans may also work as well.
Aquafaba can be a great egg substitute in baking, but it also can be a great alternative in fried chicken as well because of its stickiness.
If you would like to use aquafaba instead of eggs, you will have to follow a few different steps.
First, whip the aquafaba like you would do egg whites. This is most easily done with an electric stand mixer.
You may notice that the whipped aquafaba is too thin for your liking. For a crispy coating, you may want to add cornstarch and whip longer or you can just add multiple layers onto your chicken before adding the breading.
Once coated with the flour mixture, fry as you normally would in the traditional process.
For something different, you may choose to use this method on eggplant slices for eggplant parmesan. You'll be glad you did.
Do you have any other tried and true substitution recommendations? Please let me know in the comments!