Classic Marinara sauce is a great foundation for any meal. It usually accompanies pasta dishes or alongside meats. Whether you buy it in the grocery store or create your own tomato sauce, there are a wide variety of options.
If you find yourself making a recipe that requires marinara, or just had a craving for some pasta smothered in red sauce, but discovered you're all out - don't worry!
Here are 9 alternatives including a quick homemade version that will work for any recipe.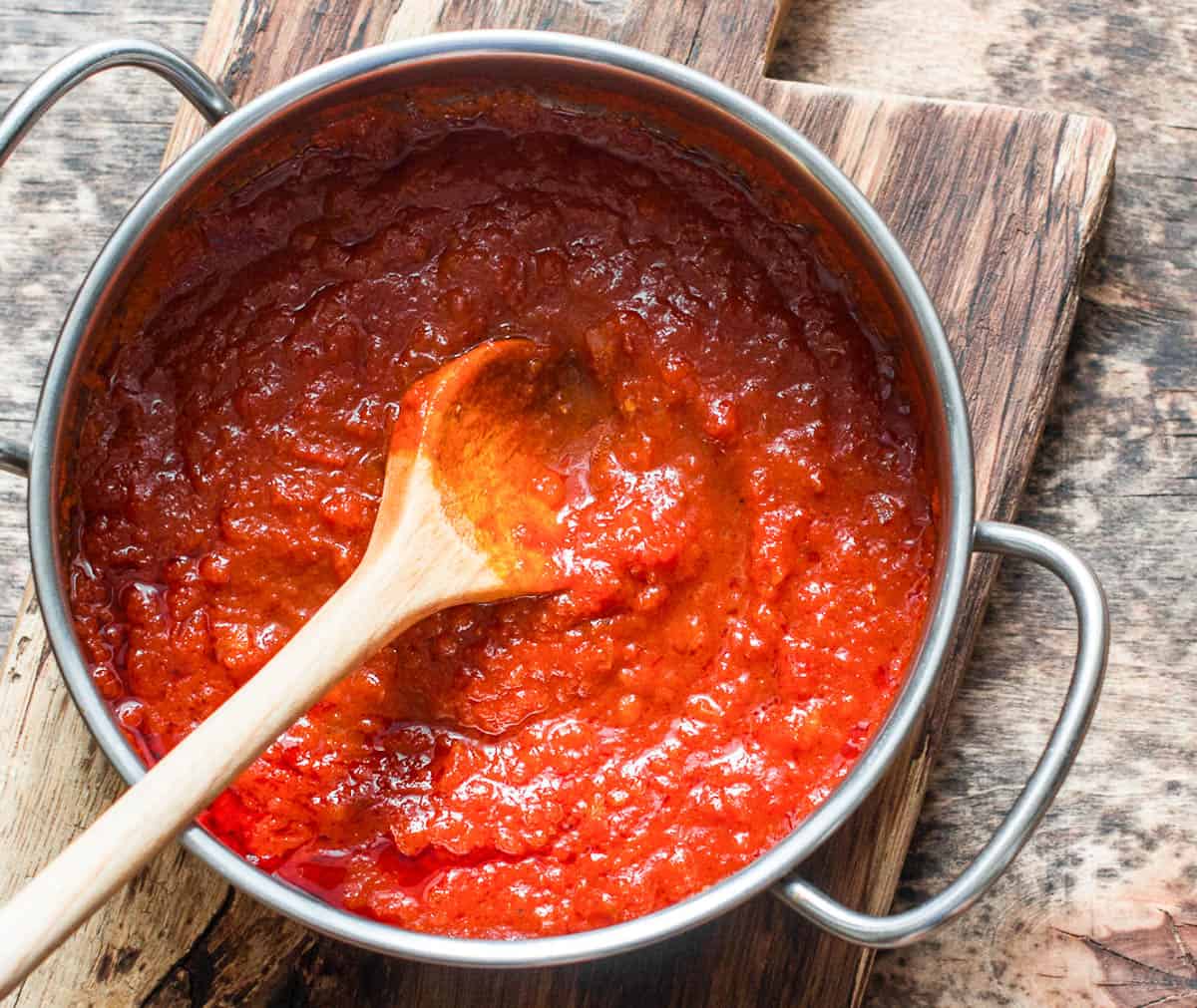 Jump to:
What Exactly is Marinara Sauce?
The basic red sauce is called Marinara. The primary ingredient is tomatoes. But, to give it that amazing flavor we all know and love, you must add some special ingredients to give it the best taste.
Added ingredients can include fresh basil, fresh garlic, olive oil, salt, black pepper, and more. Some chefs may want to kick up the simple sauce by adding bell peppers or hot pepper flakes. No matter what ingredients you choose, you are sure to find a crowd-pleasing flavor.
Marinara Sauce History
Marinara sauce was first created in southern Italy in the 1600s. Its roots are likely to have come from Sicily or Naples.
Many years later, a large migration of Italians came to the United States. They brought this delicious sauce with them. We are all thankful for that!
The name itself, Marinara, comes from the words Marinai, which is Italian for sailors. Some say the name comes from the idea that marinara sauce would travel well at sea. While others suggest that when the sailors' wives would see their ships, they would run home to make the sauce.
Regardless of where the word comes from, this rich and flavorful tomato sauce is a family favorite. A good Marinara is a key ingredient to so many recipes.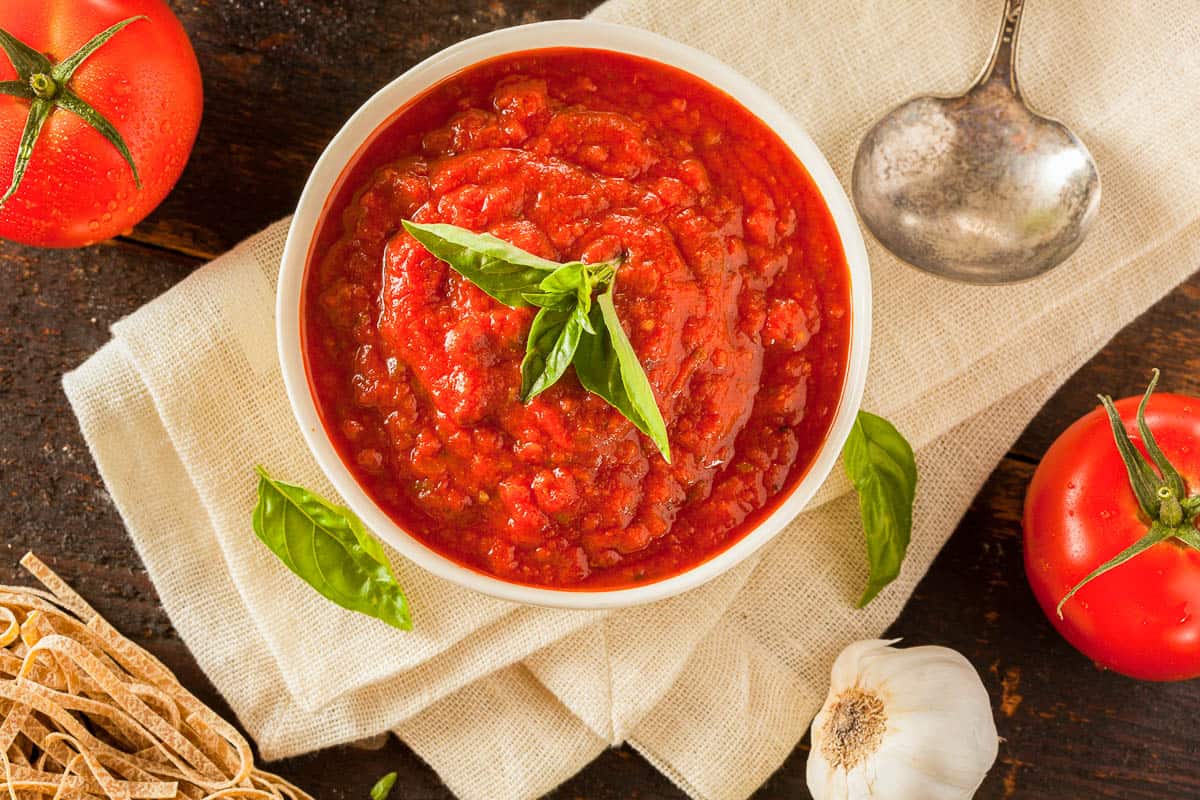 Best Substitutes for Marinara Sauce
Planning a delicious Italian meal can take some work. Oftentimes, your sauce will need to simmer for hours to get the thick consistency you desire.
There is nothing worse than going to grab your ingredients from the pantry to realize your sauce is missing. Here are some great substitute options that range from quick and easy to requiring additional time and ingredients to make them just right. There is also a huge variation in what tastes best and what works well, depending on personal preference.
At the bottom of the list, you will see how easy it is to make your own homemade version if none of these quick fixes do the job.
1. Pizza Sauce
Pizza sauce is the best substitute for Marinara sauce if you're looking for something ready to go. The main differences between pizza sauce and marinara are the smooth consistency of pizza sauce and the cooking technique. Pizza sauce uses blended ingredients whereas Marinara often has chunks of tomatoes.
Pizza sauce can come in a jar from the grocery store, as part of a pizza kit, or you can make your own at home.
Creating your own pizza sauce is quick and easy. It can be made in as little as 5 minutes with the use of your blender or food processor.
A homemade pizza sauce consists of canned tomatoes, olive oil, garlic and seasonings. These ingredients are very common and are likely something you have at home. It is easy to add a wide variety of ingredients to pizza sauce to bulk up the flavor or consistency.
For best flavor, cook it over the stove before using it as a substitute for Marinara. Making homemade pizza sauce is an easy way to substitute marinara.
You can then add the pizza sauce, store-bought or homemade, to any pasta dish, casserole, etc. just as you would if you were using Marinara. For the best of both worlds, try the One Pot Cheesy Pizza Pasta Bake.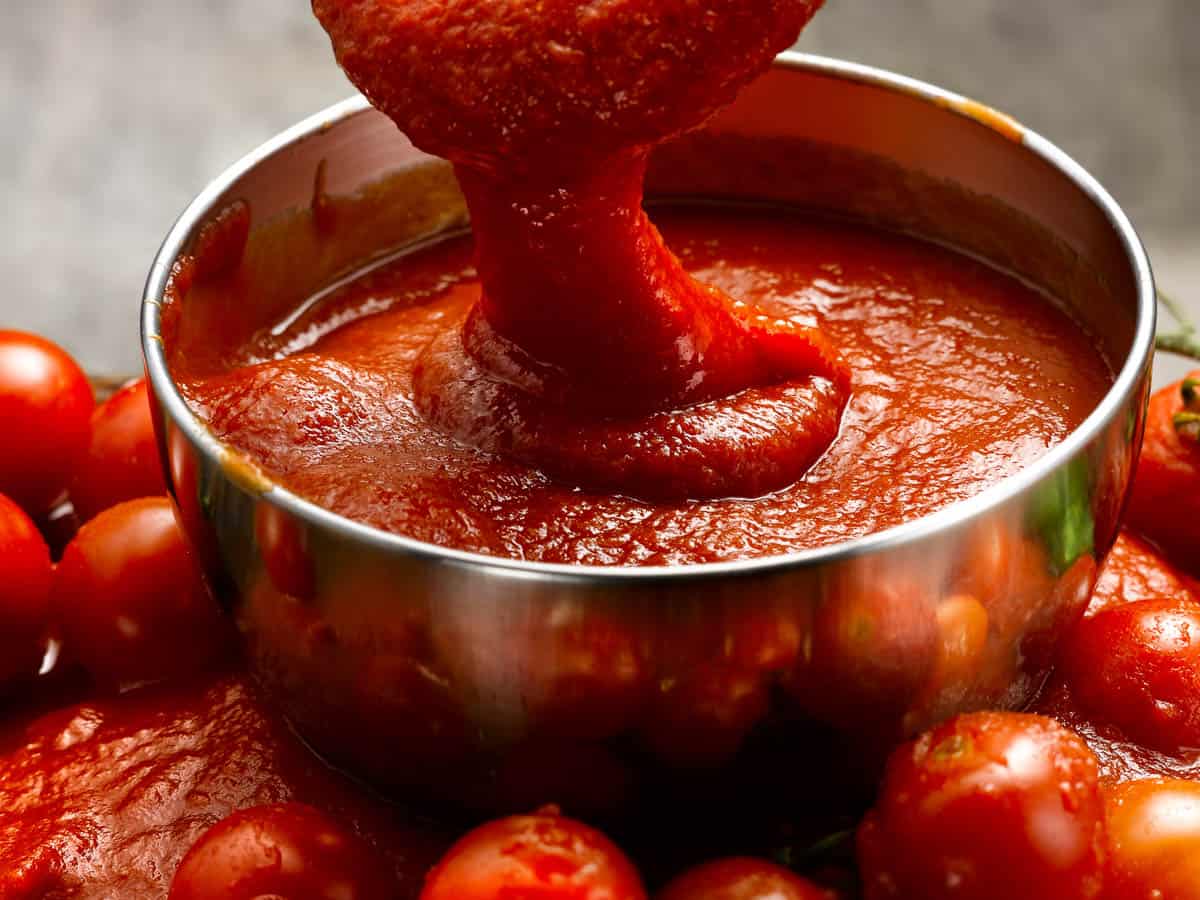 2. Tomato Puree
Tomato puree is also known as tomato passata. This thick liquid made from whole tomatoes is the easiest way to substitute marinara. It doesn't need much added and can be used as a one-to-one substitute.
The texture of the finished dish will be a bit thicker using pureed tomatoes. But, it works great as a pasta sauce. Throw in some fresh red bell pepper and create a complex affair of bold flavors.
Tomato Puree works best as a substitute in dishes that need substance. If you need an idea, try out this Meat and Cheese Ravioli.
But, if you need a thinner sauce, add a cup of water. This will create the consistency you are looking for. Tomato puree is an easy addition to substitute marinara sauce in a quick recipe for pasta.
3. Canned Tomatoes
Luckily, canned tomatoes are widely available. In a pinch, you can easily use them as a 1:1 substitute for Marinara.
There is actually quite a variety of canned tomatoes available. All of them will work, but some will work better than others.
If you have a variety in your pantry, definitely use San Marzano whole peeled tomatoes - especially if the can states that it is a product of Italy. These are the same kind of tomatoes typically used in real Marinara sauce.
Other canned options include crushed tomatoes or diced tomatoes.
Because canned tomatoes are typically just that - canned tomatoes, you will need to add some additional ingredients in order to achieve a taste that is similar to Marinara sauce. If you have canned tomatoes on hand, continue reading to see how you can make your own homemade marinara sauce.
4. Canned Tomato Sauce
If you can find a can of tomato sauce buried in the back of your cupboard or pantry, you can easily make something that is very similar to marinara sauce.
Once you add some herbs like basil, a bit of olive oil, and salt and warm it in a pot on the stove, you have yourself a great alternative.
The only downside is that tomato sauce has been pureed to a smooth consistency. If you like chunks, you're better off using canned tomatoes.
5. Fresh Tomatoes
You can't beat the flavor of fresh tomatoes, especially if they come straight from your own garden. If using fresh tomatoes, you'll want to use what is known as a "paste tomato". They are unique because they have thick walls and minimal seeds. Paste tomatoes are easily recognizable because of their long, oval, or teardrop shape. Roma and San Marzano are the most common ingredients.
Fresh tomatoes are a great substitute for Marinara sauce, however, some work is needed to make them resemble the taste.
First, you must remove the peels. You can do this by peeling them with a paring knife or vegetable peeler. Or, you can score the bottom, blanch them in boiling water, instantly cool them in an ice bath, and the skins should slip right off.
You will also need to add a fair amount of salt, olive oil, and fresh or dried herbs as well as cook them down for a long time to remove the excess water. But again, this is possibly the best-tasting substitution you will find.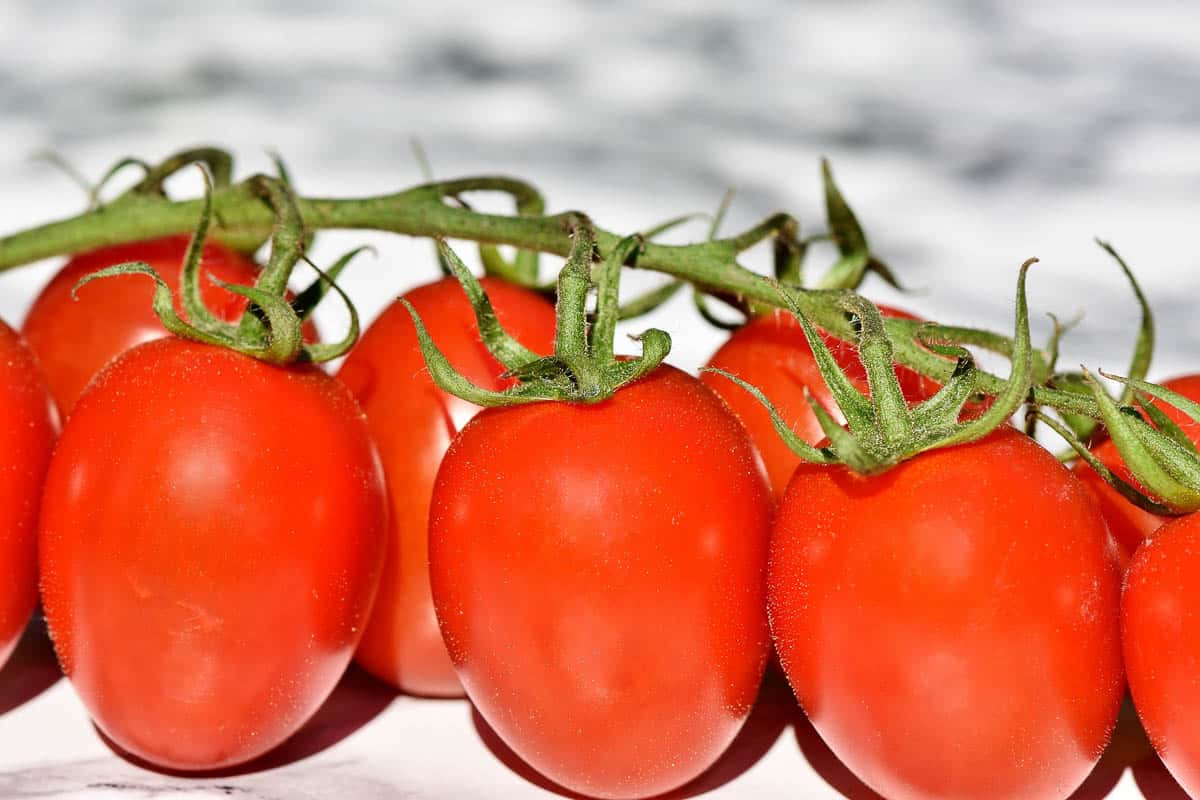 6. Tomato Soup
Canned tomato products do not get the credit they deserve for versatility. A can of tomato soup is one of the better options to substitute for a cup of tomato sauce.
Tomato soup is made with fresh tomatoes. It is often considered a lighter meal but it has a similar taste to marinara sauce. Many people, including myself, consider tomato soup to be a dipping sauce for items like grilled cheese.
On its own, tomato soup would act as a thin sauce if being used as a substitute for Marinara. It is missing the consistency of Marinara because it contains excess water that needs to be removed.
To thicken, place the soup over medium heat and add some tomato paste. Start with a tablespoon and continue increasing the amount until you've reached the desired consistency. This will create a savory blend of tomatoes and less water content.
On the other hand, if you're using condensed tomato soup as a substitute, simply add less water than the instructions indicate. This will result in a sauce that is thicker than soup, but closer in consistency to Marinara.
Don't forget to add in a bay leaf or other seasonings for different flavor enhancement. Tomato soup can become a complex sauce when doctored up with the right ingredients and one of the easiest substitutes for marinara.
7. Tomato Juice
Fresh tomatoes are used to develop tomato juice. Then, spices, onion, and celery are added for flavor. The base of tomato juice is very similar to marinara.
Using tomato juice is a great way to replace marinara. Tomato juice can create a semi-smooth tomato sauce with a few ingredients.
Tomato juice is often part water so you will need to add a can of tomato paste for a thicker consistency. Stir both ingredients together and heat slowly until combined. Once they have the desired thickness, give it a taste. It is likely you will not need to add much more. This makes tomato juice an excellent tomato sauce substitute.
8. Tomato Paste
Tomato paste is concentrated tomatoes. It can be great in place of tomato sauce. Adding your own seasonings can make tomato paste even better in place of tomato sauce.
First, you will need to make the paste into a thinner texture. Add one cup of water to one cup of tomato paste and blend well. Using equal parts of each will get you a desirable smooth consistency.
Add in garlic, bay leaves, and other fresh herbs. Then, enhance the flavor further with a little pinch of salt and a drizzle of extra virgin olive oil. These additions are a great way to substitute tomato paste for marinara sauce.
9. Ketchup
Tomato ketchup is another product made from tomatoes. Definitely not the best option, but it is a good substitute in a pinch. You can use ketchup as a one-to-one ratio for marinara, however, the only type of person who may enjoy this would be a ketchup-loving kid.
Ketchup is a bit tangier than a simple tomato sauce and has much more salt as well as sugar or corn syrup. It also has a thick texture. Using ketchup as a substitute for marinara will give you a thinner sauce that is still quite tasty. But again, you are most likely better off just making a run to the store at this point.
Quick and Easy Homemade Marinara Sauce
Making your own Marinara sauce is a great way to substitute a classic version of your favorite sauce. You can choose the type of tomato used, the seasonings, and any other ingredient you may need.
If you have a home garden, this is a great option. Growing specific fruits and vegetables for your sauce ensures the ingredients are fresh. You will also know exactly what has been used in the growing process.
Fresh ingredients are a great way to avoid pesticides or preservatives. Controlling what goes in your body can provide you with peace of mind. It can also provide fresh and savory flavors for your homemade sauce.
Homemade Marinara sauce is also great for dipping. Used for appetizers such as mozzarella sticks, it can be a great way to distract kids while you are cooking a meal. Paired with a glass of red wine, you can have the ultimate setup for creating a great family meal.
Ingredients needed:
A large can of tomatoes, preferably San Marzano tomatoes
Olive oil - a long drizzle
Garlic Cloves - several cloves to the whole bulb, depending on preference
Fresh onion, minced - amount depends on preference
Italian Seasoning Blend - fresh (use a lot) or dried (start with a teaspoon and add more), use mostly basil with some oregano and marjoram
Salt and Pepper - to taste
Simply add all of the ingredients to a large pot and simmer until you have the desired consistency. Continue to taste the sauce and adjust the seasonings as desired!
Substitute Guide for Marinara Sauce
Here's a quick summary of what you can use if you run out.
Marinara Sauce Substitution Graphic
Substitute for Marinara Sauce Table
| Substitution | Qualities |
| --- | --- |
| Pizza Sauce | Similar flavor profile to Marinara sauce, smoother and thicker consistency |
| Tomato Puree | Will need to add seasonings to enhance flavor, texture is similar to Marinara |
| Canned Tomatoes | Best if peeled Italian San Marzano tomatoes are used, will need to add seasonings to enhance flavor |
| Canned Tomato Sauce | Smoother and thicker than Marinara, must add seasonings to enhance flavor |
| Fresh Tomatoes | Best if paste tomatoes are used and skin is removed, must cook down to remove excess liquid, will need to add oil and or seasonings |
| Tomato Soup | Thick and chunky soup works better than creamy, decent flavor |
| Tomato Juice | Much thinner than Marinara sauce, will need thickening and flavor enhancements |
| Tomato Paste | Much thicker than Marinara sauce, needs to be thinned and have seasonings added |
| Ketchup | Not the best choice, but could work if wanting to use Marinara as a dipping sauce |
Substitution Summary
The best marinara sauce substitute is arguable. From pizza sauce to ketchup the options are endless. Who knew a plain tomato could create such a wide variety of meal options.
No pasta dish is complete without the addition of marinara sauce or the excellent alternatives. The option to add in extra flavor is a great way to enhance basic tomato sauce.
Red pepper flakes, fresh basil, minced garlic, a pinch of sugar, or a small squeeze of lemon juice can each be added to give you the taste you have been searching for.
Some will even argue that adding sour cream or cottage cheese can give you a creamy spaghetti sauce. Experimenting with new ingredients can influence the entire dish and allow you to create a new family favorite.
Finding the best substitute for marinara sauce can be a fun way to try new flavors and dishes.
If you are looking for some great Italian recipes to try, you can make your own Easy Bolognese Sauce. Looking for a great Vegetarian option? Try our favorite Roasted Vegetable Lasagna.
Do you have any other tried and true substitution recommendations? Please let me know in the comments!