Gruyere is among the most distinctive cheeses in the world. And while that makes it delicious, it also makes it difficult to find a suitable Gruyère cheese substitute.
Each recipe may require a different Gruyere cheese alternative, depending on the intended flavor and texture of the dish. To better understand when to choose which substitute, it helps to first understand some basics on Gruyere cheese.
Below is a brief history on this unique (and surprisingly, heavily regulated) type of Swiss cheese. If you are already familiar with what makes Gruyere cheese unique, or simply want to skip ahead to the best alternatives, please see the 11 Best Substitutes for Gruyere Cheese section that follows.
Jump to:
What to Know Before Choosing a Gruyere Cheese Substitute 
History
Gruyere cheese is a smooth Swiss cheese named after the town of Gruyeres in Fribourg, Switzerland. It is one of many mountain cheeses made throughout the Alps, and it is the most consumed cheese in Switzerland.
Milk is provided by pasture-raised cows that graze freely along the Fribourg Prealps, located in the foothills of the Swiss Alps. The natural grazing gives the Gruyere its nutty and creamy flavor. This makes it unique and difficult to fully duplicate in other regions.
Gruyere received an Appellation d'Origine Protégée (AOP) designation in 2001. To achieve this designation, producers must adhere to strict regulations that ensure quality and authenticity of the final cheese.
Flavor Profile and Melt
Gruyere is a smooth cheese with a texture that ranges from semi-firm to firm. It is made in copper vats from whole cow's milk. Rennet, a special enzyme, is used to coagulate the milk and make thick curds. Curds are then pressed into molds, placed on wooden shelves, and aged in temperature-controlled cellars for a minimum of 5 months and up to 2 years.
The taste of the cheese is nutty and creamy. When the cheese is young, the flavor is milder and sharper. Young cheese melts more readily and is better for cooking. Older or more aged cheese is better for cheese boards or charcuterie. 
Cooking with Gruyere
Gruyere cheese is a known staple in many recipes. These include fondue, croque monsieur, French onion soup, au gratin dishes, and of course, paired with wine.
Gruyere Fondue
Fondue is a dish made by warming Gruyere and Emmental cheeses in a special pot with wine, cognac, or brandy. It is then served tableside and eaten with bread, fruit, and other foods that can be dipped into the decadent cheese mixture. 
Croque Monsieur
Croque monsieur is a French ham and cheese sandwich. It comes from the French verb croquer which means to bite, and monsieur which is gentleman. 
French Onion Soup
French Onion soup is another dish that uses Gruyere cheese, although it is common to use substitutes. One thing that is never substituted, however, is the broth.
French Onion soup is always made using yellow onions and beef stock. Ordinary onion soup, on the other hand, can be made with any kind of onion or broth.
In addition to grated Gruyere cheese, French soup is often made with caremalized onions and sliced baguette bread. Parmesan, provolone, and fontina are sometimes blended into the Gruyere cheese, depending on the chef's preference and the region it is served. 
Au Gratin and Baked Dishes
In addition, you will often find Gruyere in au gratin dishes, baked egg dishes, sandwiches and on cheese boards or charcuterie to name a few.
Paired with Wine
Gruyere cheese is often paired with white wine. Most people prefer the taste of Gruyere to be paired with the acidity and sweetness of white wine– not red. Still, personal preference will dictate which wine you (and your guests) enjoy with Gruyere the most.
Often, Gruyere is just one of several cheeses served with wine. In this case, it is common practice to serve several different white wines as well. Since each wine will have a unique balance of sweetness and acidity, guests have a chance to mix and match flavors as like.
Substitutes for Gruyere Cheese
Below are 11 of the best cheeses that are most often used as a substitute for Gruyere.
Comte Cheese
Comte is the best substitute for Gruyere cheese. It is basically the same as Gruyere in melting, texture, and taste with a similar flavor profile. This is a firm cheese also known as French Comte or Beaufort cheese.
It originates from eastern France that borders Switzerland in the Franche-Comte region and is perfect for cheese plates and charcuterie. The flavor is nutty with melting characteristics. It is most similar to Gruyere in both texture and flavor making it a perfect substitute for Gruyere.
Substitution: Use a 1:1 ratio.
Emmentaler Cheese
More commonly known as Emmental cheese, Emmentaler is considered the traditional Swiss cheese and has origins in Emmental, Switzerland. It is a medium-hard cheese with a sweet aroma and somewhat buttery, nutty flavor.
It is traditionally made in copper vats with raw, unpasteurized milk. The "eyes" or holes in the cheese are from the carbon dioxide emitted in the aging process.
Traditional Emmentaler cheese in Switzerland must be aged for a minimum of 4 months. This is known as the "classic" Swiss cheese. If it has aged for 8 months, it is Reserve Emmentaler and at 14 months of aging it is Premier cru.
The smaller wheel is how baby Swiss came about. Other cheese makers found ways to tweak the recipe for a much larger production.
Substitution: Use a 1:1 ratio.
American Swiss Cheese
American Swiss is another good substitute for Gruyere even though it has a slightly different flavor. The flavor is buttery, though not quite as strong as that of Gruyere. Keep that in mind when substituting in a recipe.
This is also the most affordable substitute for Gruyere and can be found in most local grocery stores.
Substitution: Use a 1:1 ratio.
Fontina Cheese
Fontina is sometimes called the "Italian version of Gruyere" and dates back to the 12th century in the Aosta Valley of Italy. It is a semi-soft cheese with a strong flavor and pungent aroma, making it a great substitute for Gruyere.
Fontina cheese varies between producers and wheels. Some are relatively mild and melt as well as Gruyere, making it a great substitute in a variety of dishes.
Substitution: Use a 1:1 ratio.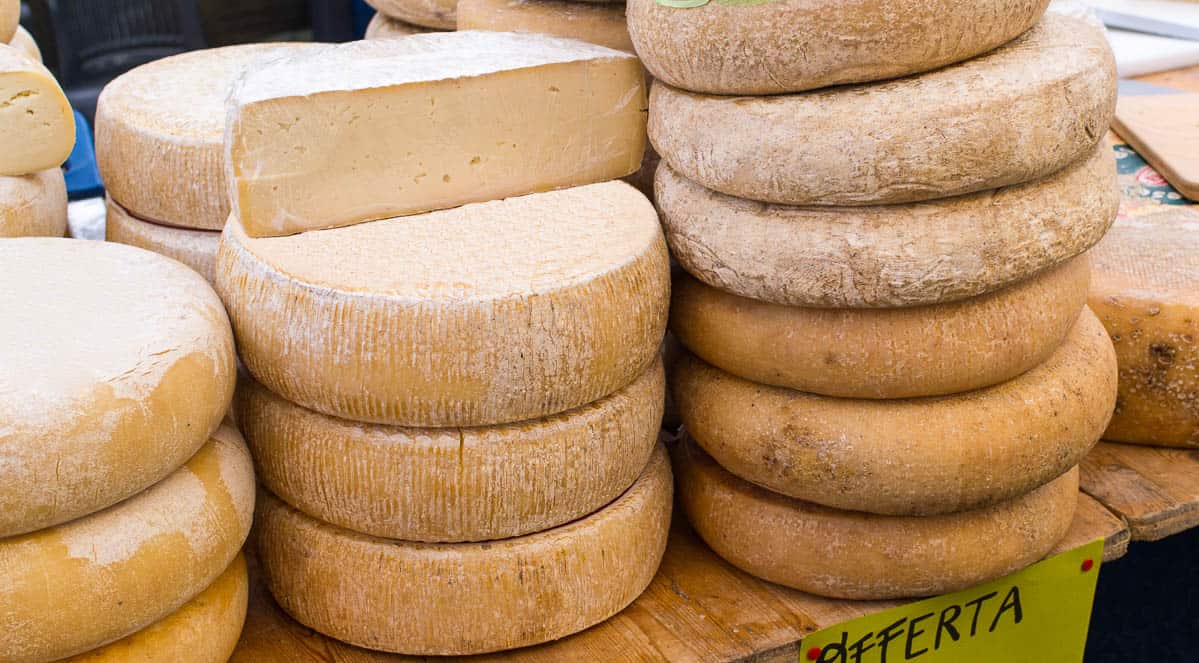 Gouda Cheese
Gouda is a cow's milk cheese from the Netherlands. It has a slightly more robust flavor, which makes it good for replacing Gruyere on cheese plates. Gouda melts well, which makes it a good choice for creamy sauces, soups, and dishes like mac and cheese.
Some note that gouda has a distinct and "different" taste compared to Gruyere. You may not like this particular Gruyere substitute. However, it might be worth a try (preferably on a night you aren't entertaining guests!)
Substitution: Use a 1:1 ratio.
Jarlsberg Cheese
Jarlsberg is a Swiss style cheese from Norway with a subtle nutty flavor. It is a semi-hard cheese with medium to large "eyes" or holes. The holes result from gas bubbles that are emitted from bacteria during the aging process. It is a mix between Gouda and Emmental.
Substitution: Use a 1:1 ratio.
Raclette Cheese
Raclette is a creamy Alpine cheese. This is a good melting cheese you can use in fondues, gratin dishes, and hot sandwiches. Raclette is a versatile cheese, bringing fruity and sweet notes to the table.
Substitution: Use a 1:1 ratio.
Appenzeller Cheese
Appenzeller is touted as the most flavorful cheese in Switzerland. It is produced by hand as it has been for the last 700 years. Appenzeller cheese can be produced only in a certain area of northeast Switzerland. The secret to the flavor of this cheese is its herbal brine– the recipe of which is closely guarded.
Classic Appenzellar is aged 3-4 months and has a mildly spicy flavor. The Surchoix variety is aged 4-6 months and has a stronger, spicier flavor. The Extra is aged 6 months or longer and has the spiciest flavor of the 3.
Appenzeller melts best, making it a perfect substitute for Gruyere cheese in soups and fondue.
Substitution: Use a 1:1 ratio.
Parmesan Cheese
Parmesan is a suitable substitute being similar to Gruyere in melting and texture. However, Gruyere has a richer flavor.
Substitution: Use a 1:1 ratio.
Cheddar Cheese
Cheddar has a sharper, saltier and a much different taste and texture than Gruyere. It can always be used to replace Gruyere, but it will almost always change the taste of the dish. For this reason, it is not a good substitute unless there are no other options.
Substitution: Use a 1:1 ratio.
Le Brouere Cheese
This would not be complete without mentioning Le Brouere cheese. This is a hard yellow cheese originating in Lorraine, France. Some consider this the best substitute to Gruyere cheese.
However, it is known for more than that. In 2010, the SpaceX Dragon was the first commercial spacecraft to be launched and recovered in Earth's orbit. Notably, there was "secret" cargo on board.
Drumroll… It was a wheel of Le Brouere cheese! Why? you might be asklng. It was a tribute to SapceX Founder Elon Musk's favorite Monty Python skit, Cheese Shop.
This makes Le Brouere a great substitute for Gruyere cheese, if for no other reason because it comes with an amusing story to tell!
Substitution: Use a 1:1 ratio.
Vegan Substitute for Gruyere Cheese
Avoiding dairy because of allergies or health concerns? Try this delicious vegan and plant-based substitute for Gruyere cheese!
Homemade Vegan Gruyere Cheese Recipe
It's hard to perfectly replicate the taste of authentic Gruyere cheese. However, this recipe gets close. Added bonus: It's totally free of animal products, making it 100% vegan and plant-based diet approved.
Ingredients:
1 cup water
2 tablespoon apple cider vinegar
2 tablespoon tahini paste
2 tablespoon nutritional yeast
2 tablespoon oats
4 teaspoon cornstarch
2 teaspoon onion powder
1 teaspoon garlic powder
¼ teaspoon salt
Instructions:
Using a blender or food processor, combine all ingredients until smooth texture is achieved. Note: If using a blender, use the "pulse" mode to prevent over-blending.
Pour mixture into a medium sized saucepan.
Stir over medium heat and watch as the mixture thickens. Note: Stir smoothly and constantly to avoid burning.
Once mixture thickens, remove from heat. Stir 1 minute more.
Allow mixture to cool and firm.
This vegan Gruyere cheese substitute can be used immediately, especially for recipes that call for melted cheese. Or, it can be stored in an airtight container in the refrigerator.
Substitution: Use a 1:1 ratio.
Gruyere cheese is unique and distinctive. Generations of Swiss craftsmen have dedicated their lives to perfecting this delicious Alpine cheese. There are many cheeses you can use in place of Gruyere, and even a plant-based recipe or two that will deliver a suitable vegan alternative.
Experiment with different options to see which you prefer!
Do you have any other tried and true substitution recommendations? Please let me know in the comments!