Chicken and steak are undoubtedly two of the most popular meats in the market. Steak and chicken are essential parts of many people's diets.
But, how do they compare? Is there a better meat when it comes to cooking, health, taste, etc.? Here are the facts. 
Jump to:
Nutritional Facts of Steak vs. Chicken
Steak and chicken are both considered major protein sources. Both come from animal sources and provide essential amino acids. Chicken and steak are also very common choices in the health and fitness community.
Both food sources have a solid nutrition profile as they each offer a good amount of protein. People also generally pick a chicken or steak option over many types of fish. Chicken and steak are easy to cook and pair well with almost any side.  
But, chicken and steak do differ in some ways. Each choice has a few different nutritional factors to consider when comparing the two.
Nutritional Facts: Steak
There are many different cuts of beef. Steak is also referred to as "beef steak" and may include the bone depending on the option you choose.
The below information refers to a 3-ounce ribeye steak.
Calories: 199 
Protein: 23.8g
Fat: 10.8 
Sodium: 50.2mg
Carbohydrates: 0g
Fiber: 0g
Sugars: 0g
Nutritional Facts: Chicken
Chicken meat can also come in many different forms.
The nutrition facts below are for a 3-ounce serving of boneless, skinless, grilled chicken breast.
Calories: 128
Protein: 26g
Fat: 2.7g
Sodium: 44mg
Carbohydrates: 0g
Fiber: 0g
Sugars: 0g
In the initial review, it appears boneless skinless chicken breast is a healthier option compared to ribeye steak. Chicken is lower in calories, higher in protein, and has less fat and sodium. Neither protein has fiber, carbs, or sugars. With zero grams of sugar and carbs both meat options can make a great start to a healthy meal.
Each of these aspects is important to consider when you are searching for the best option in terms of health and the type of protein you should choose.
But, there are good things about both types of proteins that you may want to consider before making your final choice. 
Cuts of Meat
Beef Cuts
There are over 60 different types of beef products. The variety of beef choices makes it a top contender for many different meals.
Consider the options for ground beef, this cut of beef alone is available with many different percentages of fat. You can get as much fat or as little fat as you want at any local grocery store.
The same can be said for cuts of steak. Depending on your recipe or health needs, there are lean beef options that have many different health benefits. 
Chicken Cuts
A chicken is obviously a much smaller animal than a cow. But, there are still a few different cuts of chicken available. You can eat chicken breast, chicken thighs, drumsticks, or wings.
However, all cuts of meat aren't the same. Some cuts of chicken meat are much healthier options than others. 
Chicken is also available free-range. Free-range chicken is chicken that has outdoor access.
Recent studies have shown that free-range chicken is lower in fat and higher in protein and other minerals. But, free-range chicken or organic chicken options are usually more expensive.  
Health Benefit Comparison
Steak
Steak provides many important nutrients to the human body. For example, steak is high in iron. Iron helps red blood cells deliver oxygen. Steak is the best option for those facing anemia, especially considering how easy steak is absorbed by the body. 
Steak is also a great source of Vitamin B-12, Zinc, Vitamin B-3, and Phosphorus.
Some researchers suggest that eating too much red meat can harm your cardiovascular health and LDL cholesterol. If you notice increased body weight or other overall health issues, it may be a good idea to limit beef consumption.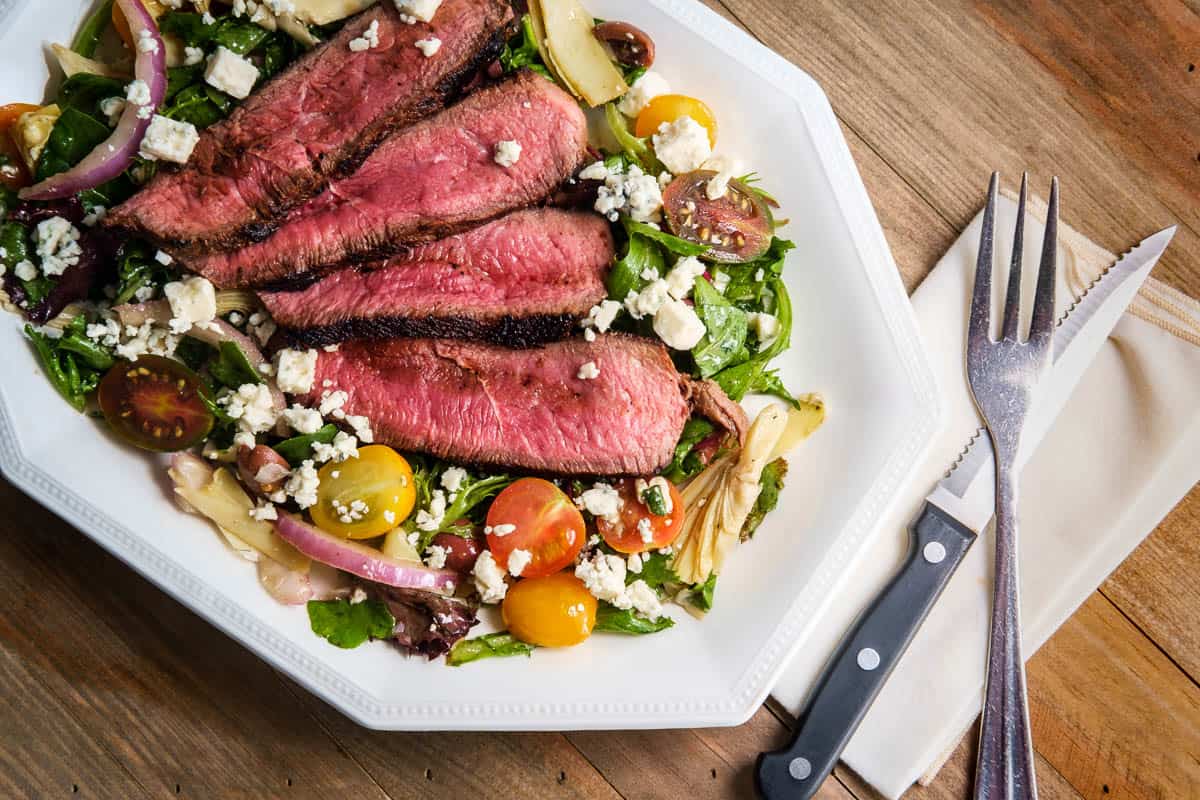 Chicken
Boneless, skinless, chicken breast is white meat and the healthiest option of the chicken cuts. But, many say that breast meat lacks flavor and can dry out quickly. However, darker meat such as the thigh or drumstick contains more calories. 
If you opt for products with chicken skin, you are adding additional saturated fats. In chicken skin, 42% of the fats are monosaturated fats while 21% are polyunsaturated fats. Depending on your health goals, choosing skinless chicken breast is likely your best option.
Chicken is one of the top listed protein options for weight loss and an overall healthy diet. Boneless skinless chicken breast is also low in grams of fat which is important for those looking to lose weight. Chicken is an excellent source of protein and can help reduce the risk of heart disease.
Taste Differences
When it comes to cooking and taste, many people prefer steak. Making a tasty steak can be easy with the right fat content and not much salt. Steaks offer a great taste on their own and don't need much enhancement compared to chicken.
The amount of fat on your steak will affect the flavor. While lean meat is a healthier choice, many prefer a nice piece of fat on their steak.
Steak also can be cooked from rare to well done. Having a variety of doneness is important to many people. The flavors, texture, and chewiness of steak definitely vary based on how well done it is. Personal preference definitely plays a large role in the quality and taste of steak.
On the other hand, chicken is easy to cook. It does require more seasoning but it doesn't require the same amount of attention as steak. Chicken can be baked, grilled, fried, air-fried, pan-fried, smoked, or barbequed.
A simple sauce or layering of seasoning can really make a difference in the flavor of your chicken.
Cost Considerations
There really is no substitution for a high-quality piece of steak. Steak provides essential nutrients such as b vitamins and can be used in many different ways. But, steak is a more expensive option than chicken. In January 2022, boneless sirloin steak was $10.83. In times of high inflation in the United States, some may be forced to choose cheaper options.
Chicken is a more cost-friendly choice. A pack of name-brand boneless skinless chicken breasts is $3.99 per pound. While these costs are up, they are still less than other lean cuts of meat. Chicken is easy on your wallet and still provides a great source of healthy protein.  
FAQs
When deciding between Chicken and Steak, you may have some specific questions that need to be answered.
Can Steak be a Substitute for Chicken?
Steak and chicken are both animal products. They are both nutritious foods that provide essential vitamins.
They can easily be substituted for one another in your favorite recipe. If you are all out of chicken, you can easily substitute lean red meat or other specific steak cuts for chicken.  
Which Type of Protein is Best?
The answer to this question depends on the individual. If you are trying to lose weight, chicken offers more grams of protein for fewer calories. But, less calories isn't always the goal.
Steak may be better for bulking as it has a significant amount of creatine which helps to create lean muscle more quickly. If you suffer from high cholesterol levels or high blood pressure, chicken is the better choice. 
Be sure to get professional medical advice if you have health concerns or a medical condition. Your doctor will help you to make a healthy choice based on your specific dietary guidelines.
Which Protein is best if you are sick?
You may be well aware of the most popular sick food item, Chicken Noodle Soup. Chicken provides essential vitamins and minerals that will benefit your immune system.
But, don't forget about beef bone broth. If you aren't up for eating much protein, beef broth will provide you with needed fluids. Beef bone broth will also provide electrolytes and needed vitamins such as Vitamin B6. 
Steak vs Chicken Summary
Different types of meat provide different health benefits. While steak may be the tastier pick, it also can affect your blood cholesterol or cause cardiovascular disease. But, steak is a good source of protein and contains only a small amount of trans fats. Steak is a very popular choice and for good reason. With so many different cuts to choose from, you will be sure to find something you like. If you stick to the daily value recommended for red meat, steak is a great option.
On the other hand, chicken is also an excellent choice. Nutrition experts, including the American Heart Association, often suggest boneless skinless chicken breast as the top pick for protein. Chicken is a budget-friendly choice that provides essential nutrients and is low in calories. While some argue that chicken breast is easily dried out, it is important to know how to cook it properly. Adding a few tablespoons of olive oil and seasoning can make all the difference. 
Both chicken and steak are complete proteins and can be an excellent part of any meal. Pair chicken or steak with vegetables and whole grains for a nutritious full dinner. Both proteins offer good things in terms of health and nutrition. Experiment with both chicken and steak to receive a wide variety of benefits to both your tastebuds and your overall health.
Do you have any helpful information I should share with my readers that wasn't included? Please let me know in the comments!