You may find yourself making a recipe that calls for chicken base, or you may just want to amp up the chicken flavor in whatever you're making. But what if you don't have any chicken base on hand? Must you stop what you're doing and run to the store? Nope.
There are quite a few things that can add flavor to your dishes, much like chicken base would. Take a look and see if any of these substitutes work.
Jump to:
What is Chicken Base?
Chicken base is a thick, pasty liquid that's used by many chefs to add chicken flavor to their recipes. It's essentially a more concentrated form of chicken stock, as it's made from simmering and evaporating stock to create a denser ingredient.
Better than Bouillon is possibly the most well known brand of chicken base.
How it is Used in Recipes
Liquid form chicken base will add a lot of flavor to your dish. It's used in everything from jambalaya to chicken casseroles. Many people insist on adding it to any chicken soup base to intensify the flavor.
Many chefs use chicken base because it's a reliable and easy way to achieve a rich, chicken flavor. It is shelf stable, but should be refrigerated once it has been opened.
Once diluted with liquid and mixed with fresh herbs and other seasonings, it will give your dish a rich and savory flavor.
Best Chicken Base Substitutes
If you don't have chicken base available, you can find some creative substitutes for it. Here's a list of the recommended options.
Chicken Bouillon Cubes
Chicken bouillon is an ingredient made from dehydrated chicken stock, salt, seasoning, and vegetables. In its concentrated form, it can easily add a lot of flavor to your dish.
Brands like Knorr and Wyler make a chicken bouillon that comes in little cubes. They are compressed powders, and usually brittle to the touch. These little cubes are packed with flavor, as they not only have dehydrated chicken stock, but also seasonings like turmeric and parsley.
Since they are packed with the same flavor as chicken base, chicken bouillon cubes may be the best substitute.
Usually, one small cube mixed with enough water to form a paste can create an easy 1:1 substitute.
Chicken Bouillon Powder
While it's in a different form, chicken powder is the same thing as chicken bouillon cubes, packing a rich chicken flavor in a fine powder. The plus side here is that it might take less time to mix into a recipe than bouillon cubes.
Either way, you're going to find a rich chicken base flavor in this ingredient too, which is a staple in many kitchens.
To make a 1:1 substitute for chicken base, simply combine the powder with equal parts water.
Adding just a teaspoon of granules to liquid-based recipes like chicken noodle soup can really flavor of your dish.
Beef Base
If you're looking for a high concentration of flavor to add to your recipe and don't have chicken base, beef base can actually be a great substitute. Yes, it won't taste like chicken, but it can still add a burst of flavor to whatever you're cooking.
You can use beef base as a 1:1 substitution. Just make sure you start with a small amount and taste before adding more.
Other Bouillon Flavors
Bouillon as an ingredient isn't just limited to chicken. In fact, brands like Knorr offer beef bouillon powder as well, which is going to be a flavor-packed powerhouse just like chicken bouillon.
We urge you to be aware that beef bouillon is going to taste different than chicken base. It will likely provide a fattier flavor than chicken base. If all you have is beef bouillon, only use it as a replacement if it will work for your specific recipe.
There's also tomato-chicken bouillon, which is going to most definitely add another dimension to your dish. In pastas and jambalayas, this is a great option to substitute for chicken base.
For the vegetarians and vegans out there, many brands also make a vegetable bouillon. This will come in both cube and powder, just like regular chicken bouillon. It's made from a combination of dehydrated vegetables like peppers, onions, and carrots along with garlic, soy, and many more flavor enhancers.
Because bouillon is such a handy and versatile ingredient, we recommend always having some on hand. Because it is shelf stable with a lengthy expiration date, having multiple flavors will allow you to choose the best options for your ingredient swaps.
Chicken Stock or Chicken Broth
While you might not have something like Better than Bouillon chicken base available at the moment you need it, you might just have some chicken broth.
Although chicken broth is going to have a much less concentrated flavor, it's still a great option that can fill the void left by chicken base.
To make chicken stock more like chicken base, you can do two things.
First, you can add ingredients like butter, onion powder, and maybe even some seasonings like bouillon powder or umami seasoning to provide a richer flavor.
Second, you can allow it to simmer on the stove so that some of the water evaporates and the broth is more concentrated. This essentially is how you create a chicken broth concentrate.
Plus, you can make your own homemade chicken broth easily. To make your own broth, you need chicken meat and/or bones and water. If you use a whole chicken, you can shred the meat and use it for a different recipe when you're done. You'll get even more rich flavor by adding onions, carrots, celery, garlic, and a bay leaf to your homemade broth.
Granted, its much easier to drive to the store to buy chicken base than it is to make homemade broth.
Vegetable stock
Vegetable broth can work as a substitute for chicken base if it is doctored up a bit.
It is typically made just like any other stock – by simmering veggies under low heat for a long period of time.
You can usually get away with this as a direct substitute, using the same amount of vegetable stock as chicken base if only a very small quantity is needed, but it's not going to have as rich of a chicken-like flavor.
You might want to supplement the veggie stock substitute with extra seasonings like onion powder, or even Ramen noodle chicken flavoring.
Vegetable stock is also packed with health benefits, as it's a great source of vitamins and calcium. In recipes like a chicken and broccoli casserole, a splash of veggie stock can add just the right amount of flavor.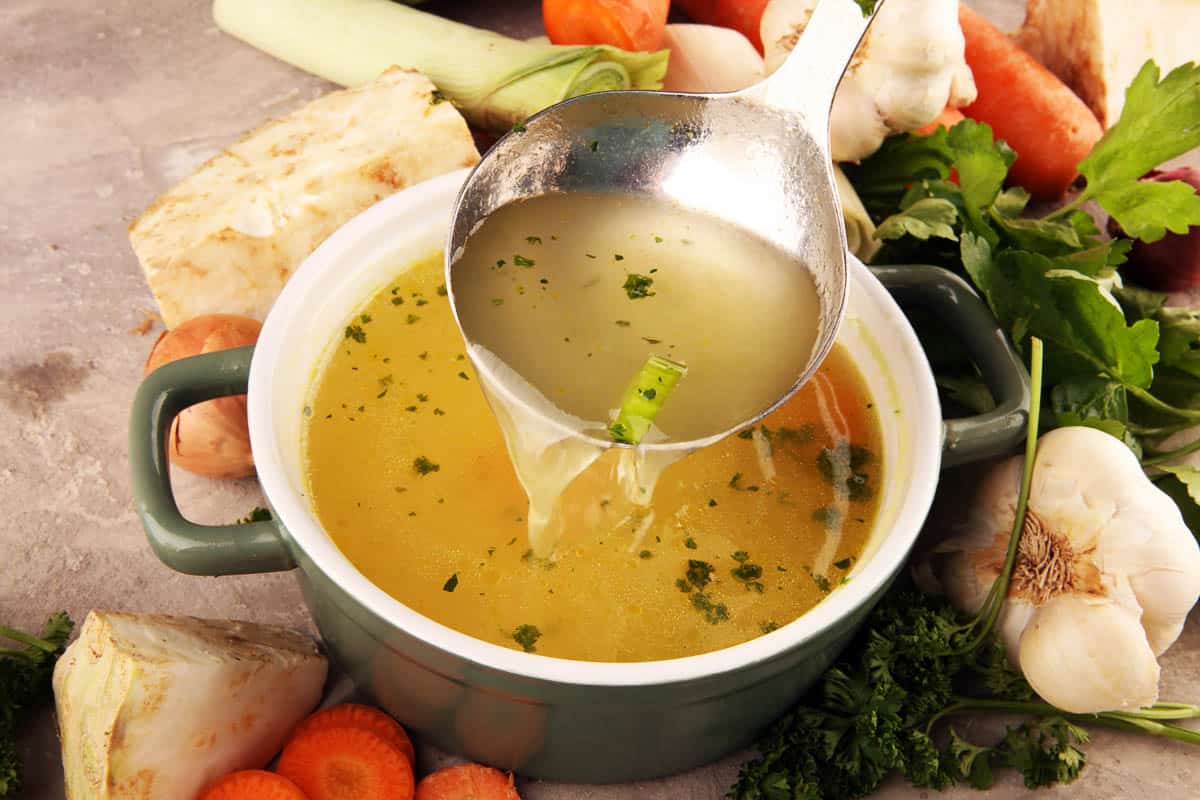 Chickpea Broth
Another unconventional option for a chicken base substitute is chickpea broth. This is the liquid found in any can of chickpeas, otherwise known as garbanzo beans.
Much like vegetable stock, chickpea broth is also vegan, but it packs a uniquely robust flavor. This liquid, also known as aquafaba, actually has a wide variety of uses and even works as an egg substitute!
Chickpea broth may taste different than chicken base, but the interesting flavor may actually enhance the overall flavor of your recipe. Considering lots of vegan chicken products use garbanzo beans as a direct substitute for chicken, it may actually work for your needs.
As a bonus, chickpea liquid is a great source of fiber and nutritional carbs.
If you have other types of beans like kidney beans or black beans, the liquid from these cans can also be used as a substitute for chicken base. They just might be a little more pungent and flavorful than chickpea liquid.
Soy Sauce
Soy sauce is going to add a really salty flavor to anything you have it with. That's why it's a popular substitute for chicken base. While it won't be inherently chicken flavored, it will certainly add some saltiness to your dish, which is why many chefs reach for it in place of chicken base.
We recommend using soy sauce sparingly because it has a really strong flavor. It's great in conjunction with less flavorful liquids listed here, like chickpea broth.
While soy sauce is pretty high in sodium, you won't need to use that much of it when using it as a chicken base alternative.
Mushroom Stock
Another great flavorful option to replace chicken base is mushroom stock. Mushrooms are known for their rich and robust flavor. Although it won't taste exactly like chicken, it will be sure to add a great flavor to and will most likely compliment your meal.
Mushroom stock is made from mushrooms and a variety of vegetables like onions and bay leaves. To intensify the flavor, you would need to simmer it for a long time to make a more concentrated solution packed with mroe flavor.
Alternatively, you can rehydrate a variety of dehydrated mushrooms and use the liquid to help flavor your dish. You could even dice up the hydrated mushrooms and mix them in as well.
Beef Broth
A good substitute for chicken base can also be beef broth. You must keep in mind, however, it will have a much different flavor than chicken base and any kind of liquid broth will be much less concentrated than a base.
That being said, if you need a meaty splash of flavor and beef broth is the only option available, it may work for your needs.
White Wine
Using white wine may not seem like a logical choice for a chicken base substitute, but in fact it can totally save you in a pinch and provide a unique flavor profile.
If you're looking for something to add depth and flavor to your recipe, white wine might work, especially in small quantities.
Dry white wine is a great chicken base substitute that can add some zest to your dish. It will be a little more acidic than traditional chicken base.
Coconut Milk/Water
While it's got a great flavor, it's no doubt going to taste different from traditional chicken base.
Coconut milk can add a unique flavor to pasta dishes, risottos, and more. It will work best in creamy type recipes.
Coconut milk can also work as a chicken base substitute for curries and sauces, but just be aware that it's going to have a different flavor than chicken.