Skirt steak is one of the lesser-known cuts of beef. But, it has risen in popularity both in restaurants and recipes in recent years.
If you want to make a delicious recipe that calls for skirt steak but can't seem to find it, there are a lot of great substitutes.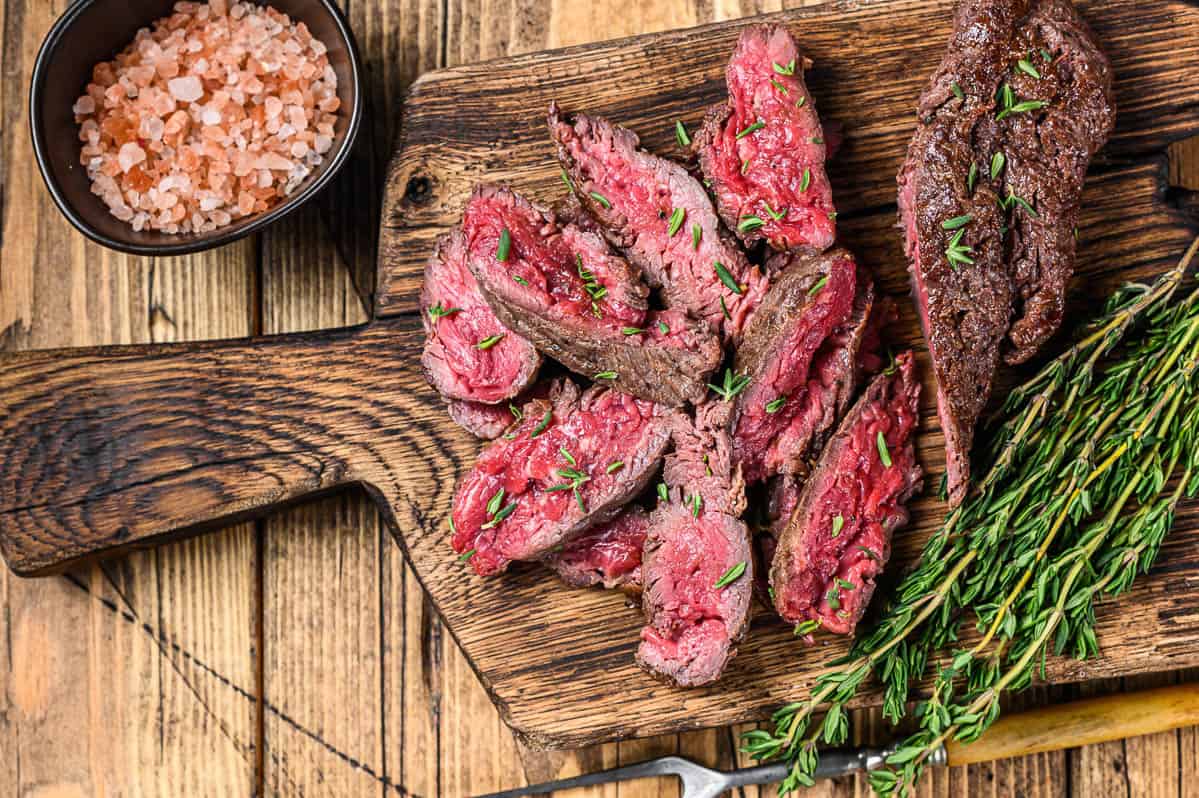 Jump to:
What is Skirt Steak?
Learning about this cut of beef is important. Understanding what makes it great will help you to decide what option is the best substitute.
Skirt steak comes from the plate primal just below the rib of a cow. The skirt can come from the inside or outside portion. The outside skirt is a bit thicker and has a nice shape. The inside skirt is a bit smaller and tougher than the outside.
Skirt steak is very flavorful. It is a tougher cut due to the connective tissues. It has a thick grain and a good amount of fat. It is a long cut of beef known for its great flavor.
How to Cook Skirt Steak?
Skirt steak can be grilled, broiled, or cooked using a cast-iron skillet. Whatever method you choose, make sure the cut should be cooked with high heat. It will cook quickly and should not be cooked past medium-rare. Anything more than medium-rare will be too tough to enjoy.
Skirt steak is a great choice for fajitas, tacos, or grilled alongside vegetables. It is a top-cut choice for carne asada. Skirt steak also is a great option to stuff as it is cooked quickly. It provides a strong beefy flavor without a lot of help.
This specific cut of beef is a great option for your dinner, but, it can be easily substituted if needed.
Best Skirt Steak Substitutes
With eight primal cuts of beef, there are many options to choose from. It is important to understand the different cuts of beef and what they offer to your recipe.
The best substitutes for skirt steak will have similar attributes including their toughness level created by the connective tissues. Choosing cuts with similar fat content will also create tender meat with rich flavor.
Flat Iron Steak
Flat iron steak has a few different names such as butlers' steak, feather blade steak, or top blade steak. It comes from the chuck shoulder primal of the cow. Flat Iron steak has a rich and savory flavor.
This cut is extremely versatile. It can be slow-cooked in a smoker, grilled, or broiled. It can also be pan-fried.
Flat Iron steak can also be made as a traditional steak. This choice holds seasoning well and can transform easily to fit into any meal. Additionally, as it comes from the cow's shoulder it is fairly inexpensive to buy. It is a solid choice for the budget-conscious.
Try Flat Iron Steak in your beef fajitas. It will soak up all of the amazing lime juice and give an intense flavor you are sure to love. Need a recipe? Try these Easy and Delicious Steak Fajitas.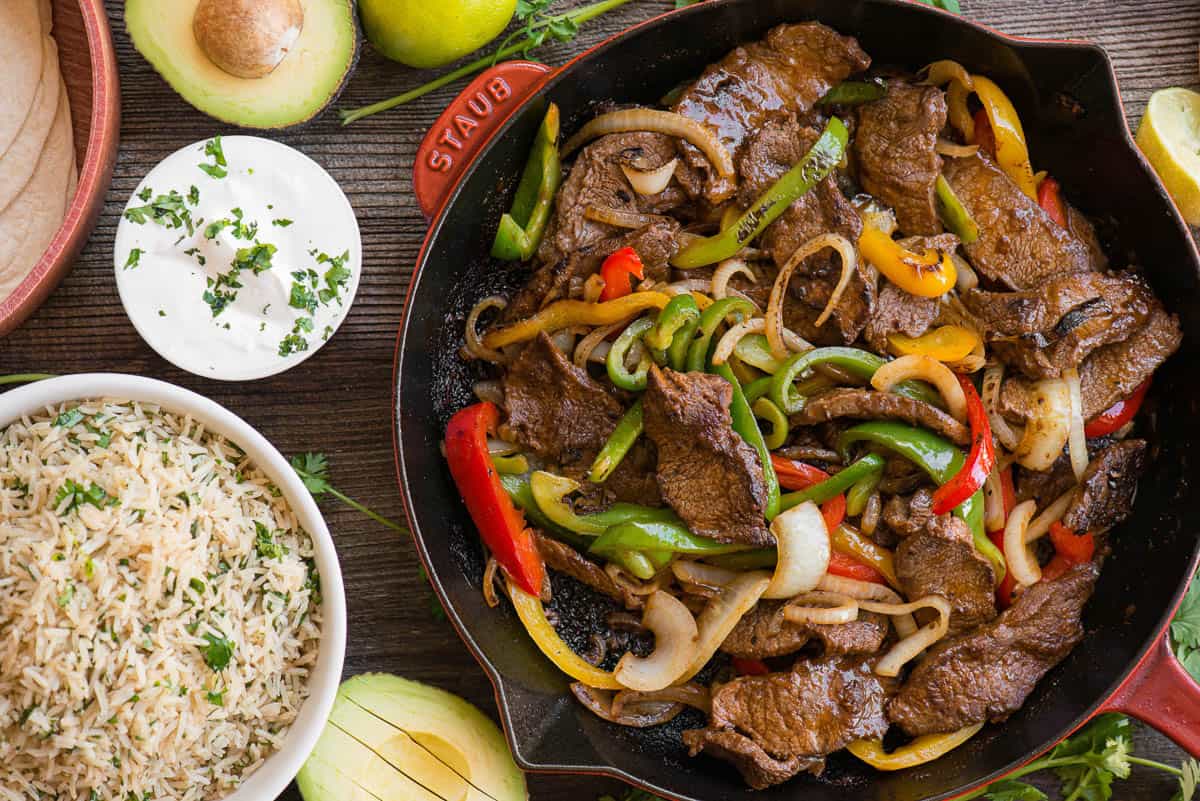 Hanger Steak
Also known as butcher's steak or hanging tenderloin, hanger steak is a cut from the upper belly. It is the steak cut other than skirt steak taken from the diaphragm muscle.
This cut is very tender and packed with great beef flavor. This cut isn't always popular because you can't get it in a large quantity. Your local butcher is the best place to find this cut.
Hanger steak needs to be cooked at a very hot temperature like skirt steak. It is important to make sure you wait until the steak is at room temperature before cooking. When it is at room temperature, it will cook the most evenly giving you an excellent substitute for skirt steak.
Hanger steak is best used in marinated dishes. Use Worcestershire, garlic, olive oil, and lemon juice to create a marinade. You can let the marinade sit for 6 to 24 hours. Then, use a very hot skillet or grill to cook your meat to perfection.
Flap Steak
Flap steak is another skirt steak alternative. In fact, it is often confused with hanger steak and skirt steak. Flap meat comes from the belly of the steer. It is sometimes referred to as bottom sirloin.
Flap steak is a bit bigger and cheaper than skirt steak. It is a great alternative that can save you money. Although cheaper, it is still a tender cut that provides plenty of flavor.
It is similar to skirt steak as it also has a tough texture. But, flap steak is a lean cut for those searching for a healthier choice.
Flap steak is an excellent choice to substitute skirt steak in dishes such as Mongolian beef. Soy sauce, onions, garlic powder, and dried red chilies will make an excellent sauce for your dish. Add in some stir fry vegetables and place over rice. This will be a nutritious meal even meat lovers will enjoy.
Ribeye Steak
Ribeye comes from the rib of the cow. It can come with or without the bone. This delicious steak is one of the most popular cuts of meat. It makes a great substitute because it is widely available in your local grocery store.
Ribeye can be a bit harder to cook, especially if you choose a bone-in option. The meat closer to the bone will take longer to cook.
Utilize a meat thermometer to ensure your finish temperature reaches 140 degrees Fahrenheit if your goal is a medium doneness.
If you sear your ribeye, it can be finished in under 15 minutes. But, if you choose a method such as Sous Vide it can take 2 hours or more to cook. There are a variety of cooking methods you can use to make an excellent ribeye.
Ribeye makes one of the best skirt steak substitutes because it is readily available and so tender and delicious. It can be used in meals such as this Steak Salad.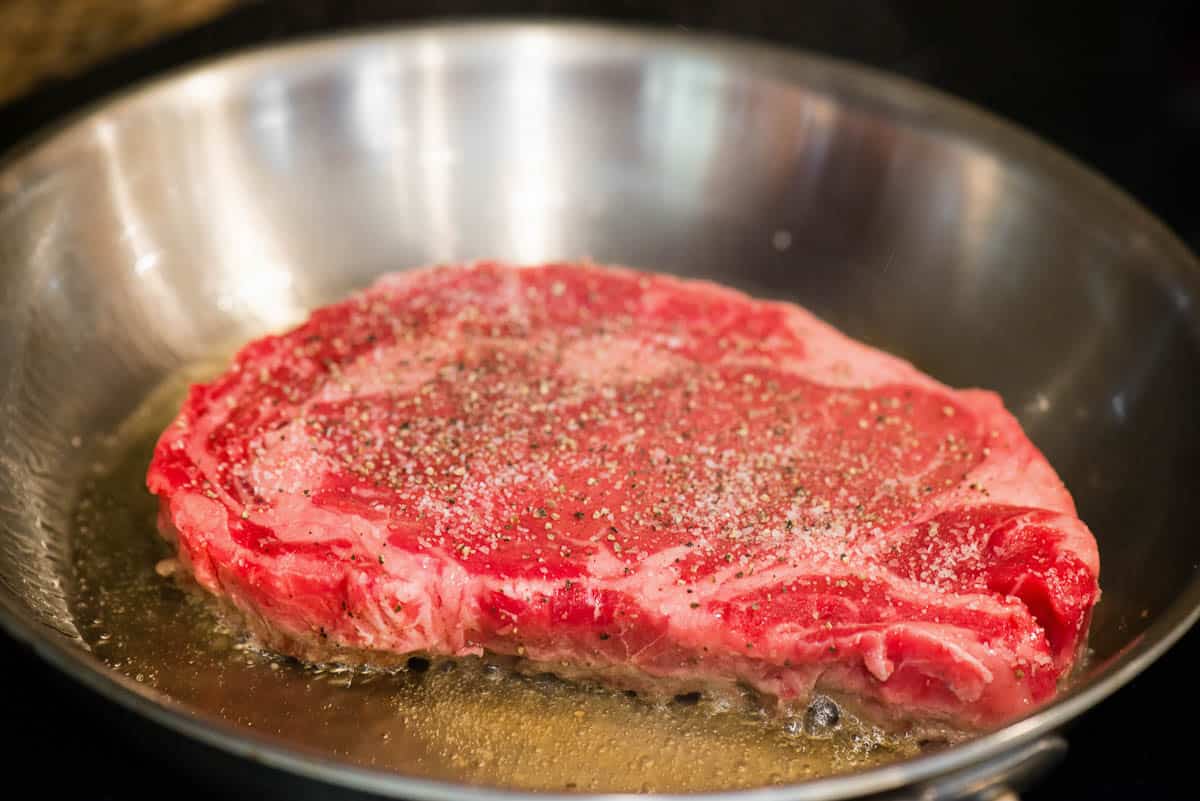 Sirloin Tip
Sirloin tip is a lean meat cut. It comes from the round primal cuts of beef. Its fat is usually trimmed resulting in a less tender steak cut.
This cut of meat will require a low and slow cooking method. Putting your sirloin tip in a slow cooker or pressure cooker is a great choice as it will break down the connective fibers. This process is longer than cooking skirt steak but it will leave you with a great substitute.
When you cook your sirloin in a slow cooker while you are at work, you can have your tacos ready in less than 15 minutes when you come home.
Sirloin Tip is a good alternative to skirt steak as it has a loose grain. The lack of fat doesn't mean a lack of flavor. Amp up your sirloin tip with a delicious marinade. Sirloin steak can be a great option for tacos.
London Broil
This cut of beef was once made with flank steak. That is what makes it one of the best flank steak substitutes. But, the London broil has evolved into many other lean-cut beef options. Basically, London Broil is a cut that comes from the sirloin or round cuts of beef.
London Broil is a little bit of a tougher cut. It is lean and thick especially compared to the thin slices of strip steak. Although it is a flank steak alternative, it is also a good choice to replace skirt steak. London broil is cut into pieces. It will take on the flavor of whatever it is being cooked with.
London Broil can be quickly cooked under the broiler or grilled. Top with coarse ground salt and fresh garlic. These ingredients will dissolve into the meat giving it a great flavor. Pair with any savory sides for a delicious dinner.
Tri-tip Steak
Tri-tip is a west coast favorite. It is a triangle steak that comes from the bottom of the sirloin. While it is a popular beef cut in states such as California, if you live in the south you may have to go to specialty butcher shops to find it.
Tri-tip is easy to cook and can be prepared in many ways. But, they can dry out easily so watch out for your cook time and temperature.
The best way to ensure a juicy trip tip is to cook it at a lower temperature between 250 to 325 degrees for 30 minutes per pound. Also, make sure you allow your tri-tip to rest after you have reached the desired internal temperature.
Tri-tip can make a good substitute in almost any skirt steak recipe. One great option is to chop your tri-tip for some great BBQ beef tacos.   
Beef Tenderloin
This choice is also called filet mignon or eye fillet. It comes from the short loin of the cow. It is considered to be one of the finest steaks in the world due to its tenderness.
Beef Tenderloin is an expensive alternative to skirt steak. But, it can be a special treat for celebrations.
This piece of meat works well on its own. But, it can be lightly seasoned with Italian seasonings and paired with roast potatoes for an excellent meal.
Summary
No matter what skirt steak substitute you choose, there are some great options. Beef can create a wonderful foundation for so many recipes. From the budget-friendly Flat Iron steak to the regal Beef Tenderloin, there is a beef out there to fit your needs.
Substitute Guide for Skirt Steak
All the information you need organized for you below!
Skirt Steak Substitution Graphic
Substitutes for Skirt Steak Table
| Substitution | Qualities |
| --- | --- |
| Flat Iron Steak | Rich flavor, versatile cut that can be cooked in a variety of ways. |
| Hanger Steak | Taken from same muscle as skirt steak, very tender, smaller size. |
| Flap Steak | Less expensive, lean, tender, plenty of flavor. |
| Ribeye Steak | More expensive, best flavor. |
| Sirloin Tip | Lean and tender, requires low and slow cooking for best results. |
| London Broil | Lean and tough cut, cooks quickly. |
| Tri-tip Steak | Must be cooked at lower temperature to avoid drying out. |
| Beef Tenderloin | More expensive, incredibly tender. |
Do you have any other tried and true substitution recommendations? Please let me know in the comments!