Have the perfect recipe for Short Ribs but you discovered you don't have any?
Don't worry. There are several substitutes to fit your needs.
The best short rib substitute may even become your new favorite.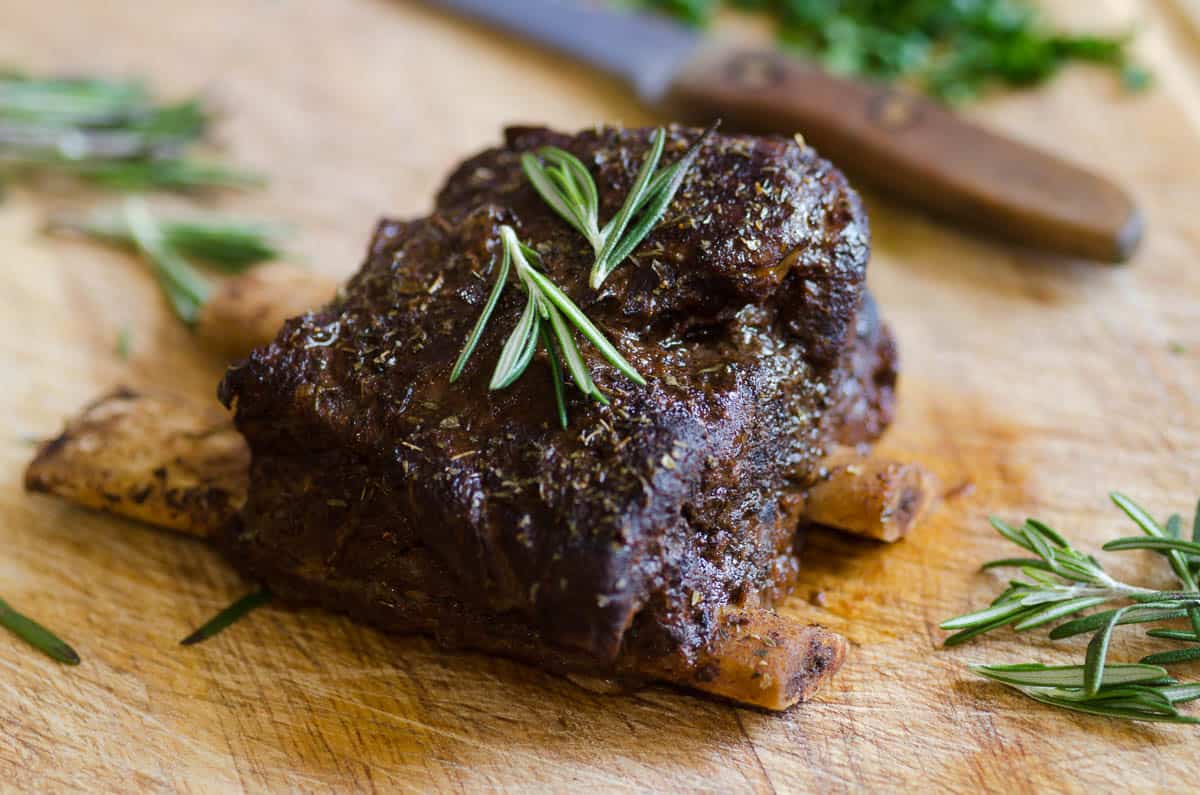 Jump to:
What are Short Ribs?
Short ribs come from beef chuck. They are too short to make good steaks but they are rich in flavor.
Short ribs have become an increasingly popular beef cut in restaurants. They deliver the perfect beefy taste.
They can also be served as boneless short ribs. Boneless beef can be easier to eat and still pack in plenty of flavors.
Short ribs have a flavor profile and characteristics that are similar to other beef cuts. This makes them easy to replace.
What are the Best Substitutes for Short Ribs?
From lamb to beef cuts there are a lot of good options for substituting short plate ribs.
Consider what the grocery store has available. A lot of meat options may be limited. But, you can definitely find some great options.
Beef Shank
Beef shank is one of the best substitute options for Short Ribs. It is a lean cut of beef and does need a longer cooking technique.
Beef shank matches the stiffness and chewiness of Short Ribs. It is a great option and has a low price point.
Lamb Legs
Lamb meat is often overlooked as a substitute for beef. But, lamb legs or lamb shanks are a good substitute if you know what to add.
Adding soy sauce, spices, and brown sugar will create a delicious flavor. You can also use lamb ribs. Just make sure to use a slow cooking technique to achieve tender meat.
Lamb is leaner meat and packed with vitamin b-12. It can be a great substitute for short ribs.
Flanken Ribs
Flanken Ribs are actually the same piece of meat as short ribs. Both rib cuts come from the rib areas of beef cattle.
English style short ribs have thick pieces of meat sitting on the bone. The Flanken style differs as it is a thinner cut across the rib bones. It can take the place of short ribs as the two are very similar.
Need options for what to make with your beef ribs? Flanken cut ribs and beef short ribs are common in making Korean-style barbeque.
Korean short ribs are a crowd favorite with their rich flavor. The tender texture doesn't take a long time to achieve and is fairly easy to create. Korean short ribs are an excellent meal choice and can be made with either type of rib.
Beef Chuck Roast
A chuck roast has a higher fat content than short ribs. Yet, it is still one of the best substitutes you can use. The texture of beef chuck roast, also known as a pot roast, is like that of chuck short ribs.
It will need slow cooking to gain the tender texture that makes beef so great. Beef chuck roast is a very popular cut of beef and is available in most grocery stores.
A chuck roast is great for adding flavor. It is comfort food that provides a lot of meat. The deep beefy flavor of chuck roast is always a win.
Pork
Pork is a common option used because it is readily available. It is a good substitute, especially for quick barbecues.
Pork ribs are similar to short ribs. BBQ pork ribs are simple to make and don't need a lot of ingredients.
Pork shoulder is also used to substitute for short rib recipes. Although the taste is a bit different, pork offers great flavor. Keep in mind that pork has less connective tissue and will need a shorter cooking time than beef.
Seitan
Seitan is a vegan substitute for making short ribs. It acts as a piece of meat with its texture.
Covered in BBQ sauce, it will give off a great smoky flavor. A 3-ounce serving of seitan also provides a lot of protein. It is good in place of short ribs and only has 1.9 grams of fat. 
Portion size considerations
Whatever substitute you choose, you are likely to find a something to fulfill your short rib needs for any kind of recipe.
Make sure you keep in mind the portion differences for the substitute you choose. You may need more lamb or pork as the ribs from these animals will be smaller than cuts of beef.
The best way to measure is to plan for at least ½ pound of protein per person. Looking to mix it up even more? Try out a few different cooking methods to amp up your recipes.
Cooking Methods for Short Rib Substitutes
There are a variety of ways to cook short ribs or substitutions for short ribs. You will need to consider the temperature, heat, and type of protein you have chosen.
Don't forget to account for boneless options as well.
Meats may be more tender when leaving the bone in, but they will take longer to cook. Ensure you are reaching the correct level of doneness regardless of the protein option you choose.
From a pressure cooker to a Dutch oven, the best cooking method is arguable. Many options yield excellent results. The best part? You can try them all.
Sous Vide
Ever heard of Sous Vide? It is a French cooking method that requires vacuum sealing food. You then cook the food with temperature-controlled water.
This method doesn't need much olive oil or any other fat to achieve a perfectly cooked rich marbling of rib steaks.
The trick is in the lower temperature. The meat will have gradual moist heat and never become overcooked.
Sous Vide beef rib recipes are widely available. Beef stock, red wine, and spices are excellent choices for your sous vide recipe.
Dutch Oven
Using a Dutch oven is a classic and traditional method to cook short ribs or substitutions for short ribs.
Dutch ovens have been used since 1796. Dutch ovens create a moist heat to seal in flavor and let the fatty acids marinate your meat.
Hosting a party? Make your meat in advance and then reheat in your Dutch Oven in time to serve. A Dutch Oven is a great choice for great flavor.
Pressure Cooking
Making short ribs with a pressure cooker is another great option. You can use a stove top pressure cooker or an electric pressure cooker, like an Instant Pot.
Short ribs can be cooked in just over 30 minutes. The quick and easy process will save you time and energy. Families are so often pinched for time with extracurriculars. Using the pressure cooking method will allow your family to enjoy a delicious meal without the hours of waiting for a slow cooker.
Want to go the extra mile? Consider a reverse sear after the pressure cooker. The high-temperature method will allow a beautiful finish while controlling the internal temperature.
Substitute Guide for Short Ribs
Short Rib Substitution Graphic
Substitute for Short Ribs Table
| Substitution | Similarities/Differences to Short Ribs |
| --- | --- |
| Beef Flanken Ribs | Thinner cut across bones but comes from same rib area of beef |
| Beef Shank | Low price point, similar texture and cooking times |
| Beef Chuck Roast | Similar texture, higher fat content, requires slow cooking |
| Lamb Legs/Shanks | Leaner meat, requires slow cooking technique |
| Pork Ribs | Different taste, similar cooking techniques |
| Pork Shoulder | Different taste, similar texture, requires slow cooking |
| Seitan | Vegan option, similar in texture |
Conclusion
No matter the method you choose to use, you can create a meal your family will enjoy.
Move over prime rib roast, a new king is in town. Create a delicious dinner with short ribs or short rib substitutes.
Add in red wine or tomato stew for a meal packed with juicy unique flavors. The fat content may lead to less meat, but it doesn't lack flavor. Impress any dinner guest with the superiority of the short rib and its excellent substitutes. The popularity of short ribs has soared for good reason.
Finding a substitute for short ribs isn't a difficult task. Consider the flavors you are hoping for and look for ways to recreate a popular cut of meat.
The common short rib cut doesn't have to be your only go-to for tender meat. As much meat that comes from the rib section of the cow, you are sure to find some good options.
To achieve your best results, try a variety of substitutes and cooking methods.