BBQ is one of America's favorite condiments. From Kansas City barbeque to Texas barbeque, everyone has an opinion of who is the top dog. Whether you have the best homemade barbeque sauce or love Carolina golden BBQ sauce, the options of sauce are unlimited.
If you happen to need barbecue sauce for a recipe and are completely out, you may not need to run to the store. There are plenty of options to choose from. Chances are, you already have what you need on hand to make a delicious substitute that works!
Jump to:
BBQ Sauce History
There has been a lot of debate about where it originated and who has the best.
People have enjoyed barbecue sauce since the 17th century. It is used as a way to marinate food and make it more flavorful.
Grilled, smoked, and even fried meats can be improved with the delicious flavors of your favorite BBQ sauce.
But, if you run out in the middle of making dinner, here are some great substitutes for regular barbecue sauce.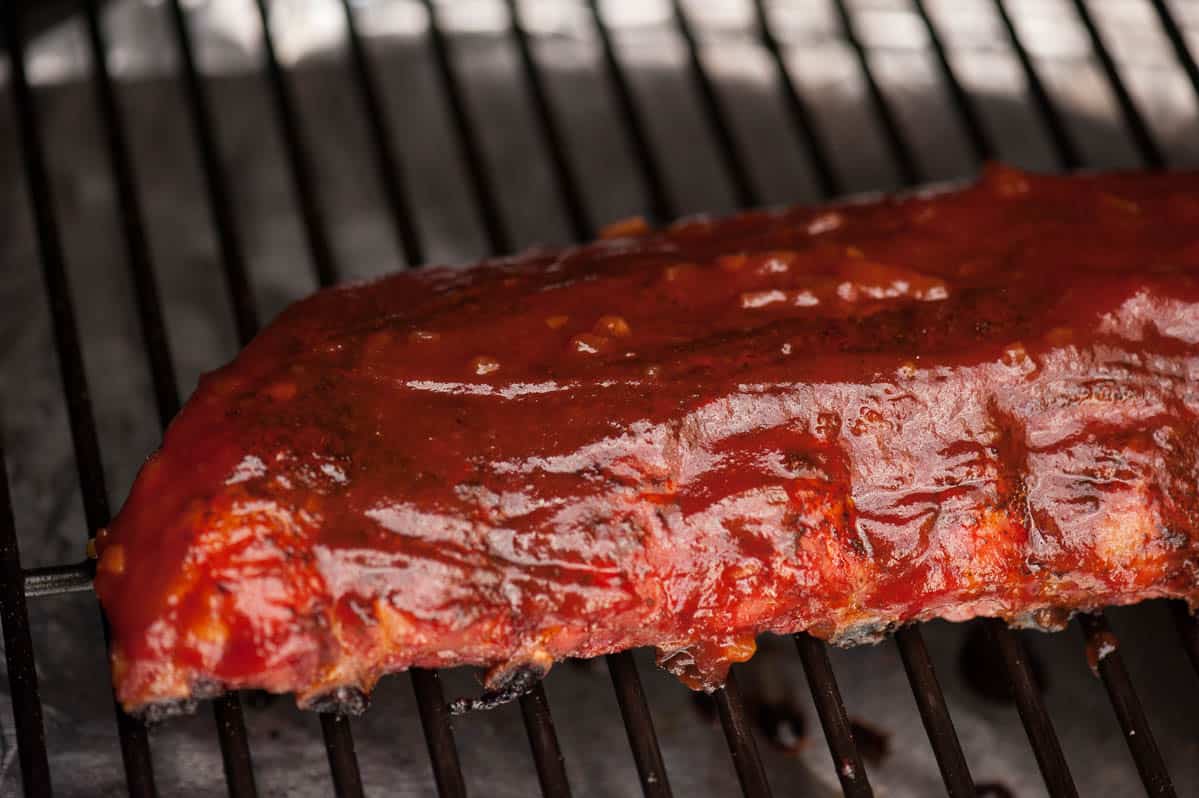 Best BBQ Sauce Substitutes
Hoisin Sauce
This thick Asian sauce is commonly used to glaze meat. It is similar in texture and flavor to barbecue sauce.
Hoisin sauce is a bit saltier and less sweet than BBQ sauce so keep that in mind when using it.
The common ingredients of vinegar and sweet flavors like honey make Hoisin sauce a good substitute for barbecue sauce.
You can find it at any Asian market or the specialty section of a grocery store.
Teriyaki Sauce
Teriyaki sauce is another substitute sauce from Asian cuisine. It offers a depth of flavor that is sweet, tangy, and salty.
It is made with ingredients such as soy sauce or coconut aminos, brown sugar, and garlic powder.
Teriyaki sauce is a good alternative for BBQ sauce when marinating meats or grilling. Try it as a substitute for items such as chicken wings or drumsticks.
Seafood Sauce
Seafood sauce can be a great choice in place of BBQ sauce. It has a similar tomato base to traditional barbecue sauce. But, seafood sauce is a bit lighter in color.
Many seafood sauces use Worcestershire sauce and lemon to amp up the flavor. This will give you a burst of flavor similar to using BBQ sauce.
Try using seafood sauce as a substitute for a meal including shrimp. Shrimp is a great source of protein with a mild taste. Using sauces is a great way to change up a potentially boring meal.
Plum Sauce
Plum sauce is also known as duck sauce. It is one of the easy substitutions for barbecue sauce. It is often used as a dipping sauce for roasted meats.
When replacing plum sauce with BBQ sauce you will notice a similar texture and consistency.
The plum sauce gets its sweetness from natural sugars from plums rather than added sugar.
Plum sauce often includes red wine vinegar to that creates a similar tangy taste to that of barbecue sauce. It is a great and delicious replacement for barbecue sauce.
Liquid Smoke
Did you know that you can capture the smoke from burning wood? Liquid Smoke is the proof. Liquid smoke is a liquid form of smoke captured from wood.
It is one of the best ways you can give your meat a smoky flavor without smoking or slow-cooking meat. If you are short on time, it is a decent second choice to using actual smoke to add flavor to your meat.
Liquid smoke makes a good alternative to barbeque sauce because of its different flavorings. It comes in varieties such as mesquite, applewood, and hickory. Liquid smoke is a good replacement for BBQ sauce when added to another sauce.
Dry Spice Rub
Dry spice rub is also a great alternative to barbecue sauce. But, it is not actually a sauce.
Dry rubs allow you to choose which ingredients will create your desired flavors.
A basic recipe for a dry spice rub can include black pepper, brown sugar, dry mustard, and onion powder. Using these simple ingredients will provide a different flavor than traditional barbeque sauce.
Dry spice rubs are best used as an alternative when slow-cooking meats. BBQ pork is a great example. When slow cooked with a good dry rub, you may not need any kind of barbecue sauce. You will not miss the cups of ketchup or the high sugar content typically found when using BBQ sauce.
Sugar-free BBQ Sauce
The low carb-conscious have some of the best alternatives to traditional barbeque sauce. It has taken a long time, but the thick sauce you love can now be enjoyed without sacrificing your skinny jeans.
Companies such as G Hughes have created sugar-free barbecue sauce. Ingredients such as vine ripe tomatoes, lemon juice, and sucralose are used to keep it light. Using a brown sugar substitute is a great way to get the flavor without all the carbs.
The GH Hughes sauce has a 2 tablespoon serving size with only 2g of carbs. This is an excellent low-carb BBQ sauce option.
The famous Sweet Baby Rays sauce has also created a no sugar added barbeque sauce to their offerings.
A 2tbsp serving of the no sugar added option has only 3 net carbs. You can still get the smoky barbecue sauce you love and keep a low-carb diet. Try sugar-free barbeque sauce as a marinade or dipping sauce for a low-carb treat.
Worcestershire Sauce
The salty and sweet mixture of Worcestershire sauce acts as a great alternative to BBQ sauce.
It is made of vinegar, fermented onions, garlic, molasses, salt, sugar, and a few seasonings.
Worcestershire sauce is a cousin of fish sauce and soy sauce. You can expect the texture to be like both options.
Worcestershire sauce can be used to add a complex flavor alternative to barbecue sauce. Try it on marinades or shellfish for an irresistible salty-sweet taste.
Ketchup
Ketchup is usually one of the main ingredients in barbecue sauce. Therefore, it could make a decent substitution.
Other than the similar saltiness and tang, their flavors are quite different. You may want to add a bit of sugar, hot sauce, mustard, and/or liquid smoke.
Using ketchup as a replacement would work in recipes that call for a small amount of BBQ Sauce. For example, if you are making homemade baked beans or the sticky sauce on top of meatloaf. Simply swap the amount of BBQ sauce with ketchup.
Make Your Own
Making your own jar of homemade BBQ sauce is a great way to get the exact flavor you are searching for.
Eliminating additives and excess sugar can also help you health-wise. You can also skip on the highly used high fructose corn syrup. There are so many easy recipes for the best barbecue sauce.
Homemade BBQ Sauce
Ingredients
You will need a few different ingredients to get the proper flavor mix and thick texture.
Tomato sauce or ketchup is a great tomato base for your homemade sauce. If you want your sauce to be a bit sweeter, try pizza sauce or tomato paste. 
You should also use a bit of apple cider vinegar to add in some acidity. 
Adding honey or maple syrup is a natural way to add in a sweet flavor without all the extra. 
Don't forget yellow mustard or Dijon mustard for extra tang. 
Red pepper flakes or chili powder can also be added to give your mixture a little kick. Looking for something even spicier? Use hot sauce. No one said a jar of barbecue sauce couldn't be one of the spicy sauces in your home.  
Feel free to experiment with your homemade BBQ sauce recipe. Your ingredient list can include anything. Some prefer adding in root beer or a cup of molasses. The important thing is to create your own barbecue sauce that will make your taste buds sing.
Customization
The best thing about making your own sauce is the ability to meet your dietary needs.
If you are trying to stick to a vegan or vegetarian diet, you can ensure each key ingredient used meets your guidelines. Many vegan barbeque sauces use balsamic vinegar as the first ingredient to provide a thick tartness to their recipe. It can bring in complex flavors while remaining plant-based.
Try trading a recipe card with friends. Their secret ingredients may surprise you and give you a source of inspiration.
Cooking and Storage Tips
You will want to cook your homemade sauce by adding all the ingredients to a saucepan over medium-high heat. This will create a deeper flavor and will thicken your sauce.
Don't forget to keep your new recipe in an airtight container.
Check out a bunch of different barbecue recipes and create some unique options to make the perfect sauce.
Looking for the best homemade barbecue sauce to start with? Try out an amazing Whiskey BBQ Sauce. This sauce is packed with an intense flavor that is easy to make.
You can use it on beef, chicken, or pork. The addition of whiskey adds to the flavor in a great way. This recipe is one that is sure to please.
Conclusion
The best substitute for BBQ sauce depends on what flavors you are looking for. One of the best ways to find your perfect match is to check out the ingredients.
Important ingredients such as a base of ketchup or white vinegar can change the entire flavor profile. For example, adding just two tablespoons mustard can significantly increase the level of tanginess.
Each ingredient used in any barbecue sauce recipe should complement the other flavors. Try out these substitutes or make your own sauce for a fun twist on an American classic.
Substitute Guide for BBQ Sauce
All the information you need organized for you below!
Barbecue Sauce Substitution Graphic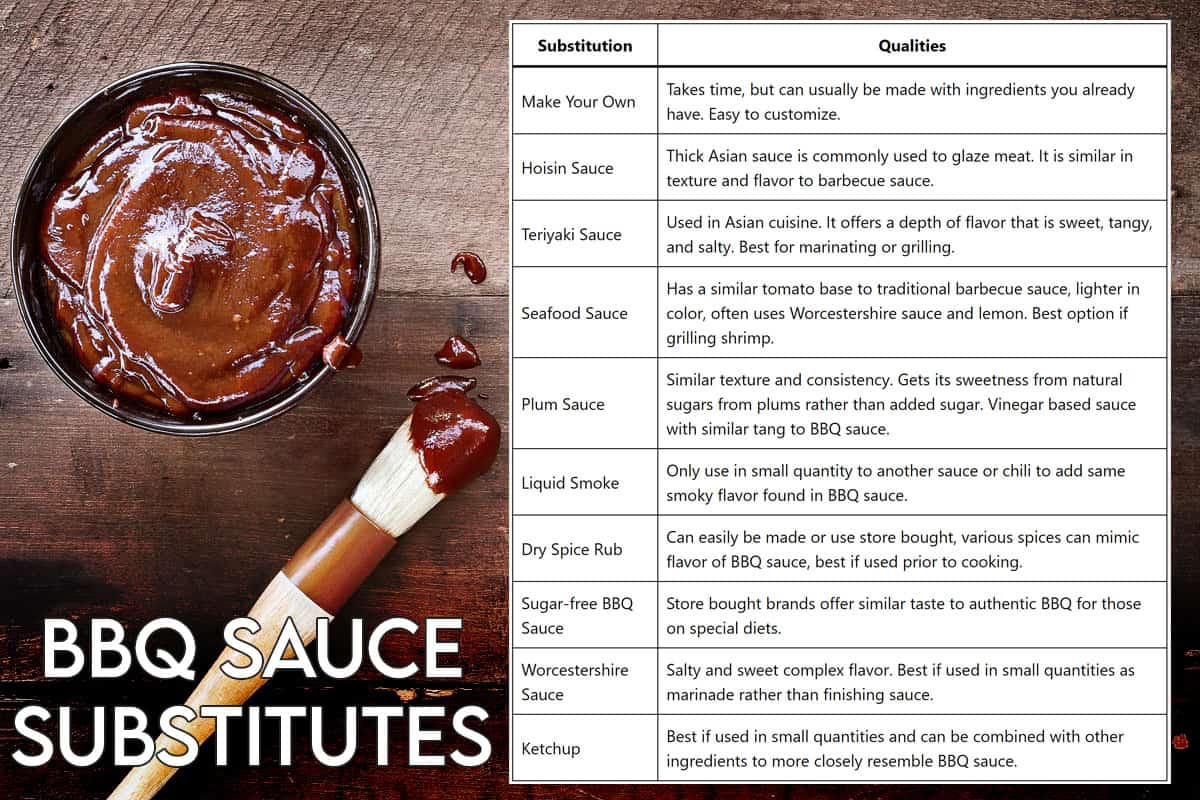 Substitutes for BBQ Sauce Table
| Substitution | Qualities |
| --- | --- |
| Make Your Own | Takes time, but can usually be made with ingredients you already have. Easy to customize. |
| Hoisin Sauce | Thick Asian sauce is commonly used to glaze meat. It is similar in texture and flavor to barbecue sauce. |
| Teriyaki Sauce | Used in Asian cuisine. It offers a depth of flavor that is sweet, tangy, and salty. Best for marinating or grilling. |
| Seafood Sauce | Has a similar tomato base to traditional barbecue sauce, lighter in color, often uses Worcestershire sauce and lemon. Best option if grilling shrimp. |
| Plum Sauce | Similar texture and consistency. Gets its sweetness from natural sugars from plums rather than added sugar. Vinegar based sauce with similar tang to BBQ sauce. |
| Liquid Smoke | Only use in small quantity to another sauce or chili to add same smoky flavor found in BBQ sauce. |
| Dry Spice Rub | Can easily be made or use store bought, various spices can mimic flavor of BBQ sauce, best if used prior to cooking. |
| Sugar-free BBQ Sauce | Store bought brands offer similar taste to authentic BBQ for those on special diets. |
| Worcestershire Sauce | Salty and sweet complex flavor. Best if used in small quantities as marinade rather than finishing sauce. |
| Ketchup | Best if used in small quantities and can be combined with other ingredients to more closely resemble BBQ sauce. |
Do you have any other tried and true substitution recommendations? Please let me know in the comments!