There are great low carb and healthy alternatives to potatoes. Healthy doesn't mean boring, either. Using a potato substitute often puts an exciting and tasty twist on your favorite potato dishes!
Plus, potato substitutes cut down on carbs and calories. That's a win-win for anyone looking to improve their health.
Below, you will find the best substitutes for potatoes, their nutritional values, and notes on how to use them. Before making a decision, however, it's important to understand a few basic potato facts.
Jump to:
Potatoes vs. Sweet Potatoes
First, let's draw a line between two common families of spuds: Potatoes and sweet potatoes.
Potatoes belong to the nightshade family, while sweet potatoes belong to the morning glory family.
Some suggest nightshades prefer to flower and grow in the night and shade (hence their name). Morning glories open before sunrise and stay open for a few hours.
There are more than 4,000 varieties of potatoes and 1,000 varieties of sweet potatoes around the world. If you live in the U.S., you might have noticed that potatoes tend to be more available. Common varieties include:
Russet Potatoes
Yukon Gold Potatoes
Red Potatoes
White Potatoes
Yellow Potatoes
Purple Potatoes
Fingerling Potatoes
Both families—potatoes and sweet potatoes—are a great source of vitamins and minerals. However, the sweet potato tends to be more nutritious.
Sweet potatoes:
Have more vitamin A (21,900 IU vs. just 17 IU in regular potatoes)
Are rich in beta-carotene, a potent antioxidant
Potatoes vs Maris Piper Potatoes
There is a lesser known and difficult to find maris piper potato. It is particularly used in the UK for their chips and roasted potatoes. It only has 79 calories/100 grams, 17 grams of carbs, 1 gram of fiber, 1 gram of sugar, 0 grams of fat and 2 grams of protein.
Calories: 79 calories/100 grams
Fat: 0 grams
Carbs: 17 grams
Fiber: 1 gram
Sugar: 1 gram
Protein: 2 grams
This seems to be the exception to the high carb and high GI potato.
Substitutes for Potato Entrees and Side Dishes
You might be asking, what vegetables can replace potatoes? If you are looking for a way to replace the potatoes in an entree or side dish, this section is for you!
Cauliflower
Cauliflower is the most popular substitute for potatoes in various potato-centric entrees and side dishes. That's probably because it is low in both calories and carbs, without sacrificing taste or texture.
Cauliflower can be found in orange, green and purple colors along with white. The taste is mild, slightly sweet, and nutty. Most commonly, cauliflower mash can be substituted for mashed potatoes.
Health Benefits
Vitamins and nutrients in cauliflower include 100% of the daily recommended amount of vitamin C. It also has vitamin K, calcium, potassium, and magnesium.
An additional benefit is the presence of glucosinolates which break down into compounds that have an anti-inflammatory, antibacterial and antiviral effect and protect cells from damage. They may even help prevent cancer, though more research is needed.
Plus, it can help keep you hydrated! Cauliflower has 90 grams of water per 100 grams of vegetable mass—although this is a double-edged sword. If you plan to bake with cauliflower, it is important to shred/prep and dry it first.
Nutritional Value
Calories: 25 calories/100 grams (1 cup is 124 grams)
Fat: 0 grams
Carbs: 5 grams
Fiber: 2 grams
Sugar: 2 grams
Protein: 2 grams
Cauliflower lends itself a substitute for mashed potatoes because of its creamy and smooth texture. It can either be boiled for 10 minutes or steamed for 15 minutes. Whichever method is chosen, be sure to drain it well and leave it stand in a colander to prevent it from reabsorbing any moisture.
Additional Notes
Steaming will help keep the cauliflower from absorbing too much water and becoming too watery. Use a food processor for a creamier mash.
Season as you would mashed potatoes to enhance the flavor of the cauliflower. You can also add 2-3 tablespoons of sour cream or cream cheese.
Butternut Squash
Butternut squash is a cross between pumpkin and gooseneck squash varieties. It is a great substitute for potatoes. The taste is between a sweet potato and a pumpkin, and the consistency is very potato-like.
Health Benefits
With vitamins C, E, and beta carotene, butternut squash can reduce the risk of certain cancers, heart disease, and mental decline. It is also a good source of fiber.
Nutritional value
Calories: 63 calories/140 grams or 1 cup cubed
Fat: 0 gram
Carbs: 16.4 grams
Fiber: 2.8 grams
Sugar: 3 grams
Protein: 1.4 grams
Additional Notes
For an easy recipe, simply bake the butternut squash at 400 degrees.
Wash and then cut the squash in half lengthwise. Use a sharp knife and be careful cutting. Then, use a spoon or an ice cream scoop to remove the seeds.
Drizzle olive oil over the squash. Turn the cut side down on a baking dish and bake for about 45 minutes.
Test for doneness with a knife. Remove from the oven and serve.
Other ways to make the squash is to cube and bake. Make butternut squash soup in place of potato soup.
Jicama
Another good option for potatoes is Jicama. This is a root vegetable with white flesh which is in the potato family.
The taste is described as sweet and nutty, between a pear and a potato or a water chestnut. It is native to Mexico and Central and South America.
This also has a low carbohydrate content and fewer calories.
Health Benefits
Jicama has vitamin C, folate, potassium, and magnesium. It contains antioxidants including vitamin C, E and beta carotene, fiber, and prebiotics.
It is also high in fiber and water, and low in carbohydrates. These vitamins and nutrients boost heart health, decrease the risk of certain chronic diseases, improve gut health, and may decrease the risk of certain cancers.
Nutritional Value
Calories: 38 calories/100 grams (1 cup is about 120 grams)
Fat: 0.09 grams
Carbs: 8 grams
Fiber: 5 grams
Sugar: 1.8 grams
Protein: 1 gram
Additional Notes
Jicama can be cooked and made like a potato. The best way to eat it is raw by cutting it into matchstick sizes and serving with a dip or on salad.
Another good choice is baked jicama fries. Preheat the oven to 425 degrees. Peel and cut into the shape of fries. Either drizzle with 1 tablespoon olive oil or place cut jicama into a Ziploc bag with 1 tablespoon olive oil and shake the bag until coated.
Spread them out on a parchment lined cookie sheet be sure they are not crowded and not touching each other. Sprinkle with a mixture of onion, garlic, salt, and pepper.
You can also add a little bit of cumin and chili powder. Bake for 45 minutes. 
Daikon
A variety of radishes, the taste of daikon is most similar to a potato. It can be steamed, boiled, or fried. It has a milder taste than other radishes and is slightly sweet and spicy.
While white daikon is the most common, there are also purple, green, and red varieties.
Health Benefits
Daikon is a good source of vitamins A, C, E, and B6. It also contains potassium, calcium, magnesium, copper, and iron.
Potential health benefits of daikon may include protection against heart disease, diabetes, and certain cancers. It may also improve digestion.
Nutritional Value
Calories: 61
Fat: 0 grams
Carbs: 14 grams
Fiber: 5 grams
Sugar: 8 grams
Protein: 2 grams
Additional Notes
Daikon can be boiled, steamed, or fried. To boil, peel and cut into thick slices. Boil in salted water for about 30 minutes. It should be soft like a potato when tested with a fork. Put in a bowl and mix with butter or olive oil and season with salt and pepper.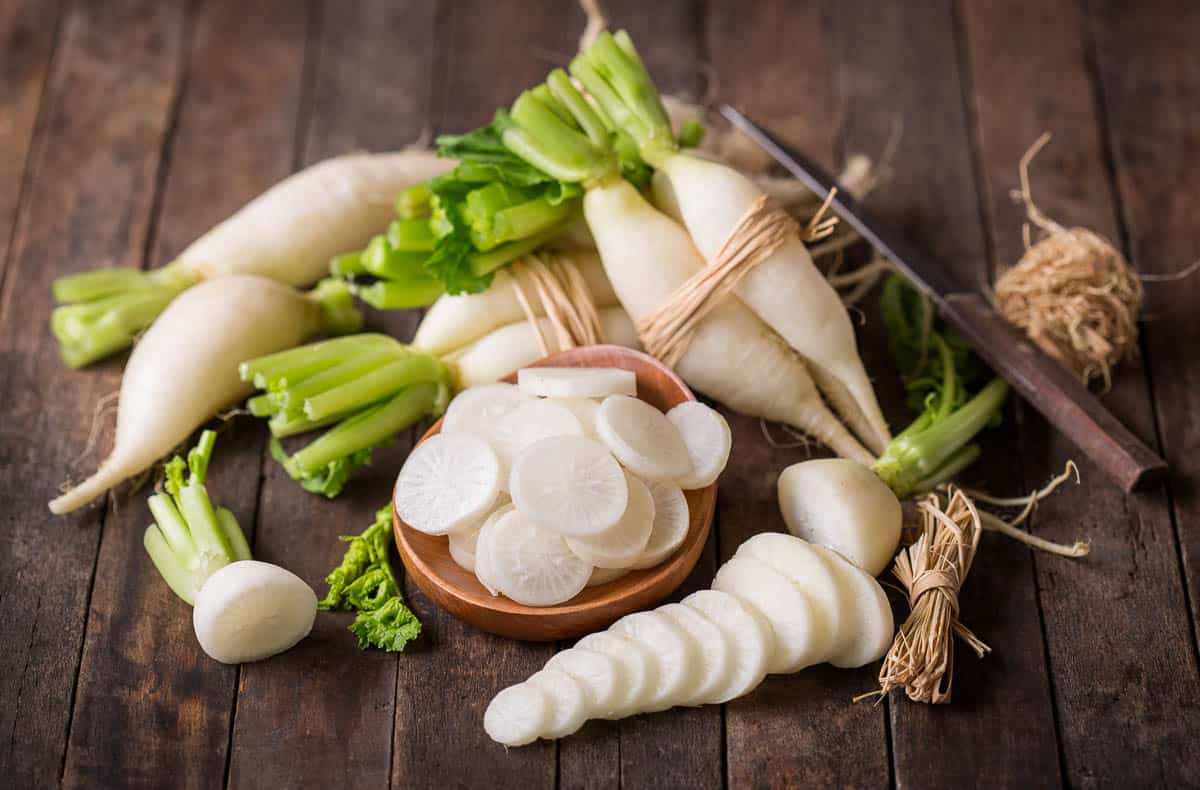 Rutabagas
This is a root vegetable that is a cross between a turnip and a cabbage. It has a slightly sweet and buttery taste like a sweet potato. However, there's a big difference: Rutabagas have a slightly bitter flavor when cooked. It can be roasted, boiled, or baked.
‌Health Benefits
Rutabagas are widely used because they are a nutritional powerhouse. They are high in fiber, high in vitamin C, E and antioxidants. They also contain potassium, calcium, and magnesium
Rutabagas are also low in calories and have glucosinolates which may help protect against cancer. Their powerful nutrients also help fight inflammation and premature aging.
Nutritional Value
Calories: 38 calories/ 100 grams (1 cup is 140 grams)
Fat: 0 grams
Carbs: 9 grams
Fiber: 2 grams
Sugar: 5 grams
Protein: 1 gram
Additional Notes
Potato salads can be made using rutabagas in place of potatoes. Peel and chop into 1-inch cubes.
Put in a pot and cover with water. Bring to a boil over medium heat then immediately reduce and continue cooking on low heat for about 10 minutes.
They are done when they are tender, not soft. Add your favorite "potato" salad dressing, refrigerate, and serve your favorite way.
Turnips
This vegetable belongs to the Brassica family as do broccoli, cabbage, and kale.
Turnips are light purple on top and white on the bottom. For this reason, they are easily mistaken for rutabagas.
The flavor of turnips shifts slightly when cooked. Younger turnips have a delicate sweetness while older turnips taste more like potatoes. For a potato-centric dish, choose the latter.
Turnips can be boiled and mashed like potatoes, roasted, or eaten raw in a salad.
Health Benefits
Turnips are full of vitamins and minerals including vitamin C, folate, magnesium, calcium, phosphorus, and potassium. They also contain glucosinolates which may help prevent cancers.
Turnips also contain lutein, which may promote eye health. They are also rich in calcium, which promotes strong bones.
Nutritional Value
Calories: 32 calories/100 grams (1 cup of turnips is about 130 grams)
Fat: 0.1 grams
Carbs: 8 grams
Fiber: 2 grams
Sugar: 4 grams
Protein: 1 gram
Additional Notes
Try roasting turnips in the oven. Preheat the oven to 400 degrees. Cut off ends, wash, peel, and cut turnips into thin slices.
Put on a cookie sheet lined with foil or parchment paper. Drizzle with olive oil or put in a Ziploc bag. Add 1 tablespoon of olive or avocado oil, seal the bag, and use hands to mix. Then, place it on a cookie sheet.
Sprinkle salt, black pepper, and chopped fresh rosemary. Bake for 20 minutes then turn over and bake for another 20 minutes.
Celeriac
This vegetable is also called Celery Root, Knob Celery or Turnip Rooted Celery.
Being one of the oldest root vegetables, celeriac is mentioned in Homer's The Odyssey.
This is a form of celery that is harvested for its bulbous stem. The green shoots or celery are edible. While the taste is similar to celery, it has a slightly nutty flavor.
It is very versatile and can be used in place of potatoes in almost every recipe. It can be baked, roasted, boiled, or mashed.
Health Benefits
Celeriac is a source of vitamin C, K, B6, potassium, phosphorus, and fiber, being particularly high in vitamins C and K. It is valuable in heart and bone health.
Nutritional Value
Calories: 65 calories/1 cup
Fat: 0.47
Carb: 14 grams
Fiber: 3 grams
Sugar: 2 grams
Protein: 2 grams
Additional Notes
Try using Celeriac in place of potatoes in any dish. Or, try celeriac 'French fries."
Wash, peel, and cut into fries. Soak in lemon water for about 20 minutes then drain and pat dry.
In a mixing bowl combine 3 tablespoons olive oil with seasonings such as salt, black pepper, and oregano or everything bagel seasonings.
Put on a parchment paper lined cookie sheet and bake in a 400-degree oven for 30 minutes.
Kohlrabi (also known as German Turnip)
Kohlrabi is a cruciferous vegetable and member of the Brassica family. Broccoli, cauliflower, and cabbage share this same lineage.
The flavor is described as sweet but peppery. It is a native of northern Europe. This is a German word kohl meaning cabbage, and rabi meaning turnip.
The texture is crunchy and soft with a mild flavor when cooked.
Health Benefits
Kohlrabi is rich in antioxidants including vitamin C and glucosinolates. It is also rich in folate, calcium, and magnesium.
This vegetable is believed to promote heart health, GI microbes, bone density, and has demonstrated anti-cancer properties along with other cruciferous vegetables.
Nutritional Value
Calories: 36 calories/135 grams or 1 cup
Fat: 0 grams
Carbs: 8 grams
Fiber: 5 grams
Sugar: 4 grams
Protein: 2 grams
Additional Notes
Kohlrabi can be eaten raw or in salads, boiled, steamed, roasted, fried, or mashed as you would potatoes.
The thick outer skin needs to be removed prior to eating it raw or cooking it. It is commonly used in soups.
A delicious way to prepare is to roast this vegetable. Peel, cube and toss with olive oil, salt, and pepper. Place on a cookie sheet and bake at 450 degrees for about 30 minutes.
You can even make "potato" dumplings using kohlrabi in place of potatoes!
Substitutes for Potato Flour and Potato Starch
Potato flour is made from whole potatoes that are peeled, cooked, dried and ground into a fine powder. Potato starch, on the other hand, is made by extracting just the starch from potatoes and processing it into a fine white powder.
Both potato flour and starch are used as thickening agents.
Likewise, both are gluten free and have decent nutritional value. Commonly, these items are used as thickening agents. However, people often look for potato flour and starch substitutes because they are high in calories and may spike blood sugar levels.
If you are looking for a substitute for potato flour and potato starch, below are a few good choices.
Cornstarch
Cornstarch is gluten free, has no flavor, and works well in soups and stews. Use a 1:1 ratio. For 1 tablespoon of potato starch use 1 tablespoon of cornstarch.
Note: Cornstarch needs to get to nearly boiling point to reach its thickening potential.
Tapioca Flour
Tapioca is made from cassava root. Check the packaging because some brands use different plants for the tapioca, which affects the results. Ideally, find one made from just cassava root.
Use 2 tablespoons of tapioca starch for every tablespoon of potato starch.
Note: Tapioca does a great job of absorbing liquid at little-to-no heat. So, use this thickening agent as a quick-fix for anything that comes out too watery (for example, when using cauliflower as a potato substitute).
Arrowroot Starch
Arrowroot powder used to thicken needs a somewhat high temperature to thicken. It is transparent when cooked.
Use 1 tablespoon of arrowroot starch for every 1 tablespoon of potato starch.
Tips: Add the starch of your choice to cool liquid first which makes a slurry. Then gradually add, stirring constantly.
What is worse, bread or potatoes?
Questions arise as to which is better or worse, potatoes or bread. Here are some more interesting potato facts to consider.
Potatoes leave an alkaline residue which our bodies find favorable. Also, they are gluten free.
On the other hand, bread leaves an acidic residue which has been found to contribute to health issues. These include GI/digestive upset and "carb cravings".
While potatoes have many benefits, both potatoes and bread are high in carbs and have a high glycemic index. In fact, potatoes cause a bigger spike in blood sugar than most processed breads.
Ultimately, it comes down to personal preference. From a health and longevity perspective, however, it is wise to find potato substitutes. This will decrease calories, keep carbs and blood sugar in check, and provide a broader spectrum of nutrients throughout the day.
Which is worse for you, potatoes or rice?
Next we have potatoes vs rice. While both contain carbs we need for energy, potatoes win out from a nutritional aspect with more minerals and B6. Plus, potatoes contain vitamin C which rice does not.
Also, potatoes become even unhealthier with the addition of a bit of fat such as butter, heavy cream, and frying to name just a few. There are substitutes for those on low-carb and keto diets and those looking for healthy alternatives.
So… What's the Best Potato Substitute?
The good news is that there are fantastic alternatives to potatoes. You can use cauliflower rice, turnips, or even shredded zucchini in place of potatoes for hash browns.
Which tastes the most like potatoes?
Daikon and Jicama are by far the most potato-like, according to most cookbooks and Foodies. This makes them ideal alternatives when potatoes are part of the main entrée or side dish.
When it comes to substitutes for potato flour, things are more subjective. The consistency and flavor are somewhat hidden since the actual potato is not prominently featured in the meal.
 In the end, personal preference matters! All the above-mentioned are good alternatives and should be available at your local grocery store. Experiment, and enjoy!
Do you have any other tried and true substitution recommendations? Please let me know in the comments!