Ready to whip up some instant pudding, but you need a milk substitute for regular milk? Search no more! These milk alternatives are as easy as your instant pudding mix.
Below you will find the best substitutes for milk when making instant pudding. The milk substitutes are a bit of a choose-your-own-adventure. Your choice will depend on your preference for things like rich texture and overall flavor.
There are plenty of milk substitutes to choose from, each with a unique taste. Not a fan of non-dairy milk? No worries! Even things like heavy cream and avocados can act as milk substitute for instant pudding.
Jump to:
What is Instant Pudding?
Instant pudding is fast and convenient. Each container of powdered pudding mix requires just a bowl, liquid, and some stirring to make. Depending on your preference, an electric mixer might be best.
The mixture begins to thicken and set after liquid is added to the powder. This is where milk substitute comes into play. Pudding texture will vary based on the milk substitute you choose, as explained below.
Cornstarch is a key ingredient in the powdered mix. It acts as the thickening agent in boxed puddings. Some chefs even use instant pudding purely for the modified cornstarch.
Instant pudding requires zero heat and less fuss than pudding from scratch. A box of pudding mix can also be used to make a variety of delicious desserts and creams. Pastry cream, whipped cream, dessert toppings, and even cage-free tiramisu are all examples.
Instant pudding vs Homemade Pudding
Instant pudding is an easy dessert for chefs of all levels. It does not need heat, there's only one added ingredient, and it sets quickly. Plus, having so few additional ingredients makes it a great option when time is short.
Homemade pudding, on the other hand, is much more involved. It requires more ingredients, more effort, and more time. Most importantly, homemade pudding is more sensitive. If it is not handled delicately, it may liquefy and lose its signature texture.
Non-dairy Milk Substitutes for Instant Pudding
Plant-based, vegan, or allergic to dairy? Great news! You do not need cow's milk or dairy products to make a great pudding. In some cases, a non-dairy milk substitute might even create a richer flavor!
There are plenty of non-dairy milk substitutes that create the perfect pudding consistency. Chances are high that your favorite vegan milk is on this list.
Non-dairy milk substitutes are also free of casein proteins. Casein proteins can cause stomach ache, so going dairy-free is a great option for people with sensitive stomachs.
Browse the following milk alternatives for a decadent pudding. These milk alternatives work well with Jell-O pudding and fruit pudding too!
Soy Milk
Nutritionally, soy milk is most close to cow's milk. This makes it among the most popular milk substitutes. It's also widely available and reasonably priced.
Using soy milk, you will achieve a similar consistency to cow's milk. You may also opt for unsweetened soy milk to avoid an overly sweet taste.
Use a 1:1 ratio. If the recipe calls for 1 cup of milk, use 1 cup of soy milk.
Coconut Milk
For a thick, creamy texture, coconut milk is a great option. Coconut milk creates an extra creamy consistency, the most out of the plant milks.
It also pairs with other pudding flavors like vanilla and chocolate. It can even augment others. Try lemon pudding with a coconut base for a pina colada taste!
Use a 1:1 ratio. If the recipe calls for 1 cup of milk, use 1 cup of coconut milk.
Cashew Milk
Cashew milk is another great option when looking for a non-dairy substitute for instant pudding mix. It is not as popular as other plant milks, but it creates a creamy texture with a nutty flavor.
Cashew milk works well with a variety of flavors, too. Most are unsweetened, which makes this plant milk a good match for Jello instant pudding mixes.
Use a 1:1 ratio. If the recipe calls for 1 cup of milk, use 1 cup of cashew milk.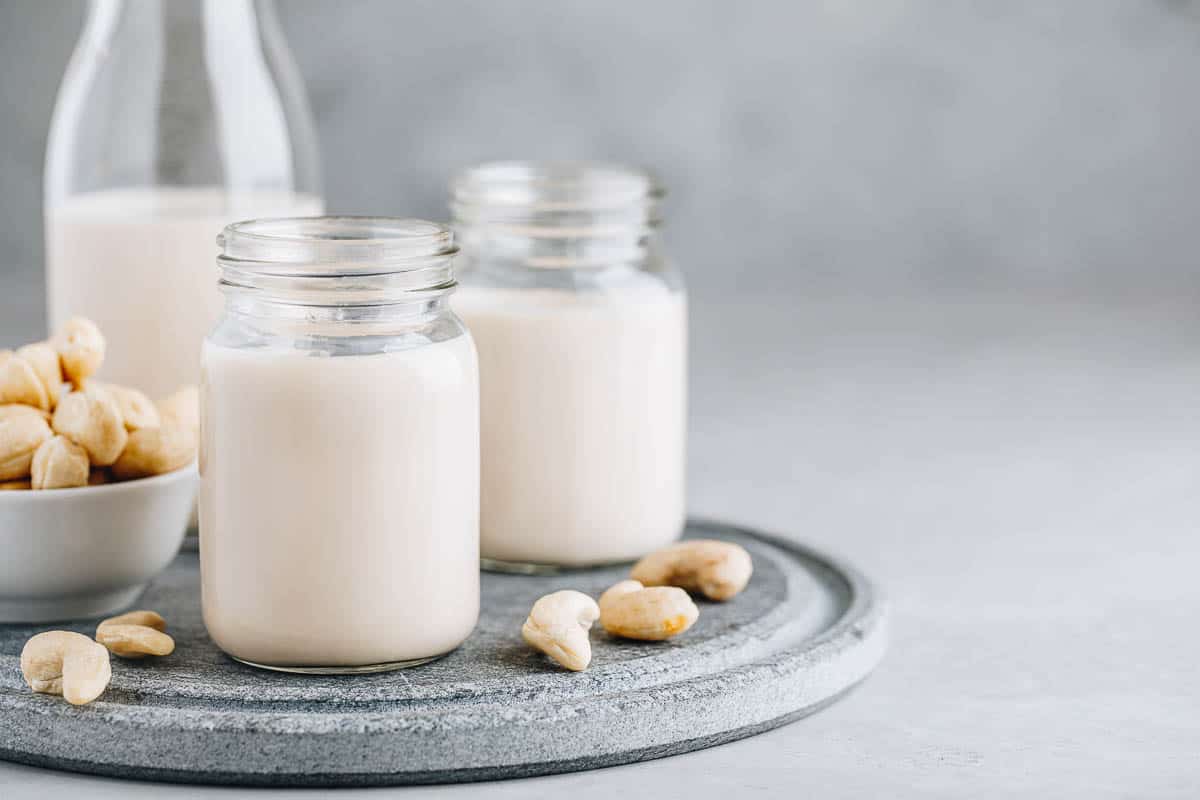 Almond Milk
Almond milk is a good substitute in most situations. For example, its nutty flavor works well with vanilla, chocolate, and fruit flavored puddings.
Like soy milk, substitute almond milk is relatively easy to find. Unsweetened almond milk should have less artificial sweeteners as well. These things make it one of America's favorite kinds of non-dairy milk.
An important note: Refrigerated unsweetened almond milk results in a thicker consistency. For normal consistency, room temperature almond milk is better.
Use a 1:1 ratio. If the recipe calls for 1 cup of milk, substitute 1 cup of almond milk. When using refrigerated almond milk, use a little less. Some like to add a tablespoon of almond milk at a time.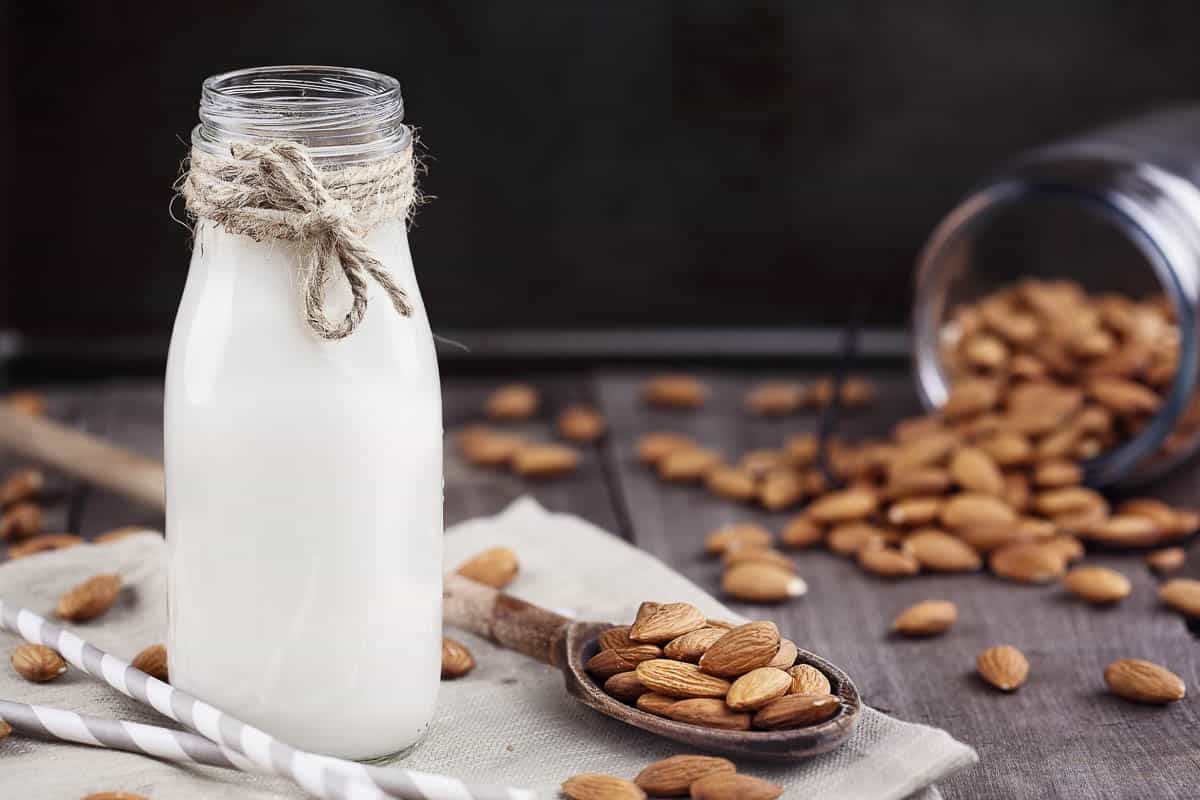 Oat Milk
Oat milk has emerged over the past few years as a favorite kind of non-dairy milk. Most coffee shops offer it as a vegan milk option. The thick texture makes oat milk a great replacement.
It also has a more neutral flavor than nutty milks or coconut. Oat milk works well with traditional flavors, such as dairy-free vanilla pudding. If you are making fruit flavored puddings, like Jello pudding, try a different substitute on the list.
Use a 1:1 ratio. If the recipe calls for 1 cup of milk, use 1 cup of oat milk.
Rice Milk
If you are looking for a flavor like cow's milk, rice milk is a great alternative. Rice milk is easy to find at a grocery store and often finds its way onto the ingredient lists of popular plant-based pudding recipes.
The aftertaste is little to nonexistent. This is also a good option for any soy, milk, or nut allergies.
Rice milk is thin, though. You may need to add a thickening agent to achieve your desired consistency. Thickening agents are explored in more detail below.
Use a 1:1 ratio. Start with 1 cup of rice milk then continue adding until you reach the right consistency. If still too thin, add more pudding mix or another thickening agent listed below.
Hemp Milk
This is another excellent choice for pudding milk substitute. It also has added nutritional benefits, such as amino acids. Go with unsweetened hemp milk to avoid an overly sweet pudding.
Use a 1:1 ratio. If the recipe calls for 1 cup of milk, use 1 cup of hemp milk.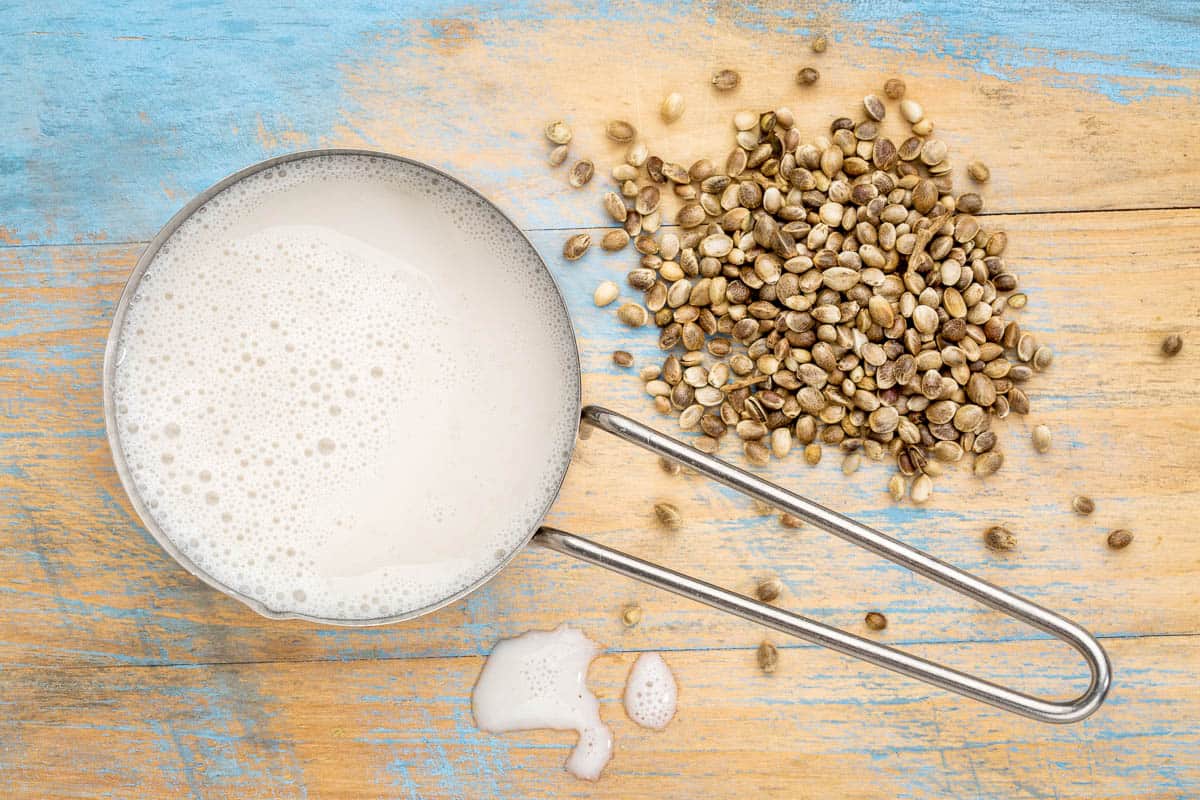 Avocado
Avocado is one of the most common non-milk substitutes for a variety of dishes and desserts. It is especially popular among vegans, plant-based eaters, and those with nut allergies.
When used as a milk substitute, avocado might turn the instant pudding green. This is a big plus when it's St. Patrick's Day, or another holiday that celebrates green.
Green pudding isn't always desirable, of course. If you do not want the pudding to be green, add dark chocolate to camouflage the color.
Use a 1:½ ratio. If the recipe calls for 1 cup of milk, use ½ cup blended avocado.
Cold Water
Cold water can be used in place of dairy products or milk substitutes, but it can be trickier. It takes a little more finessing.
Water is flexible, though. For example, you can use it with one of the other milk substitutes on this list. This comes in handy when you like a flavor, but the consistency is too thick. Simply water it down.
The opposite is also true. If you love water but want something just a bit creamier, simply add a small amount of a milk substitute from this list.
Of course, the entire recipe can always be made solely with water. This is a safe option when making instant pudding for friends with nut allergies.
Dairy Milk Substitutes for Instant Pudding
Dairy milk substitutes are animal-based. In this way, they are more similar to milk and sometimes more popular. They may contain casein proteins, however.
Dairy milk substitutes are also popular because of their consistency. Use one of the following substitutes with your instant pudding, and you might not even notice the difference!
Powdered Milk
Mix the powdered milk with the amount of liquid called for on the package then add to the pudding mixture.
NOTE: Powdered milk should be added at the beginning and not at the end or it will not blend well.
Use a 1:1 ratio. If the recipe calls for 1 cup of milk, use 1 cup of powdered milk.
Heavy Cream
Heavy cream is another substitute for milk which gives the pudding a rich and decadent flavor.
Use a 2:1 ratio. Use 2 parts of Heavy Cream to 1 part of water.
Skim Milk
Skim milk can also be used to substitute regular milk in instant pudding mixes. This type of milk tends to be a little watery, so it will affect the consistency of the pudding mix.
You might notice a slightly altered taste by using skim milk. This is because milk fat tends to carry instant pudding's flavor. Skim milk is nearly fat free, so it will not bring out the pudding's flavor as much.
Use ¼ less skim milk than regular milk.
One Percent (1%) Milk
Want to cut calories and preserve some flavor? Using 1% milk as a substitute in pudding mix might be your answer.
As mentioned, milk fat carries instant pudding's flavor. Even though the fat content of 1% milk is low, you should notice a more robust flavor as opposed to substituting with skim milk.
Like with skim milk, you will want to use less 1% milk to account for its watery consistency. From there, you may want to add more liquid or a thickening agent.
Use ¼ less milk than regular milk and adjust accordingly.
Evaporated Milk
Evaporated milk creates a creamier, richer instant pudding. This is a great substitute for milk to create an extra thick consistency.
One can of evaporated milk does the job. It is inexpensive and available in fat-free as well.
Use a 2:1 ratio. If the recipe calls for 2 cups regular milk, substitute with 1 can of evaporated milk.
Milk Substitutes and Thickening Agents
Ingredients can always be added to create an extra thick consistency in your instant pudding recipe. This is especially helpful if using a milk substitute that is relatively thin, like cold water or rice milk.
Most recommended thickening agents include cornstarch, arrowroot powder, flour, heat, cocoa powder, chia seeds and extra instant pudding mix powder.
Cornstarch slightly alters the flavor and is a little cloudy in appearance.
Arrowroot powder does not alter the taste. It is clear, so it does not alter the color of the pudding either.
Flour has a wait time of at least 20 minutes to allow the pudding mixture to completely set. You'll want to use 25-30% less water.
Medium heat can also thicken instant pudding. Simply place pudding mix in a pot and stir over medium heat for 2 to 5 minutes.
Cocoa powder is a great thickening agent, but it will add a decadent chocolate flavor to the instant pudding. This makes it ideal for chocolate pudding. Jell-O and other fruit pudding? Not so much.
Chia seeds can also be used to add thickness to the pudding. Mix with liquid—either milk substitute or milk—and refrigerate it for at least 2 hours. Add it to your pudding with the flavor of your choice!
Using a partial packet of instant pudding mix is the simplest and quickest way to make pudding thicker. It already includes cornstarch mixture as a thickening agent. Start by adding about ½ box, then increase as desired.
Tips: Get the Most Out of Your Milk Substitutes
Remember, wet into dry. When mixing the pudding mix and milk substitute, pour wet into dry ingredients and whisk as you pour. This ensures the powdered mix combines evenly with the liquid, no matter how little milk substitute is used.
This technique works when using an electric mixer as well.
Whisk, then quickly pour. Beat or whisk for 2 minutes. Then, pour directly into dessert cups.
Let it sit. It takes 5 minutes for instant pudding to set. Let it sit, untouched, for 5 minutes in the refrigerator.
Sensitive to sweet tastes? Be sure to choose unsweetened milk substitutes to keep things within your palate. If tolerable, slowly add more until desired taste and consistency is achieved.
Same applies for texture. Many milk substitutes have a thinner consistency compared to regular milk. To avoid thin pudding, use less milk substitute (usually about ¼ less). Then, you may slowly add more until you get the right consistency.
Do you have any other tried and true substitution recommendations? Please let me know in the comments!