Jello has been a common snack and dessert for years. Most people recognize the wiggly texture of jello jigglers. Most of us have grown up always seeing a box of Jell-o in the cupboard.
Besides being a standalone treat, many recipes call for jello or gelatin.
Are jello and gelatin the same thing? If not, what is the difference? Can jello and gelatin be used interchangeably?
What can be used in place of jello or gelatin in recipes? Is there a vegan substitute that works?
Read on to find out the answers to these questions and more.
Jump to:
Why Use a Jello Substitute?
There are several reasons why someone may need a substitute for jello.
It may not align with your diet or lifestyle. Since jello contains animal products, it is not vegan.
Jello is fat free and low in calories, so it has often been marketed as a healthy dessert alternative. However, it is high in sugar and low in fiber, protein, vitamins, and minerals, so it is not the most nutritious choice.
Most jello contains chemicals and artificial ingredients such as food dyes and artificial sweeteners.
Those trying to avoid animal products or looking to make a healthier choice will need an alternative to jello that functions as a thickening agent and has a similar gelling action.
Perhaps you have a recipe that calls for jello or gelatin, and you are hoping to find an option already in your kitchen so you can avoid running to the grocery store.
Before we look at some replacements for jello, let's first discuss the difference between jello and traditional gelatin.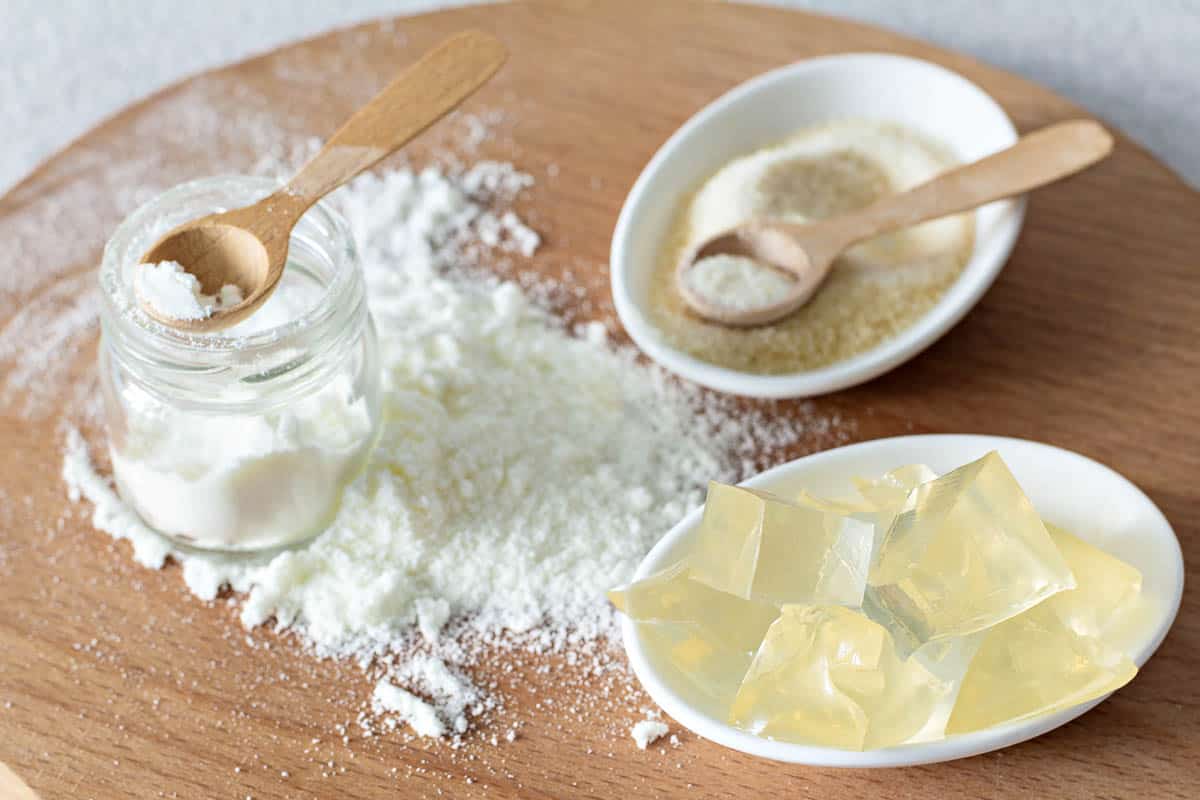 Jello vs Gelatin
What is Jello?
First introduced in 1897, jello is not an ingredient but a food product.
"Jell-O" is the brand name owned by Kraft foods that consists of a line of desserts including jello and pudding.
Jello is available in your local grocery store. It can be found as a powdered mix that you combine with water. You can also purchase premade jello desserts in individual servings.
The jello dessert most of us are familiar with is made by dissolving the powder mixture into boiling water. Gelatin, one of the ingredients in this powder, is discussed below.
The heat breaks down the collagen protein in the powder, and this is what gives jello its recognizable jiggly structure. The collagen is reformed into a semi-solid state with the water molecules trapped inside.
Jello contains gelatin, sweetener, colorings, and flavoring agents. Originally made with artificial food dyes, some products are now being made with natural colorings such as beet and carrot juice.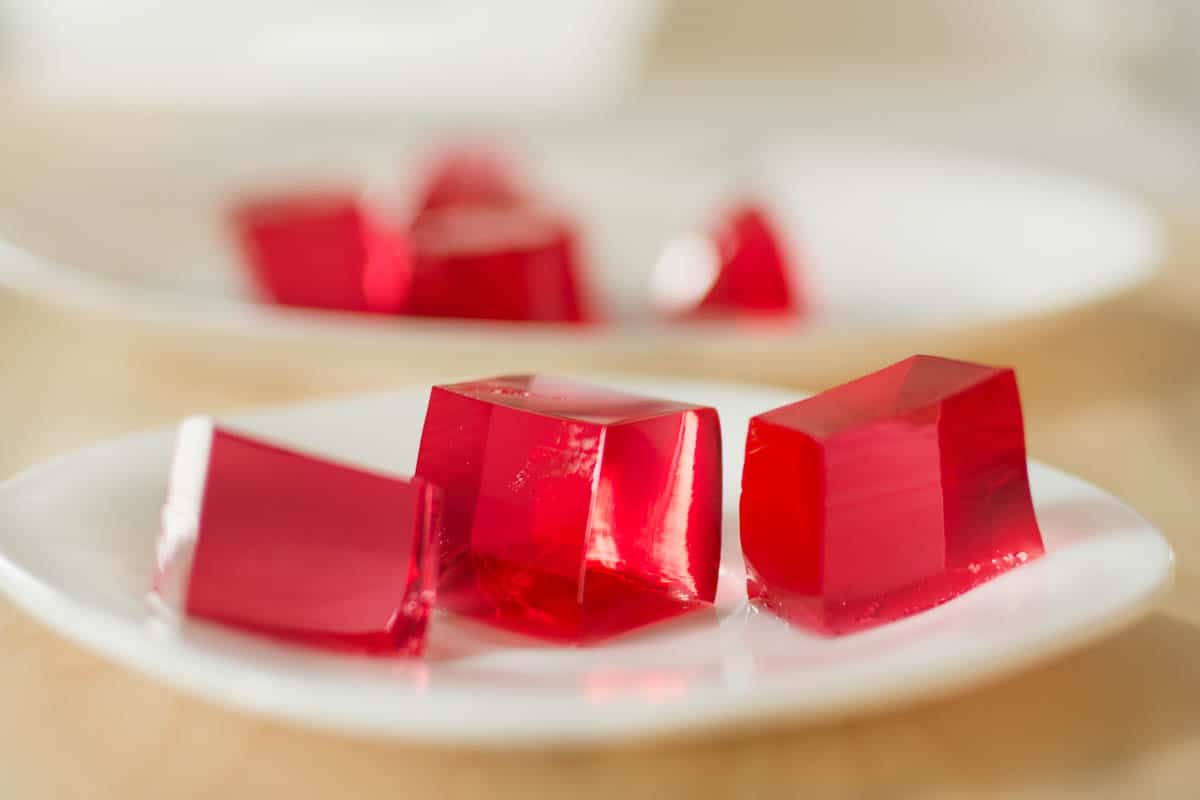 What is Gelatin?
Gelatin is the primary ingredient in jello. Plain gelatin is made from animal collagen, which is a protein that is found in connective animal tissues including skin, tendons, ligaments, and bones. Its high levels of amino acids offer several health benefits.
Gelatin is created when animal bones and hides, most often from cows and pigs, are boiled, dried, and treated. At this point the collagen is extracted.
Once the collagen is produced, it is dried and ground into a powder to make gelatin.
It is available in powder or sheets. Gelatin powder dissolves faster and more easily. The sheets, called leaf gelatin, are thin and flat, allowing them to dissolve slowly. This leads to a clear final product with a pure clean taste.
Tasteless, colorless, and odorless on its own, gelatin is used to thicken liquids and solidify foods. It is used in the creation of soups as well as familiar gelatin desserts like marshmallows, puddings, yogurt, ice cream, gummy candy, panna cotta, glazes, and more.  
In order to activate gelatin, it needs to be dissolved into a liquid that is heated.
Solidifying as it cools, once mixed, gelatin usually requires refrigeration. Most types of gelatin have a melting point close to body temperature.
Besides food, gelatin is used in toiletry items and personal care products, makeup, pill capsules, and photography.
Best Substitutes for Jello or Gelatin
Whatever your reason for finding a jello alternative, there are many options to choose from. Due to the unique nature of gelatin and how it works, to achieve the best results in your recipe, you may have to use gelatin. But, depending on what you're making, some of the alternatives listed below may work.
We are going to look at ingredients that can be used in place of gelatin, since that is the individual ingredient used as a thickening agent.
We will also discuss how to make your own jello.
Agar-Agar
Agar-agar is a fantastic vegan gelatin substitute. Like gelatin, agar agar powder has no taste, color, or smell.
Derived from algae, agar-agar thickens more firmly than gelatin. It also withstands high temperatures better than gelatin.
While a final product made with gelatin is flexible, food made with agar-agar is hard and brittle.
It can be used in baked goods, mousse, and jam. You can also use agar-agar to create vegan jello or marshmallows.
Agar-agar is available in dried powder, flakes, or bar form. You can find it in the health food or international section of your grocery store.
Use a 1 to 1 ratio when substituting agar-agar powder for gelatin. When using agar-agar flakes, substitute 1 tablespoon agar-agar flakes for every 1 teaspoon of gelatin. If using agar-agar bars, use half an agar-agar bar for every 1 teaspoon of gelatin.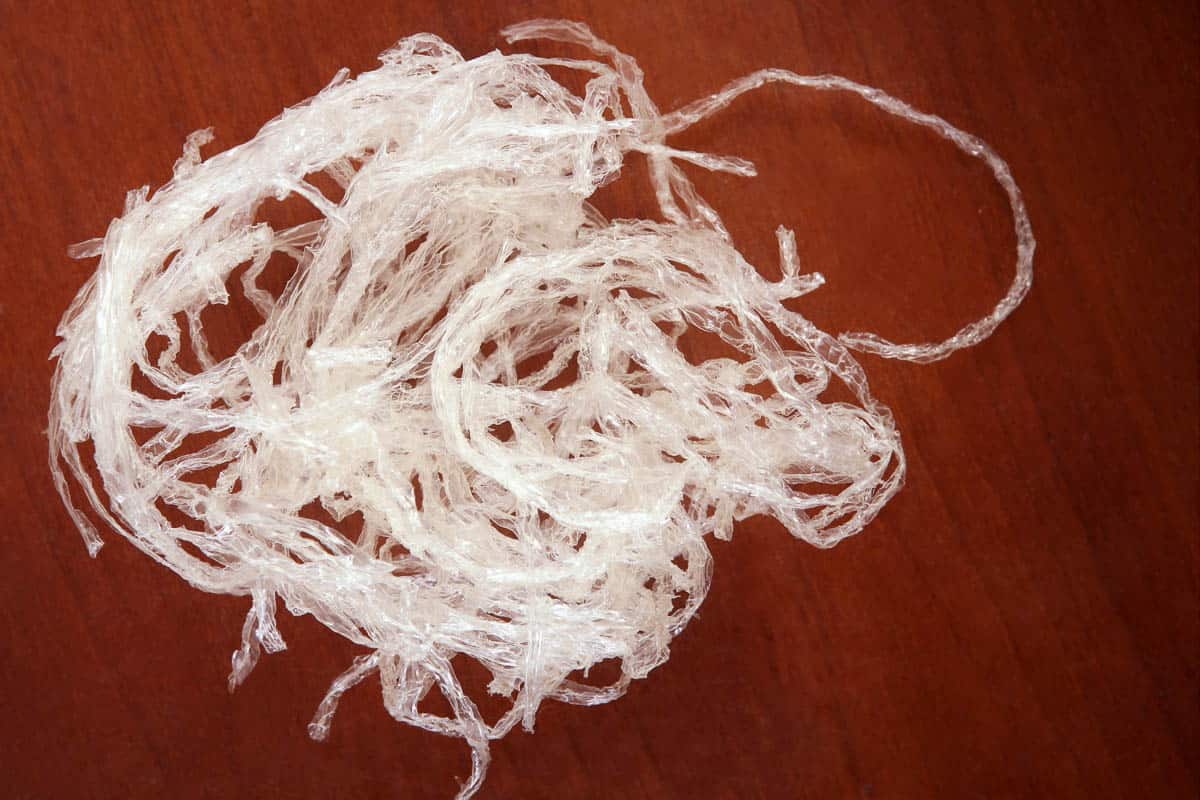 Pectin
Pectin is a starch that comes from fresh fruits and vegetables. This is also a great choice if you are looking for vegan or vegetarian gelatin substitutes.
It is often used to bind and gel jellies, jams, and preserves.
Pectin is available in a powder or liquid and can be obtained in a couple varieties. High methoxyl is available in either fast or slow setting options. Low methoxyl contains less sugar and is a great choice for sugar-free or low sugar jams and jellies.
Keep in mind that pectin typically needs sugar in order to set, making it a suitable alternative for desserts.
You may have to experiment with the amount of pectin needed to replace gelatin since there is not an exact ratio. Start with a small amount of pectin, and increase as needed until you achieve the desired consistency.
Cornstarch
Most avid cooks and bakers have cornstarch in their kitchen to thicken soups and sauces.
Cornstarch can also be used to replace gelatin in certain recipes.
Use cornstarch in sauces and glazes. It will not work in jello or similar desserts.
Gelatin and cornstarch have different properties and do not work the same. Gelatin thickens as it cools, while cornstarch thickens as it heats. This may cause a glaze usually made with gelatin to turn out more like a gravy when made with cornstarch.
To use cornstarch, substitute 1 tablespoon for each 1 ¼ teaspoon gelatin. Each tablespoon of cornstarch thickens 1 cup of liquid.
Xantham Gum
At times used in gluten-free baking, xantham gum is also found in a variety of foods from salad dressing to ice cream.
It is used as a binder and stabilizer for sauces and desserts.
Xantham gum is best used in place of gelatin for glazes and creamy pastry fillings.
You can find xantham gum in the baking section of almost any grocery store.
Xantham gum can be used as a replacement for gelatin in a 1 to 2 ratio. Use 1 teaspoon of xanthan gum for every 2 teaspoons of gelatin.
Guar Gum
This vegetable gum is made from the guar bean, which is a legume that looks like a green bean.
Guar gum is used in a variety of food and non-food products, and can be found at most major grocery stores and online retailers.
It retains its structure when heated, but it does not require heat to thicken.
Guar gum will clump up if mixed directly into recipes consisting of mostly liquids, unless another dry ingredient such as flour is added.
It is a good choice for baked goods and dairy desserts such as ice cream.
Use guar gum in place of gelatin in a 1 to 5 ratio (½ teaspoon of guar gum for every 2 ½ teaspoons of gelatin).
Arrowroot
This starch is sometimes used in place of cornstarch, and can be substituted for gelatin as well. Arrowroot is used in a powder form.
Similar to cornstarch, arrowroot works best to thicken sauces. It does not work as well as a replacement for gelatin when making firmer foods such as marshmallows or panna cotta.
As with cornstarch, first create a slurry with arrowroot before adding it to hot mixtures. Do not keep your mixture on heat too long, as this can interfere with the thickening process.
A benefit to using arrowroot over cornstarch as a gelatin substitute is that foods containing arrowroot can be frozen and then thawed. This is not the case with cornstarch.
For every 1 ¼ teaspoon of gelatin, replace it with 2 teaspoons of arrowroot powder.
Tapioca Starch
Tapioca starch, or tapioca powder, is derived from the cassava plant. It creates a smooth and sticky consistency.
Unlike gelatin, which is clear and solidifies foods, tapioca powder has a light yellow color when thick and works to bind and thicken foods.
It can be used in puddings, custards, and fruit sauces.
Tapioca starch can be substituted for gelatin in the same ratio as arrowroot powder. Use 2 teaspoons of tapioca starch for every 1 ¼ teaspoon of gelatin.
Carrageenan
Derived from seaweed, carrageenan is also called carrageen or Irish Moss.
Commonly used in commercial food production, it is often used to thicken foods such as pudding, ice cream, jelly, yogurt, and plant milk.
It is not widely available for home cooks, but you can find carrageenan online.
If you want to use it in its purest form, you can buy carrageenan in its moss form. Soak the moss in water until it enlarges. Add it to liquid, boil it for 10 minutes, and then remove the moss.
Use 1 ounce of carrageenan to thicken or set 1 cup of liquid. One ounce of carrageenan equals 1 ¼ teaspoon of gelatin.
Kudzu
Also called East Asian arrowroot or Japanese arrowroot, kudzu is derived from the plant's starchy roots.
Kudzu is most often used to replace cornstarch, rice flour, arrowroot, or potato starch. It can also be used as a substitute for gelatin in the same way that you would substitute cornstarch.
Before adding kudzu powder to the liquid you want to thicken, mix it with a cold liquid.
Use kudzu as a thickener for soups, sauces, compotes, puddings, and ice creams.
When substituting, 1 ½ tablespoons of kudzu equals about 1 ¼ teaspoon of gelatin. This amount of kudzu will thicken 1 cup of liquid. You can increase this to 2 tablespoons of kudzu per 1 cup of liquid if trying to achieve a thicker consistency.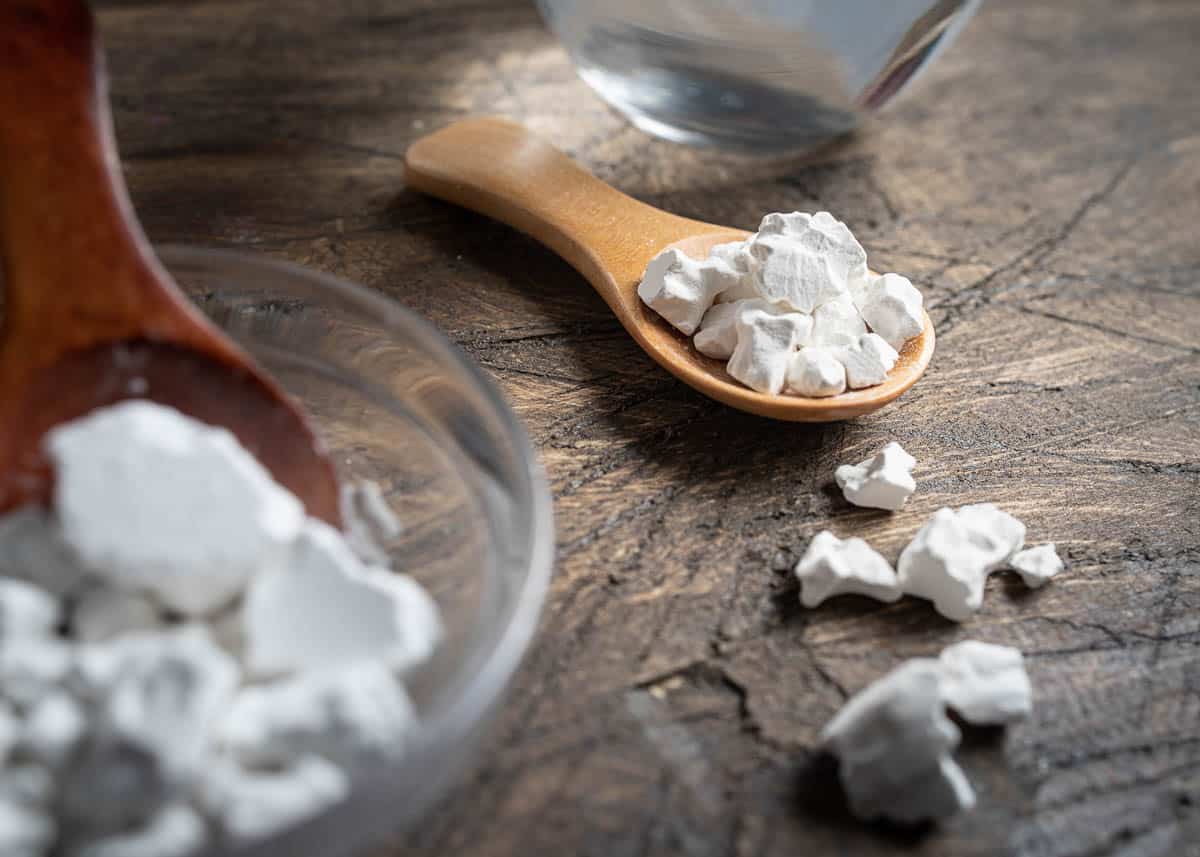 How to Make Homemade Jello
Homemade jello is healthier than packaged or store bought jello. It also gives you the opportunity to get creative with the flavors and natural ingredients you use.
Jello requires minimal ingredients. The main ingredients needed are fruit juice, water, and unflavored gelatin or one of its substitutes.
If using gelatin, you first need to "bloom" it in room temperature juice. "Blooming" allows the gelatin to soften and melt as it absorbs the liquid. This ensures a smooth final product.
Once this step is complete, whisk the mixture and add the hot water while you mix. Pour the mixture into a greased or lined pan and refrigerate for at least 2 hours to set.
Experiment with different flavors and amounts of fruit juice. Add maple syrup or honey to increase the level of sweetness.
Combine different juices for a unique blend. Mix in fresh fruit for additional flavor and texture. You can even add milk or plant milk for a fruit and cream variety.
Conclusion
Now that you have a better understanding of jello and gelatin, you can use this knowledge to determine a suitable alternative in your recipes. With just a few ingredients, you can even try your hand at making your own jello.
As you can see from this list, there are many great vegan alternatives for gelatin for those avoiding animal products.
Use one of the above substitutes to replace gelatin in a variety of recipes, including marshmallows, jams, puddings, and glazes.
Do you have any other tried and true substitution recommendations? Please let me know in the comments!