What is ginger root, and how is it different from ginger powder? Can the two be used interchangeably?
Although derived from the same plant, there are unique differences between ginger root and ginger powder. They cannot simply be substituted 1-to-1. Each has a unique consistency, flavor profile, and therapeutic potential to consider.
For example, did you know that fresh Ginger Tea, Ginger Ale, and Ginger Beer is best made with freshly sliced ginger root? Or that cookies are best baked with ginger powder?
Read on to learn more!
Jump to:
What is Ginger?
Ginger (both root and powder) comes from the flowering tropical plant, Zingiber Officinale. This plant is native to parts of Southeast Asia, such as China, Japan and India. Interestingly, ginger belongs to the same family as turmeric and cardamom.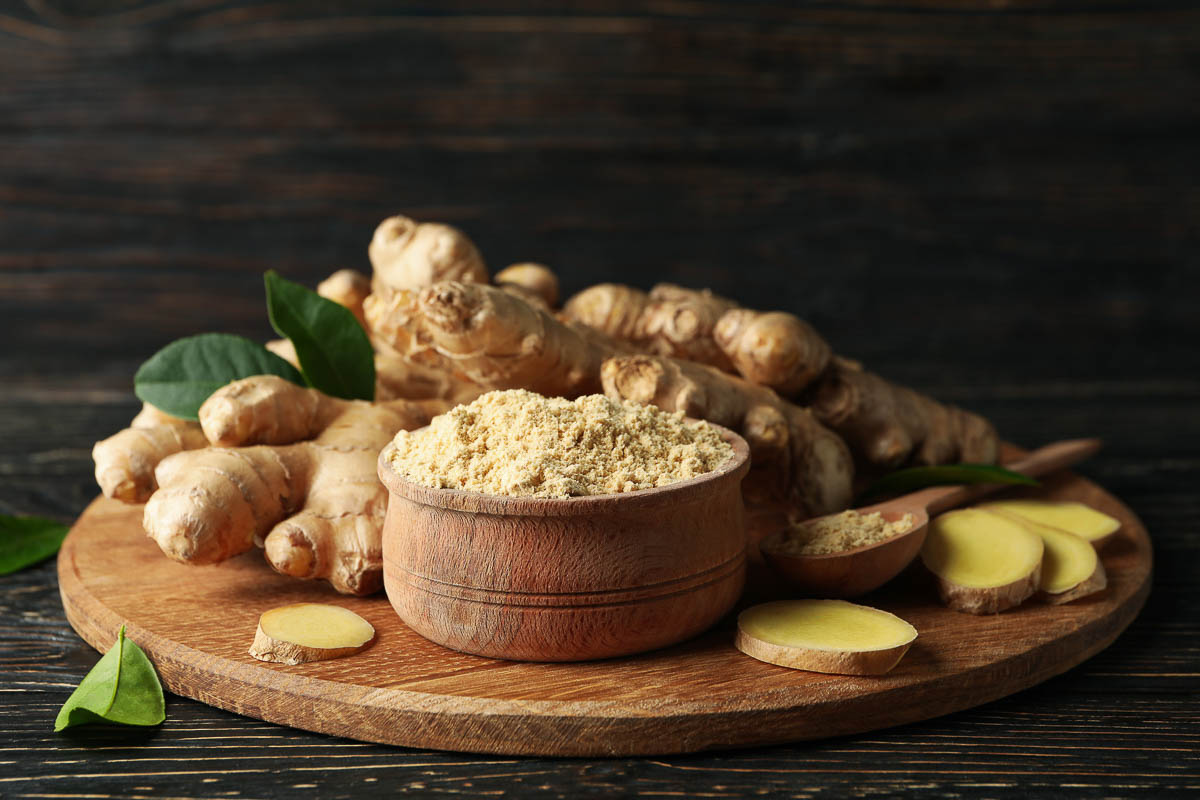 History of Ginger
Ginger does not grow in the wild so there is uncertainty as to its actual origins. The first recorded use of ginger was written in China in the Analects of Confucius circa 475-221 BC.
Chinese and Indian cultures are thought to have produced ginger as a tonic to treat ailments for over 5000 years. Around the 1st century AD, ginger became a primary export to the Roman Empire for its medicinal purposes.
After the fall of the Roman Empire, Arab merchants controlled the trade of ginger and other spices for centuries. Currently, India is the largest producer of ginger.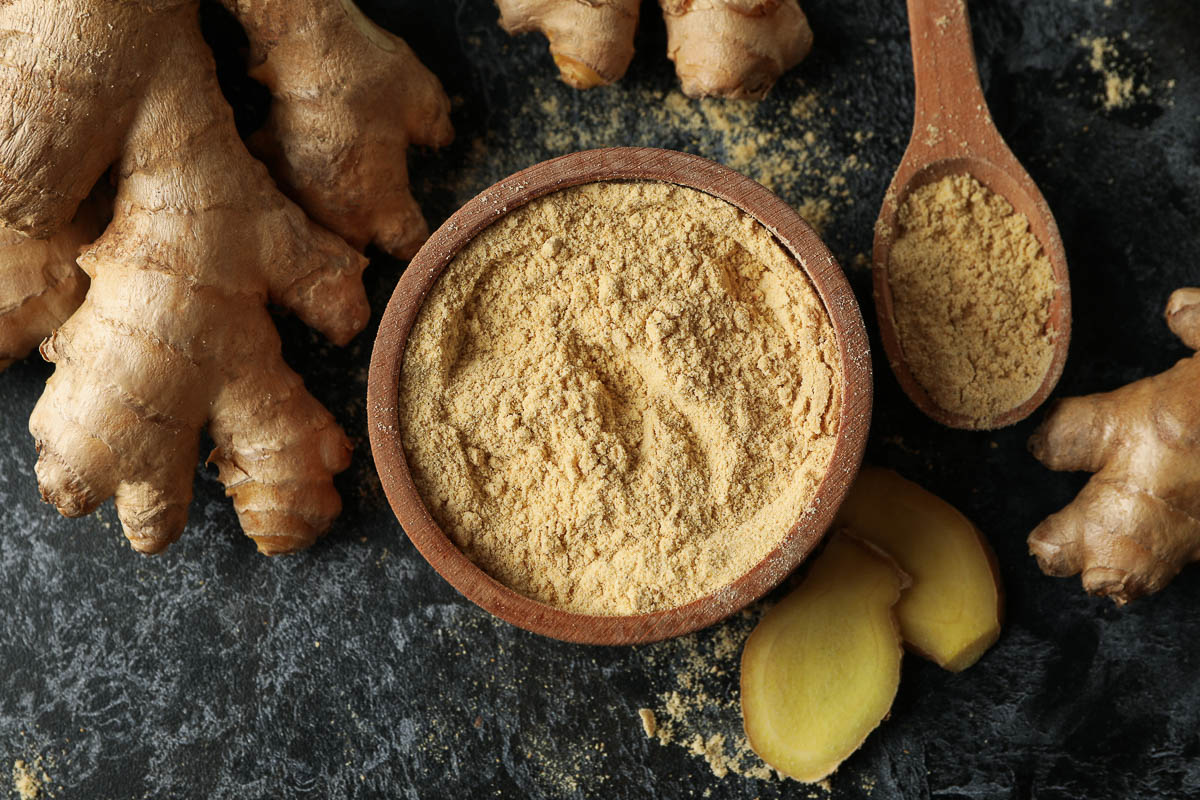 Health Benefits
Ginger is considered to have anti-inflammatory properties as well as antioxidant, antiviral, and antibacterial benefits. Ginger has a long history of use in both traditional and alternative medicine. Ginger has been used by the Chinese, Indian, and Japanese for medicinal purposes for over 50 centuries.
The main biochemical compound in ginger is gingerol. Much of the health benefits are derived from this compound. It is a major component in fresh ginger but is slightly reduced when ginger is dried. Thus, fresh ginger is considered more potent with greater therapeutic potential.
Essential oils can contain ginger oil which is derived from the ginger rhizomes from the plant. According to research on the advantages of ginger oil, it has anti-inflammatory qualities and may be useful in alleviating an upset stomach.
Ginger Root vs. Powdered Ginger
Both ginger root and powdered ginger come from the Zingiber Officinale plant mentioned above. The simplest edible form of the plant are the stems that grow horizontally, away from the root, just below the soil's surface. These stems are technically rhizomes, but the common name is ginger root.
You may have noticed ginger root at your local health food store. They are usually located in the fresh produce section, and they have a brown exterior with yellow flesh inside. Unique in shape, ginger root literally looks like thick chunks of a plant's root.
Some might even say fresh ginger root resembles clumpy, misshapen, multi-bulbed potatoes or carrots– both of which are also root vegetables.
Ginger comes in many varieties, including fresh, dried, pickled, preserved, crystallized, candied, and powdered or ground.
Ground ginger is commonly found on the spice rack and is used in cookies, cakes, and other baked goods. It can also be incorporated into savory dishes.
Candied or crystallized ginger is typically cooked in sugar syrup, coated with granulated sugar, and sold as a chewy snack.
Pickled ginger is ginger root that has been skinned, sliced, and pickled in sweet vinegar. It often has a pinkish color and is served with sushi.
Comparing Fresh Ginger Root vs. Powdered Ginger
Most recipes call for either fresh ginger or powdered ginger. Before choosing a substitute for ginger, it is helpful to understand how these two common forms differ from one another in terms of consistency and flavor.
Fresh Ginger
What it is: Whole fresh ginger root– may be skinned or sliced, depending on recipe
Flavor: Sweet, pungent, and somewhat peppery
Consistency: Chunky, somewhat moist when freshly sliced
Special notes: More potent than dried/powdered ginger. Better for therapeutic uses, like Ginger Tea for nausea or motion sickness.
Powdered/ Dried Ginger
What it is: Ginger root that has been pulverized into a fine powder form and dried
Flavor: Sharper, more intense than fresh ginger
Consistency: Smooth, dry, powdered consistency
Special notes: Better for cooking under high heat. If making cookies, choose ginger powder.
Ginger Substitutes
Fresh ginger is hard to substitute. Ground or powdered ginger are the best ginger substitute. Other spices can be used if powdered ginger is not available. However, using a different spice will change the flavor profile of the dish.
How to Substitute Ginger Root with Ginger Powder
Recall that fresh ginger is somewhat peppery and slightly sweet, with a strong and spicy aroma. Ginger powder is similar but has an overall sharper and more intense taste. In general, it is smart to always use less than you think you need. Then, add more to taste.
When the recipe calls for ginger root, and you want to use ginger powder:
Start with ⅛ teaspoon ginger powder to 1 tablespoon fresh ginger
Gradually add more ginger powder ¼ teaspoon at a time, to taste
Generally, you will not want to use more than 1 tablespoon ginger powder (unless the recipe and/or yield calls for it)
When the recipe calls for ginger powder, and you want to use fresh ginger root:
Start with 1 teaspoon fresh grated ginger for every ¼ teaspoon of ground ginger powder
Gradually add more fresh grated ginger, to taste
Exception: Fresh ginger will not substitute ground ginger in dessert recipes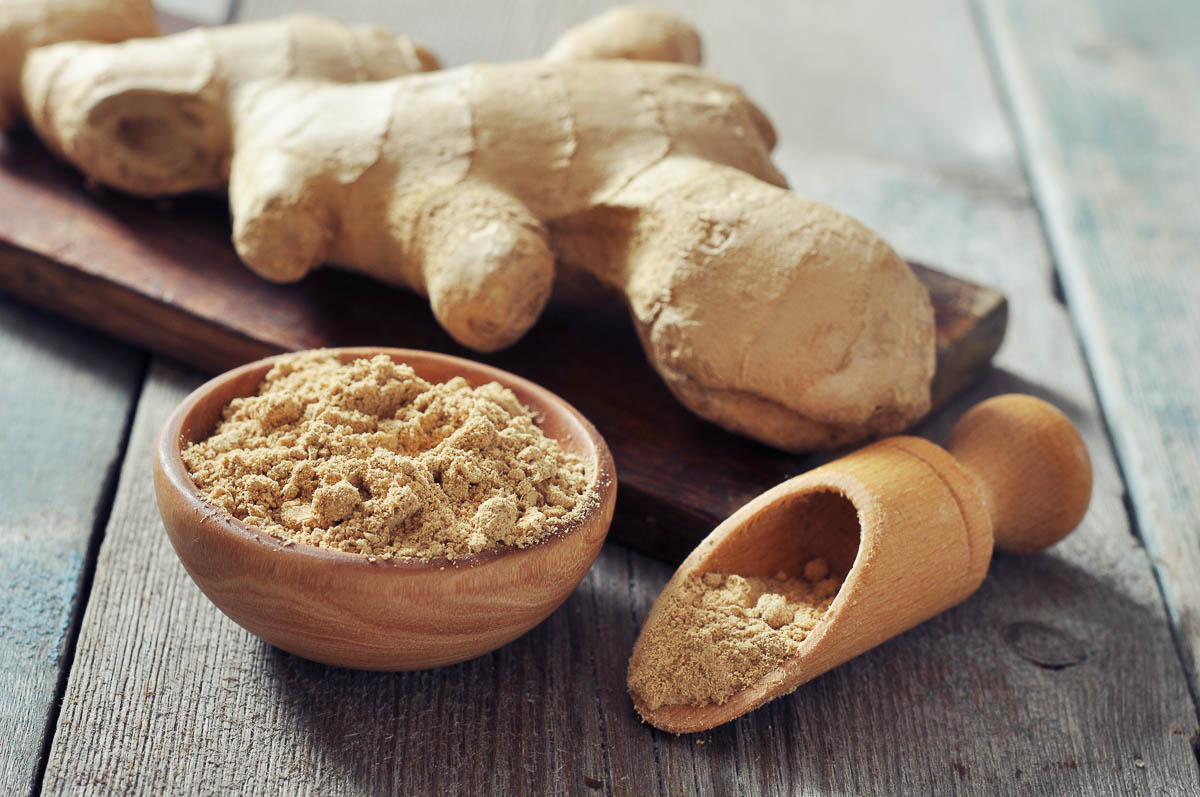 How to Substitute Ginger with Other Spices
When neither fresh nor powdered ginger are available, other spices can be used. However, each carries unique and rich flavors that will have an effect on the recipe. When in doubt, always use less than you think. Then, add more to taste.
Substituting for Fresh Ginger
The most popular spice-substitutes for ginger include cinnamon, nutmeg, and allspice. When using one of these spices:
Use ¼ teaspoon for every 1 tablespoon of fresh ginger
Gradually add more, as needed, ¼ teaspoon at a time
Depending on the dish you can also substitute turmeric or cardamon which are close relatives. When using turmeric or cardamon:
Use ¼ teaspoon for every 1 tablespoon of fresh ginger
Gradually add more, as needed, ¼ teaspoon at a time
Substituting for Ginger Powder
Cardamom, cinnamon, nutmeg, allspice, turmeric, and mace all make good substitutes for ginger powder. When substituting these spices for ground, dried, or powdered ginger:
Use ½ the amount called for in the recipe
Increase if needed, tasting as you go
Ginger Recipes
The uniquely sweet and spicy flavor of ginger makes it an essential element of many savory recipes. Most commonly, ginger is used in curries, marinades, and popular desserts like pumpkin pie and gingerbread.
Fresh Ginger with Entrees and Side Dishes
Freshly sliced raw ginger is often served with soup, like ginger carrot and curried butternut squash. It may also be served with cocktails, like the ginger martini.
Of course, fresh pickled ginger is often served with sushi, sashimi, and other dishes at Japanese restaurants.
Fresh Ginger Tea
Ginger tea is one of the most popular (and delicious) ways to enjoy the many health benefits of this ancient Asian root.
Ingredients
Fresh ginger root, skinned and sliced
Tap or purified water
Honey (optional)
Directions
Grate or cut ginger root into small pieces. Before grating peel or scrape away the outer skin. You can use a spoon rather than a peeler.
Add to a pot with 1 ½ cups of water (purified or tap).
Bring to a boil, cover and let simmer for 15 min.
Use a strainer and pour into a cup.
Add honey and enjoy.
Note: Fresh ginger root is best, due to its potency and therapeutic value. To substitute ginger powder, simply bring water to a boil and use the substitution key in the Ginger Substitutes section above.
Ginger Shots and Juice
Fresh ginger shots and juice are another way to enjoy the therapeutic health benefits of ginger root. To make this recipe, you will need a blender and a strainer or cheesecloth.
Ingredients
1 cup of fresh ginger root, skinned and cut into 1" pieces
¼ cup lemon juice
3 cups water (tap or purified)
Optional: Herbs like rosemary, thyme, basil, or mint, to taste
Instructions: Ginger Shots
Place fresh ginger root in a blender with water and lemon juice.
Optional: Add rosemary, thyme, basil, or mint to taste.
Blend mixture thoroughly (note: there will be pulp)
Pour mixture through strainer or cheesecloth and store in refrigerator
Enjoy these pungent and spicy ginger shots 1-2 ounces at a time, just like any other shot. For ginger juice, simply add water using the directions below.
Make Ginger Shots into Juice
Add 1-2 additional cups of water to each 1-2 ounce ginger shot
Sweeten to taste using your favorite sweetener (sugar, stevia, honey, agave, etc.)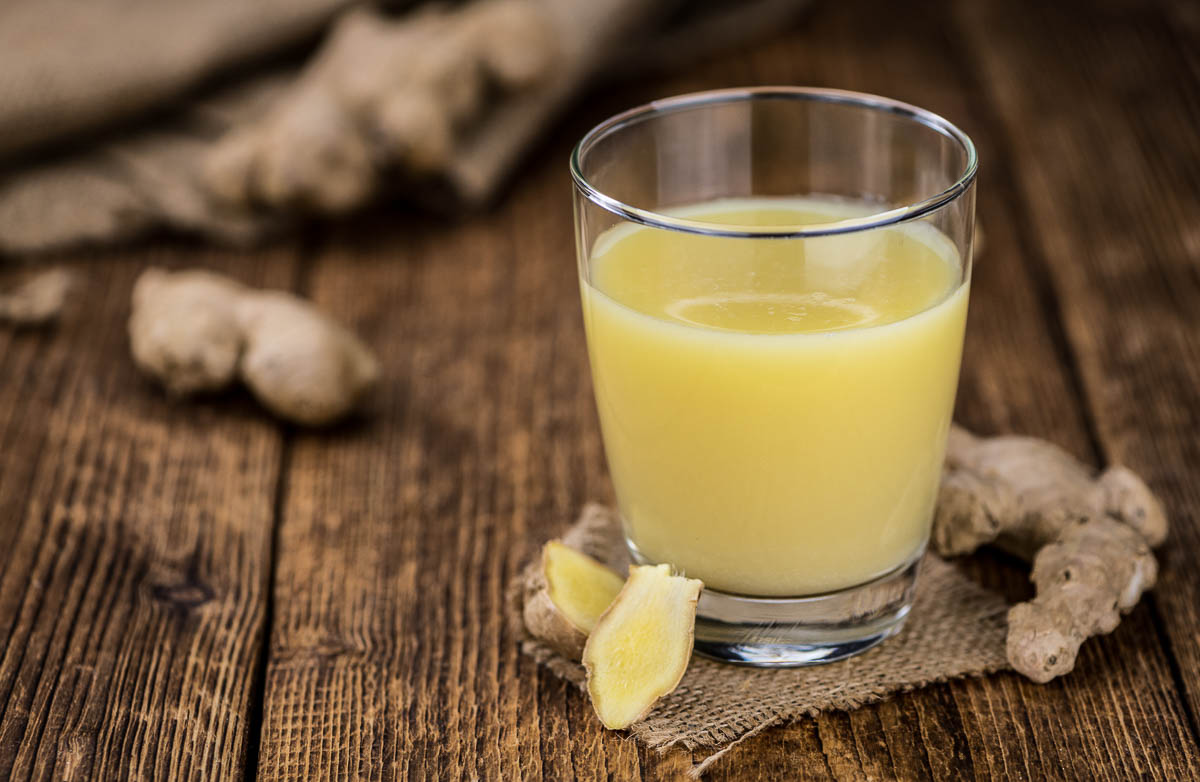 Ginger Salad Dressing
Ginger salad dressings are a refreshing addition to any bowl of leafy greens. They can be bought ready made, or you can make the dressing yourself using the recipe below.
Ingredients
2 teaspoons finely grated fresh ginger
½ cup extra-virgin olive oil
2 tablespoons apple cider vinegar
2 tablespoons Dijon mustard
1 tablespoon maple syrup or honey
½ teaspoon fine sea salt
About 20 twists of freshly ground black pepper
Instructions
Whisk all ingredients in a mixing bowl until fully blended. Note: If using cold mustard, allow it to warm to room temperature before combining in the mix.
Taste, and adjust according to preference. To increase tartness, add 1 teaspoon of apple cider vinegar at a time. To increase sweetness, add 1 teaspoon of syrup/honey at a time.
Store in refrigerator for up to 10 days.
Note: Olive oil may solidify when refrigerated. Simply bring the dressing back to room temperature to liquify.
Conclusion
Increasingly, doctors and patients have begun turning to alternative and herbal medicines for general health and longevity. Not surprisingly, ginger has become a popular choice for anyone who wants a healthy food that provides a variety of health benefits– all while tasting delicious.
Both fresh ginger and powdered ginger are easily incorporated into various dishes, drinks, and of course, desserts. Whether ordering out or cooking at home, be sure to add this sweet and spicy food to your next meal!
Do you have any other tried and true substitution recommendations? Please let me know in the comments!