Dijon Mustard, otherwise known as Moutarde De Dijon, is a popular condiment staple in many kitchens for good reason. The use of blackmustard seeds or brown mustard seeds and white wine offers a very tangy, smooth, creamy and delicious ingredient.
While this condiment is an excellent mustard, you may run out of Dijon. Then you must ask if there are other options in your culinary arsenal to achieve the taste, look or emulsification that Dijon offers?
Below, I will show you just exactly what good substitutes are for Dijon when you are out of it yet need it in a recipe.
Jump to:
What Is Dijon Mustard?
Dijon Mustard originates from the town of Dijon, France. It was originally made by mixing verjus, unfermented and unripe grape juice, with the main ingredient, mustard seeds.
Dijon is the capital of Burgundy, France. So when this mustard became popular, it spread quickly throughout French cuisine.
This distinctive mustard is known to have origins as far back as the mid 1800s and has grown in popularity since. The flavor of the grape juice adds a slight fruity quality that elevates Dijon to its status as a "fancier" and in general highly regarded mustard.
Where To Find Dijon Mustard
Dijon Mustard can be found in many grocery stores or even online. It is a fairly standard condiment, often being stocked in the condiments aisle.
Even your favorite small local grocery store should carry it because it is so popular.
How Dijon Mustard Is Used
As A Condiment Or Sauce
By far the most popular way to use Dijon is as a condiment. Used on burgers, roast beef sandwiches, hot dogs and other cuts of meat, the acidity and tang of the mustard adds so much more zing than regular mustard.
A slightly spicy food, Dijon adds that kick that many crave.
It is also used as a finisher in sauces and can be used as a topping on certain dishes.
When cooking, it is often popular to finish with some acidity to brighten a dish and this is what Dijon mustard offers.
Emulsifier
Another application for Dijon mustard is to be used as an emulsifier.
This is done mainly in salad dressings, in which the mustard acts as a stabilizer between the fat and acid of a dressing to keep it from splitting. This is essential in keeping dressings held together.
Best Substitutes For Dijon Mustard
1. Spicy Brown Mustard
Spicy brown mustard, or deli mustard, is one of the best alternatives to Dijon. The whole seeds in this mustard will not offer the same texture as Dijon, but the tangy and slightly spicier profile than Dijon offers a replacement that makes this the best option.
The difference between the two is that Dijon uses verjus or white wine in the process of being made.
Spicy brown mustard uses vinegar in its recipe, which will yield a slightly spicier end product. The flavor profile still offers that bold mustard flavor you are looking for.
2. Whole Grain Mustard
Slightly different from spicy brown mustard, whole grain mustard is slightly spicier yet can be sometimes sweeter depending on the producer.
The coarser texture is more desirable by some therefore making this a good choice. This mustard is used heavily in dressings and on top of meat dishes.
When looking for a Dijon substitute for either application, reach for whole grain.
3. Honey Mustard
Honey Mustard is a popular choice and excellent substitute when replacing Dijon due to its sweet flavor.
The two mustards differ in flavor profile, as Dijon has a tangy approach. Honey Mustard balances that tanginess with the sweet taste of the honey within it.
When approaching recipes that need Dijon, use honey mustard only when the sweetness may add to the dish. It also does have a creamy consistency similar to Dijon.
Using it in a dressing may add another depth of flavor, but topping with a seared steak may not offer the balance of flavor Dijon will.
4. Hot English Mustard
The color of this common condiment is bright yellow, similar to American. The difference is that it is much spicier, offering a lot more heat.
Compared to Dijon it is slightly spicier so when using this mustard it is important to dial back the amount to account for the extra heat.
The Hot English Mustard is also somewhat more bitter than Dijon and is definitely more pungent. This is due to the product and its distinctive flavor.
It is also known to traditionally be made with wheat flour, which gives a strong flavor and a spicy taste. Using this on sandwiches or as a topping is an ideal way to use the mustard.
5. Yellow Mustard (Other names: French's, American, Regular)
The classic.
Yellow mustard is great because it offers just enough of the tanginess and potency of mustard without the extra kick of a Dijon. It is also slightly sweeter than Dijon.
This mustard will offer the tanginess you need, but a potential drawback is the bright yellow color and it also has a much more mild taste.
If you are not looking to make a dressing or sauce with a bright yellow color added in, then this is not the mustard for you. This mustard is also slightly looser so take that into account as well when adding to your product.
6. Stone Ground Mustard
Stone Ground Mustard is a variation a lot of people enjoy. It made by grinding brown mustard seeds into a spread. This spicy condiment offers a unique taste and texture.
The grinding of the whole mustard seeds offers a pungent flavor while also adding the texture of the broken up seeds. The result is a potent mustard with a unique texture and consistency.
This is great used as a topping or condiment, but will not work well in a dressing as an emulsifier.
7. German Mustard
German Mustard offers a similar taste to Dijon, but due to the higher vinegar content it offers a spicier experience when eating.
Extra ingredients such as honey or horseradish can be added and it is mainly used as a topping. The intense flavor offers a great taste, but should be used less generously than Dijon.
8. Beer Mustard
Beer Mustard is mustard made with dark beer. The mustard itself is a good alternative to Dijon as it has a very deep flavor.
What differs this from Dijon is that it is less spicy, allowing the distinctive taste of the beer to be the star of the show.
Perfect on pastrami or other sandwiches, using as a topping is best.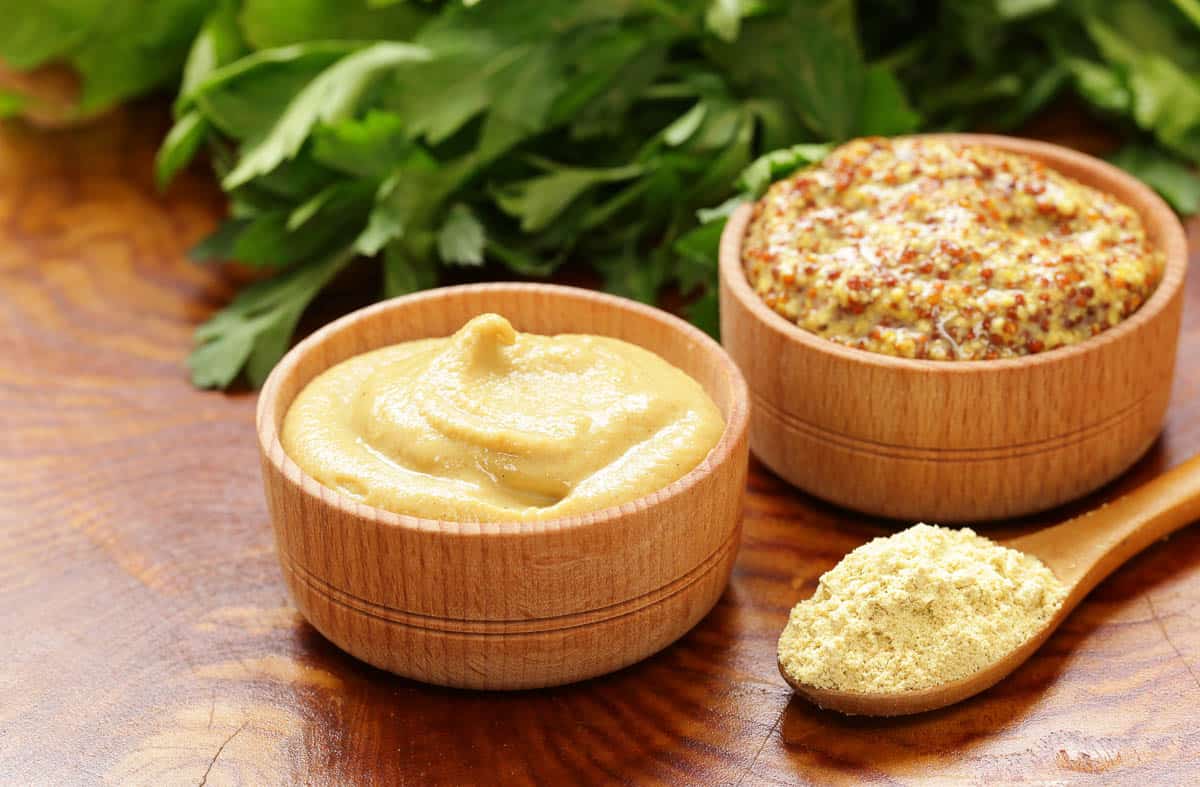 9. Dry Mustard
Dry Mustard is really ground up dried mustard seeds.
The product is very potent on its own, but mixed into marinades, dressings or sauces will replace the sharp flavor of Dijon while also offering the mustard flavor.
What is useful about dried mustard is the relative little amount needed to add a ton of mustard flavor.
It is also easy to incorporate into recipes, as the powder blends well with most textures and applications. This easy to use and powerful substitute is great when you need something that resembles Dijon but have run out.
10. Horseradish Sauce
Horseradish sauce is often horseradish mixed with mayo, vinegar, sugar and some spices. It offers a very tangy, slightly spicy and sometimes sweet flavor on the palette.
It is also quite thick in texture, depending on the preference of the producer.
Horseradish is a good substitute for Dijon in the sense that it can be used as a condiment or topping.
It offers the same acidity that will cut through fatty meat, or offer the bright, acidic pop to a dish when used as a topping.
11. Worcestershire Sauce
Worcestershire sauce is another substitute to offer that tanginess to a dish when you are out of Dijon.
This is not a mustard, but rather a sauce made of a combo of molasses, anchovies, garlic, sugar, salt and some spices. It is tangy and offers umami as well.
This sauce is known to be very potent in taste and is also more of a watery texture.
Mixing Worcestershire with sour cream or mayonnaise helps cut the acidity down, enrich the texture, and can offer a mixture that can be used as a condiment or topping that will mimic what Dijon offers.
12. Mayonnaise
Known for being a staple in most kitchens, mayonnaise is a condiment that will fill in the creamy consistency of Dijon.
Mayonnaise offers both the texture and flavor that will be a good substitute when you want a thick, slightly tart, replacement for Dijon.
Mayo does not have the same strong flavor though. It will also not match color and is not nearly as potent so be mindful of this when using.
13. Egg Yolk
Egg yolks provide a great substitute for Dijon when it comes to an emulsifier. Egg yolks act similarly to mustard, in which they are able to hold together fats and solids in a way that prevents them from splitting. They also do offer a little bit of their own rich flavor.
Caesar dressing is famous for its use of the egg yolk stabilizer. They can be used in other dressings to stabilize if you are out of Dijon mustard.
Just be sure to be aware that you are consuming a raw egg product if you do decide to use it.
14. Lecithin Powder
Lecithin is a powder made from fats found in animal or plant sources, often soy being the main source. What lecithin does is it also acts as an emulsifier in food products.
Lecithin is used commercially in not only food products, but cosmetics as well.
If you are out of Dijon and need an emulsifier for a sauce or dressing, lecithin is a great go to choice for this. Easy to use and very powerful once incorporated, lecithin will ensure your product does not split.
It will not add the flavor of Dijon, but it will create the wanted emulsification.
15. Homemade Dijon Mustard
The last way to substitute Dijon mustard is by, well, making Dijon mustard. If you are in a pinch for time then this is not the option for you. But if you want to rely on your own cooking skills and learn a new recipe, then you should most definitely try making Dijon on your own!
Dijon Mustard is relatively simple to make. The ingredients include mustard seeds, white wine (acting as a verjus), shallots, salt and pepper. Essentially all that is needed is to find the right ratio and to blend this product. Once blended it needs to sit about 12 hours and it is ready to go!
Making Dijon Mustard homemade is a great choice as it will have a long shelf life and you can really play around with the flavor.
You are able to control factors such as acidity, types of wine used and even the types of seeds and color. Black and brown mustard seeds are common but even yellow mustard seeds can be added in!
Final Thoughts
There is no doubt that Dijon Mustard is a popular and delicious mustard variety and for good reason. The balance of tanginess, acidity, spiciness and that potent mustard flavor make it one formidable part of any home cook's pantry.
But if you do find yourself without this product then there is hope of being able to find a replacement. In order to be successful in your substitute of Dijon, it is important to take a moment to stop and recognize how the Dijon Mustard is being used.
Is it acting as an emulsifier in a dressing or sauce? Are you wanting to add flavor and color to a marinade? Do you need it to be used as a condiment or topping? Is it pairing with meat, vegetables or starches? Knowing how the Dijon is supposed to be used will get you to your best substitute option. 
Substitute Guide for Dijon Mustard
All the information you need organized for you below!
Dijon Mustard Substitution Graphic
Substitutes for Dijon Mustard Table
| Substitution | Qualities |
| --- | --- |
| Spicy Brown Mustard | Slightly spicier, but flavor profile still offers same bold flavor. |
| Whole Grain Mustard | Courser texture, similar flavor. |
| Honey Mustard | Slightly sweeter and not as spicy, but similar texture and color. |
| Hot English Mustard | Bright yellow, spicier, more pungent. |
| Yellow Mustard | Bright yellow, mild taste, tangy flavor, lack of spice. |
| Stone Ground Mustard | Flavor of pure mustard seeds, lacks zing Dijon offers because of lack of verjus. |
| German Mustard | Similar taste, nice zing, higher vinegar/acid level. |
| Beer Mustard | Less spicy, great as spread or topping. |
| Dry Mustard | Potent flavor, best when incorporated into recipes. |
| Horseradish Sauce | Offers the same acidity that will cut through fatty meat, or offer the bright, acidic pop to a dish when used as a topping.  |
| Worcestershire Sauce | Potent taste, watery consistency, can be combined with sour cream or mayonnaise to reduce acidity and enrich texture. |
| Mayonnaise | Offers both the texture and flavor but does not have the same strong flavor. Will not match color and is not as potent.  |
| Egg Yolks | Does not add the flavor of Dijon, but they are able to hold together fats and solids in a way that prevents them from splitting. |
| Lecithin Powder | It will not add the flavor of Dijon, but it will create emulsification. Will ensure your product does not split. |
| Homemade Dijon Mustard | Combination of mustard seeds, white wine (acting as a verjus), shallots, salt and pepper. Takes time for flavors to develop. |
Do you have any other tried and true substitution recommendations? Please let me know in the comments!