Common in recipes ranging from baked goods to fried foods, all-purpose flour is a stable ingredient found in kitchens all over the globe. But, what happens when you run out?
We use good 'ole cornmeal! Cornmeal is a fantastic substitute for flour in all types of recipes as cornmeal is a versatile ingredient. It comes in many different ground forms that range from fine to coarse ground.
In this article, we will be discussing the many ways cornmeal can be used to substitute for flour and in which recipes the type of grind of cornmeal should be used. Keep reading for more information on how to use your cornmeal for your favorite recipes! 
Jump to:
What Is Cornmeal?
A coarse flour, cornmeal is made from grinding dried yellow corn. There are different available consistencies of cornmeal, ranging from finely ground to coarse ground cornmeal.
The grind of cornmeal will vary based on the recipe it substitutes in for flour, but a handy high-speed blender can really do the trick when needing a more finely ground cornmeal, also known as corn flour.
There are loads of recipes that use corn products and different kinds of ground cornmeal, like yellow cornmeal and white cornmeal.
Each main ingredient provides a different flavor used to make foods like tortilla chips, corn tortillas, sour cream cornbread, corn chips, corn flakes, blue corn chips and much more!
Two specific methods are used to achieve a specific consistency of cornmeal. The first is done by using a stone ground, which is a method of using two large and heavy pieces of stone, to obtain an artisanal result with a coarse texture.
The second method utilizes steel rollers, which are commonly used to crush plastics, ore, grain, and other products. The usage of the steel rollers achieves a more finely ground cornmeal result, while also benefiting from an ingredient that has been removed of germ and bran to become shelf-safe. 
The Difference Between Cornmeal And Corn Flour
The main difference between cornmeal and corn flour is the different texture. Both ingredients are made from milled and dried corn, though each product uses a different degree of milling to obtain the resulting texture differential.
Cornmeal will have a grittier texture than cornflour. To compare, corn flour is much more fine, like flour, hence the name. Cornmeal is coarsely ground while corn flour is finely ground. 
Different Types Of Cornmeal
With loads of different types of corn like dent corn and field corn, it's no wonder there are so many flavors of cornmeal. This only manages to expand further into different styles of grind that come from the whole corn kernels.
It is a staple ingredient in many cuisines, including Mexican, Italian, and American. There are different types of cornmeal, which vary in color, texture, and flavor.
Fine Ground
Often referred to as "corn flour", fine ground cornmeal is frequently used in baking due to its lighter texture. Due to its finer texture than coarse ground cornmeal, fine ground cornmeal boasts a lesser "corn" taste. 
Medium Ground
With a similar texture to fine-ground cornmeal, medium ground cornmeal is also used in baking because of its lighter texture.
Coarse Ground
Coarse ground cornmeal is more suitable for polenta, rustic puddings, or, for those that like the coarse texture and enhanced corn flavor, in cornbread.
Stone-Ground
Stone-ground cornmeal refers to the method used to mill the dried corn. In this instance, it refers to a more traditional method compared to modern techniques used today. Modern methods utilize high-speed mills that heat up the dried corn, which can end up removing the "corn" taste along with the quality of the oily germ.
If desiring more "corn" flavor, we recommend buying a stone-ground cornmeal.
Polenta
A popular Italian dish, polenta is not limited to the reference to the famous cornmeal porridge that gained its founding in Northern Italy amongst farmers. Polenta also refers to the cornmeal that is used to make the popular dish.
Cornmeal that is packaged and labeled as "polenta" is normally a coarse ground cornmeal. Cooks and chefs usually have a preference for cornmeal ranging from medium to coarse ground when making polenta, though it can also be made into what is called "polenta flour".  
Grits
Originally a British reference to any coarsely ground grain, grits have been leaned down to specifically refer to cornmeal that is very coarsely ground. For corn grits, the type of corn may differ between yellow or white dried corn, but grits are most commonly made from hominy, whole-kernel corn removed from the germ and hull. 
Masa Harina
Translated from Spanish into English as "dough flour", masa harina is made from hominy. Hominy, also known as pozole in the Southwest and Mexico, is soaked or cooked to remove the germ and hull.
Masa Harina is made using the traditional stone-ground method.
In the making of masa harina, the freshly ground and wet hominy grits are ground into a paste called masa. The masa is then dried then pounded into masa harina, which lasts longer than masa. The masa harina is commonly used in chili con carne. It is frequently used in Latin American kitchens as a wheat flour as well as a thickener for soups and stews. 
Blue Cornmeal
Blue cornmeal is the least common type of cornmeal and has a distinctive blue-gray color. It has a nutty flavor and is often used in pancakes or as a thickener for soups and stews. 
When You Can Substitute Cornmeal For Flour
There are certain limitations to the context, but yes, cornmeal can be substituted for flour in special circumstances that depend on the recipe and grind of cornmeal.
Using a cornmeal replacement can make for a great substitute that provides a different flavor that can enhance recipes and be a great gluten-free alternative for those with celiac disease.
Breading
Cornmeal is often singularly used as a breading in recipes. It can be combined with flour or used as a replacement. Its notable nutty flavor and corn taste provides extra flavoring to dishes like fried fish, oven-fried chicken, southern-fried catfish, and more.
In some cases, corn flour should be used to replace the flour in a recipe that requires the flour ingredient for a breading. For those desiring a more texture to their breading, a more coarse ground cornmeal might be more suitable.  
Thickening Agent
As discussed previously, a medium-grind cornmeal or polenta can be used to thicken soups and stews. It adds the texture of cornmeal to the soup or stew while also providing a slight "corn" flavoring.
Cornmeal can additionally be applied to other recipes like chili as a thickening agent. Start off by adding one tablespoon of cornmeal to the chili, in this case. Stir the contents and allow for the chili to simmer for about 10 minutes as the cornmeal absorbs the excess liquid.
If you are trying to thicken a sauce, instead of making a roux with fat and all-purpose flour or corn meal, you can also mix cornstarch with some of the liquid to create a slurry. A corn starch slurry will thicken any sauce or liquid.
Baking
Using fine ground cornmeal is recommended when replacing flour in baking recipes, but a medium-ground cornmeal will suffice as well. When replacing flour with cornmeal in a recipe the measurements should align by weight instead of by volume. No flour is the same. For example, bread flour and cake flour vary because they have a slight weight difference.
Corn flour, which is basically a fine cornmeal, can be used in recipes for pancakes, muffins, and breads. It needs to be combined with a binding agent like eggs or xanthan gum to get the full effect of its capabilities in baking recipes. 
Additional Flour Options
For those that have a corn allergy, take a look at some great alternative options to replace regular flour ranked from best to worst.
Oat Flour
Like coarse ground cornmeal, oats can be ground up into a fine textured flour by using a high-speed blender or food processor for a quick and effective ingredient substitution.
Oat flour makes for one of the best substitutes for cornmeal or all-purpose flour. Packed with protein and fiber, oat flour provides an earthy and nutty taste to baked goods while also providing nutritional health benefits. Replace flour with oat flour in breads and baked goods, following the measurement ratio by weight instead of volume. 
Chickpea Flour
Commonly referred to as garbanzo flour, chickpea flour is made from grinding up dried chickpeas into a fine powder that results in a flour-like texture. Packed with protein and fiber, chickpea flour is another nutritious flour substitution that we recommend.
Chickpea flour does have a strong "bean" flavor that comes about in recipes, so if you're not a fan of the idea of that in your baked goods, this might not be the best choice for you. Instead, we recommend replacing flour with chickpea flour in recipes that include savory dishes like fried foods, savory waffles, fritters, and so forth.
When using chickpea flour to replace all-purpose flour or whole wheat flour, use a 1:1 ratio.
Rice Flour
This is another gluten free flour option. It can be a good substitute for all-purpose flour, but cannot be used as a 1:1 substitute. It can, however, be used in smaller quantities for the purposes of thickening.
For the purpose of baking, rice flour does not act like all-purpose wheat flour with respect to how it absorbs liquid. If you plan to use rice flour for baking, it must be mixed with other alternative flours like almond flour and potato starch to get better results.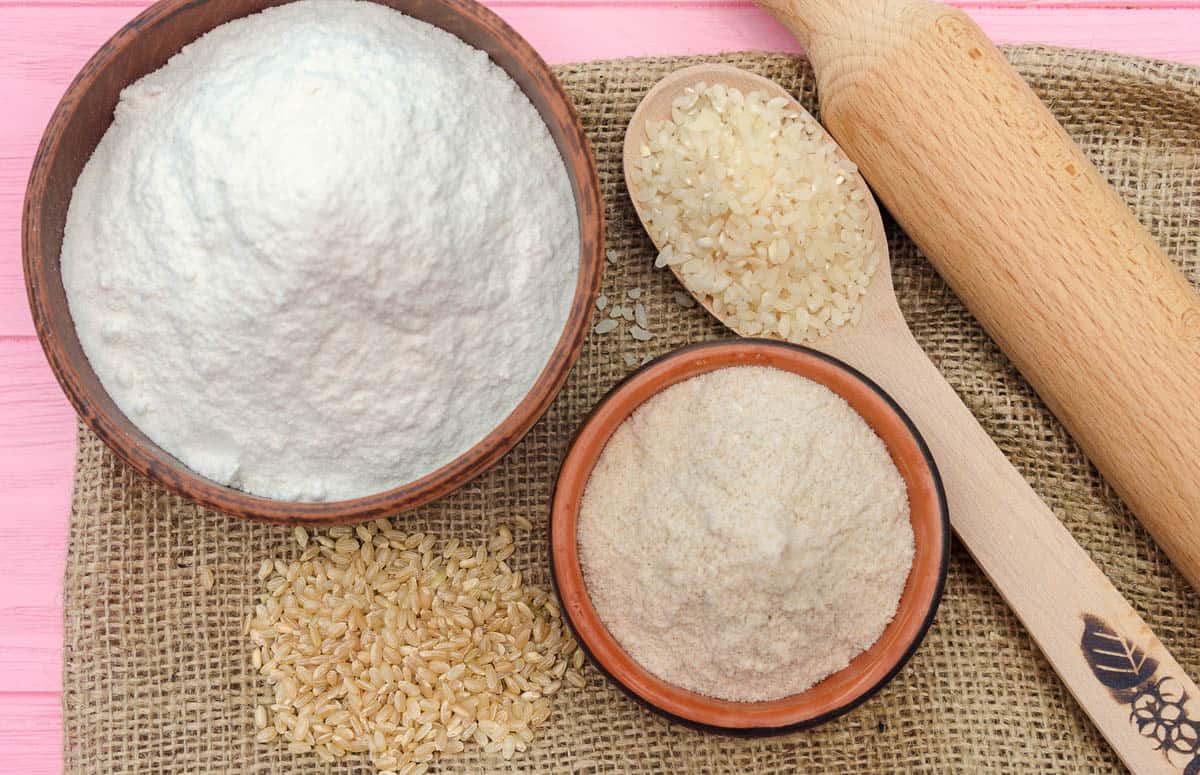 Frequently Asked Questions
Can cornmeal be ground into flour?
Yes, it can! Cornmeal can be ground into a flour by using a high-speed blender or even a coffee grinder. Using these appliances can turn the coarse ground cornmeal into a finer grind of cornmeal, a corn flour.
Finely ground cornmeal, or corn flour, can be bought at local grocery stores, but if you find yourself needing some cornflour immediately for a recipe, then grinding coarse ground cornmeal yourself can be done quickly and efficiently with a high speed blender.
Are flour and corn flour interchangeable?
They are, depending on the recipe. All-purpose flour, or plain flour, will have less of a notable flavor compared to corn flour that is more noticeably nutty and corny in its flavoring. The two are interchangeable in many recipes including pancakes, muffins, breading, and frying. When using it as a replacement in baking, however, it is essential to have a binding agent, like eggs or butter, to obtain a positive result in the recipe.
When replacing corn flour for all-purpose flour the ratio may rise to a 1:2 ratio, or when replacing all-purpose flour for corn flour a 2:1 ratio. It is best to follow preceding advice by measuring by weight rather than volume for the best results.
How can I substitute cornmeal in a recipe?
Instead of substituting cornmeal for flour, did you mean to ask if you can use flour in place of cornmeal?
There are many types of flour that do not include corn.
All-purpose flour and wheat flour can substitute for cornmeal in a baking or breading recipe. Follow the recipe instructions, replacing the cornmeal with all-purpose flour by measuring by weight rather than by volume.
Other great cornmeal substitutes include breadcrumbs, ground oats, or semolina. These substitutes are great when desiring the notably cornmeal texture in recipes, especially for recipes requiring cornmeal for breading. 
Do you have any other tried and true substitution recommendations? Please let me know in the comments!