Ribs. A food that is meant to be eaten with your fingers. The messier, the better. Whether they are grilled, roasted, smoked, or barbecued, most people can agree that ribs are irresistible and mouthwatering.
There are quite a few different kinds of ribs to choose from. When ordering them at your favorite restaurant or picking up a rack of ribs at your local butcher or grocery store, how do you know what kind of ribs to choose?
Spare ribs, short ribs, baby backs, St. Louis ribs, loin ribs, country-style ribs. Beef ribs, pork ribs, lamb ribs. What is the difference?
In this post we are going to look at two popular kinds of ribs: back ribs and baby back ribs.
Why are these such favorites of rib enthusiasts? Is there a difference between these two types of ribs? Which one should you choose? Read on to learn all about back ribs and baby back ribs.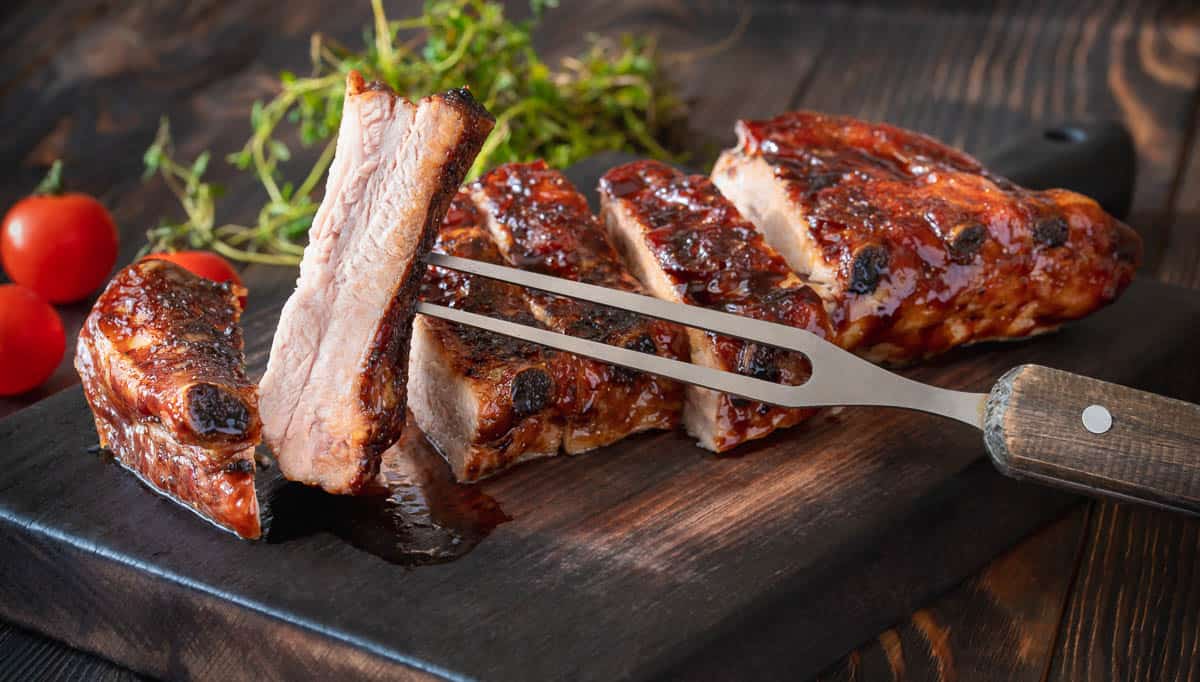 Jump to:
Back Ribs
Basic Info
Let's first take a look at back ribs.
Also called pork ribs, pork loin back ribs, loin back ribs, loin ribs, or pork back ribs, back ribs are sometimes also called baby back ribs, which makes it confusing to differentiate between the two. The main difference is how these ribs are known locally since they are cut from the same part of the pig.
Back ribs come from pigs. These are not to be confused with beef back ribs, which come from cows.
Back ribs tend to be a smaller type of rib.
They typically are slightly curved. Because of their rounded appearance, they offer less meat than other types of rib.
Since back ribs have a lower fat content when compared to other ribs such as spare ribs, they are considered to be healthier than other rib types.
Racks of ribs labeled as back ribs are usually more affordable than those labeled as baby back ribs.
Cut and Flavor
Back ribs come from the section of the pig at the top of the rib cage, where the rib and spine connect. This is why they are called back ribs. They are usually cut after the loin has been removed.
What can you expect in a rack of back ribs?
The racks of back ribs contain between 11-13 bones. They weigh between 1.5-2 pounds, half of which is bone. The length of each rib depends on the size of the pig, and ranges from 3-6 inches.
Racks labeled as back ribs can have slightly more fat on them than those labeled as baby back ribs. This makes them flavorful, but also tough.
Both back ribs and baby back ribs are trimmed so that they have meat on one side, and bones exposed on the other side.
With a unique taste, back ribs are unlike any other kind of rib. A combination of sweet and savory flavors gives back ribs a complex richness.
The meat of back ribs is tender, but has a chewy texture.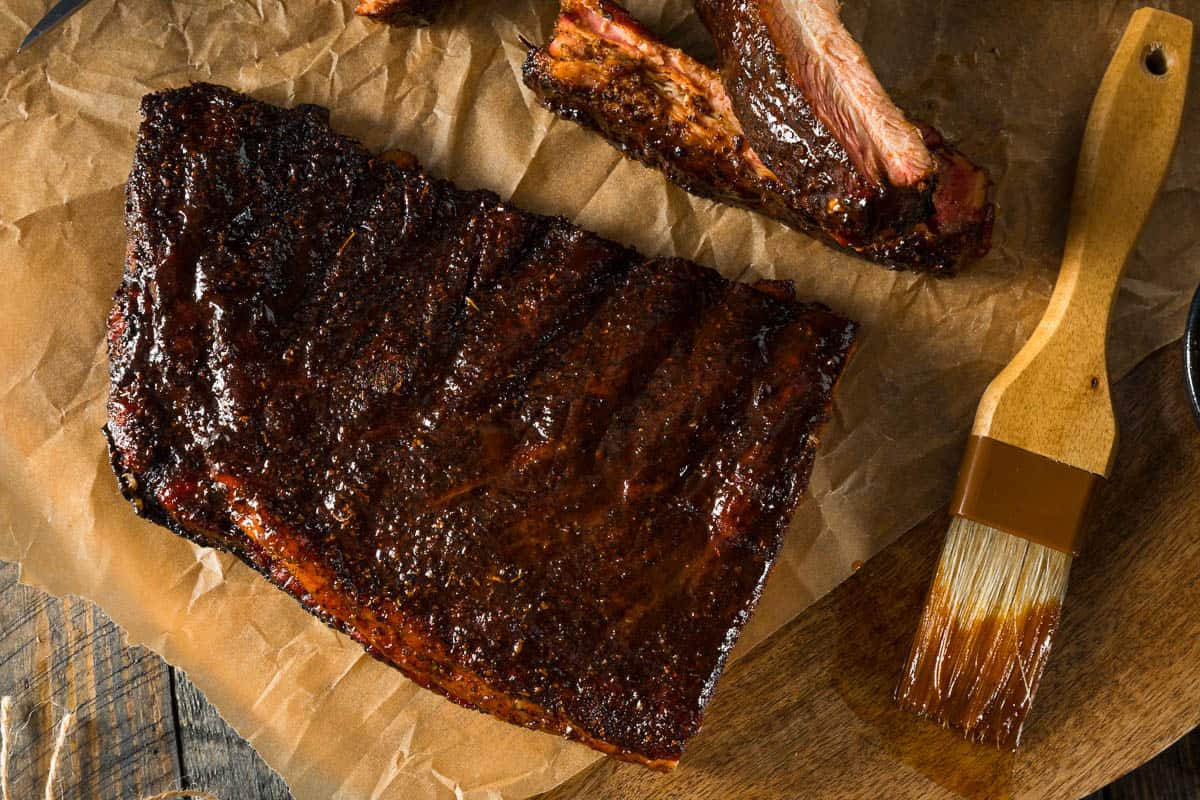 Baby Back Ribs
Now let's see how baby back ribs compare. What are the differences, if any, between baby back ribs and back ribs?
Basic Info
Baby back ribs tend to be the most popular of the pork ribs. Their lean tender meat makes them a top choice.
Although it is thought that baby back ribs come from baby pigs, this is not the case. Baby back ribs are called that because of their size in comparison to other ribs. They usually appear smaller, but this depends on the size of the pig from which the ribs were taken.
Baby back ribs have the same number of calories per serving as back ribs, but they have slightly less cholesterol. They also have a lower percentage of saturated fats than most other cuts of meat.
Since baby back ribs are a leaner cut of rib, they tend to have a higher price tag. However, they usually have more meat on the bones, making the extra cost worthwhile.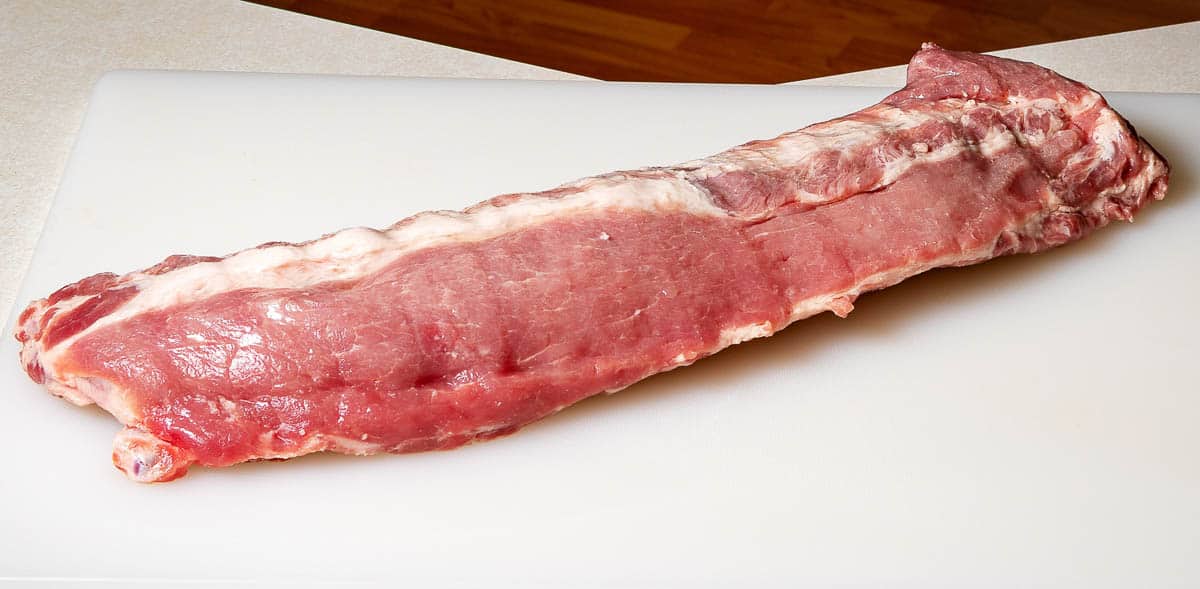 Cut and Flavor
As stated above, baby back ribs are from the same area of the pig as back ribs. They are cut from the upper rib cage and are connected to the backbone. This is directly above the area spare ribs come from.
Cut from the lower part of a pig's back, this area of the pig is less meaty and fatty than other parts of the pig.
Baby back ribs have much smaller bones than other ribs, but they have more meat on them. There is usually about half an inch of loin meat on the top of baby back ribs.
While the name baby back ribs does not mean that they are cut from piglets, younger animals are usually used to obtain baby back ribs since their rib cage has less cartilage.
Baby back ribs are shorter and narrower than other ribs such as spareribs.
The size of this rack allows you to easily cut the ribs apart for eating or cooking smaller portions. Besides being served on their own, baby back ribs can also be served as an appetizer of individual ribs with fried pickles or chicken wings.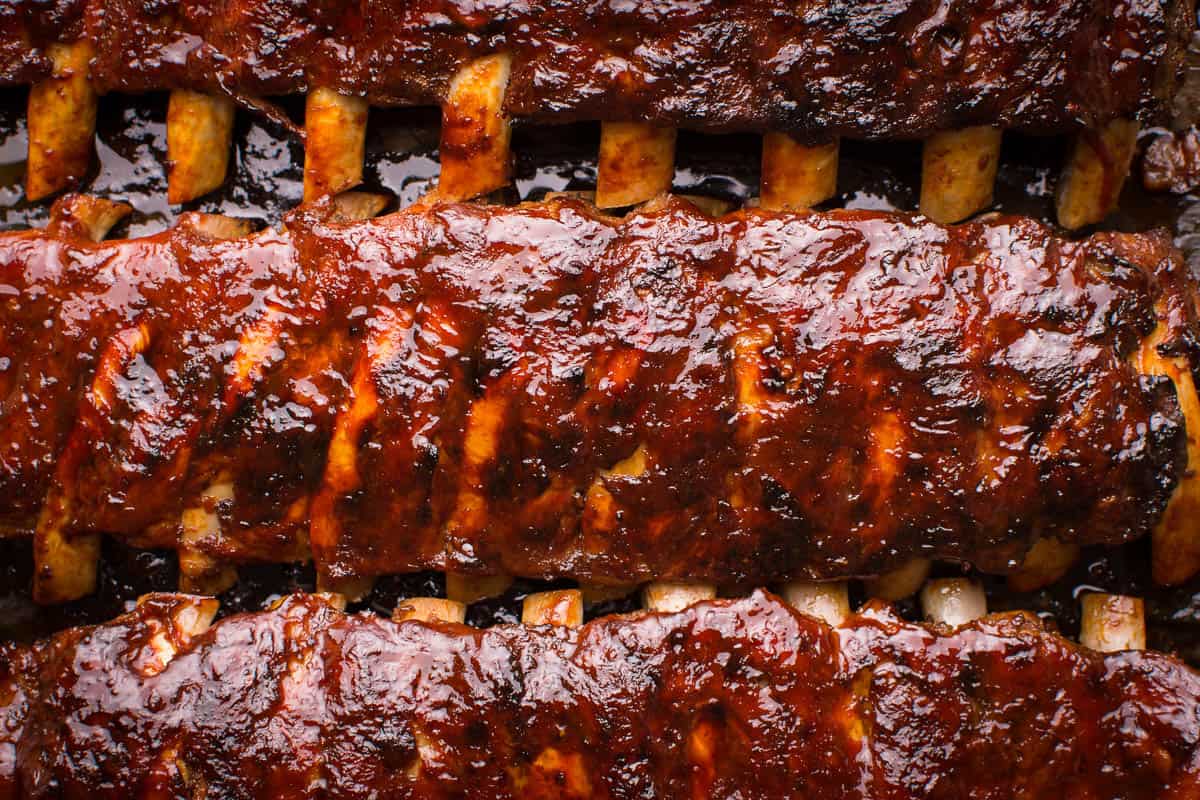 Cooking Back Ribs and Baby Back Ribs
What is the best way to cook back or baby back ribs? They are actually quite versatile and can be prepared using a variety of cooking methods.
They can be smoked, grilled, or cooked in the oven. They can even be prepared in a slow cooker.
Keep in mind that cooking back and baby back ribs requires special care. There is a fine line between making them juicy and tender or dry and tough.
When cooked correctly, the succulent meat of these ribs gets juicy and falls off the bone. If the meat is overcooked it will be chewy, and if it is undercooked it will be chewy.
Back and baby back ribs need to be cooked for less time and at a lower temperature than other rib types. When cooked at a high heat, these ribs will dry out.
It is important to cook ribs low and slow. This allows the fat to render.
Rendering meat is the process of cooking low to melt the fat from the connective tissue. This leads to better tasting meat.
The usual cooking temperature for pork is 145 degrees Fahrenheit, but it is recommended to cook ribs longer. When the ribs are cooked to their ideal internal temperature of 195 degrees Fahrenheit, the collagen in them becomes like gelatin. This contributes to their great taste.
There are several recommendations to keep in mind when preparing your ribs to be cooked. Follow these key tips to ensure that your ribs end up juicy and tender.
Preparation
If not already removed, make sure to remove the membrane from the underside of the pork loin before cooking or applying any dry rub or seasoning in order to achieve that juicy texture that people know and love. This can be done by using a sharp knife to loosen a corner of the membrane, and then pulling it off.
To make your ribs even more tender, you can soak them first. This allows the ribs to soak up the marinade, making them even softer when they are cooked.
For both types of ribs, wrap them in tin foil before cooking them in an oven or smoker. This keeps them from drying out during the cooking process and maintains their juiciness.
Applying a spice rub before throwing baby back ribs in the smoker or on the grill elevates their flavor. They go well with a variety of flavors, including spices such as garlic powder, onion powder, ground mustard, paprika, chili powder, cumin, cayenne pepper, kosher salt, and black pepper.
Brown sugar makes another tasty addition. Be careful, though, since brown sugar burns quickly at high temperatures.
If using a spice rub alone, apply the seasoning the night before cooking and marinate the ribs for 10-12 hours. If adding bbq sauce, the taste of the ribs does not need to be quite as strong. In this case, you can apply the spices about 2 hours before cooking.
If using a basting sauce, brush it on the ribs only after they have cooked for 30-45 minutes to keep the sauce from burning.
Cooking Methods
Finally, here are a few final notes on several different cooking methods.
Grilling
Grilling ribs creates a tender meat with crispy, caramelized edges. This gives them a rich texture and flavor.
When preparing the ribs on the grill, place the ribs over a section without direct heat so that they can cook slowly. If using a gas grill, you can turn off one of the burners and reduce the heat of the other burner.
Baking
When baking loin ribs in an oven, keep the oven at a low temperature around 250-275 degrees Fahrenheit. Ending with broiling as the last step lets any sauce you applied to bubble and caramelize.
Smoking
Back ribs or baby back ribs can also be smoked or braised. Smoking pork back ribs over a hickory wood fire gives them a smoky flavor.
The most common method of cooking ribs in a smoker is to follow the 3-2-1 method. The ribs are covered in mustard and seasonings and then smoked for 3 hours. Next, they are braised in some kind of liquid like apple juice and wrapped tightly in aluminum foil. Finally, they are cooking for an additional hour on the grill during which sauce is added.
Conclusion
So, is there a difference between back ribs and baby back ribs? Other than how they are labeled, no. I hope this makes your rib selection easier.
Because of their versatility, the main thing to consider is your preferred cooking method. Remember to cook low and slow, adding a rub or sauce of your choice, to end up with tender succulent rib meat.
Do you have any other tried and true substitution recommendations? Please let me know in the comments!