Is it time for a family charcuterie dinner, and you've found you're out of prosciutto? Or have you found this amazing recipe, but it has prosciutto in it and you don't have any?
Not to worry. I've got the best substitutes for prosciutto all listed out for you in this post.
Jump to:
What is Prosciutto?
Prosciutto is actually the Italian word for ham, and what we in the US call prosciutto is called prosciutto crudo in Italy.
This is a salt-cured hind leg of a pig that's been dry-aged from anywhere between one to three years and has a delicate, sweet taste.
How is Prosciutto made?
Prosciutto is made from the haunches of heritage pigs, fed on a specific diet depending on what region they're grown in. The haunches are heavily salted and set to cure. The salt pulls all of the moisture out of the meat, then the right amount is reabsorbed, this time with salt in it which improves the flavor greatly.
This process also keeps any bacteria from getting in and makes it safe to eat "raw".
From there, the meat is then washed off and seasoned by hand and is hung out in a big, airy shed that allows the breeze to blow through. They stay in these sheds for anywhere from one to three years to dry-age and develop their flavor and color.
The difference between the regions and their breezes is said to change the flavor of the meat and is one of the big differences between regional hams.
Younger prosciutto is pinker and sweeter, while older prosciutto has richer red color and has more umami than sweet flavor, as well as a more intense flavor. Prosciutto is traditionally served in extremely thin slices that melt on the tongue.
What types of Prosciutto are there?
There are two main types, Prosciutto Crudo, and Prosciutto Cotto.
Cotto is a salt-cured cooked pork leg used in both recipes and for charcuterie. It's made by salt-curing the pork, steaming it until it's fully cooked, then refrigerating and packaging it before shipment to stores.
However, the first kind, Crudo, is usually what we think of when we are talking about prosciutto. There are many, many kinds of Crudo, but we only get a few here in the US. The main two regional kinds we can get imported from Italy are prosciutto Crudo di Parma and prosciutto Crudo di San Daniele.
Prosciutto di San Daniele is made in the San Daniele region of Italy and has a flavor that is spicy, aromatic, and sweeter than Parma ham. The pig's hoof is kept attached for the whole process, and the meat is pressed flat for two to three days during the salt-curing stage which gives it its unique shape and helps the salt penetrate deeper into the meat.
Prosciutto di Parma is made in the Parma region of Italy and is said to be buttery sweet, and have a nutty flavor, thanks to the whey leftover from making Parmigiano Reggiano added to the diet that the pigs are fed. Prosciutto di Parma also has the pig's hoof removed and remains in its natural shape. It's cured longer than San Daniele ham and is less sweet and a little less fragrant, but nonetheless delicious.
How do you use Prosciutto in recipes?
Prosciutto is used in many different recipes, some of the best are those that just barely heat the meat, accentuating the flavor and keeping the texture the way it should be.
One of these types of recipes is pizza. Placing a few slices of prosciutto over the top of a pizza after it's finished cooking will gently steam the meat and bring out its full salty flavor.
Prosciutto is often used inside bread and in pasta dishes. While you don't get the full amazing savory flavor and texture of the prosciutto, you do greatly improve the dishes it's used in.
You can also make a fresh salad with this delectable meat. It is sure to give the salad a flavor boost with its complex flavors. Prosciutto wrapped melon is a favorite because, not only does the texture of prosciutto compliment the juicy melon, but the complex flavors of the sweet and salty are the perfect pairing.
You can wrap, stuff, fry, and do pretty much anything else with prosciutto, and it'll lend an air of complexity to the flavor.
It also goes wonderfully with Swiss cheese or other aged cheeses, fresh figs, and a glass of white wine.
How do I decide which substitute I need?
A very good question. Depending on what you're making, some of these prosciutto replacements may be perfect. Alternatively, others could all but ruin the dish.
If you're going to be cooking the prosciutto in a recipe, using a replacement that's already cooked like Black Forest ham would be a good idea.
But if you're making something where you really want a slice of similar meat, something like Duck prosciutto might be a closer match since it is made in a similar way.
For charcuterie, any of these options listed below will work great, but make sure the items will fit the flavor profile you're going for. Charcuterie is an art and takes practice to master, but you may find that many people aren't going to mind if they're eating sandwich ham or prosciutto, especially young children.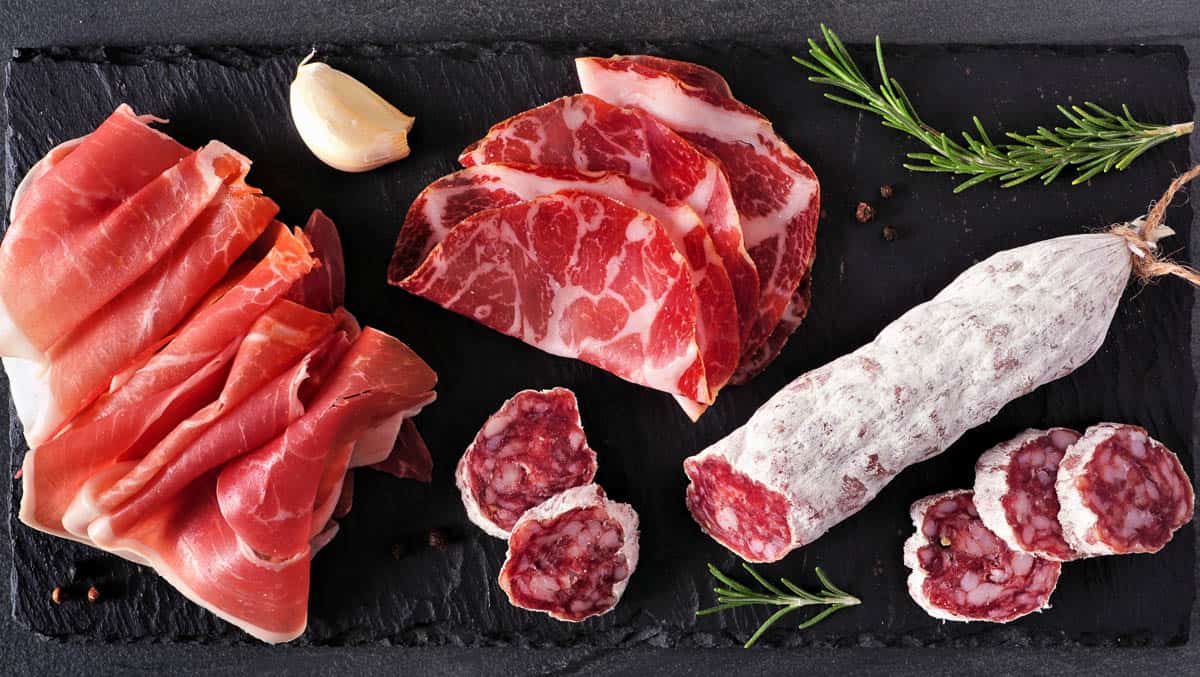 Best Prosciutto Substitutes
While Prosciutto Crudo is a pretty unique type of meat that is widely available and can even be found at a local market, there are lots of suitable replacements for it.
From beef to duck, regular ham to bacon, the perfect substitute awaits below.
1. Prosciutto Cotto
Prosciutto Cotto is the perfect substitute for Prosciutto Crudo. It has a very similar taste and has a much shorter processing time. Thus, it is easier to replicate here in the US.
It's made similarly to the way Crudo is made. The only difference is that it is steamed and pressed instead of dry curing in those big sheds for years.
This gives the Crudo a more delicate flavor and makes it a little less salty than Prosciutto Crudo. It makes a great replacement in recipes that require cooking prosciutto, and it is also lovely when displayed on a charcuterie board. For these reasons, it is probably one of the best alternatives you can choose.
2. Capocollo or Coppa
This Italian cured meat is made from the pork shoulder and neck. In addition to being called Capocollo or Coppa, it is also known as Capicola or even "gabagool" among New York's Italian-Americans. I seem to recall Tony Soprano eating it by the handful with his friends.
While extremely similar to prosciutto, there are a few notable differences. First, capicola uses a seasoning rub that can include a wide range of spices and flavors. Prosciutto is only seasoned with salt.
Both there thinly sliced, but capicola is more tender and lean. Finally, capicola is typically less expensive. This is because it can be cured in a quarter of the time that it takes prosciutto to cure.
3. Spanish Ham or Jamón
Spanish cured ham, namely Jamón Ibérico and Jamón Serrano, is essentially the Spanish version of salt-cured pork meat. It's made in nearly the same way as prosciutto and even has a similar texture, so it's a good replacement. It's somewhat difficult to find authentic imported Jamón, but it is out there. You may just have to visit a specialty store.
You can also get a serrano ham that's made in the US, but it will taste slightly different.
4. Duck Prosciutto
Duck prosciutto was originally made for the Jewish community to enjoy instead of pork. This is because consuming pork is taboo according to Levitical Law. It's made in much the same way as pork prosciutto but from the breast of a duck.
Duck prosciutto has a similar flavor to pork prosciutto so it is a great alternative if you can find it.
Because of the duck meat, has a slightly gamier taste than regular prosciutto. Other than that, it is comparable in every other way.
5. Beef Bresaola
Beef Bresaola is an Italian cured meat equivalent to prosciutto. It is made with lean cuts of grass-fed beef instead of pork.
It also only dries for a few months instead of years and is sometimes made with venison or horse meat. It's hard to find, as it's regionally limited to the Lombardy region of Italy.
It's served the same way as Prosciutto Crudo and is an excellent alternative.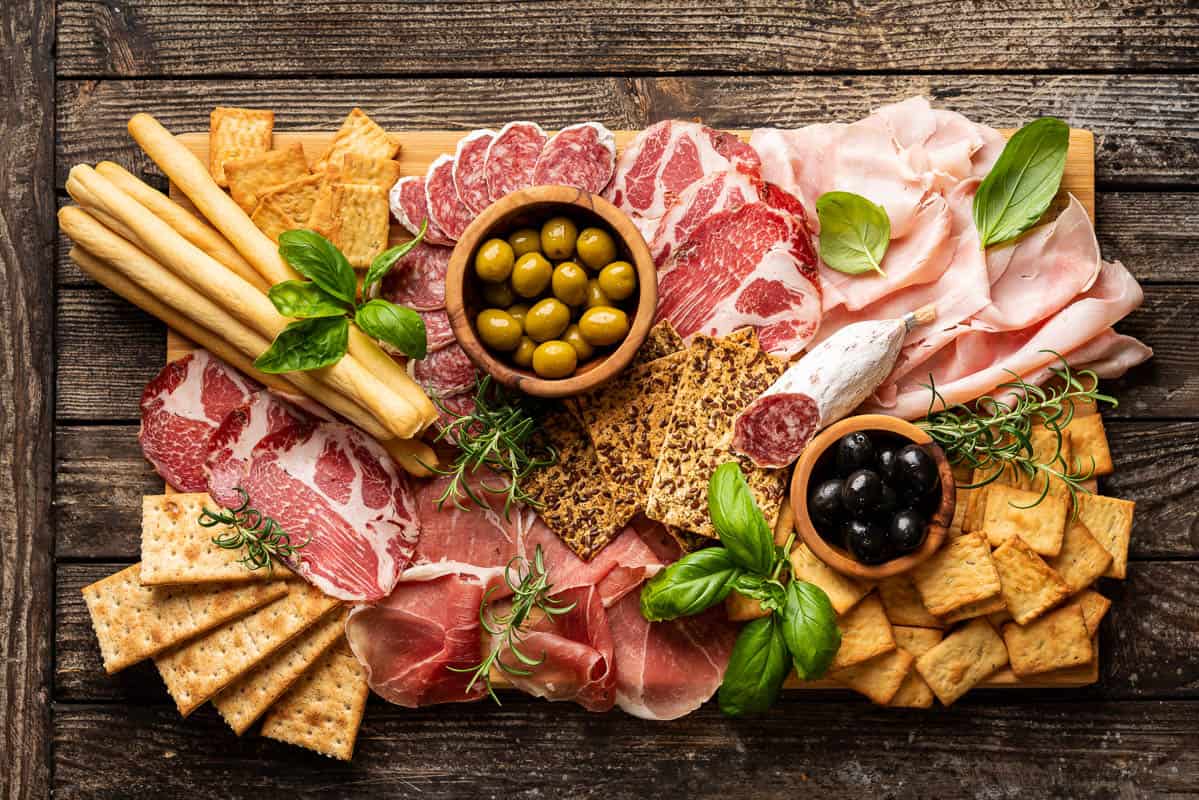 6. Italian Bacon or Pancetta
Pancetta is another Italian ham and is essentially salt-cured and spiced bacon. It has a similar taste to both prosciutto and bacon. It can be a good substitute whether you're cooking it or using it in charcuterie.
Pancetta is made by taking a cut from a pig's belly, rolling it up, salting, and spicing it.
The rolling gives it beautiful swirls of fat and lean meat when cut into slices. You can find pancetta at your local grocery stores, and it makes a lovely addition to charcuterie plates.
7. Guanciale
Guanciale is essentially pancetta made from the jowl instead of the belly. They are both Italian cured meat and are made the same way, but they have slightly different uses.
Guanciale is most often used in spaghetti alla carbonara and amatriciana. It is also used on a charcuterie board or on top of a pizza like you'd use prosciutto.
Because of its flavor and versatility, this variety of pancetta also makes it a great substitute for prosciutto Crudo.
8. Pork Belly
Depending on how it's prepared, pork belly can be used in several ways. If it's salt-cured and smoked, then it's bacon. Or it can be slow-cooked to make a tender meat swimming in a fatty broth. Depending on where you get it or what cuisine it's prepared for, pork belly can be many different things.
Mainly, we're talking about regular bacon. Especially in recipes that require the cooking of prosciutto, using normal American bacon is a great idea. It's typically much cheaper on a per pound basis.
Many people won't notice a huge difference between the two types of meat because of the similar salty flavor profiles.
If you need to use something in place of prosciutto on a charcuterie board, you may want to look for cured and smoked pork belly.
9. Black Forest Ham
Black Forest Ham originated from Germany and is a dry-cured smoked ham. It only takes three months from start to finish, which isn't very long compared to prosciutto.
There are many American companies that produce Black Forest ham. However, the original comes from the Black Forest region of Germany and has a very different flavor.
You can find American-made Black Forest ham at your local supermarket, but finding a truly authentic version is much harder.
Most American types of Black Forest ham are known for the black rind and smoky flavor. If you can find the authentic stuff, it's worth a try.
10. Sandwich Ham
Sandwich ham refers to any thinly sliced ham you get at your local grocery store. It is found in the deli section and made for putting on sandwiches. It's not special but will work well on a charcuterie board or in any recipe calling for prosciutto.
Deli ham won't have anywhere near the complex flavor of Prosciutto Crudo. But, if you have kids, they likely won't care much and will be happy with the sandwich ham.
That doesn't mean you can't try to spoil them with one of the more tasteful meats on this list.
11. Salami
Salami is something you'll find on a charcuterie board almost every time you see one. This is because salami is a popular type of sausage. It has a unique flavor and texture, and makes a great addition to charcuterie.
Salami is made by grinding pork meat and chunks of the fat. It is seasoned well and stuffed into a section of the pig's large intestine, and then dry-cured.
There are many types of salami. The kinds you'll find in a regular grocery store are American versions of Italian meats.
Salami makes a perfect substitute for prosciutto on a charcuterie board. It will, however, lend a very different flavor if used in a recipe requiring cooking.
12. Pepperoni or Salamino Piccante
Salamino Picante is a spicy version of salamino, where salamino refers to a one-inch thick salami. This is what we Americans have adapted into our pepperoni.
The pepperoni you'll find in stores is very different from the original Italian meat. However, it still makes a great option to replace prosciutto on a charcuterie board. 
Again, like regular salami, pepperoni won't be anywhere near the right flavor to replace prosciutto. This is especially true in a recipe that requires cooking.
But, experimentation will tell you whether your idea was good or bad. Sometimes you just need to try things out to see if they work.
13. Mortadella
Some people ask if mortadella is just a fancy bologna. Truth is that it is an emulsified sausage that originated in Bologna, Italy. So in that sense, it is just fancy bologna. But, is elevated from typical American bologna because it is often mixed with pistachios, black pepper, and myrtle berries.
It is similar to Prosciutto in that it is cured pork. But, instead of the leg, the meat is harvested from the pig's neck region. Both varieties are marbled with fat and have a rosy hue that results from the curing process.
Thin slices of mortadella taste great on a charcuterie board or as an antipasto. Thus, it makes a great substitute for prosciutto.
14. Bologna
Bologna is another Italian meat. It is typically made with ground pork and chicken, seasonings, and fat blended and shaped into logs. This result is then cooked and sliced and is what you'll find in your average grocery store.
Bologna is now an American classic. Some find it less than appealing, though. If you find the right brand you may have a decent alternative to prosciutto for a charcuterie board.
However, this substitute suggestion is pretty much the least similar to authentic prosciutto on this list. So, if you want something closer when it comes to quality, taste, and texture, look back at the other options.
15. Vegetarian Alternative
If you're looking for a vegetarian substitute, shiitake mushrooms make a good replacement in recipes.
They have an earthy, umami flavor and a unique texture. They are a great ingredient to add to pasta sauce, salads, and many other dishes.
Substitute Guide for Prosciutto
All the information you need organized for you below!
Prosciutto Substitution Graphic
Substitutes for Prosciutto Table
| Substitution | Qualities |
| --- | --- |
| Prosciutto Cotto | Almost identical, steamed and pressed instead of dry cured. |
| Capocollo or Coppa | Similar taste and texture, leaner, less expensive, uses spices. |
| Spanish Ham or Jamón | Spanish version, made in nearly the same way as prosciutto, similar taste and texture. |
| Duck Prosciutto | Duck, not pork. Hard to find but similar taste and texture. |
| Beef Bresaola | Beef, not pork. Hard to find but similar taste and texture. |
| Italian Bacon or Pancetta | Similar taste, good substitute whether you're cooking it or using it in charcuterie. |
| Guanciale | Made from jowl, works best on pasta, pizza, or charcuterie. |
| Smoked Pork Belly | Similar salty flavor profiles, may work on charcuterie board. |
| Black Forrest Ham | Authentic dry-cured smoked ham offers similar flavor but different texture. |
| Sandwich Ham | Won't have anywhere near the complex flavor of Prosciutto, however the abundant availability makes it easy. |
| Salami | Different flavor, but still offers salty flavor with chewy texture. Works well on charcuterie board. |
| Pepperoni or Salamino Piccante | Different flavor, but still offers salty flavor with chewy texture. |
| Mortadella | Cured pork but cut from different area, marbled with fat, great on a charcuterie board or as an antipasto. |
| Bologna | Typically made with ground pork and chicken, not the best option but could work depending on need. |
| Shiitake Mushrooms | Vegan alternative with earthy umami flavor and unique texture. |
Do you have any other tried and true substitution recommendations? Please let me know in the comments!