Cheeses come in all shapes and sizes. In fact, there are more than 1,800 types of cheese.
But, not every type of cheese can be easily exchanged for another. Specific cuisines need certain textures and flavor profiles to reach the desired taste.
Be sure you are using the best paneer substitutes to reach your chef goals.
Jump to:
What Is Paneer?
Paneer can be traced back to the Indian subcontinent as early as the 16th century. It was made with goat milk or sheep milk.
Today, Paneer is still one of the most popular types of cheese used in Indian cuisine. It is also known as Indian cottage cheese.
Created with cow's milk and a fruit acid such as lemon juice, its taste is mild. The milky taste is easy to mimic when you need a good substitute for Paneer.
Paneer has many health benefits and strengthens your immune system.
It can aid in weight loss as it is a good source of protein. Its high levels of acidity also help in burning fat. Paneer is a great source of calcium and a great addition to your diet.
Cooking With Paneer
Paneer is a non-melting soft cheese that makes it easy to create at home.
Creating your own paneer allows you to control the specific ingredients. Yet, most would rather use a paneer substitute rather than start from scratch.
This Indian cheese is usually used in dishes such as Samosas, Palak Paneer, Paneer Tikka Masala, and Saag Paneer. These dishes from Southeast Asia are a great addition to your dinner menu.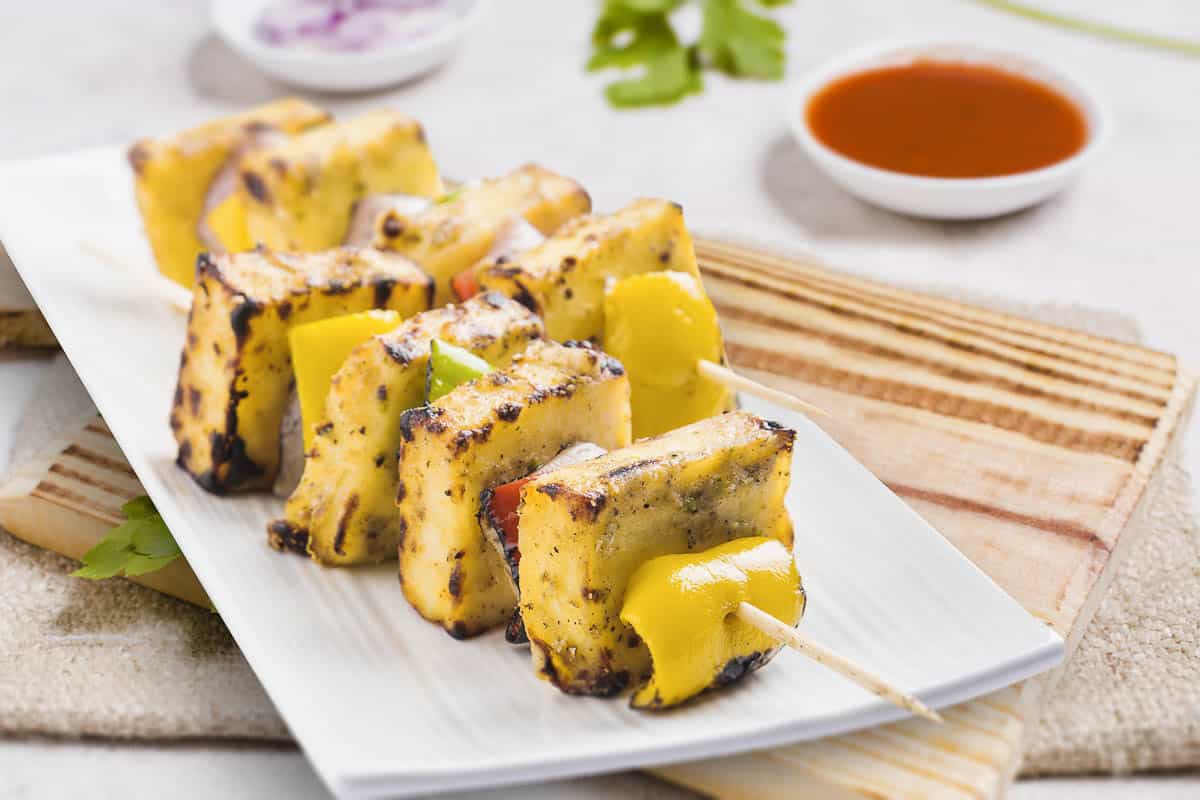 Paneer Cheese Substitutes
There are a variety of cheese options to choose from.
Cheeses with soft texture, mild taste, and a high melting point will make the best substitutes for Paneer. Get creative with the array of cheeses available to you.
Trying out different options will give you new flavor profiles. See what amazing meals you can make with these excellent paneer cheese substitutes!
1. Panela Cheese
This mild, white fresh cheese makes a good substitute for Paneer. Panela cheese is also known as basket cheese or under the name queso canasta.
This cheese is similar to Paneer in that it doesn't melt. This makes it a great substitute for dishes such as curry or soup.
Queso Panela is also made with cow milk, giving it a similar taste. It is a popular choice in Mexican cheeses and easy to find in the grocery store.
2. Feta Cheese
Feta is a soft cheese with a crumbly texture. It is also a white cheese, like Paneer.
It does have a salty taste that differs from Paneer. However, many people tend to heavily salt Paneer. This step can be skipped with the use of feta.
Feta is made with sheep's milk and up to 30% goat's milk. This also is a cause for its distinct flavor. Yet, it still makes a great substitute for Paneer because it doesn't melt.
It is a low-fat cheese making it a healthy substitute option. This firm cheese can be easily swapped for Paneer. Just don't over-season it. This crumbly cheese is a great option in place of Paneer.
3. Halloumi Cheese
Originating from the Greek island of Cyprus, Halloumi cheese makes an excellent substitute for Paneer. It is made with a mixture of goat's and sheep's milk but is also sometimes made with cow's milk.
Halloumi offers a milky flavor but is saltier than Paneer because it is brined. This cheese has almost no acid and has a high melting point. Halloumi can be grilled or fried and still keep its delicious taste and firmness.
Use halloumi as a substitute in dishes such as Tawa Paneer.
4. Ricotta Cheese
Ricotta is Italian cheese known for its versatility. But, it does contain excess water.
Using Ricotta Cheese as a substitute for Paneer can be tricky. Try using a few paper towels on top of your Ricotta an hour before you plan to cook. This will soak up the extra moisture and make it easier to use.
Ricotta is also one of the healthiest cheeses because of its low fat and salt content. It is a perfect substitute for meals such as Makhani.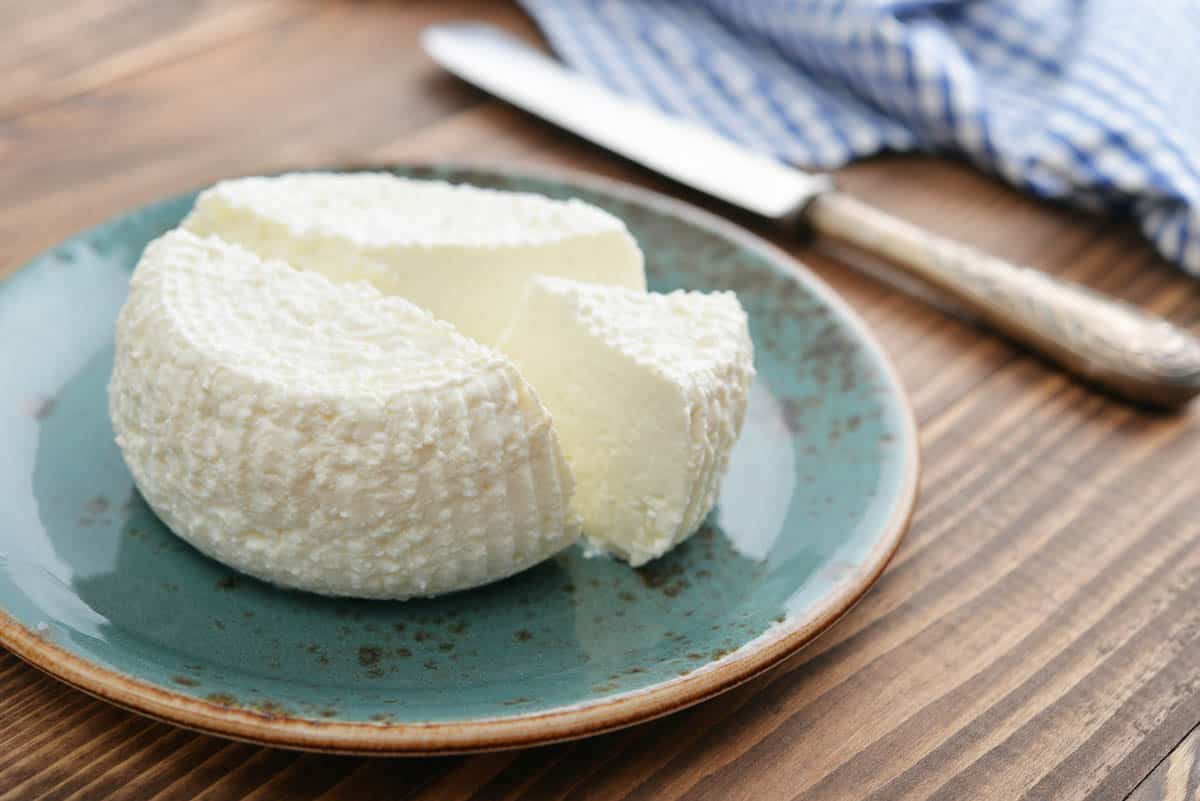 5. Cottage Cheese
Since Paneer is also called Indian Cottage cheese, doesn't it make sense that regular cottage cheese would make the list?
Cottage cheese curds are very similar to the texture and taste of paneer. It can be used in equal amounts to paneer. When cottage cheese is cooked, it will no longer appear as curds.
It is a good substitute for curry gravies or paneer palak bhurji.
6. Brie Cheese
This option is higher in fat and sodium. But, the creamy texture of Brie offers a special taste when substituting paneer.
Brie has been used since the 7th century and is still a crowd favorite. Brie has a mild taste that makes using it simple. It can be eaten baked or raw.
The nutty flavoring is a great addition to Dahi Kabab or Pakoras. The molding around Brie is safe to eat. Don't be afraid to give it a try when you need a paneer alternative.
7. Mozzarella Cheese
The soft and creamy texture of Mozzarella Cheese is great in place of Paneer.
Mozzarella has a milky flavor and is a top choice in all dairy products. It is a sliceable curd cheese traditionally made of milk from a water buffalo.
Fresh Mozzarella has no aging process. It can be stored in an airtight container with cool water for up to five days.
Mozzarella has a similar taste to Paneer but will melt. This makes Mozzarella a good substitute for Indian options that don't need firm cheese.
Try out this delicious option for soft cheesiness.
8. Extra-Firm Tofu
Vegan friends, you have options too. Extra-firm tofu has the most mild flavor of all the Panner substitute choices and is vegetarian-friendly.
Its slightly nutty flavor can cause caution for some. But, organic tofu is sponge-like. Its small holes will assume the flavors of whatever you put it in making it a great paneer alternative.
Extra firm Tofu is also a good source of protein. A 3 oz serving has 8 grams of protein. It is very similar to a firm cheese and may be your best bet for vegetarian Indian dishes.
Extra-firm tofu can be used as a great substitute in dishes such as Mattar paneer.
9. Mexican Queso Blanco
The main ingredients of Mexican Queso Blanco are milk and an acid such as lime juice. It makes an excellent paneer substitute because of its mild taste.
It is a popular cheese that is firm but crumbly. The term Queso Fresco is often used interchangeably with Queso Blanco. Mexican Queso Blanco has a short aging process, like that of Paneer.
It is traditionally served with fresh fruit or crumbled over salads. But, it can also be integrated as a substitute used in Indian Cusine dishes such as Shahi Paneer.
Availability
No matter what type of cheese substitute you choose, you can make some excellent Indian food.
The best thing about the United States is the amount of access we have to so many varieties of cheese. You can find an available substitute in almost any grocery store. There are so many different flavors and options to explore.
If you want to stick to tradition, that is understandable too. The good news is, homemade paneer is easy to make! Here are some great tips for making your own.
Homemade Paneer Recipe
Homemade paneer is a quick and easy process. You can have freshly made paneer in just a few hours.
The only difference between Homemade paneer and store-bought is that you get to keep the additives out. Creating your own recipes is a healthy option to avoid unnecessary ingredients.
To make homemade paneer, you will need to:
Pour about 6 cups of milk into a pot and using medium heat. The type of milk you choose is up to you. Consider the different tastes of goat milk, sheep milk, and cow milk. You also may want to consider your access to these types of milk. Some find that fresh milk is the best option. If you are searching for a vegan or vegetarian option, you can use coconut milk. 
Curdle the milk. You can choose between yogurt, lemon juice, or vinegar. Each of these options creates a different result. For a firmer paneer use yogurt. Lemon juice will give your paneer a lemon flavor. Vinegar can be used to curdle the milk fastest.
When the milk starts to boil, pour in your choice of acid. You should use about 2 tablespoons of lemon or vinegar and ¼ cup of yogurt. 
Turn off the heat when you notice the milk has curdled. You will then pour your curdled milk into a colander with a clean cheesecloth. Pour cool water over your mixture. Then, continually squeeze out all the extra water.
Tie up your mixture by making a knot in the cheesecloth. Let it hang for thirty minutes.
Form a ball with your paneer mixture. You can use any heavy object to set your paneer. Place the object on your paneer and let it sit for 3 hours. 
Once you remove the object, all you have left to do is to cut your paneer. You can cut it into thin slices or cubes. Make sure to store it in the refrigerator if you are not going to use it immediately. 
Making homemade paneer is a good option for those avoiding preservatives. You also get to choose exactly what type of milk and acidity is used.
Don't be afraid to experiment. Try out a few different options to see what makes the best homemade paneer.
Substitute Guide for Paneer
Paneer Substitution Graphic
Substitute for Paneer Table
| Substitution | Qualities |
| --- | --- |
| Panela Cheese | Mild, white, fresh cheese, does not melt, made with cow's milk. |
| Feta Cheese | Soft and crumbly, made with sheep and goat's milk, does not melt. |
| Halloumi Cheese | Can be grilled or fried, retains firm texture, made with sheep and goat's milk and sometimes cow's milk. |
| Ricotta Cheese | Must remove excess moisture to use as substitution, low fat and salt content. |
| Cottage Cheese | Curds are similar in taste and texture. |
| Brie Cheese | Higher in fat and sodium, will melt when heated, but creamy texture and unique taste works as a substitution. |
| Mozzarella Cheese | Soft and creamy, made with buffalo milk, offers similar taste but will melt. |
| Extra-Firm Tofu | Vegan, mild flavor, takes on the flavor of surrounding ingredients, similar texture. |
| Mexican Queso Blanco | Mild taste, firm but crumbly texture. |
Conclusion
Whether you are using a Paneer substitute or making your own, you can create some amazing dishes.
Cooking is an art form. Using different ingredients and trying new things is half of the fun. Include your family in making recipe decisions and see what amazing meals you can come up with.
Southeast Asia offers some tasty cuisine and you can try it all.
Do you have any other tried and true substitution recommendations? Please let me know in the comments!