Every good cook knows that fresh herbs are essential for adding flavor to a dish. But what do you do when you're out of your favorite herb?
If you like mint, you're not alone. This refreshing herb is loved by people all over the world and can be a great addition to your favorite recipes.
If you're making a recipe that calls for mint and don't have any on hand, don't worry! Below you will find all kinds of options that can be used in various dishes.
Below you will find many options that make a fantastic substitute for mint leaves.
Jump to:
What Exactly is Mint?
Mint is an aromatic herb that is made from different species of the mint plant (Mentha). The mint plant was first from the eastern Mediterranean, and it got its name from a mythological nymph named Minthe (Mintho).
Mint is a popular and easy-to-grow plant, which makes it ideal for home cultivation. Mint is gluten-free and suitable for vegan, vegetarian, and paleo diets as an herb.
Fresh or dried mint leaves may be utilized in a variety of dishes, including soups and stews to desserts and beverages.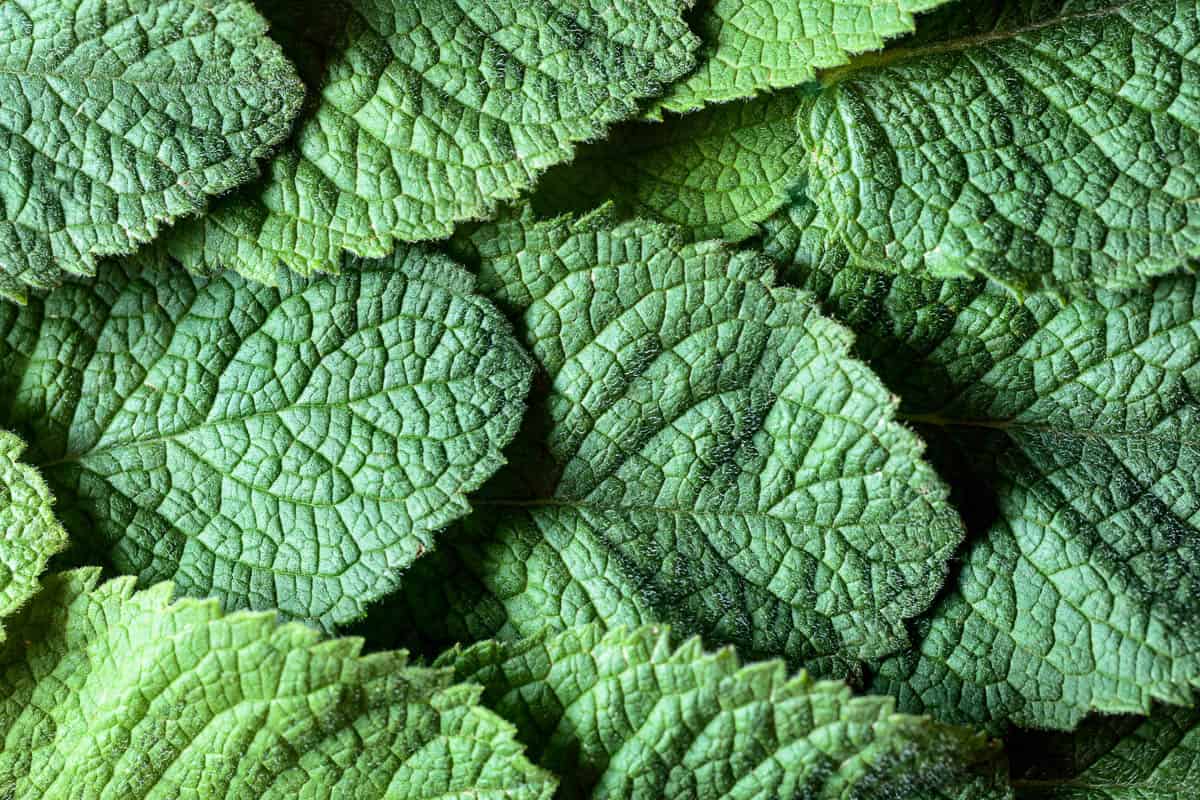 Varieties of Mint
There are many different types of mint, but the three most common varieties are spearmint, curly mint, and peppermint. Spearmint and curly mint are the varieties most often used fresh as herbs in cooking and beverages.
Peppermint is a little too strong to use fresh for most culinary purposes; instead, it is grown and processed into peppermint oil, which is then used as a flavoring. You can find other varieties of mint that have interesting flavors and aromas.
For example, apple mint, part of the mint family, has an apple scent. Orange mint has a citrus flavor. Chocolate mint has a bit of chocolate taste. No matter what type of mint you choose, it's sure to add a fresh, minty flavor to your dish.
Where to Find or Buy Mint
Fresh mint can be found in the produce section, next to other fresh herbs. Dried mint along with spearmint and peppermint extract may be found in the baking aisle in your local grocery store.
Mint plants are simple to cultivate. The majority of mints thrive in shade and require damp soil. Perennials are the most common form of mint. When planted in an excellent location, the herb will return year after year. Many gardeners find that mint is so simple to grow that they can't get rid of it when they want to.
While planting mint in a pot is an option, it's best to plant it directly in the ground if you have the space. That way, the roots will have room to spread, and the plant will be less likely to take over your garden.
How to Use Mint
The most common ways to use mint are in beverages or as a garnish, but it can also be used in savory dishes.
Mint tea is a refreshing beverage that is enjoyed all over the world. To make mint tea, infuse fresh or dried mint leaves in hot water.
If you want to use mint as a garnish, add a sprig of fresh mint to your dish. Curly mint leaves are often used as a garnish, but any type of mint will do.
Mint can also be used in savory dishes such as lamb, chicken, and fish. The popular herb pairs well with other flavors such as lemon extract, garlic, and ginger.
If you're looking for a minty flavor without the herb itself, try peppermint extract. This concentrated flavor can be added to frostings, desserts, and beverages.
When cooking with mint, it's best to add the herb at the end of cooking so that the flavor isn't cooked out.
If you're using dried mint, rehydrate the leaves in water for about 10 minutes before using.
Best Substitutes for Mint
1. Peppermint Extract
Natural peppermint extract is my favorite substitute for mint in my desserts or other baked goods that call for mint flavoring.
Mint oils, derived from peppermint leaves, are used to make the extract. The extract is often made from mint leaves, and it has a wonderful aroma and lots of potencies. It has a strong flavor, so be careful with the number of drops of peppermint extract you use.
You can use peppermint extract to add flavor to mint sauce, mint ice cream, or a minty syrup for drinks and cocktails.
2. Herbal Mint Tea
The primary ingredient in mint tea is the dried leaves of mint. Even though the mint has been dried, it still packs lots of flavor and makes a great substitute for fresh mint.
Whenever substituting fresh herbs for dried, use 1 tablespoon fresh for every 1 teaspoon dried.
3. Basil
Basil, being a member of the mint family is a great substitute for fresh mint. It is also a versatile herb in its ability to be used in different recipes.
Because fresh basil is aromatic and a bit sweet and peppery, it shares similar flavor profiles to mint. It is a great addition to pesto or pasta sauces.
4. Parsley
I remember watching Gordon Ramsey on one of his kitchen nightmare shows and wondering why the chef was putting parsley on every plate. The chef said he just likes the color parsley gives to the plate or dish he was serving.
I do admit that it does make a dish more appealing to the eye. If you're looking for a popular substitute for mint, parsley is a good option. It has a similar flavor, but it's not as overpowering.
Plus, it's easy to grow and can be found in most grocery stores. So if you're looking to add a little bit of color to your dishes, consider using parsley.
5. Tarragon
Fresh Tarragon is very aromatic and is a staple in French cooking. Some consider the taste to have a subtle licorice flavor, but its no where near as strong as anise or fennel.
Tarragon makes a nice substitute for mint in recipes like salad dressings and sauces because it offers the same vibrant freshness that mint leaves would add.
6. Cilantro
Cilantro can be used in place of mint. Both herbs have a refreshing taste that can help to liven up a dish.
However, cilantro has a slightly more pungent flavor than mint. As a result, it's important to use less cilantro than you would mint when making a substitution.
Additionally, cilantro is available both fresh and dried, while mint is generally only sold fresh. If you're using dried cilantro, be sure to add it early in the cooking process so that it has time to rehydrate.
7. Marjoram
Marjoram is a strong-smelling herb that has a pine-like flavor. It is related to mint and can be used as a substitute for mint in many dishes.
Marjoram is available as a dried herb, essential oil, or fresh leaves.
It can be added to soups, stews, sauces, marinades, and salad dressings. It is also used to flavor tea and coffee. Marjoram has a flavor profile that goes well with vegetables such as potatoes, carrots, squash, peas, and beans.
It can also be used to flavor meat dishes such as chicken, pork, and lamb. When using marjoram, it is best to add it toward the end of cooking so that its flavor is not cooked out.
8. Oregano
If you're looking for a good herb that would be an complimentary alternative to mint, oregano is an excellent choice, especially for Italian dishes. It has a complex flavor that can really enhance savory dishes like marinara and pizza sauces.
Plus, it's a good source of antioxidants. If you're using fresh oregano, be sure to remove the stems before chopping the leaves. And remember, a little goes a long way - oregano is quite a robust flavor!
9. Rosemary
Rosemary is an evergreen shrub that has needle-like leaves. It is related to mint and has a similar flavor. Rosemary can be used as a substitute for mint in many dishes. It is available fresh, dried, or as an essential oil.
Rosemary goes well with vegetables such as potatoes, carrots, squash, peas, and beans. It can also be used to flavor meat dishes such as chicken, pork, and lamb. When using rosemary, it is best to add it toward the end of cooking so that its flavor is not cooked out.
10. Dried Herbs
If your recipe calls for dry mint, some of the best mint substitutes may include dried leaves from marjoram, dried basil, or other dried versions of the common herbs listed above.
Remember, dried herbs have a lot of flavor and are to be used sparingly when replacing fresh herbs.
How to Choose the Correct Mint Substitution
If you're out of mint and need a good substitute, there are a few things to consider. First, mint is a very aromatic herb, so you'll want to choose a fresh herb with a strong scent. Fresh mint leaves or essential oils are the best options.
Second, mint is used both for its flavor and its color. So if you're using mint in a dish that will be served cold, like a salad or sorbet, you'll want to choose a fresh herb with similar flavor attributes. And if you're using mint in a cooked dish or for decoration, fresh leaves may work best.
Finally, keep in mind that mint is a fairly delicate herb, so it's best to use it sparingly.
For Savory Dishes
Mint can be replaced with other fresh herbs, such as basil or oregano. If you're looking for a minty flavor without the fresh leaves, you can try using essential oils or dried mint leaves. The contents of a peppermint tea bag may work as well.
For Sweet Dishes
Like desserts or cocktails, look for a mint substitute that has a similar sweetness. Fresh leaves can be replaced with spearmint extract or peppermint extract. You can also use sugar-free mint simple syrup or mint-flavored liqueur.
For Tea
If you don't have fresh mint leaves, you can use dried mint leaves or mint tea bags to make herbal mint tea. You can also try adding a drop of peppermint extract to your cup of tea.
For cocktails
Mint can really make a cocktail shine. Not only can it bring unique and defining flavor, but it makes a gorgeous garnish.
It would be difficult to replace fresh mint in cocktails like a Moscow Mule or Mango Mint Mojito. Surprisingly, though, other fresh herbs can prove to offer not only a unique flavor but a twist on classic cocktail recipes.
Substitute Guide for Mint Leaves
Mint Leaves Substitution Graphic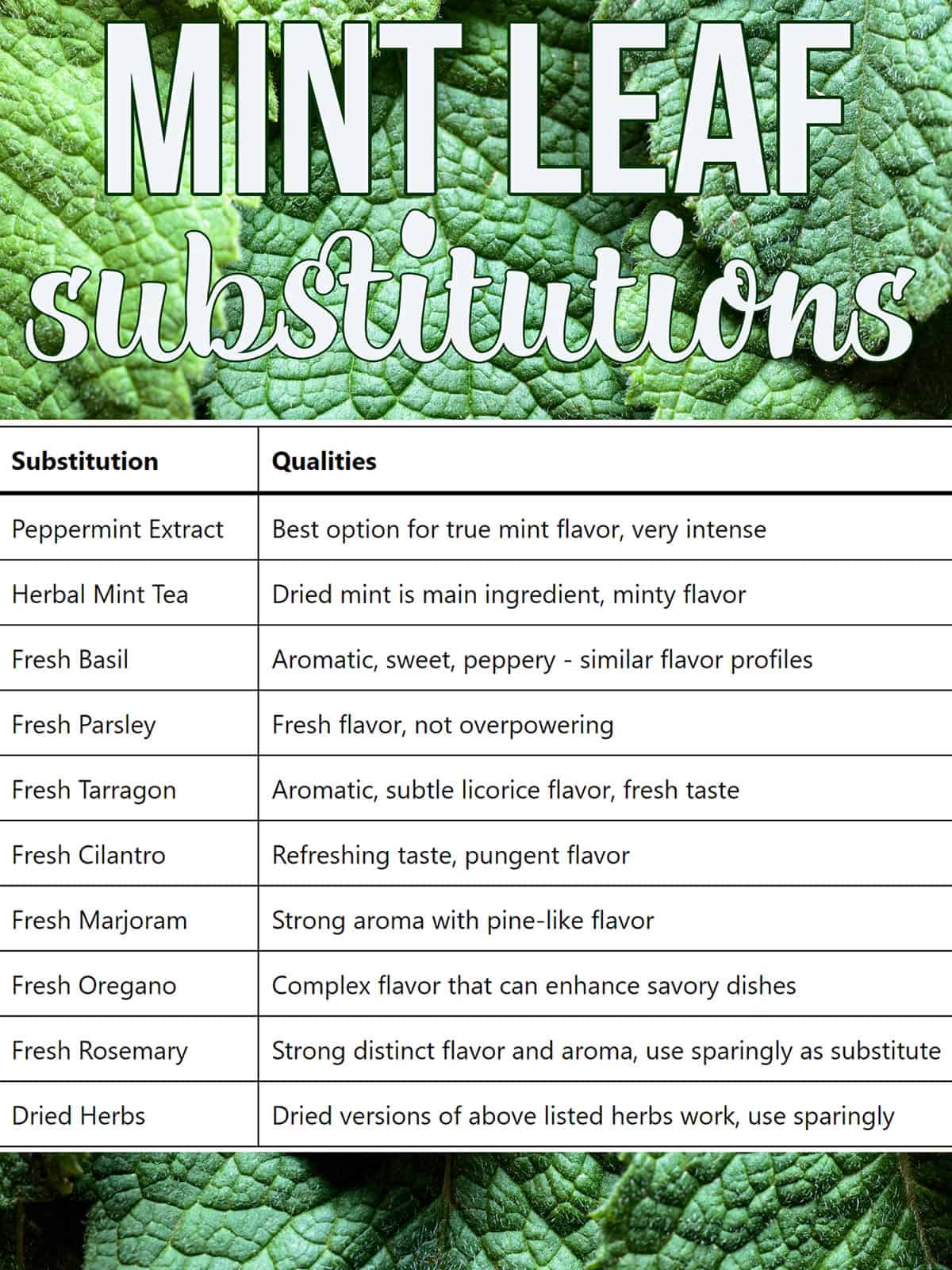 Substitute for Mint Leaves Table
| Substitution | Qualities |
| --- | --- |
| Peppermint Extract | Best option for true mint flavor, very intense |
| Herbal Mint Tea | Dried mint is main ingredient, minty flavor |
| Fresh Basil | Aromatic, sweet, peppery - similar flavor profiles |
| Fresh Parsley | Fresh flavor, not overpowering |
| Fresh Tarragon | Aromatic, subtle licorice flavor, fresh taste |
| Fresh Cilantro | Refreshing taste, pungent flavor |
| Fresh Marjoram | Strong aroma with pine-like flavor |
| Fresh Oregano | Complex flavor that can enhance savory dishes |
| Fresh Rosemary | Strong distinct flavor and aroma, use sparingly as substitute |
| Dried Herbs | Dried versions of above listed herbs work, use sparingly |
Conclusion
If you're out of mint leaves and looking for great substitutes with mint flavor, give mint extract or mint essential oil a try. Both will give you that mint flavor you're looking for, without the need for fresh mint leaves.
If you're feeling adventurous, you can always experiment with other mint flavor substitutes to see what you like best. Who knows, you might just find the best alternatives to mint leaves that you never would have thought of before.
Next time you're in a pinch, don't be afraid to experiment to find a suitable replacement - it might just be a good idea!