Marsala wine is a popular cooking liquid that may be used in both savory and dessert applications and adds a pleasant, nutty, fruity flavor to them all. Veal and chicken Marsala sauce are among their most well-known uses.
Marsala is a popular Italian cookery wine. Although this type of wine isn't always a household staple, it is trendy among Italian chefs. So if you don't have any or can't use marsala wine in a recipe that calls for it, you could be searching for alternatives.
Consider the best alternative that will complement other flavor profiles in your meal when replicating the flavor of Marsala wine. In this article, I'll help you pick the best Marsala substitute for your dish.
Jump to:
What is Marsala Wine?
Marsala wine is made from the region surrounding the Italian city of Marsala in Sicily, which is where it got its name. It is a fortified wine that may be dry, semi-dry, or sweet and is gaining popularity worldwide due to its complex flavor.
It has 15% to 20% alcohol by volume, greater than typical wines since it is enhanced with brandy.
It is made from a blend of amber, golden, and red grapes and has three degrees of sweetness: sweet, dry, and medium-dry. The most common Marsala wine for cooking is the dry variety.
Marsala has a full-bodied flavor that is great for adding depth to rich caramelized sauces.
This variety of wine imparts a rich flavor to dishes, so it is used often in sauces and as a marinade for meat.
What Does Marsala Wine Taste Like?
This kind of wine is classified (and priced) based on how long it's been aged and its color.
Because there are so many different flavors, they can be as simple as brown sugar and nuts to more complicated and distinctive tastes of honey, raisins, and licorice.
Sweet Marsala is a common variety of this type of wine, typically served as a dessert wine, but the semi-dry version may be enjoyed with cheese or fruit.
Marsala wine is used in two well-known dishes: chicken marsala and tiramisu.
If you've never had Chicken Marsala, you're missing out - it's delicious. The dish is made with Marsala wine, mushrooms, and chicken. The flavors come together perfectly.
Tiramisu is a delicate dessert made with a sweet variety of this wine, mascarpone cheese, and ladyfingers. While Marsala wine is traditional, you can also substitute it with a teaspoon of brandy if you prefer.
Either way, you're sure to love these dishes!
Alcohol-Based Substitutes for Marsala Wine
Madeira
Madeira is one of the best substitutes for Marsala since it has almost the same flavor and color. Madeira is made from five different kinds of grapes, with a distinct flavor used as a dessert or aperitif.
Madeira, like Marsala, matures with age. Because this wine is highly flavored, you should pick the finest Madeira for your recipes.
Dry Sherry
When it comes to savory recipes that call for marsala wine, sherry is often a good one-to-one substitute. Unlike Marsala, a richer and more flavorful wine, dry sherry has a more subtle flavor that works well in dishes like Marsala Chicken or Pasta.
To get the most flavor out of sherry, use drinking rather than cooking sherry.
When it comes to following a keto diet or other low-sodium diets, dry sherry can be an even better option than Marsala since it's lower in sodium, carbs, and sugar compared to Marsala cooking wine.
In addition, with its mild flavor and versatility as a cooking ingredient, dry sherry makes an excellent substitute for Marsala when crafting delicious savory dishes.
Port Wine
Port is a type of fortified wine that originates from Portugal. It is typically a sweet, red wine, although available in dry, semi-dry, and rose varieties.
Port is often used as an ingredient in dessert recipes, but it can be used in savory recipes.
For example, it makes an excellent base for braising or poaching pears. A dry port can also be a replacement for Marsala wine in savory recipes.
Whether you're looking for a unique ingredient for your next dessert or want to add some flavor to your main course, Port is a great option.
Pinot Noir
Pinot Noir is a popular alternative for Marsala wine, as it is widely available in grocery and liquor stores. This versatile wine is produced from pinot noir grapes and has a slightly sweet flavor, which makes it ideal for cooking.
However, if you want to achieve a marsala flavor in your dish, add more sugar than usual when using Pinot Noir in sweet recipes.
Whether it's added to meaty sauces or paired with savory veggies, Pinot Noir is a fabulous substitute for Marsala wine that's easy to find and use.
The next time you're craving Marsala but can't get your hands on any of the real thing, go ahead and reach for some Pinot Noir instead!
Sweet Vermouth and Sherry Wine
Dry sherry has a similar flavor profile to Marsala wine, making it a good substitute.
However, you can enhance the flavor of your dish by using an equal amount of sweet vermouth with the dry sherry. This combination will add a more intense flavor to your cooking.
Pedro Ximenez and Amontillado Wine
Amontillado wine is a type of sherry wine that emerged in Spain in the 18th century. Amontillado is well-suited as a wine substitute due to its nutty flavor and similar sweetness.
Thanks to its rich and sweet flavor profile, another wine from Spain named Pedro Ximenez can also be an alternative to Marsala.
Overall, both of these wines make great options if you are looking for a drink that will still taste great but save on calories! Whether you need a Marsala wine alternative for cooking or simply want to try something new, these are some truly delicious options.
Other Fortified Wines
Fortified wine is a wine that has been enhanced with distilled spirit to boost its alcohol level, to fortify it. In the case of Marsala wine, it has been fortified with brandy.
When cooking using fortified wines, Marsala wines are the most popular choice. However, this wine can be somewhat hard to come by, especially if you don't live near a large city.
Madeira and Marsala are fortified wines in savory and sweet cooking. Using another type can provide a similar color and flavor match. Vermouth, Port, Sherry, and Commandaria are some of the fortified wines to consider.
Luckily, there are plenty of other fortified wine varieties that can be substituted in your cooking.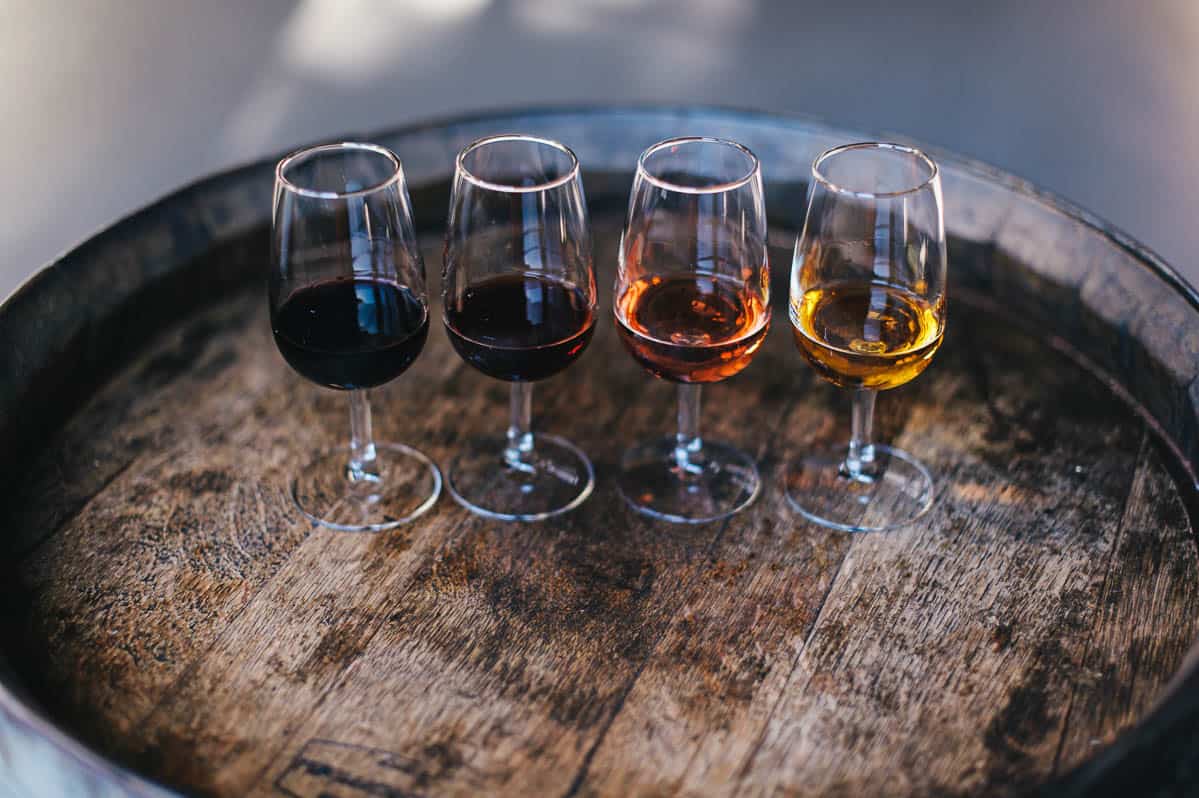 Non-Alcoholic Marsala Wine Substitute for Cooking
Alcohol is a slow-evaporating liquid. Although most of it will evaporate, in some cases, poached, braised, baked, sauteed, or simmered foods can retain up to 80% of their original alcohol content.
If you're looking for an alcohol-free alternative to marsala wine, consider one of these non-alcoholic alternatives.
White Grape Juice
There are many different options when it comes to finding a non-alcoholic substitute for marsala wine.
Some people might suggest using white grape juice, which certainly works as a viable substitute. However, if you are looking for something that tastes more like the real thing, then a combination of 2 tbsp. of sherry vinegar, ¼ cup of white grape juice, and one tbsp. of pure vanilla extract.
This mix has all the flavors you would expect from Marsala wine without any alcohol, making it the perfect solution for anyone who needs this kind of wine alternative for cooking or baking.
So if you are in the market for an alcohol-free Marsala wine alternative, look no further than this delightful concoction.
Red Grape Juice and Cranberry Juice
If you're looking to add some wine to your baking without using alcohol, a few options are available. You can use cranberry juice or red grape juice for cakes and other baked products.
The flavor isn't exact, but it's a decent approximation that is entirely alcohol-free.
Balsamic Vinegar
In a pinch, balsamic vinegar may be used as a suitable substitute for Marsala wine.
However, my first choice wouldn't be balsamic vinegar, especially if you're searching for a delicious Marsala alternative.
Vegetable and Chicken Stock
Chicken and vegetable stock is a great way to add flavor and depth to savory dishes like stews and braises.
It won't provide the same sweet aromatics as Marsala wine, but it will make the dish more complex, especially when cooked over a long time.
Marsala Wine Substitutes For Drinking
Marsala is commonly used in sweets, although it may also be served with dessert as drinking wine. It goes well with chocolate, goat cheese, and nuts. Chicken or veal can be paired with Marsala when served with savory dishes.
If you don't have Marsala, you can use sherry or Madeira as a substitute for your meal or dessert since they work well with similar dishes and are of similar sweetness.
Conclusion
When it comes to Marsala wine, a few things set it apart from other types of wine. First, it is made using only Sicilian indigenous grapes. Second, its complex and unique flavor makes it a great addition to sweet and savory dishes.
If you find yourself in a situation where you don't have Marsala wine on hand, don't worry – one of the above substitutes can come close in flavor.
Do you have any other tried and true substitution recommendations? Please let me know in the comments!