There are many reasons why you might want to find a beef broth substitute.
Maybe you're a vegetarian or vegan. Maybe you don't like the taste. Or maybe you're just out of beef broth and need a quick replacement.
Whatever the reason, there are plenty of options available.
Jump to:
Beef Broth vs Beef Stock
Technically, the difference between a broth and a stock is that beef broth is just made with meat and water while beef stock is more robust and is typically made from meat, bones, and vegetables.
For the purposes of this post, beef broth and beef stock will be used interchangeably.
Recipe Considerations
If you are looking to substitute beef broth in a recipe, there are many factors you must first take into consideration.
If beef broth is being used because you really need that beefy meaty flavor, only a few substitutions will really work. This is true for recipes like beef stew, beef stroganoff, French onion soup, or pot roast.
In other recipes, where beef broth is simply a liquid used to provide moisture and flavor, many more alternatives can work as a great option.
Best Substitutes for Beef Broth
The comprehensive list below includes a wide variety of options to choose from. Whether you choose some kind of savory liquid or a condiment that provides intense flavor and a rich taste that must be diluted, you most likely have something on hand that will make a good substitute for beef broth.
Beef Bouillon Cubes
For many home cooks, beef bouillon cubes are a pantry staple. These concentrated cubes of beef flavor offer a convenient way to add depth and richness to soups, stews, and other dishes. But what exactly are bouillon cubes, and how do they differ from beef broth?
Bouillon cubes are made by cooking beef bones until they release their flavor into the water. This flavorful liquid is then concentrated into a cube. The resulting bouillon is typically very salty and quite concentrated, which is why it is most often diluted with water.
If you're looking for a quick way to add some extra beef flavor to a dish, beef bouillon cubes are a good option. Because they are easy to find at the grocery store, shelf-stable, and offer rich flavor, many consider rehydrated bouillon cubes to be the best alternative to beef broth.
Substitution: 1 beef bouillon cube + 1 cup of hot water = 1 cup of broth
Beef Bouillon Granules
The only difference between bouillon granules and bouillon cubes is that they are in granular form instead of pre-measured compressed cubes.
Substitution: 1 teaspoon beef bouillon granules + 1 cup of hot water = 1 cup of broth
Beef Consommé
A beef consommé is a type of soup that is made by simmering beef and bones in water until they release their flavor. The addition of egg whites helps the solids separate from the liquid. The resulting meat stock is then strained and clarified, resulting in a clear, flavorful broth. Beef consommés are an excellent substitute for beef broth, as they have a similar flavor but are much more concentrated.
As a result, they can be used to enhance the flavor of soups, stews, and sauces without adding any extra liquid.
Homemade beef consommés are also relatively low in calories and fat, offering many health benefits for those watching their weight.
It can be purchased in concentrated form in the canned soup aisle.
Substitution: 1 cup beef consommé = 1 cup beef stock
Chicken Broth or Chicken Stock
While chicken broth offers a different flavor when compared to beef broth, it can work in place of beef broth, depending on the recipe. For example, when beef is not necessarily the main ingredient in the recipe, chicken broth can work as a great substitute.
Substitution: 1 cup of chicken broth = 1 cup of beef broth
Mushroom Broth
Another option is mushroom broth, which has a rich, savory flavor that can lend depth to soups and stews. Although beef broth doesn't taste exactly like mushroom broth, they can both resemble an umami flavor that pairs well with so many recipes.
Three options for mushroom broth include:
Store-bought mushroom broth - found on the soup aisle next to all of the other boxed and canned broths.
Reconstituted dried mushrooms - This method is not only easy, but it has a really deep flavor and the rehydrated mushrooms can be chopped and included in your recipe. Dried mushrooms are great to always have on hand because they are shelf-stable and last a really long time. Simply cover the desired amount of dried mushrooms with boiling water, weigh down with a plate to keep the mushrooms submerged, and the resulting liquid is a mushroom broth.
Homemade mushroom broth - This is the most time-consuming option of the three, although it will certainly provide better flavor than store-bought. Simply simmer a variety of assorted mushrooms (this can include anything from wild to button mushrooms) with a variety of stock vegetables and a bay leaf. The amount of water you add will depend on the quantity you need. The resulting strained liquid is the mushroom broth.
Substitution: 1 cup of mushroom stock = 1 cup of beef stock
Beer
If you've never made chili with beer, or even non-alcoholic beer, in place of beef broth, you're missing out! Not only does the beer make the meat more tender, but it is a great addition to so many recipes because of the flavor it imparts.
The type of beer you choose is a matter of preference. The best choice is an amber ale. Dark beer will certainly impart a more bitter taste and a lighter, more floral, beer may not give you the best tasting results.
Substitution: 1 cup of mushroom stock = 1 cup of beef stock
Vegetable Stock
One popular substitute is vegetable broth, which can be easily made at home or purchased at most grocery stores. This works well in soups and stews, and can give dishes a lighter flavor. If you are looking for a vegetarian substitute, there are several to choose from on this list, but this is the most obvious choice.
Substitution: 1 cup of vegetable broth = 1 cup of beef broth
Red Wine
If your recipe calls for a small amount of beef broth, you can use red wine as a 1:1 substitute. It works best if the beef broth is used for things like deglazing a pan. If, however, larger quantities are beef stock is required, you will most likely need to dilute the wine with water or another kind of broth to not overpower your recipe.
Substitution: For small amounts, 1:1 substitution. For larger amounts, ¼ cup of red wine + ¾ cup water = 1 cup of beef broth
White Wine
Same recommendations as what is described above for red wine. Only difference is that white wine will produce a different flavor. Again, this is a matter of preference, the type of recipe you're cooking, and what you have on hand.
Substitution: For small amounts, 1:1 substitution. For larger amounts, ¼ cup of white wine + ¾ cup water = 1 cup of beef broth
Soy Sauce
Super salty with a distinct flavor, soy sauce can actually be used. If you need a gluten free option, Liquid Aminos have a similar flavor. This would make a good alternative only if you are looking for a bit of a flavor boost. It also must be diluted so as to not overpower your recipe.
Substitution: 1 tablespoon of soy sauce + 1 cup water or vegetable broth = 1 cup beef broth
Steak Sauce
This savory condiment is typically made from a combination of tomatoes, vinegar, spices, and sugar. The exact recipe varies depending on the manufacturer, but most steak sauces contain Worcestershire sauce, soy sauce, and garlic.
Steak sauce is typically dark brown or red in color and has a thick, creamy texture. It is often used as a dipping sauce or marinade for steak, chicken, or pork. Steak sauce can also be used to add flavor to sandwiches, burgers, and other dishes.
Substitution: 1 tablespoon Steak Sauce + 1 cup water or vegetable broth = 1 cup beef broth
Worcestershire Sauce
Worcestershire sauce is a fermented liquid condiment made from a base of vinegar and anchovies. Additional ingredients include soy sauce, garlic, lemon juice, sugar, and various spices. The exact recipe for Worcestershire sauce is a well-kept secret, though it is thought to originate from the city of Worcester in England.
The sauce was originally created as a way to add flavor to bland dishes, and it remains a popular seasoning today. Worcestershire sauce has a distinctively sharp and tangy flavor that can enhance the taste of beef, chicken, fish, and vegetarian dishes alike. When used sparingly, it can add depth and complexity to even the simplest of meals.
Substitution: 1 tablespoon Worcestershire Sauce + 1 cup water or vegetable broth = 1 cup beef broth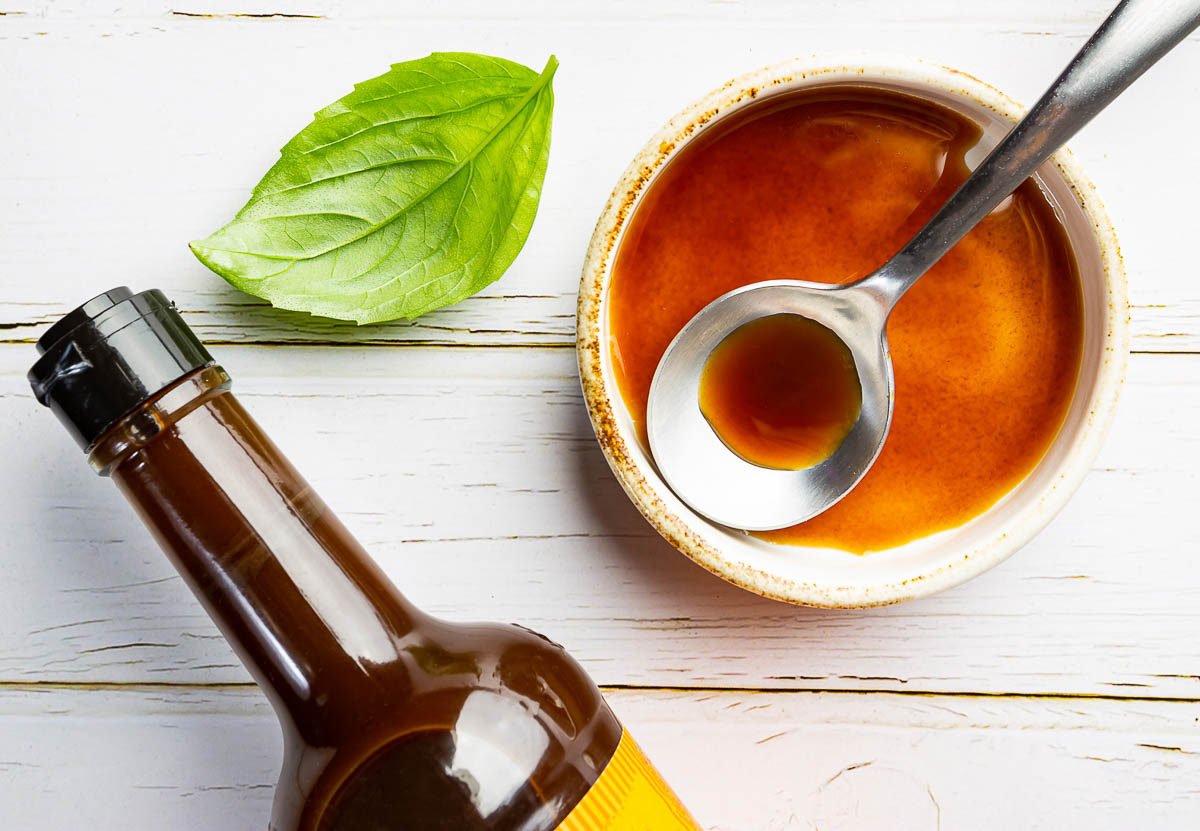 Miso Paste
Miso paste is a traditional Japanese seasoning made from fermented soybeans.
It has a salty, savory flavor and can be used in a variety of dishes, from soups and stews to sauces and marinades.
Miso paste is made by combining cooked soybeans with rice or barley malt, salt, and koji (a type of fungi) and then fermenting the mixture for several months.
The resulting paste can range in color from white to dark brown, depending on the type of soybeans used and the length of fermentation.
Miso paste can be found in most Asian markets and some supermarkets.
While you might not think of miso paste as a beef broth substitute, its depth of flavor and interesting flavor profile might work in certain recipes.
Substitution: 1 tablespoon miso paste + 1 cup water or vegetable broth = 1 cup beef broth
How to Make Homemade Beef Broth
Rich in amino acids and all kinds of other wonderful benefits, homemade beef stock is not only fantastic to use in your recipes, but it is one of the best things you can drink when you are not feeling better! Homemade broth is easy to make and, if frozen, can last for months.
To make your own broth, you will need a variety of beef bones, root vegetables including yellow onion, celery, carrot and garlic, bay leaves, and water. If you want to maximize the flavor in the bone broth, roast the meaty bones in the oven prior to cooking them in the liquid. The process can take a long time if it is cooked over a low temperature on the stovetop or even in the oven over night, however the process can be drastically sped up if the broth is cooked in the Instant Pot.
The solids are then strained from the rich broth and the result is liquid gold!
Do you have any other tried and true substitution recommendations? Please let me know in the comments!